This New Move-to-Earn Crypto Is Taking on the Fitness Industry – Here's Why It Could Beat the Competition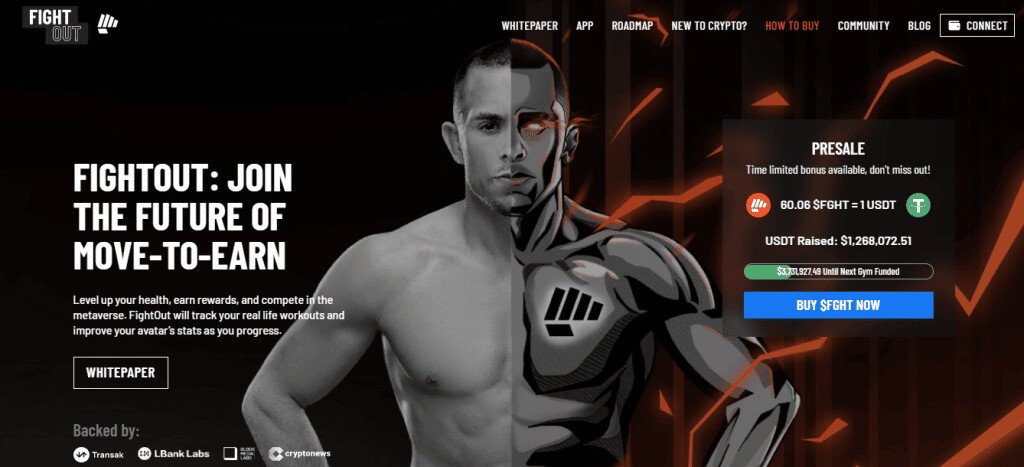 The gaming business is flawed because large gaming corporations possess the rights to all the most well-known games. However, Web3 games have evolved to address this exploitative business model by granting their player base actual ownership of their in-game assets. This allows players to benefit from their dedication and hard work.
Fight Out aspires to create a society in which everyone lives a healthy, active lifestyle. The creators believe that combining real-life physical performance with Play-to-Earn (P2E) gaming is the future.
The project has raised over $4.66 million in its presale phase. To commemorate this milestone, Fight Out is now offering a generous 5% referral promo link program for its users.
Fight Out Is Changing the Game
Fight Out is a new move-to-earn fitness platform with Web3 integration that allows users to compete in different game types for cash prizes and digital assets.
Users compete on the platform using "soulbound" NFT avatars with stats and skills based on real-world experience and accomplishments. With the help of the game Fight Out, players can test their physical prowess in an entertaining and secure setting.
Fight Out offers a more rewarding gaming experience and encourages players and others to exercise and lead healthier lives. The project also appeals to regular gym goers by providing them with a venue for their active lifestyle.
Users can interact and socialize with other players in the community and participate in high-stakes leagues and tournaments. They can also take on other thrilling challenges and game modes to win $FGHT and other prizes within the Fight Out gaming ecosystem.
By exercising, users earn REPS tokens, which they can utilize to purchase upgrades and accessories from the in-app store. The Fight Out ecosystem employs two utility tokens – $FGHT, the platform's native token, and REPS, the in-app currency earned as a reward.
Fight Out's goal is to provide players with a fun gameplay environment where they are rewarded for practicing. It also provides fitness enthusiasts a unique way to use their physical accomplishments and efforts.
A Welcoming Environment for Everyone
Fight Out offers fitness articles and masterclasses led by top athletes, which will help motivate, inform, and direct users in their training. The project has enlisted elite athlete ambassadors from the boxing and mixed martial arts worlds to bring this vision to life. This includes champion boxer Savannah Marshall and UFC fighter Amanda Ribas.
The project's long-term success is greatly aided by the in-app content, which provides instruction, inspiration, and incentives for getting fit to fitness fans and those looking to start exercising. Viewers can take part in on-demand video lessons focused on strength and conditioning, technique, mobility, cardio, and challenges given by ambassadors.
Gamifying the process and rewarding people for good behavior are two tried-and-true methods for encouraging people to start and maintain new behaviors, and Fight Out employs both to help users modify their way of life.
Invest in $FGHT and Get Rewarded for Consistency
With its token presale, Fight Out raised an amazing $4.66 million from investors. The presale is available to anyone with an internet connection and a crypto wallet globally, and those buying via desktop must have a MetaMask wallet installed on their browser. However, a Trust Wallet is recommended for those who want to buy via mobile.
The $FGHT token currently trades at $0.02442. However, the token's value will gradually increase every twelve hours, and this will continue until March 31st when it will be listed for $0.0333.
The platform creator just revealed a lucrative 5% referral promo link scheme. To begin earning, investors only need to go to the Fight Out homepage, add their cryptocurrency wallet, and click the "5% referral link" button.
They can then share it on social media or with family and friends to earn 5% of the purchase price each time anyone buys the $FGHT token using their referral link.
Disclaimer: The Industry Talk section features insights by crypto industry players and is not a part of the editorial content of Cryptonews.com
---