This New Crypto Platform Goes Viral for Rewarding Users Who Vote in Elon Musk-Style Polls - 100x Potential in 2023?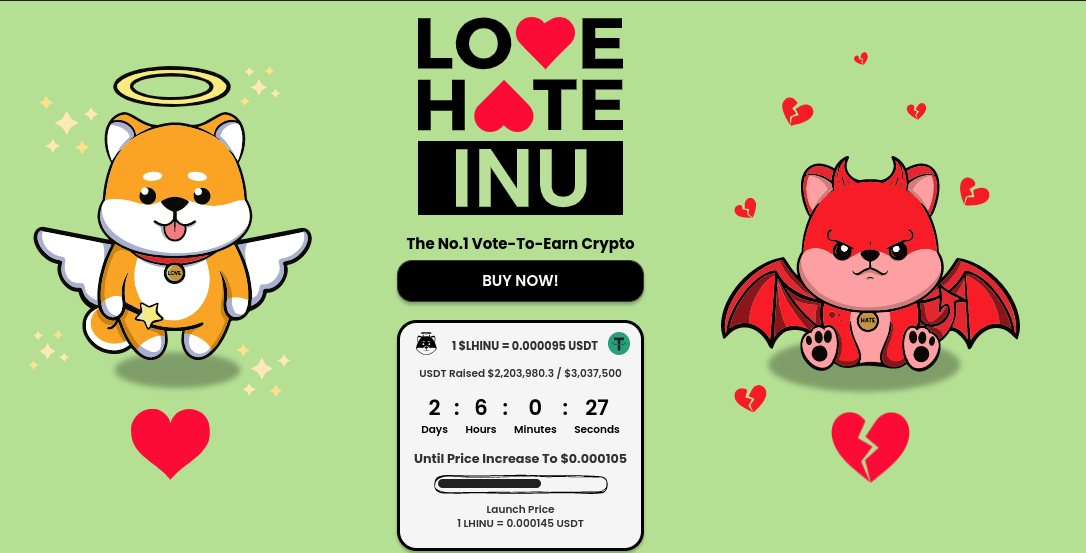 Meme coins are easily one of the most popular digital assets in the emerging crypto space.
While they have become an easy medium to interface with the crypto ecosystem, meme coins generally lack utility. This trend is rapidly changing as many parody coins now provide real-world utility for investors.
One such with strong appeal is the vote-to-earn protocol Love Hate Inu.
Love Hate Inu Hits $2 Million in Quick Succession
Since Tesla boss Elon Musk took over Twitter, opinions have been polarized, with many questioning the direction the social media company has taken in the past year.
With the Love Hate Inu project, social media users can directly air their views in a sanction-free environment.
The vote-to-earn platform has created a seamless hub where users can share their opinions on a myriad of viral and controversial topics ranging from politics, finance, technology, climate change, and trends on favorite celebrities.
There've been polls where community members voted their love or hate towards celebrities, including Elon Musk.
According to the website, 254 members shared their Love votes for Musk, while 1082 voted Hate.
With more innovations and market growth, polls on the Love Hate platform will be used to settle viral debates and topics.
Additionally, users will also get monetary rewards for voting and taking polls on trending meme topics.
They can also get monetary rewards for voting and taking polls on trending meme topics.
Since the project launched in mid-March 2023, Love Hate Inu has taken the crypto market by storm.
The Ethereum-based meme coin project has recently raised over $2.1 million in its presale, pointing to strong demand from investors.
And five days from now, the meme token will increase from $0.0000095 to $000105 in stage four of its fund-raising efforts.
This meteoric rise in value has not gone unnoticed by several cryptocurrency analysts.
The innovative platform's strong appeal has been in its unique voting mechanism.
For users to vote and earn, they need to stake the LHINU token, the platform utility asset. Following this, they can vote 'Love' or 'Hate' on any trending topics posted on the blockchain network.
LHINU Is the New SHIB With Massive Utility
While meme coins are not the best in utility, many, like Shiba Inu, have tried to carve a new niche for the parody coin ecosystem.
So far, they have launched non-fungible token (NFT) themed games and decentralized liquidity pools for trading SHIB and BONE tokens. However, the platform has since lost its allure as more established brands have swallowed it up.
On the other hand, the Love Hate Inu is offering a decentralized voting mechanism wherein users' views are transparent and censorship-resistant.
This way, public opinions on social and fiscal policies can be recorded without a central entity banning them.
It also directly rewards users for airing their views which is a novel concept.
In addition, Love Hate Inu is tapping into the $3.2 billion online survey market. With this blockchain project, users will simultaneously be rewarded for participating in sponsored polls on the platform.
This way, they can get rewarded with NFTs and metaverse-themed collectibles from blockchain brands and new-generation solutions.
LHINU Is Deflationary
One thing that has stunted the growth of several meme coin projects has been their seemingly limitless maximum coin supply cap.
For instance, Dogecoin comes with an infinite pool of mineable fun-looking coins, while Shiba Inu offers one quadrillion in coin supply.
Love Hate Inu is strategically bucking this trend. Instead of this, the Ethereum-based project has a maximum coin supply cap of 100 billion tokens.
Of this, 90% of this will be offered up in presale to the public. This will systematically provide real-time value to the token holders and cut out any chance of a rugpull.
The remaining 10% will be used in exchange listings. This ensures that the digital asset comes with real-world utility instead of remaining behind multiple escrow accounts.
Once these tokens are exhausted, the development team has no intention of creating any new ones. This makes the vote-to-earn project a viable entry point for many new crypto investors.
Early-bird investors who take advantage of the token's current low price stand to profit more than 52% of their investment once it goes live in the coming months.
Disclaimer: The Industry Talk section features insights by crypto industry players and is not a part of the editorial content of Cryptonews.com
---