The World on Brink of Second Decade of Bitcoin
Disclosure: Crypto is a high-risk asset class. This article is provided for informational purposes and does not constitute investment advice. By using this website, you agree to our terms and conditions. We may utilise affiliate links within our content, and receive commission.
Today is January 3rd, the tenth anniversary of the first block in the Bitcoin blockchain mined, also known as the Genesis block. Of course, the cryptoverse has taken to the internet to celebrate this day, from simply wishing Bitcoin a happy birthday, over going through all the events that brought Bitcoin to where it is today, to ideas on how to celebrate this birthday in a meaningful way.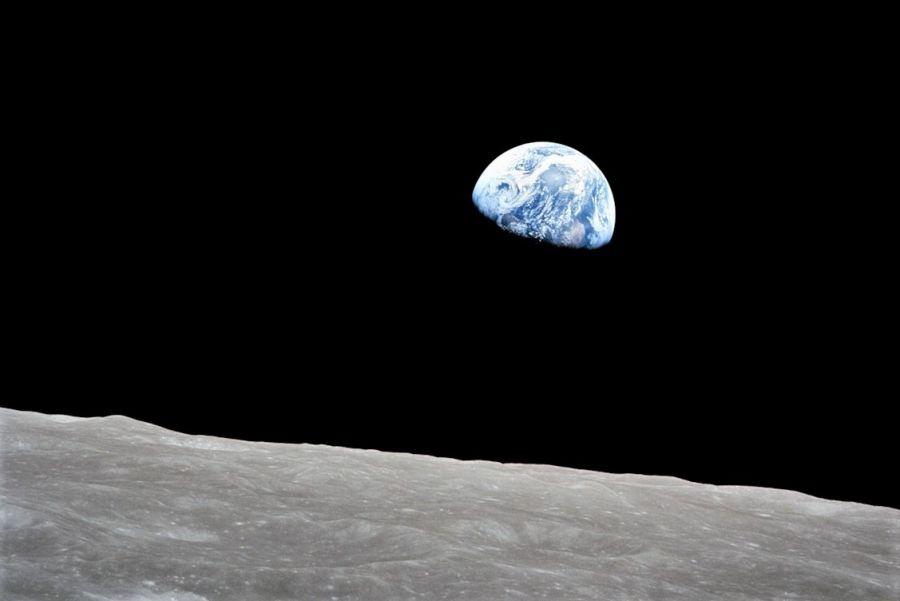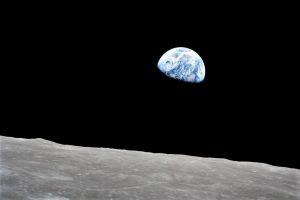 The rising Earth above the lunar horizon. Source: NASA
If you've been reading up on the interesting tidbits about Bitcoin's history, you may know that the genesis block of Bitcoin contains the text "The Times 03/Jan/2009 Chancellor on brink of second bailout for banks," as this was the headline of The Times newspaper on that day. Now, ten years later, that very same newspaper is featuring Bitcoin on the bottom of its front page thanks to cryptocurrency exchange BitMEX, where the writing says, "Thanks, Satoshi. We owe you one. Happy 10th birthday, Bitcoin."


Source: Twitter
____
Today's Times newspaper (3rd January 2019) celebrates Bitcoin's 10th Birthday

Included on the front page is the hash of the Bitcoin block 554,509. Thanks to @JihanWu and @btccom_official for including the message "ThanksSatoshi" in the Coinbase inputhttps://t.co/HFskR9J6Jv pic.twitter.com/QtSRvI6wNo

— BitMEX Research (@BitMEXResearch) January 2, 2019
Included is the hash of the Bitcoin block 554,509, mined today, and co-founder of mining rig manufacturer Bitmain, Jihan Wu, and Bitcoin wallet and major mining pool BTC.com teamed up to have that block include the phrase "Thanks Satoshi" in honor of Bitcoin's 10th birthday.
Also, it looks like the today's issue of The Times might become extremely popular:
https://www.twitter.com/Grin3r_/status/1080829168848261121?ref_src=twsrc%5Etfw
If you're not lucky to buy one, you can read the article, published in the newspaper, online.
And here you can find sellers of the original Bitcoin Genesis Block newspaper, but be ready to pay at least USD 50,000 per copy.
The phrase that Satoshi Nakamoto included on that day was not a purely spontaneous decision: a decade later, it proves that the genesis block was created on the same day the network was released, which means that Satoshi couldn't have built up a secretly premined chain, undermining the network. However, YouTuber and crypto influencer Ivan on Tech adds another meaning to that phrase: "That's the reason Bitcoin exists. Bitcoin is the cure."
And Reddit user u/jam-hay reminds us that Bitcoin is stronger than ever ten years after its inception: "For years we have had to put up with condescending mainstream media, finance and political pundits sneering at the very thought that a group of volunteer developers could somehow create a free, open-source, decentralized and secure way for everyday people to store and send value to each other almost instantly.. all over the planet and beyond. 10 years on and we have over 2,000+ cryptocurrencies, 16,000+ markets and a combined market cap of $130bn […] This new wave of Fintech spawned by Satoshi will do to the banking sector, what online shopping has done to brick and mortar shops."
There is also a countdown to the exact time when Bitcoin's birthday falls: 18:15 GMT. Joining the celebration is Didi Taihuttu, best known as the man who sold almost everything he owned, poured it into bitcoin and moved his family into a trailer park. In his congratulations, he is joined by the rest of his family from their trailer.
🎉 Happy Birthday Bitcoin 🎉 Don't lose faith in #Bitcoin because of the price. Bitcoin is there to decentralize the monetary system, to bank the unbanked, to get back control over our money and provide us of financial freedom and privacy! #cryptocurrency #thebitcoinfamily pic.twitter.com/nIpg2p5ptA

— ₿ Didi Taihuttu ₿ ALLIN💥 (@Diditaihuttu) January 3, 2019
And Bitcoin economist Saifedean Ammous reminds us why we love the digital currency so much. "Bitcoin has now been operating for ten years without confirming a single fraudulent transaction, and without deviating from its original monetary issuance schedule. Deal with it!" he wrote on Twitter.
But how do you celebrate if you'd like to be more proactive? Francis Pouliot, CEO and co-founder of Canadian Bitcoin company Bull Bitcoin, tweets his ideas:
Celebrate Bitcoin 10 years with real skin-in-the-game:
– do P2P Bitcoin trades as both seller/buyer (friends, localbitcoins @bisq_network)
– help local Bitcoin meetup, be Bitcoin 101 speaker
– use a Bitcoin ATM
– buy a miner
– ask for payment in $BTC
– pay back a friend in $BTC https://t.co/u2Lx78IErw

— FRANCIS ☣️ BULLBITCOIN.COM (@francispouliot_) January 2, 2019
Twitter user @verretor puts the birthday into perspective: "For Bitcoin's 10th birthday, the U.S. government is shutdown," he tweeted. User @hodlonaut gives us a quick rundown of the past decade:
10 years
Over half a million blocks
Hundreds of obituaries
Thousands of ragequits
Trillion+ USD transacted
An army of hodlers of last resort created

Happy birthday Bitcoin, you red-pilling, hope-giving, savage son of a bitch! I love you ❤️

— hodlonaut 80 IQ 13%er 🌮⚡🔑 🐝 (@hodlonaut) January 2, 2019
And @CryptoScamHub does what the cryptoverse usually does best: makes a meme out of the situation.
January 3, 2019
And for a truly memorable 10th birthday, many faces from the community came together to sing a song. A total of 21 people sang, and while not all of them could make a career out of it, the song is touching – and reminds us of the true values in crypto.
___
Below are a few more celebration moments:
Happy 10th Birthday #Bitcoin. Thanks for allowing me to live freely. pic.twitter.com/faVEipUsDC

— ɱark WhatsHisFace (@LWhatsHisFace) January 3, 2019
____
Happy 10th Birthday, Bitcoin! Looking forward to another 10 years of growth! pic.twitter.com/uoJeOLj0t5

— Ameer Rosic (@AmeerRosic) January 3, 2019
______
┏┓ in
┃┃╱╲ this
┃╱╱╲╲ house
╱╱╭╮╲╲ we
▔▏┗┛▕▔ celebrate
╱▔▔▔▔▔▔▔▔▔▔╲
Bitcoin on 10th anniversary
╱╱┏┳┓╭╮┏┳┓ ╲╲
▔▏┗┻┛┃┃┗┻┛▕▔

— Pomp 🌪 (@APompliano) January 3, 2019
______
Cheers to this! And to think this financial innovation came not from any of the thousands of banks across the world, with their millions of employees, and their trillions in capital! We now benefit from a Cambrian explosion in financial technology that is unstoppable. https://t.co/CUWd16cthl

— Erik Voorhees (@ErikVoorhees) January 3, 2019
_____
Hey @LukeDashjr, I'm joining the mindless crowd in the celebration of this meaningless 10th anniversary for interoperability reasons, but I pledge to help you making the 16th anniversary more memorable!
(Disclaimer: cardinal numbers in this tweet expressed in lame decimal base.)

— Giacomo 80 IQ HODL Zucco⚡️🌋🧀💀 (@giacomozucco) January 3, 2019
____
Happy birthday, Bitcoin! Let the second decade begin.
---