The Status Quo of Crypto: Exploring the Dark Side
Disclosure: Crypto is a high-risk asset class. This article is provided for informational purposes and does not constitute investment advice. By using this website, you agree to our terms and conditions. We may utilise affiliate links within our content, and receive commission.
Although it may seem obvious from the prices, crypto as an industry is not in a good place right now – but prices are only one part of the equation. From the fact that many newcomers seem to care only about speculation, to fund managers failing to raise enough to meet their goals, even crypto exchanges are struggling to keep trading volumes up. But the optimism is hard to beat: for example, Litecoin creator Charlie Lee believes Bitcoin will reach USD 20,000 within the next three years.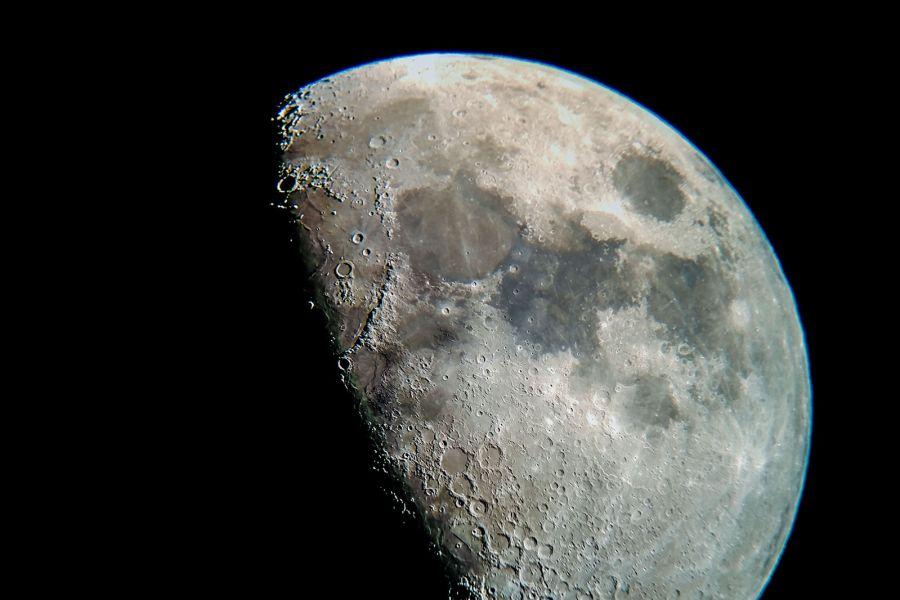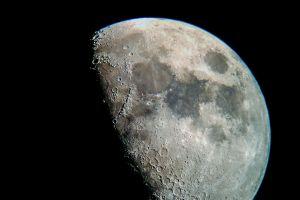 Source: NASA/Thomas Campbell
Is speculation all there is?
According to popular cryptocurrency analyst Murad Mahmudov, the number of tweets pertaining to Bitcoin is at about the same level as it was in 2014 and lower than at any point in 2016.

Source: Bitinfocharts.com
"That is an absolute disaster for the price in the medium-term in my opinion," he writes in a Twitter thread. "Cryptocurrency's biggest use case is speculation. That is a fact. For better or worse, Speculation and human greed are your biggest hope," he adds, continuing that the vast majority does not care about the basic tenets of cryptocurrencies like decentralization, self-sovereignty or privacy, but about finding a tool to get rich with.
There might still be some hope, Mahmudov believes, but it's a bleak outlook: "You need a complete price exhaustion and attention exhaustion from anyone except the absolute true believers […] I would even go as far as arguing that it would be healthy for the prices across the digital currency complex to collapse here. Transfer the coins from the weak hands to the strong hands who don't sell no matter what."
He concludes:
10/ Of course I'll still be here every day till I die.
But understand that it will take a hot minute.
Strap yourselves in.
Patience is virtue.

— Murad (@MustStopMurad) February 3, 2019
Fund managers are not fundraising enough
Most funds are struggling to raise money right now – especially now that the ICO (initial coin offering) hype seems to have passed. According to what Anthony "The Pomp" Pompliano, co-founder and partner at Morgan Creek Digital, a digital asset management firm, wrote in a blog post, "Without institutional investors who can write tens of millions of dollars per check, there is a low artificial cap on the amount of capital that can be raised across the crypto fund landscape."
There are many reasons for this, but the bear market, the fact that most capital allocators can buy and hold assets themselves, and failure to do due diligence are amongst those, in his opinion. Institutional investors are also scared of risks – especially the risk of ending up in a headline along the words "scam" or "hack" – and there are currently not enough incentives to make up for this.
In order to save the market, "We need more seasoned investment professionals who understand the requirements of these capital allocators. We need more time to educate and demystify the technology and opportunities. And most importantly, we need more funds showing multi-year track records filled with attractive profits," Pompliano believes.
But this may not be so far off as all that. An example comes from the United Arab Emirates, where Dubai royal Sheikh Saeed bin Ahmed Al Maktoum has selected Liechtenstein-based cryptocurrency fund manager INVAO as its international blockchain investments partner, according to an emailed press release, which adds: "As Dubai embarks on the Emirates Blockchain Strategy 2021 and builds the nation into a blockchain investment hub, INVAO will provide UAE investors with unprecedented access to crypto as an asset class […] INVAO allows investors to buy one token which represents a huge portfolio of cryptocurrencies, and engages in crypto portfolio management and arbitrage trading to yield returns. "
Although this is a good sign, it's far from enough: "In order for this industry to thrive and reach sustainability, we need hundreds of fund managers investing billions of dollars. We will eventually get there, but not before a lot of time, money, and resources are put into building the foundation for the globally dominant investment firms of tomorrow," Pompliano adds.
Crypto exchange trading volumes hitting new lows
Cryptocurrency exchanges are struggling as trading volumes are hitting new lows in January not seen since 2017, according to weekly cryptocurrency newsletter Diar. Major cryptocurrency exchange Binance has, for example, seen its Bitcoin/USD market slashed by over 40% versus December 2018, marking the popular token exchange's worst period since the now-largest exchange came to prominence in 2017.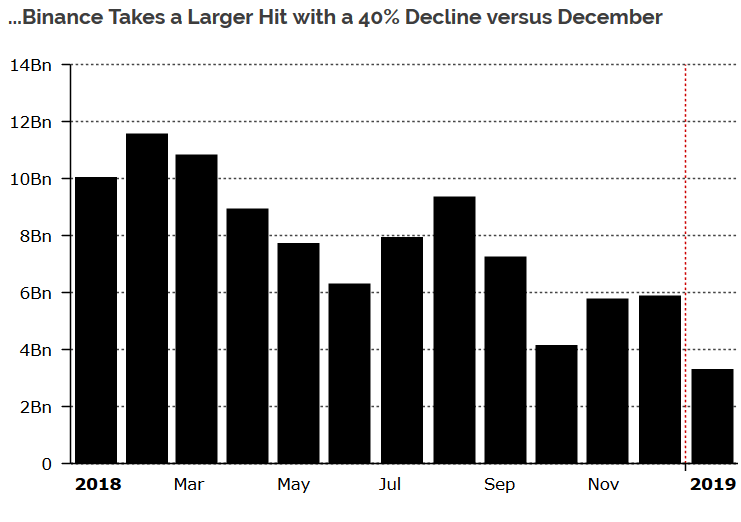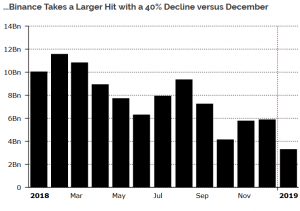 Source: Diar
Another exchange, OKEx, had been growing for three months, but January promptly put a stop onto that streak. Coinbase's BTC/USD pairing is trading with less volume than in May 2017, while Gemini is also seeing one of the worst months in existence.
A few years till the Moon
The cryptocurrency hype is hard to beat, even at the worst of times, as many enthusiasts will tell you. A thread on Reddit has revealed that Charlie Lee, creator of cryptocurrency Litecoin, has predicted that Bitcoin should reach USD 20,000 "within the next three years" in Litecoin's Telegram chat. This is not too far away from Mahmudov's prediction that the next bear run will be in 2023/24.
Although cryptocurrency predictions can be a dangerous game, Lee has a history of correct predictions: back in 2017, he infamously sold his entire portfolio of Litecoin sometime during the December 2017 bull run; subsequently, and correctly, foretelling the 2018 crypto crash.
Back then, he tweeted, "Ok, sorry to spoil the party, but I need to reign in the excitement a bit… Buying LTC is extremely risky. I expect us to have a multi-year bear market like the one we just had where LTC dropped 90% in value (USD 48 to USD 4). So if you can't handle LTC dropping to USD 20, don't buy!" For comparison, LTC is currently trading at USD 34.4, having fallen from its all-time high of USD 360.66, which is definitely a drop of more than 90%.
He also predicted LTC overtaking Bitcoin Cash at the start of the year, an event known as 'The Flappening.' This prediction was made 9 months before the event occurred. Although his history with correct predictions may not mean much for the future, it certainly does put many in the crypto community at ease. The ATH will be back, everyone. Charlie Lee said so.
---