The new vision of Web3 Gaming: CapyMagi World Play-to-Earn Crypto Game - How to Buy?
Disclaimer: The text below is a press release that is not part of Cryptonews.com editorial content.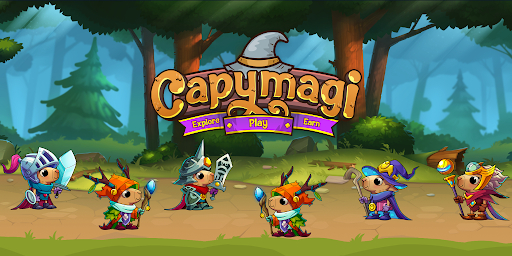 Formation Of CapyMagi
CapyMagi is formed with the goal to create a huge ecosystem for the CapyMagi Game with a Play-to-Own concept and a real economy driven by the players. The game should be first of all exciting and fun to play. To achieve this, the team has formulated several core ideas of providing an exciting gaming experience, Decentralization, Free-to-Play is the key to mass adoption, and Balancing Sources and Sinks. CapyMagi is a Web3 roguelike MMORPG with fantastic gameplay. The primary focus of CapyMagi is to build a real game economy driven by the players and provide captivating game content. Fonds of gamers can feel the real power of Play-to-Own with CapyMagi by investing their time into an unforgettable gaming experience and tradable NFTs (resources, tools, skins, and playable characters).
Early participators in the CapyMagi ecosystem have a chance to get retro drops. The CMAGI token has a big utility value in the CapyMagi ecosystem. Users can spend it for buying in-game NFTs, improving character, and own lands.
CapyMagi Genesis NFT Collection sold out in 1 minute! The NFTs from this collection can only be purchased on NFT markets such as OpenSea.
Features That Make CapyMagi A Unique Concept
CapyMagi Provides Enjoyment and an exciting gaming experience, a healthy economy, and decentralization. While comparing with other play-to-earn games you will find big problems of centralization and terrible user experience(such as high gas fees, a big amount of transactions and etc.). CapyMagi solves these problems with ZK Rollup technologies.
CapyMagi is Free-to-Play for everyone. CapyMagi uses a Free To Play model combined with blockchain technologies. It's a nice way to boost the mass adoption of Play-To-Earn games.
The Mechanism in the games is Gathering and Farming, Dungeons, Battle arena, Lands and Bases, Craft system, Trade system, Co-op mode, Season rewards, Open World
How CapyMagi Is Best For You
Healthy Game Economy - Creating a healthy economy is an important challenge. To achieve this CapyMagi creates various game loops and mechanics. Balanced Sources (give players loot/coins) and Sinks (ways for users to spend loot/coins).
Avoiding PAY-TO-WIN - It's impossible to achieve balance if someone buys a sword for $1,000,000 which is way too powerful than any other weapon. All game skins are only to customize the appearance of the character and equipment.
Seasons & Leaderboards - This system increases interest in the game since seasonality includes a reward system for users from leaderboards. Funds received from the season collaborations or partnerships will be used as rewards.
Rewards for players, stakers, and holders - Non-Gaming users can also join by staking their tokens and receiving rewards from CapyMagi.
This Is How You Can Be A Part Of CapyMagi And Invest Your Valuable Money In Pre-Sale.
CapyMagi is fully secured and fully Verified by Solidproof Team on GitHub. The team is also fully promised to their roadmap and constantly moving in the same direction. You can take a part in CapyMagi PreSale by simply connecting your wallet on the CapyMagi website. After connecting to the website, You can buy through ETH/USDT. The team is always ready to assist. Stay free to ask any query or for giving feedback. The Presale is currently live.

Learn More:
-Gala Games' GRIT Is in Development Hell While This New Crypto Game Goes Viral – What's Going On?
-Rainmaker Games Announces the First Cross-Chain, GameFi-Exclusive NFT Marketplace

-GameStop NFTs Not So Good But Announces Partnership With FTX as Crypto Push Continues
-Why L2s Could Finally Make AAA Games Go To The Blockchain
---