This New Move-to-Earn Crypto Could Be the Future of Fitness – Here's How It Works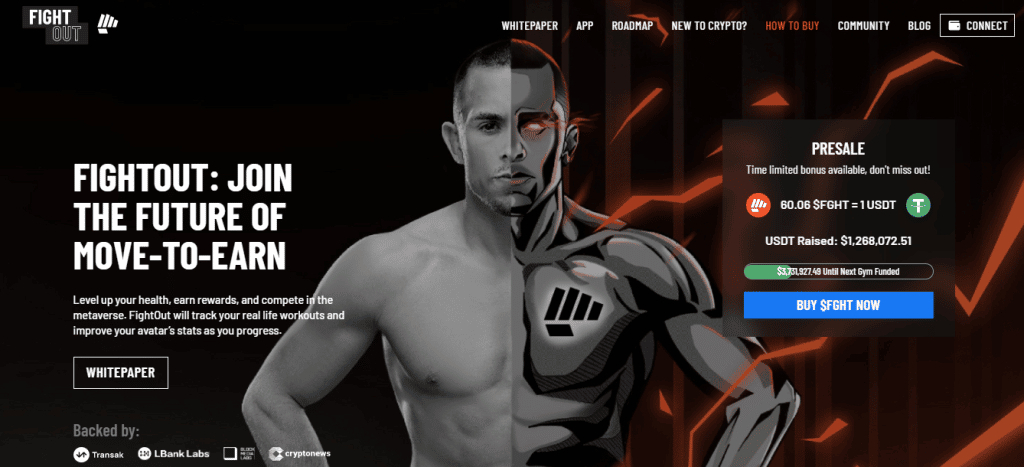 Fight Out stands out as the only move-to-earn (M2E) platform with a Play-to-Earn growth vector in the Web3 industry, where profit has been flowing in recently. The ground-breaking M2E blockchain-based firm is attracting fitness enthusiasts by utilizing Web3-related features to build virtual gyms.
The project is still in its presale stage and has raised over $4.54 million so far. To celebrate this watershed moment, Fight Out has recently announced a substantial 5% referral promo link program for users.
Fight Out: The Future of Move-to-Earn

Fight Out is a platform that allows users to compete in the metaverse, learn from professional fighters and athletes, and earn rewards and badges by completing fitness tasks. The platform aims to expose players to one-of-a-kind content, a metaverse experience, and real-world events.
The platform incorporates virtual gym chains and thrives on the metaverse, where users can develop a strong online presence among peers and gain access to premium lifestyle content. They also have access to elite master classes that provide high-quality body exercises and even weight-lifting to help them achieve their fitness goals.
Fight Out provides every user with a unique "soulbound" NFT avatar. The avatar metrics are meant to epitomize the real-world performance of their owner. While they practice in real life, users accumulate REPS tokens, which they can then spend to buy upgrades and merchandise from the in-app store.
Investors should be aware that the platform's native token, $FGHT, is available for purchase during the presale. REPS, on the other hand, is the in-app currency that can be obtained by achieving goals on the platform.
Users can also communicate and socialize with other players in the community, participate in high-stakes leagues and tournaments, and take on other thrilling challenges and game styles to win $FGHT and other prizes in the Fight Out ecosystem.
Fight Out Grants Access to Master Classes for Top Combat Athletes

The Fight Out training platform acts as a gateway to usher in the mass market of gamers and fitness enthusiasts into the ecosystem. This is accomplished through a mix of entertaining and inspiring ambassador masterclasses and fitness classes designed by combat athletes.
Elite athlete ambassadors from the boxing and mixed martial arts worlds, including UFC fighter Amanda Ribas and champion boxer Savannah Marshall, have already signed on with Fight Out as part of that ambition. Users can take part in on-demand video lessons focused on strength and conditioning, cardio, technique, mobility, and challenges given by ambassadors.
Get Reward for Progress with FGHT Token
Unlike the traditional workout experience, Fight Out technology rewards players for their consistency and growth with off-chain REPS tokens, which can be exchanged for FGHT tokens. FGHT can be accrued, traded, or spent on in-app goods and additional services. It can also be used to purchase digital goods in the Fight Out marketplace.
Fight Out has raised over $4.54 million from investors in its ongoing token presale. The presale is open to anyone with an internet connection and a cryptocurrency wallet, and the cost of the token rises every 12 hours to promote early purchasing.
Currently, 1 $FGHT trades at $0.02393. The token's price will rise every twelve hours until March 31st, when it will be listed for $0.0333.
The platform developer recently announced a generous 5% referral promo link program. To start earning, investors can simply visit the Fight Out homepage, add their crypto wallet, and click the "5% referral link" button. They can then share their referral link on social media or with relatives and friends and earn 5% of the purchase price each time someone buys the $FGHT token through the link.
Disclaimer: The Industry Talk section features insights by crypto industry players and is not a part of the editorial content of Cryptonews.com.
---