The Mysterious Sale of CryptoKitty for ETH 600
Disclosure: Crypto is a high-risk asset class. This article is provided for informational purposes and does not constitute investment advice. By using this website, you agree to our terms and conditions. We may utilise affiliate links within our content, and receive commission.
A CryptoKitties cat named Dragon was yesterday sold for ETH 600 (USD 172,625 at the time of the sale), according to data from KittySales, a website that tracks sales of these non-fungible tokens.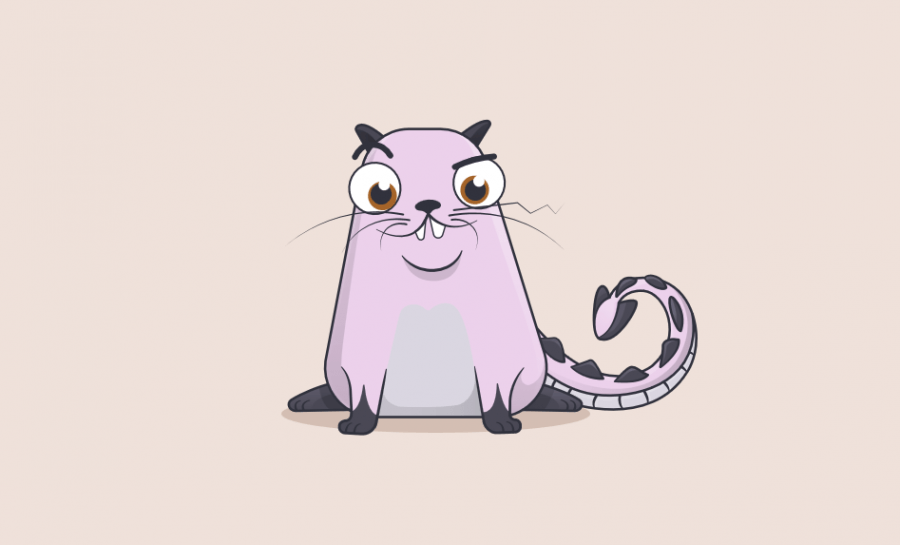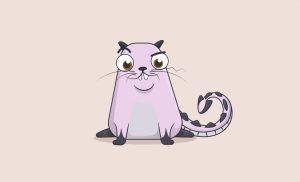 This is more than double the previous record amount for a CryptoKitty Founder Cat #18, which was around ETH 253 in July of 2017, and now is for sale for ETH 300.
However, only a day after the purchase, the Dragon kitty is on sale again by its owner rabono for the same amount that its current owner paid for it initially.
Of course, one of the first questions asked by the community was, "Why?" The company itself, CryptoKitties, told CNET it doesn't publicly comment on large sales or investments, but added that there are a number of potential reasons for investing so much in a seemingly worthless digital cat: "Maybe there was a personal connection the buyer had to the cat or the seller. Maybe they really, really, liked how that CryptoKitty looked."
"All of these cats are collectibles and one of the world's first examples of digital art that a user can truly own. It may seem silly to see someone spend thousands of dollars on a digital cat, but it's not that different from someone spending thousands of dollars on some canvas stained with oil paint," Bryce Bladon, the Head of Communications at Axiom Zen and one of the founding team members on CryptoKitties, told Cryptonews.com in an interview earlier this year.
__________
CryptoKitties Sales:
Total Sales: 424,961
Total Unique Kittens Sold: 334,643
Total Ether Sold: 47,732.69 ether
Total USD Sold: 25,765,962.53
Average Sale Price: USD 60.63
Median Sale Price: USD 9.27
Source: kittysales.herokuapp.com
__________
CryptoKitties Users and Volume comparison


The community itself is mostly sneering at this purchase and at the dapp itself: "I still don't understand why anyone would pay a single cent for this sh*t," writes Redditor u/cameron0208. Others are speculating what the real reason for the purchase might be, and the general consensus is money laundering: "If that's not laundering then I don't know what is," says u/Extraltodeus.
Still, these are just speculations, and the buyer might just really want a cat who claims to have bitten Rebecca Black when it was younger, "but those days are gone," its biography says. It has some valuable life advice, too: "Believe it or not, spying on the neighbours is seriously exhilarating. You should try it some time."
CryptoKitties suffered a massive drop in user base: 96% of people left the dapp, from a peak of 80,500 transactions back in December 2017. That didn't deter big investors such as Andreessen Horowitz and Union Square Ventures from handing over USD 12 million to the team. They weren't the only one who saw the hype fading before their very eyes: most dapps are counting their losses after the number of transactions significantly fell.
However, in June, CryptoKitties, announced a collection of games as well as a new partner program in response to falling sales.
_______
Recently, Google published the visualization of the CryptoKitty pedigree, as shown here for accounts that own at least 10 CryptoKitties. Color indicates owner, while size indicates the PageRank (reproductive fitness) of each CryptoKitty: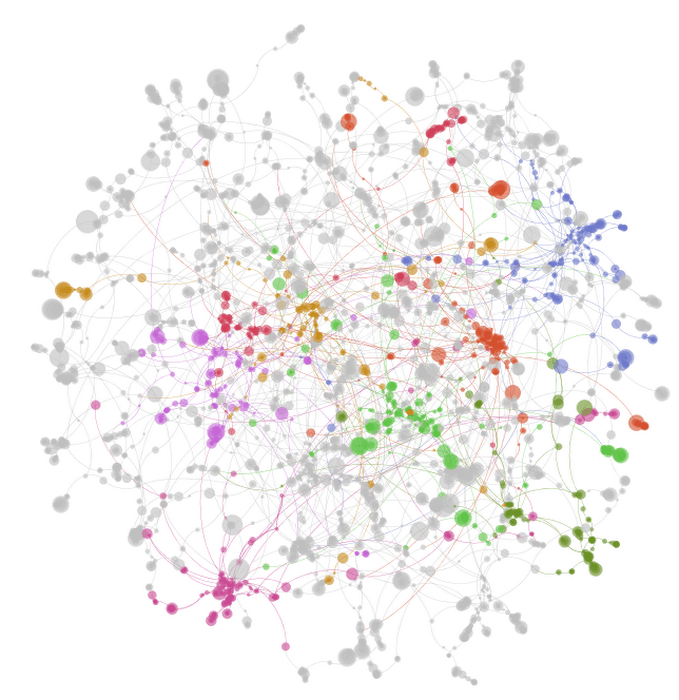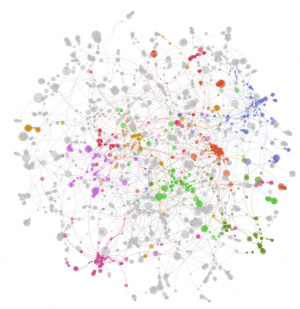 ---