The Chimpzee Movement to Save the Planet is A Social and Financial Investment
Disclosure: Crypto is a high-risk asset class. This article is provided for informational purposes and does not constitute investment advice. By using this website, you agree to our terms and conditions. We may utilise affiliate links within our content, and receive commission.
Disclaimer: The text below is a press release that is not part of Cryptonews.com editorial content.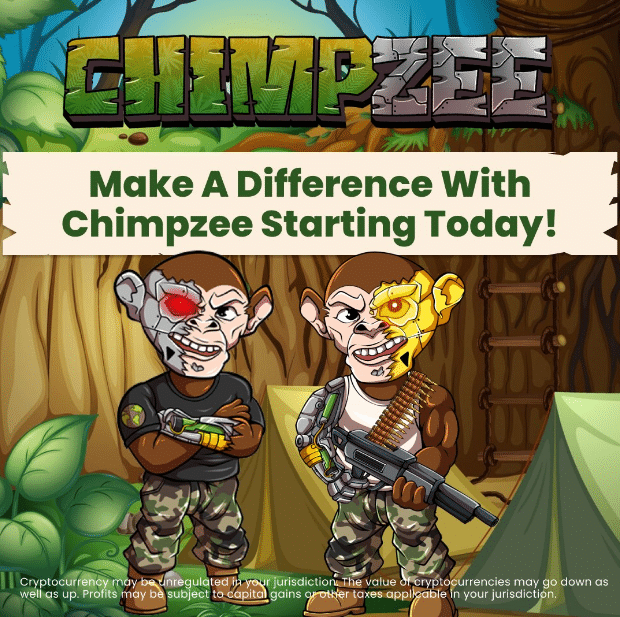 On reaching the 15th stage of the presale, Chimpzee has announced its commitment to support WeForest by planting over 5,000 trees in Tanzania. It will contribute to the fight against climate change when it crosses its next presale milestone. Additionally, the project plans to burn 1 billion tokens. The next burn will reduce the total supply to 35 billion tokens.
Attractive bonuses

In the current presale stage, the project offers attractive bonuses, providing users the opportunity to acquire CHMPZ cheaply. They can earn up to a 4X bonus through timely investments, based on strategic investment levels, as outlined below:
$150+ investment gets you 107,143 tokens.
$250+ investment gets you 187,501 tokens.
$500+ investment gets you 410,715 tokens with a 1.5X Bonus.
$1000+ investment gets you 928,572 tokens with a 2X Bonus.
$5000+ investment gets you 7,142,858 tokens with a 4X Bonus (VIP Level).
For those uncertain about how much money to invest, use the Chimpzee calculator which helps you determine the bonus tokens included in a presale purchase, aiding in making informed decisions.
Use the calculator here: http://chimpzee.io/calculate
Additional details to consider are as follows
Current Price: $0.0014
Price with VIP Bonus: As low as $0.0007 or less!
Next price increase: $0.00155
Listing Price: $0.00185
Featured by top crypto publications and influencers

Chimpzee has earned a reputation as one of the prime cryptocurrencies to consider for investment this year. It is featured across various crypto publications and crypto communities.
As the project marks a unique venture in wildlife conservation, it presents ample opportunities for growth and development.
To get a better grasp of its potential, investors should recognize the current limitations of existing solutions addressing wildlife deterioration and climate change. Traditional payment systems are unable to host large-scale wildlife and climate action missions due to technological limitations. They lose their purpose when expanded beyond a scale, as a result.
However, blockchain technology presents a promising solution with its decentralized ledger that ensures transparency by recording and verifying every transaction. It has emerged to become a top tool for global coordination, addressing the shortcomings of conventional systems.
Chimpzee has strategically chosen blockchain technology to underpin its credibility as a wildlife conservation project. But there are more factors that make it a success, not just its technological choice.
An outstanding social and financial investment

Chimpzee offers a highly rewarding platform that extends beyond mere financial gains. The multiple streams of passive income and engaging rewards on the platform are catered to a different array of users.
The play-to-earn, shop-to-earn, and trade-to-earn platforms target different user bases.
Let's begin with the shop-to-earn platform, which showcases appealing merchandise such as mugs and t-shirts that help customers flaunt sustainability messages to the world. While the shop is not fully live yet, you can still preview all the features, merchandise, and more now.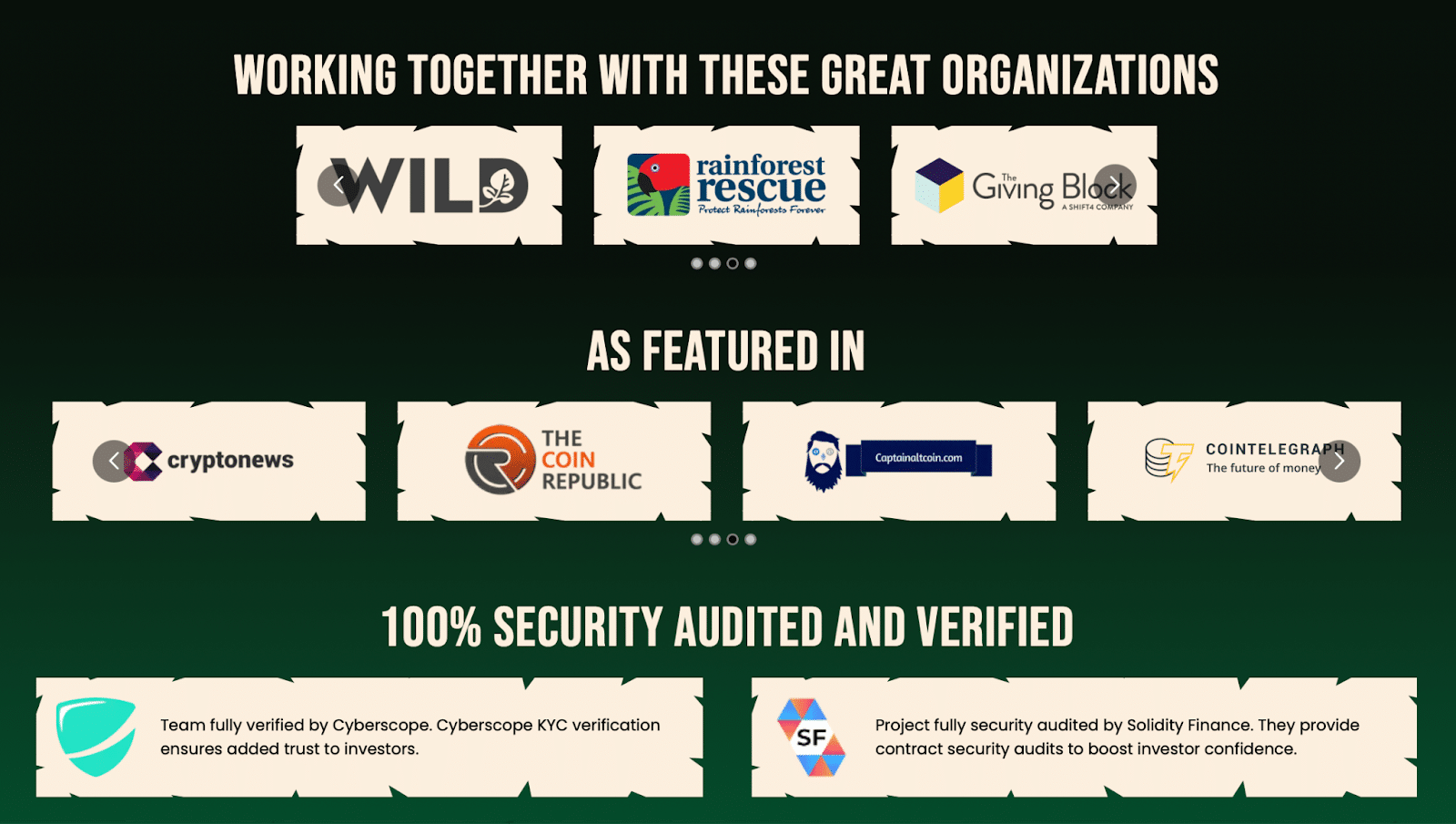 The trade-to-earn platform is designed based on a profit-sharing model instead. It allows active NFT traders to access optimal deals within the system.
The third pillar, that is the play-to-earn platform, introduces a game where players can earn money based on their performance. It fosters awareness about wildlife conservation, particularly among younger audiences. The engaging and educational experience is a first of its kind in the Web3 market.
Set apart from the competition

Chimpzee has actively worked toward distinguishing itself from the competition. The project's growth potential is evident from the roadmap which is packed with developmental and charity milestones.
But more than any of that, Chimpzee has been garnering attention for consistently outperforming its own roadmap, particularly when it comes to charitable actions and donations.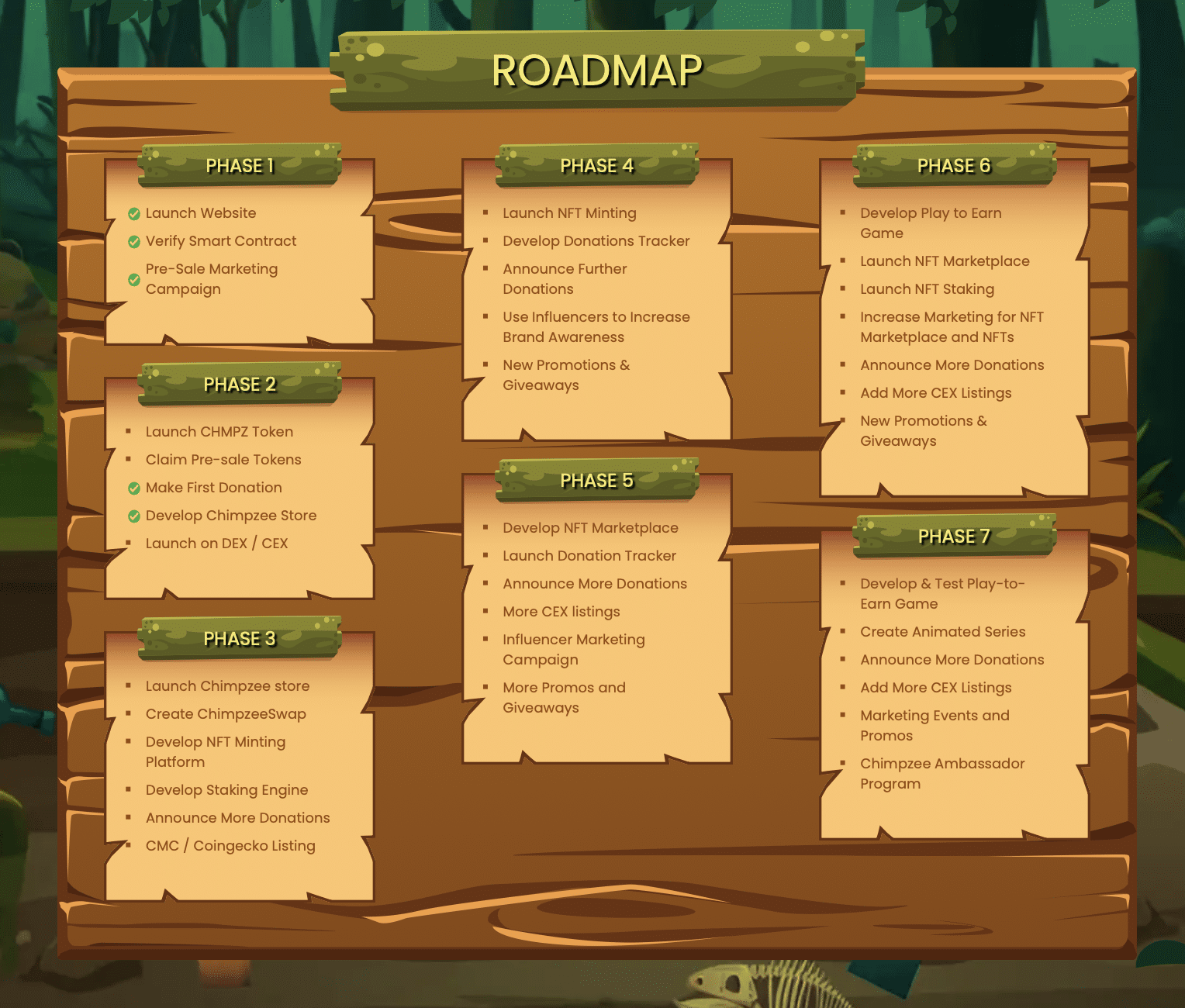 Chimpzee's proactive donation efforts are unlike anything seen before in the crypto market. It started from the early stages of the CHMPZ presale and each new milestone achieved in the presale journey signifies not only progress for the project but also translates into tangible donations toward environmental causes.
Chimpzee has formed partnerships with organizations such as One Tree Planted to realize tree-planting initiatives in the Brazilian rainforest and the Southwest Coast of Guatemala. And it recently made a notable donation of $15,000 to support the preservation of one of the last herds of desert-adapted elephants as well.
WELCOME TO STAGE 15! THERE IS ONLY ONE MORE STAGE TO GO!

Chimpzee is going to help WeForest plant over 5000 trees in Tanzania to help fight climate change and will burn another 1 Billion tokens dropping the total supply to 35 Billion tokens!🎄🔥

WE ARE ON OUR WAY TO ACHIEVING… pic.twitter.com/tXLwcqAYTn

— Official Chimpzee Project (@RealChimpzee) October 30, 2023
Chimpzee presale is coming to an end

The Chimpzee presale has progressed into its 15th stage, having successfully raised $1,700,000 out of the intended $2,000,000 goal. The token is expecting a significant surge in value upon its official launch on crypto exchanges. That has urged investors to flock to the presale, eager to acquire $CHMPZ tokens for the potential gains.
---