TG.Casino Token Price Prediction 2023 – 2030
Disclosure: Crypto is a high-risk asset class. This article is provided for informational purposes and does not constitute investment advice. By using this website, you agree to our terms and conditions. We may utilise affiliate links within our content, and receive commission.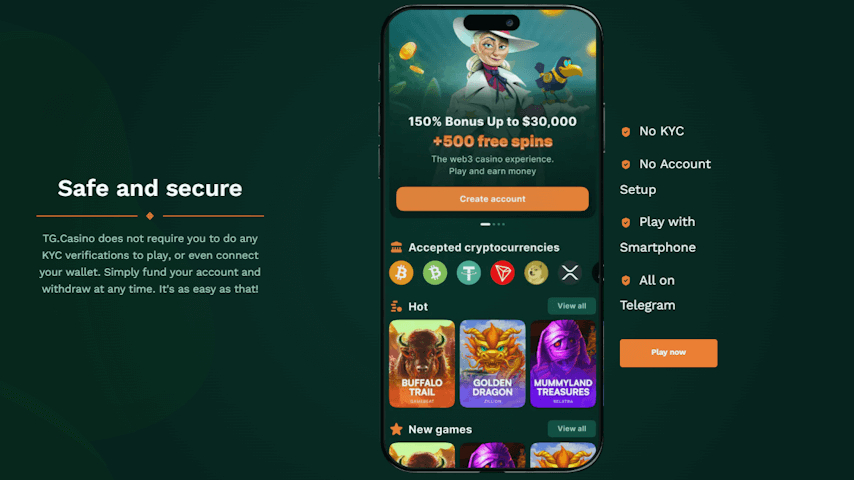 TG.Casino ($TGC) is a new crypto casino offering a convenient and anonymous gambling experience directly from the Telegram social media application. Telegram has over one billion users, and the crypto casino industry is booming. These factors point to significant potential for the project.
So far, the presale has raised over $2.8 million after launching just A few months ago. As such, we expect a quick sell-out, leaving many investors sidelined. This TG.Casino price prediction provides our forecasts between 2023 – 2030, considering tokenomics, utility, trends, and more.
TG.Casino Price Prediction Summary
End of 2023: With the presale already over 25% sold out, many investors will miss out, leading to significant demand following the exchange launch. Moreover, the TG.Casino buyback mechanism could further bolster demand while limiting supply, leading to a substantial pump. Therefore, we estimate a price of $0.6 by the end of 2023.
End of 2025: With the Bitcoin halving looming and TG.Casino's current low market cap, the project holds significant upside potential for 2025. As such, the price of TG.Casino could reach $1 by the end of 2025.
End of 2030: The anticipated growth of crypto casinos coupled with TG.Casino's robust tokenomic design, could poise massive long-term growth potential. With this in mind, our TG.Casino price prediction forecasts highs of $1.65 by the end of 2030.
TG.Casino Price History
TG.Casino is a newly launched platform offering an anonymous and convenient way for gamblers to wager bets on hundreds of games and sportsbook events. Its early presale success has made it one of the best Telegram casinos.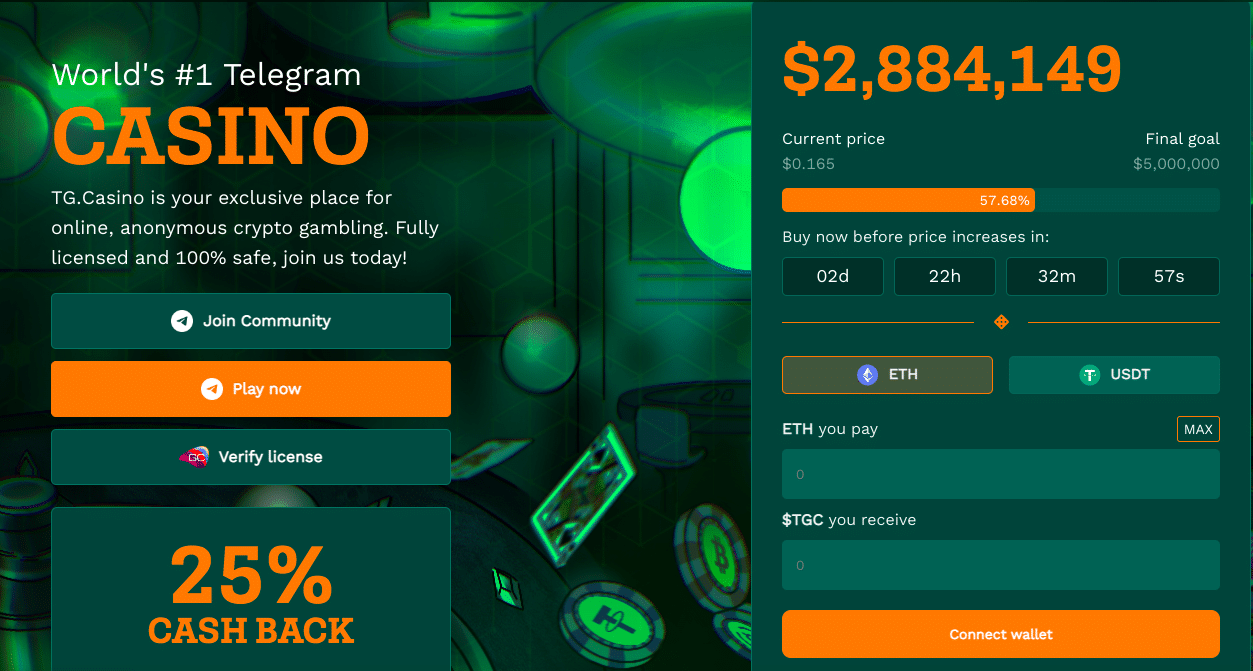 The presale will take place at a single price of $0.165, with a hard cap of just $1 million. This puts it in a massively short supply, especially considering its strong use case.
Its robust tokenomics and lucrative staking mechanism also hint that $TGC is one of the best cryptos to watch in 2023.
40% of $TGC tokens have been allocated to the presale. A further 20% has been earmarked to staking rewards, 20% to exchange liquidity, 10% to player rewards, 5% to affiliates, and 5% to marketing. 
The exciting thing about the TG.Casino crypto is that, as well as its robust tokenomics, the platform generates real revenue. This puts the token in an advantageous position against other projects that rely solely on tokenomics to support future development.
TG.Casino boasts several advantages over other online casinos, presenting massive potential once it launches. For example, the platform does not require users to create an account or verify their identity.
The project places a considerable focus on long-term marketing strategy and community participation rewards, attracting more users and bolstering its network effect.
$TGC's future price will rely on how popular TG.Casino becomes and its supply and demand dynamics, which we will explore shortly.
Here is a brief overview of TG.Casino's price history:
TG.Casino is a new presale crypto with a $10 million hard cap.
The presale price is $0.165, with 40% of the total supply available.
It implements robust tokenomics on a revenue-generating platform, providing notable growth potential.
The team has allocated a significant portion of tokens to community rewards, promoting active engagement and participation within the ecosystem.
TG.Casino Price Prediction 2023
With the presale already in tall order, hype is brewing around the novel concept of an anonymous, KYC-free Telegram casino. The presale allows investors to cash in on this new technology while enjoying substantial rewards.
According to its website, presale investors get exclusive rewards, and those who spend more than $5K on $TGC will be classed as "high rollers," earning an exclusive NFT and further post-launch rewards.
Adding to this is that it has sold more than 20% of tokens in a couple of days, and it seems inevitable that the TG Casino presale will be over extremely fast. As such, many investors will miss out and have to buy TG.Casino on exchanges after the presale, increasing its price.
Also, we expect the platform's lucrative staking rewards to drive lots of demand after its exchange launch. Currently, TG.Casino staking offers a 200% annual percentage yield (APY).
Considering this, our TG.Casino price prediction forecasts a price of $0.6 by the end of 2023. If correct, this equates to a 380% increase from its current price.
TG.Casino Price Prediction 2025
Looking ahead to 2025, one of the main price drivers for TG.Casino will be the upcoming Bitcoin halving. This is expected to result in the next crypto bull run beginning in 2024 and continuing through 2025.

We can expect considerable new liquidity to enter the crypto markets. TG.Casino's clear use case and advantages over competition puts it in a favorable position to pump.
Furthermore, its relatively low fully-diluted market cap at launch of just $2.5 million means significant room for growth. To put it into perspective, the top gambling token by market cap, Rollbit, currently sits at a whopping $339 million market cap. This indicates the potential for massive gains, particularly considering the crypto market has struggled significantly in recent months. 
Adding to that, the owner of the popular crypto casino, Stake, recently purchased a mansion in Australia for $80 million. While this is an extravagant purchase, it illustrates the profit involved with online casinos, which TG.Casino could use to support the price of the $TGC token and reward its community. 
With this in mind, our TG.Casino price prediction forecasts a price of $1 by the end of 2025. This represents a 700% increase from its presale price. 
TG.Casino Price Prediction 2030
Long-term price predictions can be challenging to make. However, TG.Casino's robust tokenomics and capitalization on an emerging industry provide a solid insight into where it could be headed in 2030.
Firstly, MarketsandMarkets reports that the crypto casino industry will have a compound annual growth rate (CAGR) of 70.3% between 2023 and 2027.
As such, we can expect the best crypto casinos, like TG.Casino, to surge in value.
Adding to this is users flocking to Telegram and other similar sites, choosing encrypted social media services due to their added privacy. This could help TG.Casino capture a significant user base, since it is native to the increasingly popular Telegram app. 
Another factor to consider is that TG.Casino's tokenomics significantly focus on community participation and long-term growth. Moreover, its staking mechanism will reduce the amount of sellable $TGC tokens. It also features a buyback mechanism, repurchasing $TGC using a portion of the platform's revenue. 40% will be burned, and 60% will be provided as staking rewards.
Ultimately, TG.Casino's fundamentals create an environment for stable and long-term price action, making it one of the best cryptos to buy.
With this in mind, our 2030 TG.Casino price prediction estimates a price of $1.6. If accurate, this would equate to a 1,180% increase from today's price.
Potential Highs and Lows of TG.Casino Price
Now that we have analyzed TG.Casino and established it is one of the top coins to watch, here is a summary of our predicted lows and highs for the $TGC price.
| | | |
| --- | --- | --- |
| Year | Possible Low | Possible High |
| 2023 | $0.4 | $0.6 |
| 2025 | $0.75 | $1 |
| 2030 | $0.1.2 | $1.6 |
What is TG.Casino?
TG.Casino is a new crypto casino built on the Telegram app. It offers encrypted, KYC-free gambling that is anonymous, ensuring users' privacy and boosting accessibility. 
The platform has launched the $TGC token via a presale, enabling investors to get in at a low price. $TGC provides several benefits, including exclusive access to games and rooms, free rewards, and massive staking APY.

TG.Casino aims to capitalize on the emerging crypto casino trend. Crypto casinos are popular because they are more efficient than traditional online casinos and enhance users' privacy. However, TG.Casino takes this one step further by launching on Telegram, making it accessible to one billion users worldwide.
Another benefit to Telegram is that since the app is text-based, it uses much less data than web-based crypto casinos.
The platform will enable users to gamble on hundreds of games and sporting events from the simplistic Telegram interface.
However, TG.Casino provides more than just an innovative use case. It features a set of carefully designed tokenomics and a highly anticipated buyback mechanism.
The buyback mechanism will use a portion of the TG.Casino revenue to buy back $TGC tokens. Buying back tokens will increase demand for $TGC, and then 40% will be burned, reducing the total supply. Ultimately, this could greatly benefit its price over time.
What Influences the TG.Casino Price?
Numerous factors impact the $TGC price. Let's examine the most prominent ones below.
Crypto Casino Industry Growth: Providing that the crypto casino industry grows as expected, there will be more liquidity within the market, helping to boost the prices of gambling tokens. TG.Casino's solid fundamentals could see it become one of the best performers. 
Tokenomics: Supply and demand are the core of price movement. One of the most important factors affecting them is tokenomics. TG.Casino's tokenomics have been designed to minimize supply while bolstering token utility and demand.
Speculation: Investors' sentiment will also affect the price of TG.Casino. If the community believes in the project, they may buy more $TGC, increasing its price.
Buyback Mechanism: The project's buyback mechanism adds buying pressure and reduces supply by burning tokens, potentially leading to a higher price.
Broader Market Conditions: TG.Casino will likely align with the rest of the market. This means that it will rise throughout the bull market but also slow down in the next bear market.
Regulation: A stricter regulatory climate or a regulatory crackdown could push down the $TGC price. However, the project is regulatory compliant and licensed, reducing the likelihood of that occurring.
How to Buy TG.Casino
Now that we have provided our predictions and reasoning on where the TG.Casino price could be headed and why, here is a quick guide that explains how to buy TG.Casino in five easy steps.
Step One: Set up a Wallet
Create an Ethereum-compatible wallet. Most users prefer to use MetaMask for desktop and Trust Wallet for mobile. However, you can use any software wallet compatible with the Ethereum network.
We will use MetaMask on desktop throughout this guide.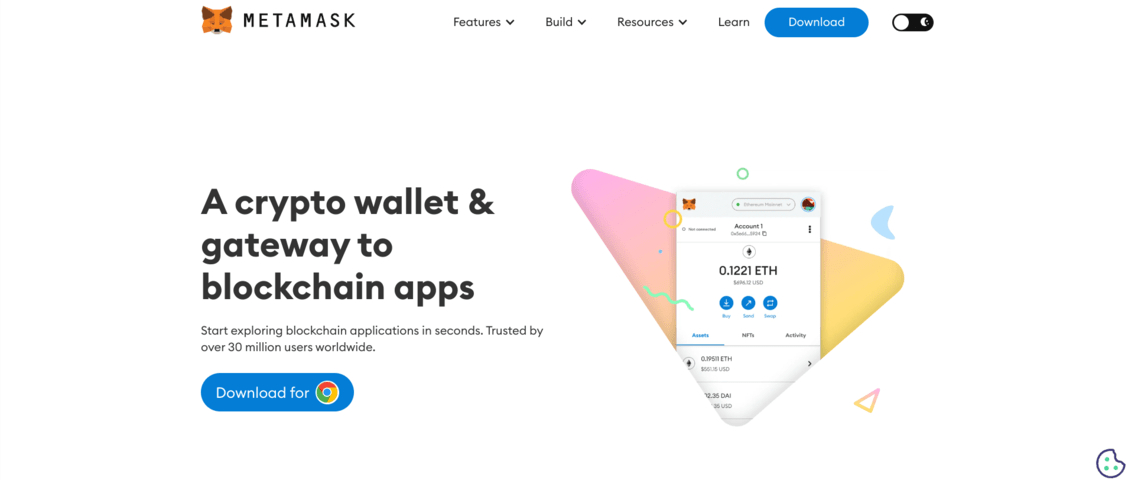 Visit the MetaMask website and download the browser extension, then create a wallet from the MetaMask dashboard. Ensure you store your private keys safely and privately.
Step Two: Buy ETH, USDT or BNB
Purchase ETH, USDT, or BNB from the MetaMask application with a bank card. Alternatively, you can buy it on a centralized exchange and transfer it to your wallet.
Step Three: Visit TG.Casino Presale
Visit the TG.Casino website and select the Connect Wallet button. From there, follow the instructions prompted by your wallet to connect to the presale.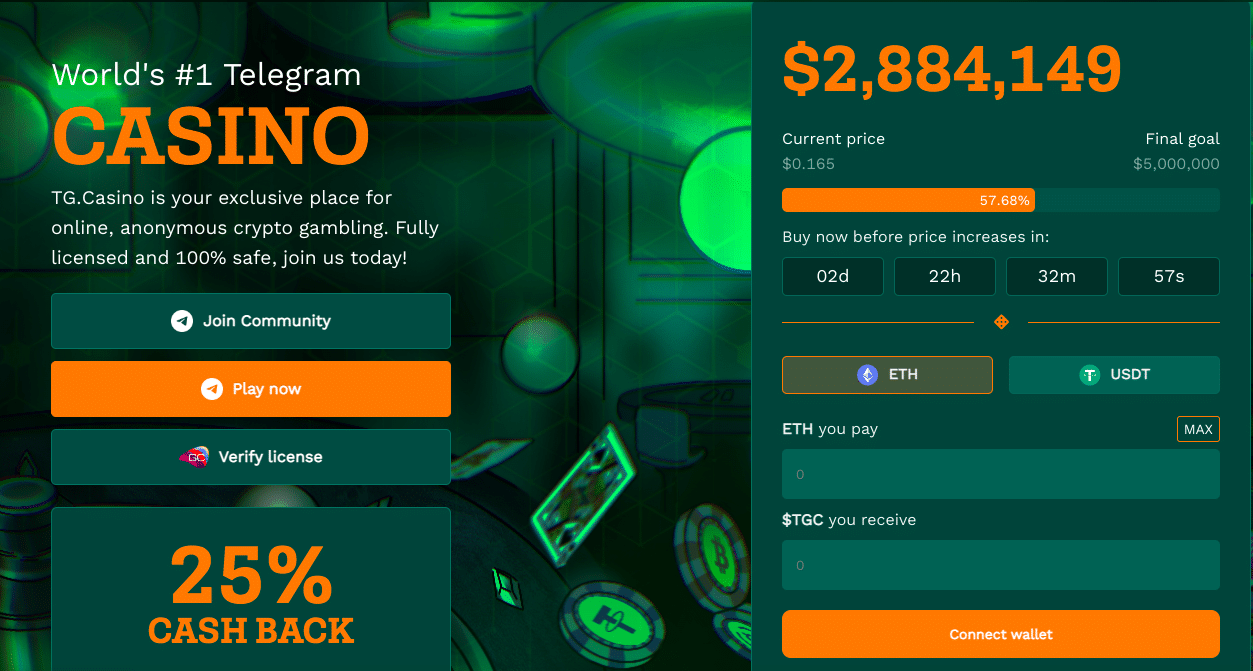 Step Four: Buy $TGC Tokens
Select the crypto you wish to buy TG.Casino tokens with, then choose the amount you want. Finally, complete the purchase, authorizing the transaction on MetaMask when prompted.
Step Five: Claim Your Presale Tokens
Once the presale ends, visit the TG.Casino site and claim your tokens. Investors can also stake their tokens and earn passive rewards.
Visit the TG.Casino Twitter to stay updated on its latest developments.
Best Place to Buy Cryptocurrencies
Binance is the largest exchange in terms of spot and derivatives volume traded in a 24-hour period, every day. With over 350 cryptocurrencies to choose from and low spot trading fees, no wonder that more than 160 million users have decided to go with Binance.
Aside from spot trading, you can trade crypto options and futures or automate your trading with trading bots and copy trading. And if you're looking to buy crypto with fiat currency, you have multiple options, including peer-to-peer transfers, which typically come with lower fees compared to credit card purchases.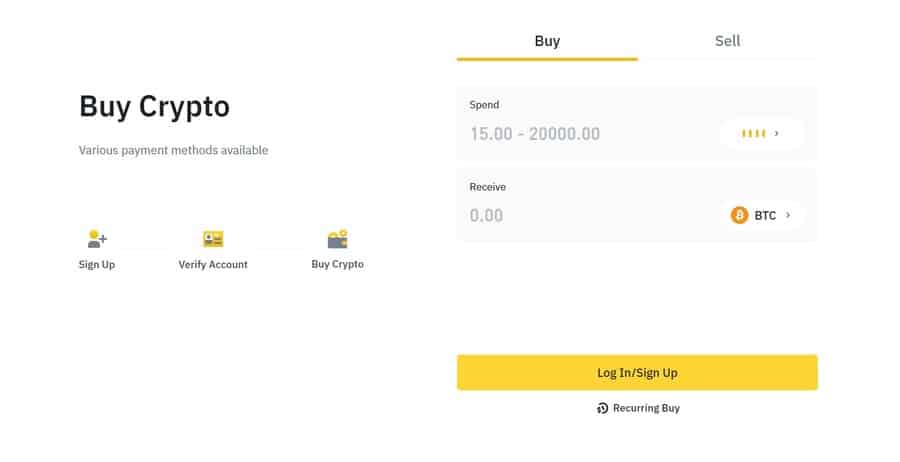 What's more, you can lock your idle coins and tokens into Binance Earn and get between 2% and 100% annually return on select coins. Stablecoins like USDT come with up to 8.34% APR.
Download the app on your mobile phone or a computer, including Linux machines, and start getting the benefits with the Binance exchange.
Don't invest unless you're prepared to lose all the money you invest. This is a high-risk investment and you should not expect to be protected if something goes wrong.
Conclusion
At the cutting edge of crypto casino innovation, TG.Casino's use of robust tokenomics and the accessibility and privacy of Telegram provide massive potential. Our TG.Casino price prediction estimates it could reach highs of $1.6 by the end of 2030. 
Although it could climb higher, our forecast aims to predict sustainable price targets. However, its vast potential has led to an explosive presale, which has already raised more than $2.8 million. Therefore, investors should act fast to secure their $TGC at the best possible price.
References
FAQs
Is TG.Casino a good buy?
While not without risk, our TG.Casino price forecast found the project boasts significant upside potential. It estimates a possible high of $1.6 by the end of 2030. If correct, this would equate to a 1,180% increase from its current price.
Will the TG.Casino price go up?
All cryptocurrencies carry risk, and TG.Casino is no different. However, its carefully designed tokenomics, positioning at the cusp of crypto casino innovation, and successful presale indicate the price could go up in the months ahead.
How much is the TG.Casino presale?
The TG.Casino presale will take place at a single-tiered price of $0.165. This creates a stronger community and bolsters price stability since all presale investors purchase at the same price and have a shared goal of holding long-term.
Disclaimer: The Industry Talk section features insights by crypto industry players and is not a part of the editorial content of Cryptonews.com.
 
---