Terra Luna Classic Price Prediction – Will LUNC Price Hit $10?
Disclosure: Crypto is a high-risk asset class. This article is provided for informational purposes and does not constitute investment advice. By using this website, you agree to our terms and conditions. We may utilise affiliate links within our content, and receive commission.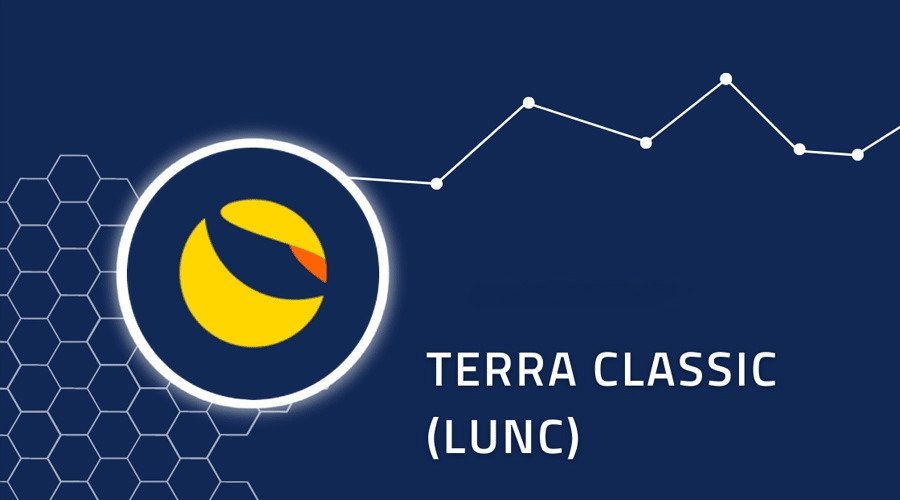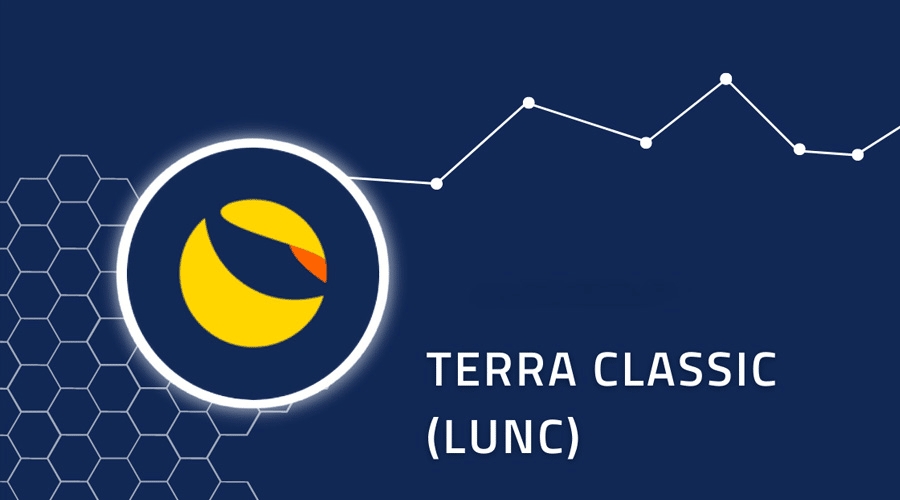 The Terra Luna Classic price has dropped to $0.00024898 today, representing a fall of 5.5% in the past 24 hours. The altcoin has also fallen by 11% in a week and by 19% in a fortnight, as an earlier rally this month loses steam, despite ongoing token burns by Binance and other parties.
While LUNC has been the best-performing major cryptocurrency since it reached an all-time low on May 13, it's arguable that its post-crash rally is slowly coming to an end. That said, continued token burns do aim to substantially reduce its supply, something which could have a corresponding effect on its price, assuming steady (or rising) demand.
Terra Luna Classic Price Prediction – Will LUNC Price Hit $10?
LUNC's price chart reveals that it has been on a low ebb recently and may be due to a bounce. Its relative strength index (purple) has fallen to almost 20 in the past couple of days, before beginning to rise in the past day, indicating a possible rebound.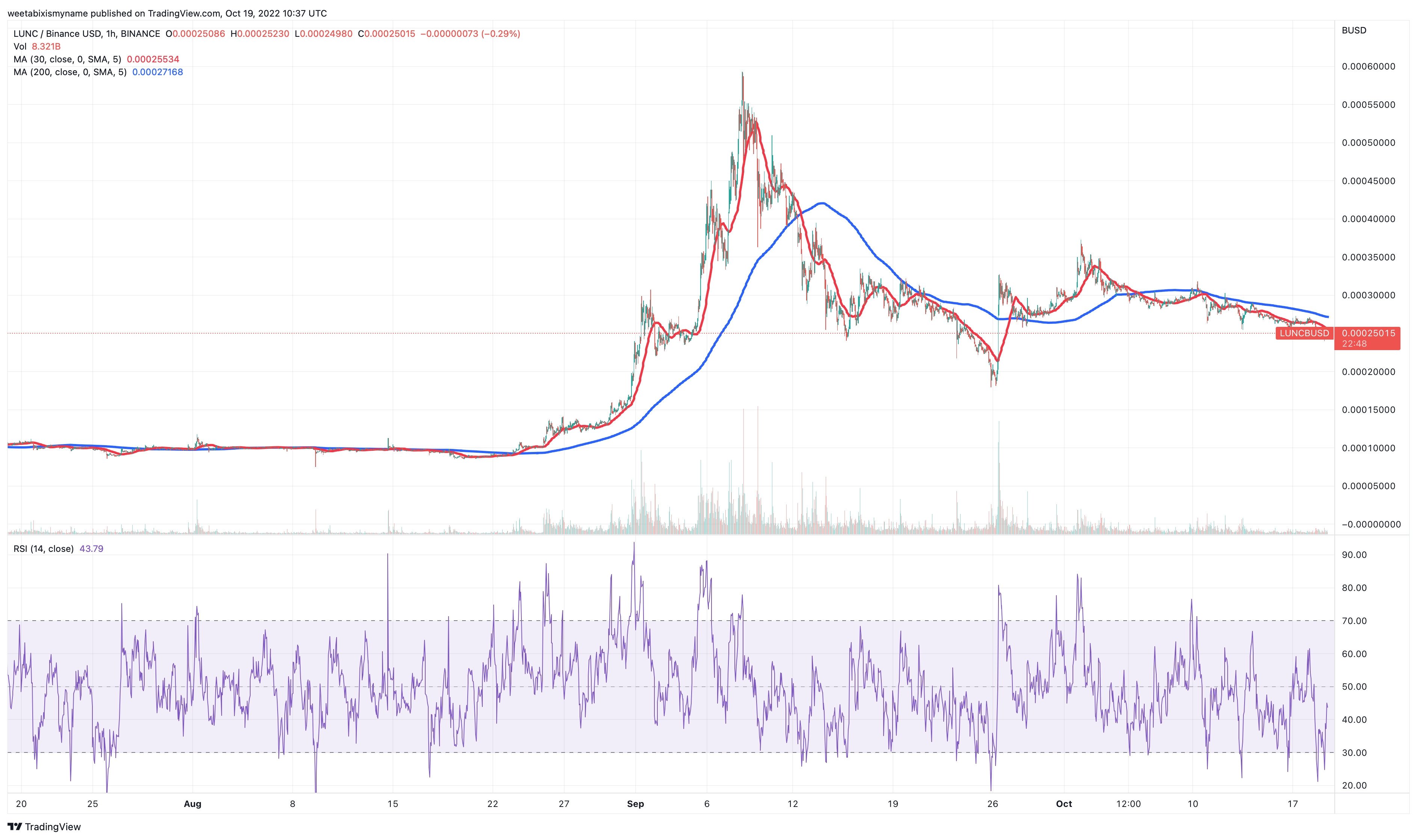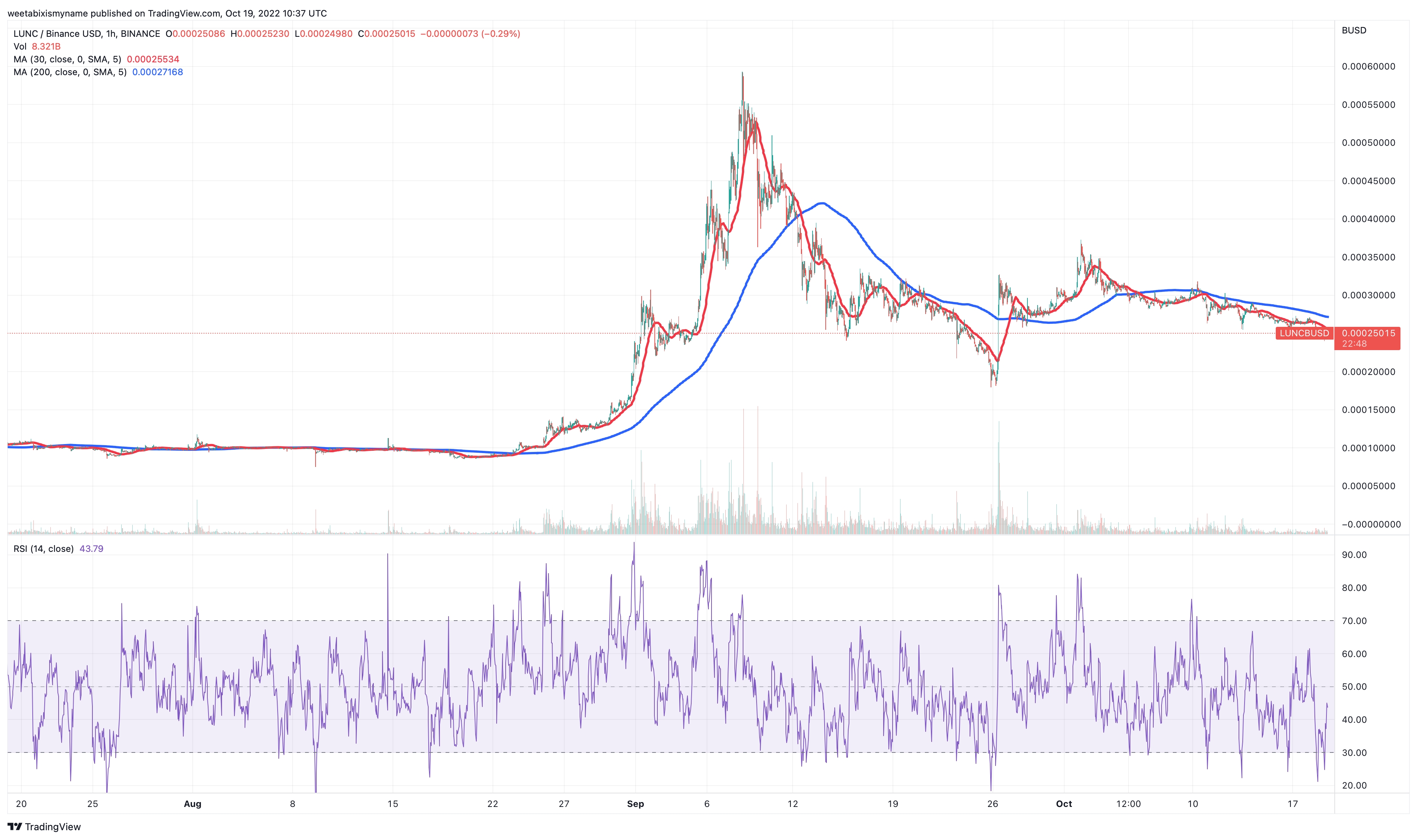 Likewise, its 30-day moving average (red) continues to sink below its 200-day average (blue). At some point, this technical indicator alone would suggest that LUNC is undervalued and has to go up again.
There is at least one good reason to be optimistic that LUNC will rally again in the coming weeks and months. The Terra Luna Classic community announced a tax burn of 1.2% in early September, while Binance has undertaken a separate burning of the trading fees it collects in LUNC, which so far has destroyed more than 8.5 billion LUNC.
The tax burn, which takes a percentage of all LUNC transactions, has now been reduced to 0.2%, after another proposal passed its vote. This, however, is potentially bullish, insofar as the same proposal ensures that 10% of each 'burn' will now be sent to a community development pool, helping to re-grow the Terra Classic ecosystem.
$LUNC is going from revival phase to growth phase – looks like the proposal lower burn tax to 0.2% & give 10% to the community pool is being passed which will help Dapps/Defi projects flourish in the #LunaClassic ecosystem! 🚀🔥

— WSB Trader Rocko 🚀🚀🚀 (@traderrocko) October 16, 2022
As such, there is an argument to the effect that LUNC has more rallies and more sustained growth in store. The thing is, its circulating supply still stands at around 6.9 trillion LUNC, as opposed to around 350 million at the time of its record high (of $119, set in April).
The community will therefore have to burn an incredibly large amount of LUNC in the coming months, and while Seattle-based developer KaJ Labs recently announced plans to burn 2.5 trillion via its play-to-earn game Finesse Shadow Warriors, it's highly questionable as to whether it can actually achieve this (the game hasn't launched yet, with KaJ Labs assuming that it will become immensely popular).
To put things into perspective, a LUNC price of $10 would assume a substantially large gain, of 3,979,841% from its current level. To be fair, Shiba Inu (SHIB) is currently 17,959,114% up from its all-time low, so it's not entirely out of the realm of possibility, but it assumes that large numbers of people will buy into a (formerly) failed project.
At the same time, there's a noticeable lack of fundamental reasons to buy LUNC, other than it used to be a big coin, is starting from a very low base, and seems to be subject to a concerted community effort to pump it. Its sister token, the stablecoin USTC, remains well below $1, so will see little or no demand as a stablecoin, not least when it has already so violently de-pegged.
In other words, LUNC has no real raison d'être at the moment, whereas before it functioned to support USTC's price. Because of this, sustained gains to levels last seen before its crash seem hard to imagine, although the cryptocurrency market certainly has a tendency to do things that some observers would regard as irrational.
If Not LUNC, Where?
Anyone hoping to make a quick-and-easy killing may therefore be disappointed by this unfavorable assessment. That said, there are other avenues available for traders looking for a good profit, even during the current bear market.
Most notably, presales have been one of the biggest sources of profits in 2022. This is highlighted by such new coins as Tamadoge (TAMA), which raised $19 million during its token sale before going on to post a return of 1,800% at one point, following its listing on OKX.
One promising presale happening right now is IMPT, an Ethereum-based carbon credit marketplace that aims to enable consumers to earn NFT-based carbon offsets for spending online with eco-friendly retailers. Its presale began on October 3 and has already raised over $5.5 million, with the IMPT token available at $0.018 (although it will soon have its presale price raised).
Given its fundamentals (which will likely attract ESG investors), IMPT has every chance of returning a nice profit once it secures its first exchange listings. How big such a profit will be obviously can't be predicted, but it's arguable that its prospects over the long term are positive given its strong fundamentals.

Visit IMPT Now
---