Terra Luna Classic Price Prediction – Can LUNC Reach $1 in 2023?
Disclosure: Crypto is a high-risk asset class. This article is provided for informational purposes and does not constitute investment advice. By using this website, you agree to our terms and conditions. We may utilise affiliate links within our content, and receive commission.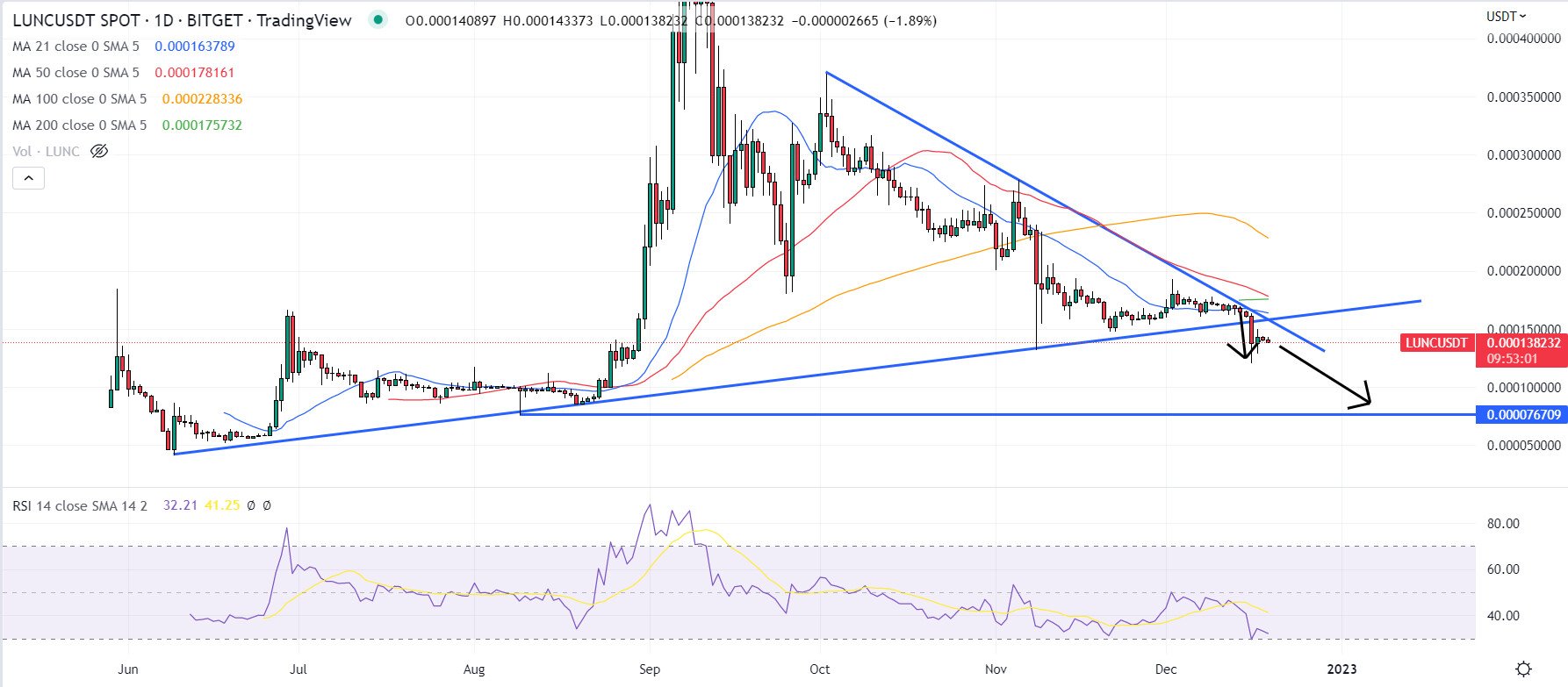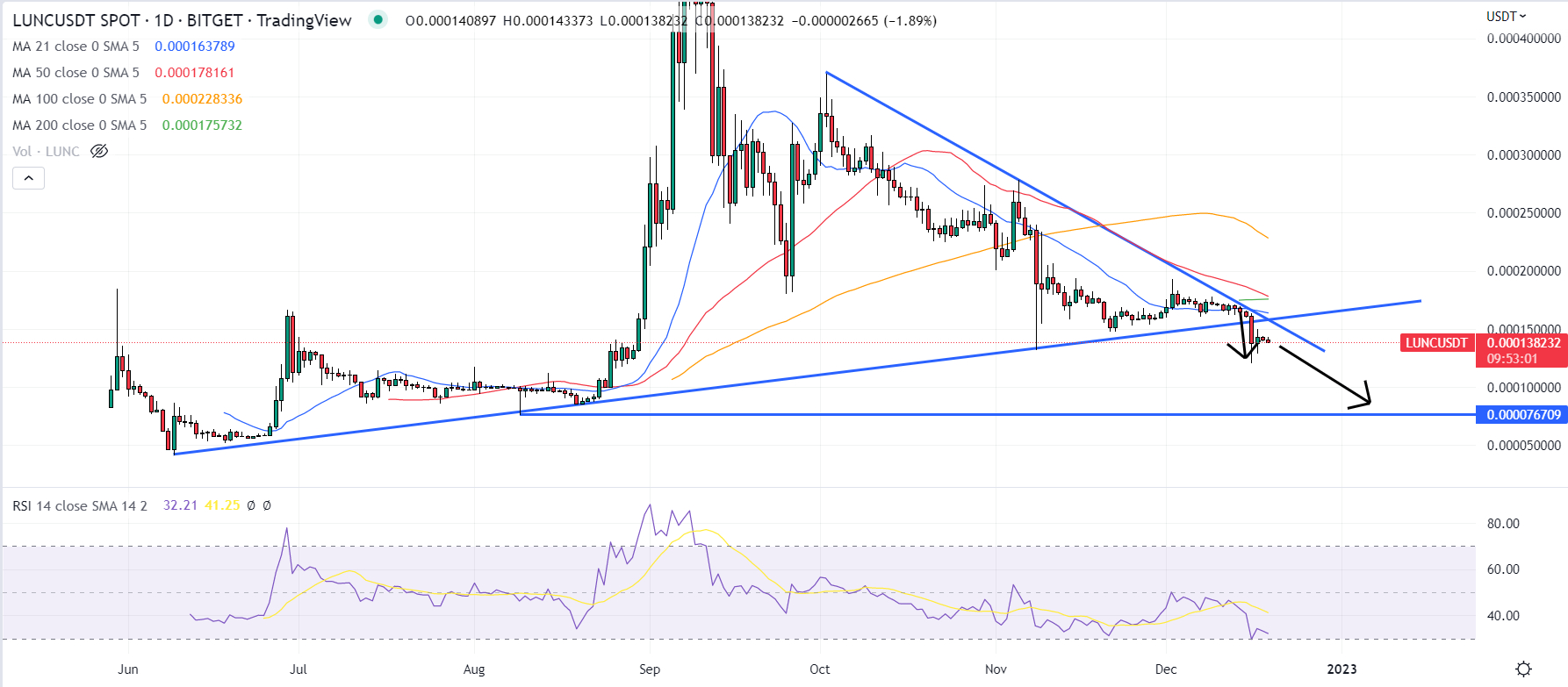 After posting a big 15% drop last Friday that saw the cryptocurrency fall from the $0.00016 area to as low as $0.00012, LUNC, the native token of the now largely defunct Terra Classic blockchain, was last trading in the $0.00014 area. LUNC/USD price action has stabilized over the weekend and amid a quiet start to the week for broader cryptocurrency markets, but price predictions remain pessimistic.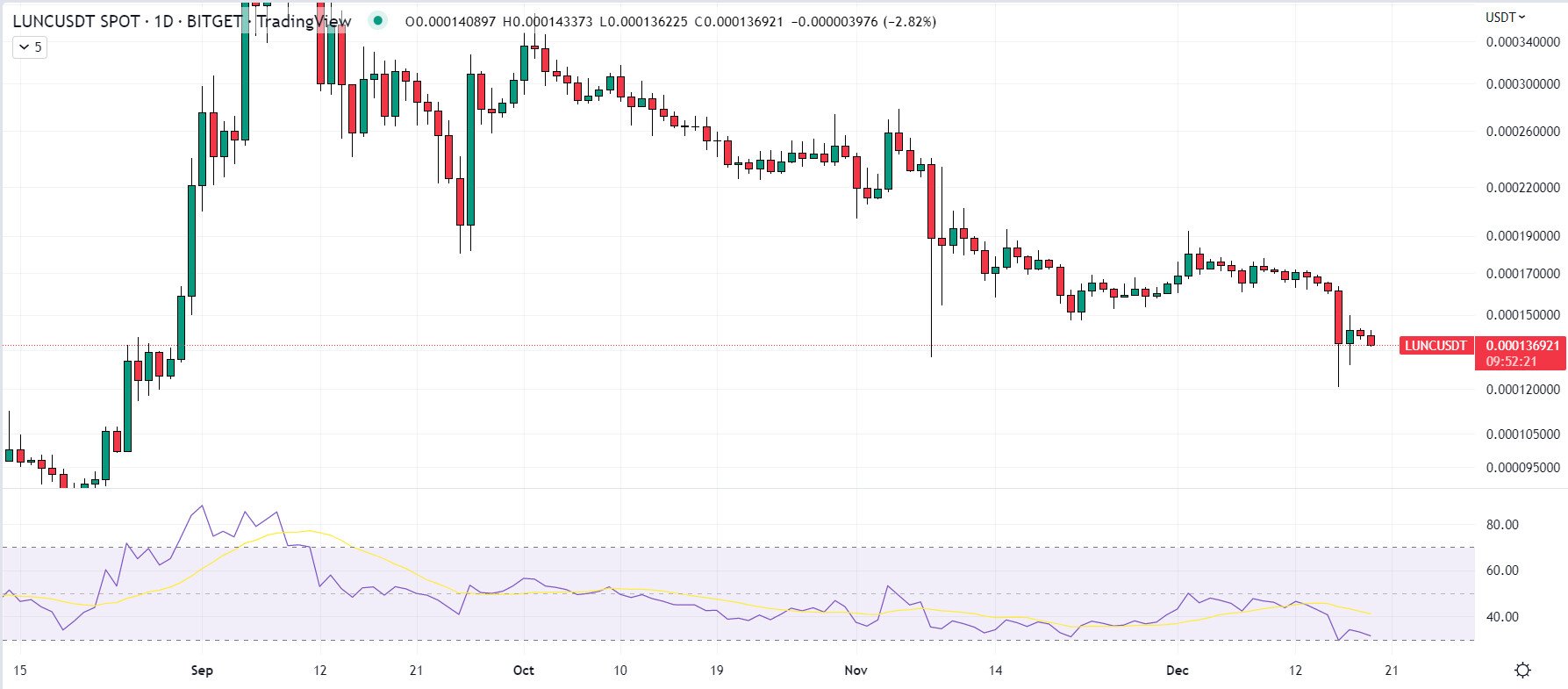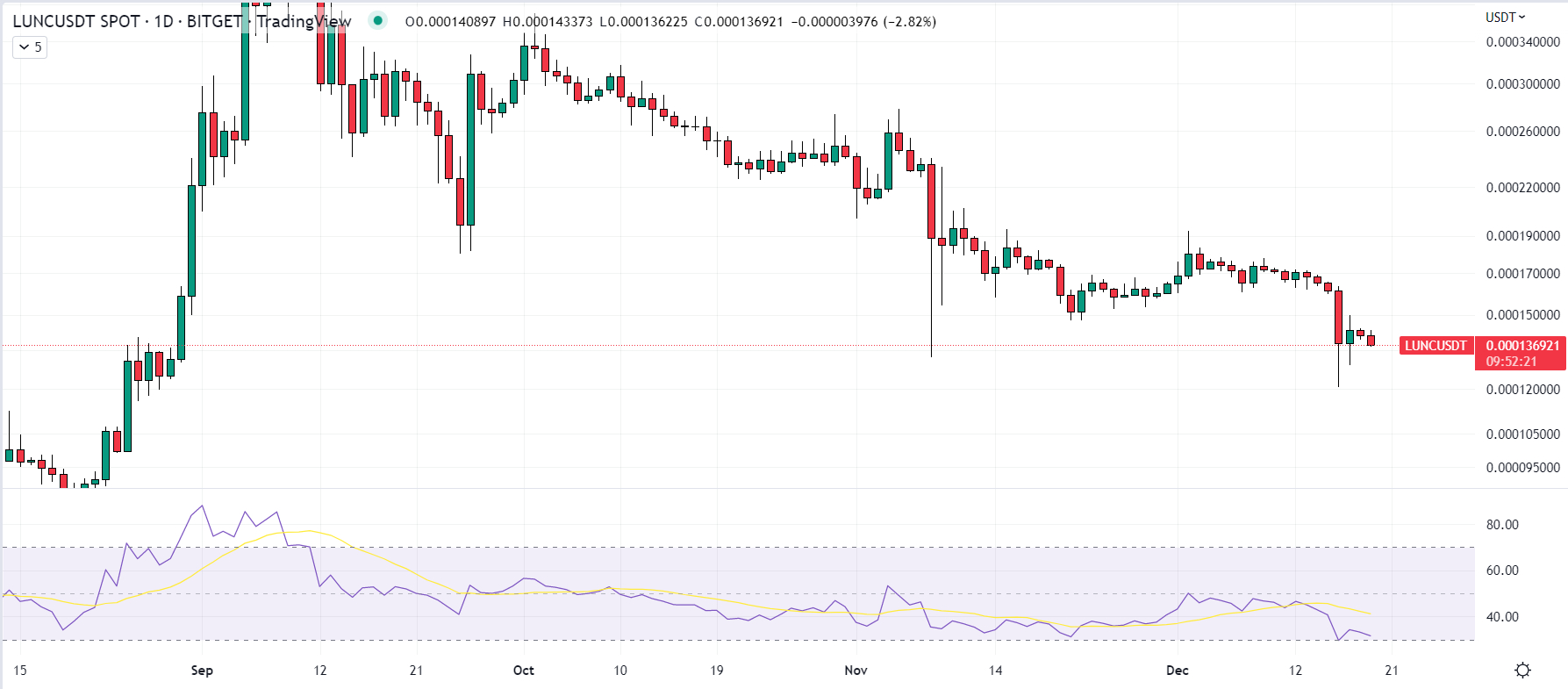 Aside from some important US inflation data on Friday, it's a relatively quiet week in terms of big macro events. For most crypto traders, this week will be about winding down ahead of the Christmas holidays in European and American markets and reflecting on some of the ongoing themes in crypto and macro. T
echnical trends are thus unlikely to see any big reversals and that bodes badly for LUNC.
Price Prediction – LUNC Downside to Worsen in Early 2023
Things are not looking good for the Terra Classic blockchain's LUNC token as 2023 approaches. LUNC/USD saw a key bearish technical breakout on Friday, dropping below an upwards trend line that had been supporting the price action since June.
The pair also continues to respect a downtrend that has been capping the price action going back to early October.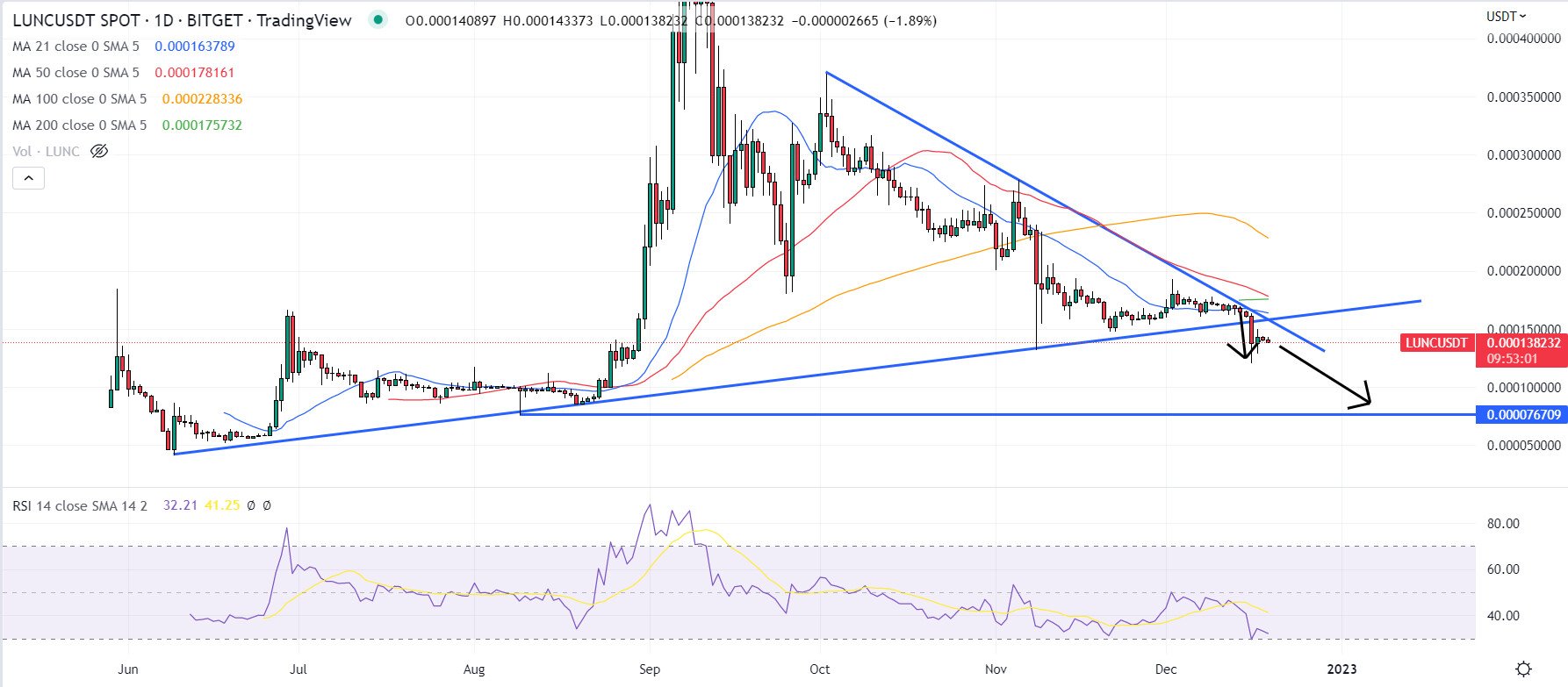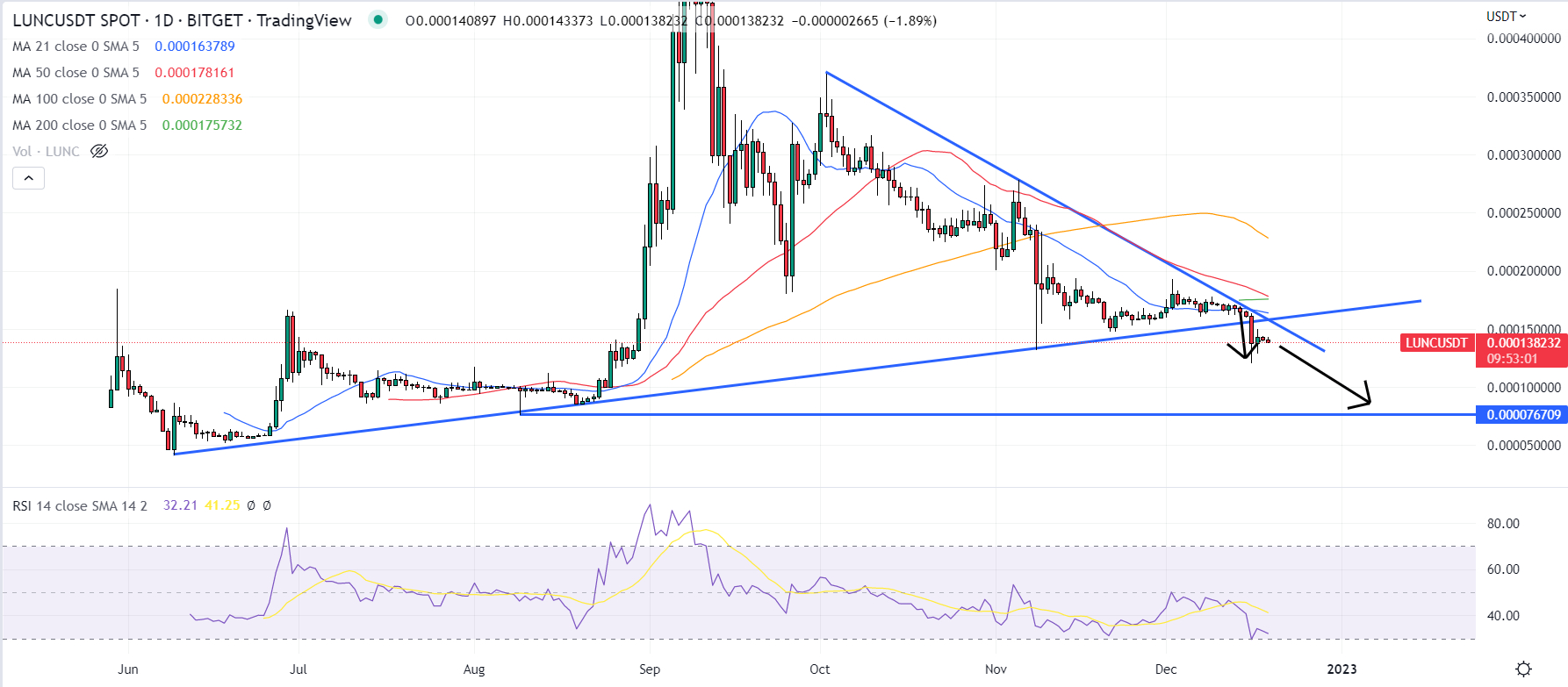 Most traders will likely thus continue to sell LUNC/USD rallies, with a slump back to the $0.00010 area in the coming weeks looking likely.
Can LUNC Hit $1 in 2023?
Crypto traders who remember LUNC's pre-Terra ecosystem and pre-LUNC hyperinflation-induced crash often ask whether LUNC can make it back to its glory days. Can LUNC return to $1, some might ask?
Well, given the current LUNC price of around $0.000014, LUNC would need to post a nearly 750,000% return to do so. Given the current token supply of 5.966 trillion, if each token was worth $1, that would imply LUNC reaching a market capitalization of $5.966 trillion.
Almost every sane person would agree that LUNC reaching a market cap this high is never going to happen. Bitcoin currently only has a market cap in the region of $320 billion. And Bitcoin is the most famous, popular and oldest cryptocurrency in the space, while LUNC is the remnant of a now largely defunct ecosystem that has now largely been abandoned by users and developers.
What if LUNC's token supply is reduced? Seeing as a massive increase in LUNC's market cap is unlikely, a massive reduction in the token's supply seems like the only plausible way to boost LUNC back toward $1. Assuming no change in LUNC's market cap, which was last just under $1 billion, for each LUNC token to be worth $1, the LUNC token supply would need to be reduced from nearly 6 trillion to around 1 billion. That's a more than 99.98% reduction in token supply.
Given the Luna Community recently voted for a burn tax on transactions of just 0.2%, such a reduction in supply seems implausible. Note that there is still a push within the Luna Classic community to increase the burn tax to 1.2%, but this also wouldn't likely ever be sufficient to push LUNC to $1.

But of course, in the world of cryptocurrency, you can never say never, so it remains to be seen how the community addresses the high supply of the coin. As ever, it's an area worth keeping an eye on.
Altcoins Offering Quicker Returns
Cryptocurrencies have been trading sideways for a few weeks now, leading some traders to start looking at alternatives with more potential in the short term. Listed below are some of the leading presales in the market, allowing investors to get in on the ground floor.
FightOut (FGHT) – Presale Launches
FightOut, a brand-new move-to-earn (M2E) fitness application and gym chain that seeks to bring the fitness lifestyle into web3, has opened its pre-sale and investors think the project could transform the existing web3 M2E landscape. While existing M2E applications such as StepN only track steps and require expensive non-fungible token (NFT) buy-ins to take part, FightOut takes a more holistic approach to tracking and rewarding its users for their exercise and activity, and doesn't require any expensive buy-ins to take part.
FightOut's FGHT tokens are currently selling for 60.06 per 1 USDT, and interested investors are encouraged to move fast to secure their tokens, with the pre-sale having already raised over $2.15 million in just a few days. FGHT is the token that will power the FightOut crypto ecosystem.
Dash 2 Trade (D2T) – Presale Enters Final Stage
Those interested in investing in a promising crypto trading platform start-up should look no further than Dash 2 Trade. The up-and-coming analytics and social trading platform hopes to take the crypto trading space by storm with its host of unique features.
These include trading signals, social sentiment and on-chain indicators, a pre-sale token scoring system, a token listing alert system and a strategy back-testing tool. Dash 2 Trade's ecosystem will be powered by the D2T token, which users will need to buy and hold in order to access the platform's features.
Dash 2 Trade is currently conducting a token pre-sale at highly discounted rates and sales recently surpassed $10.18 million. The pre-sale dashboard is going to be released soon, with the development team currently running ahead of schedule. Tokens are currently selling for $0.0533 each and will be listed on multiple centralized exchanges in around one month.
Calvaria (RIA) – Final Presale Stage Now
Major blockchain-based games like Axie Infinity lost significant traction in 2022. As a result, many investors interested in the crypto gaming space are looking for alternative avenues. Calvaria, an up-and-coming play-to-earn battle card crypto game, could be a good alternative. Calvaria seeks to boost crypto adoption by creating a bridge between the real world and crypto, a fun and accessible crypto game.
Investors should consider Calvaria's RIA token pre-sale. Calvaria has now raised $2.49 million, with a crypto whale scooping up $97.5K in one purchase last week. The presale is in the final stage, with only 20% of tokens left.
---