Terra Luna Classic Price Prediction – Can LUNC Rally 500% by 2023?
Disclosure: Crypto is a high-risk asset class. This article is provided for informational purposes and does not constitute investment advice. By using this website, you agree to our terms and conditions. We may utilise affiliate links within our content, and receive commission.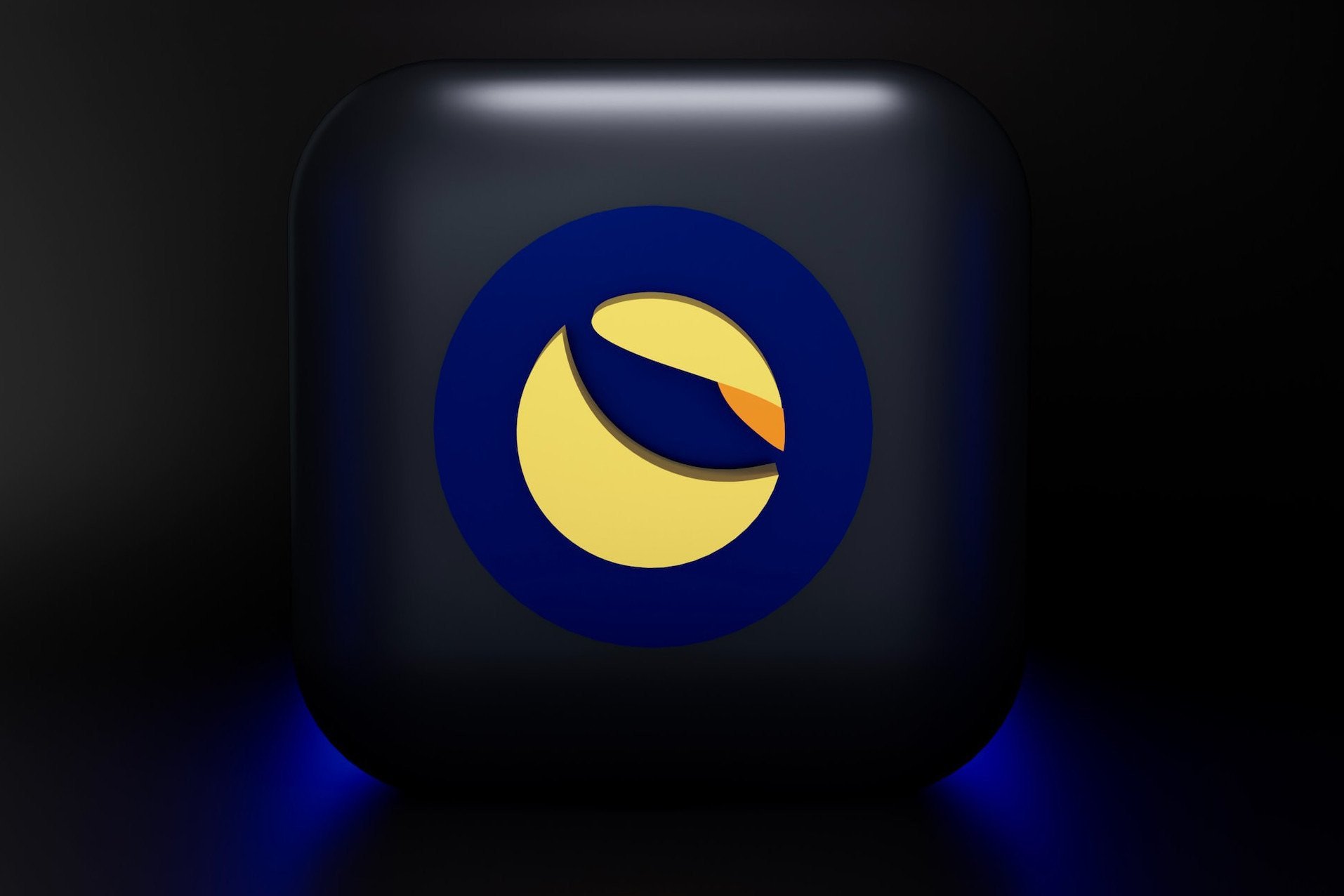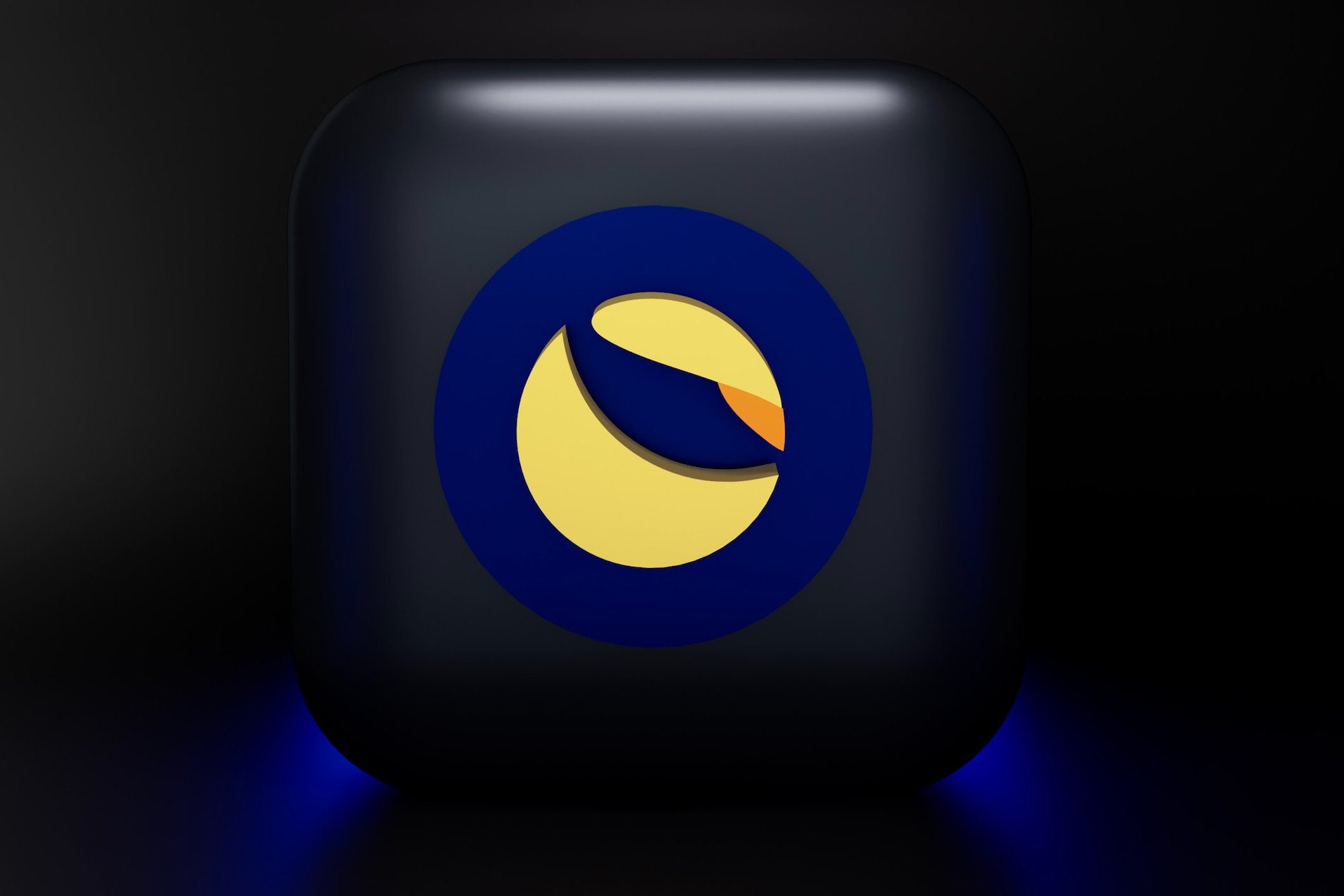 The Terra Luna Classic price has dropped to $0.00026542 in the past 24 hours, representing a slight dip of 0.5%. LUNC is also down by 12% in a week and by 20% in the last 14 days, as ongoing negative macroeconomic conditions continue to weigh down the recovery it enjoyed towards the end of September.
LUNC had been a big beneficiary of ongoing burns from Binance, with its holders and supporters urging other exchanges to follow in the footsteps of Binance. Given that such burning has only just begun, it will likely have a significant impact on the LUNC price in the medium and long term, even if it's hard to say whether it will ever reach its former heights.
Terra Luna Classic Price Prediction – Can LUNC Rally 500% by 2023?
LUNC's chart shows that it's currently enjoying improved momentum, with its relative strength index (purple) rising to nearly 60 in the past day. This is because it has actually increased in price by 4.3% since dropping to $0.00025772 on Sunday.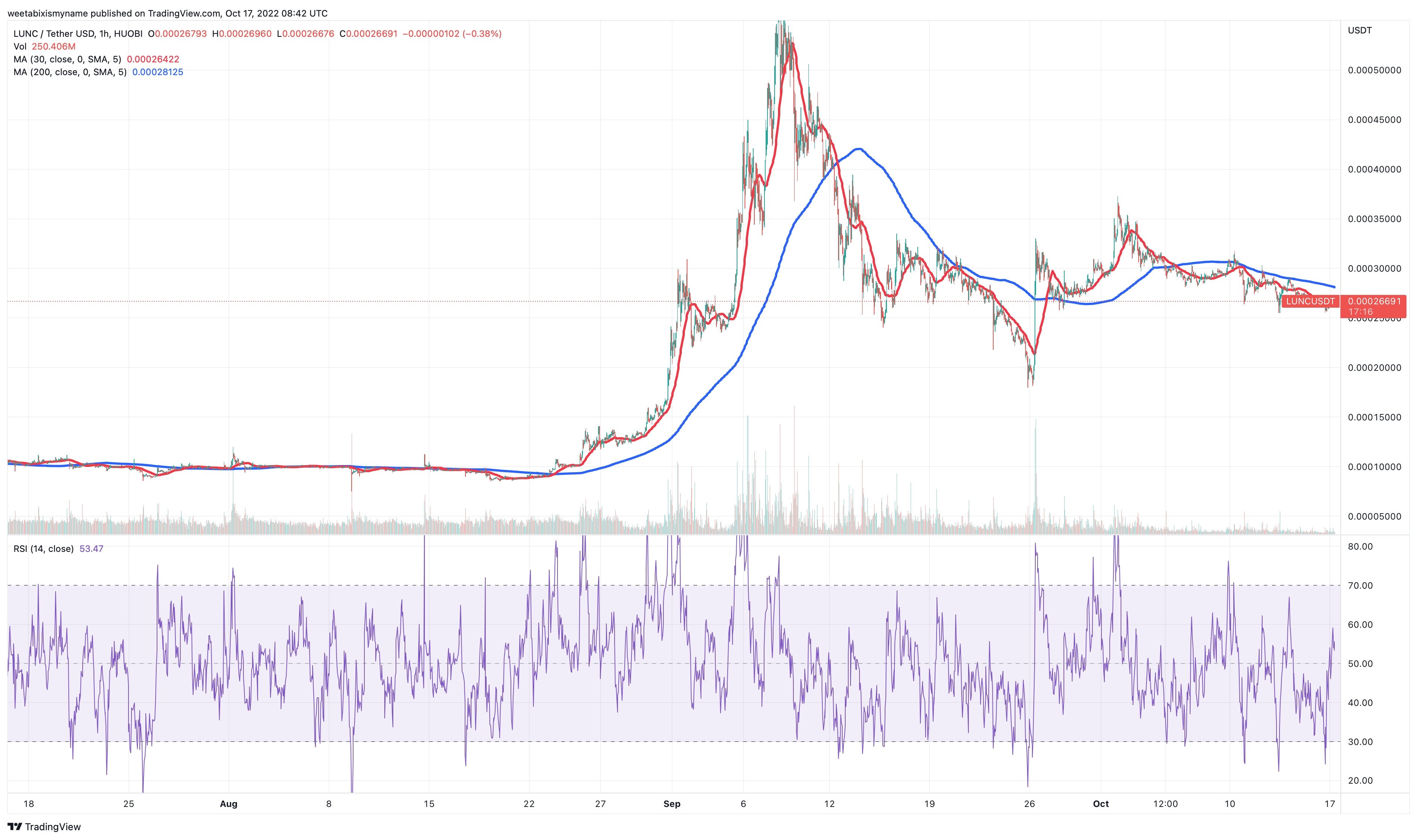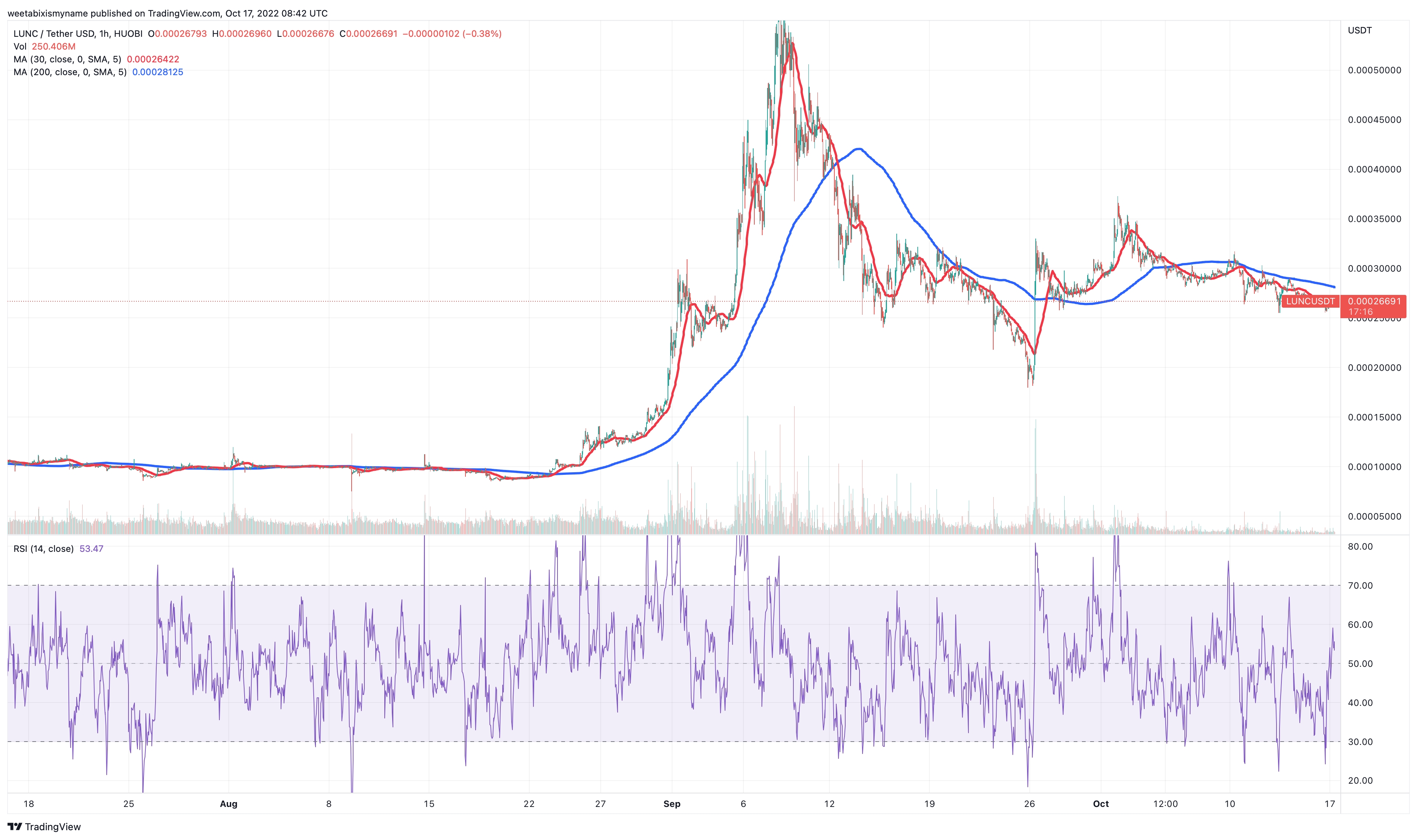 At the same time, its 30-day moving average (red) has turned upwards, and many overtake its 200-day average (blue) once again. This could signal another breakout.
There remains a very good chance that Terra Luna Classic will witness a few more rallies this year since Binance committed last month to an ongoing burn of the LUNC it collects via trading fees.
Are you ready for the next #Binance burn of #LUNC? 🔥🔥🔥

— Travladd Crypto (@OfficialTravlad) October 16, 2022
It keeps a page on the total amount of LUNC burned, which it updates each week. So far, it has destroyed approximately 8.6 billion LUNC, which currently has a value of $2.3 million.
By itself it may not be much, but Binance has created a precedent for other exchanges to follow, something which has excited the market and goaded LUNC supporters into believing it could reclaim its former highs.
All I want is $LUNC to hit $1 and #USTC

— LunaClassic HQ 🌕 ™ (@LunaClassicHQ) October 9, 2022
Other exchanges (e.g. KuCoin) have supported the LUNC tax burn in recent weeks, while others will likely follow. On top of this, Seattle-based KoJ Labs announced last week that it would be setting aside $450 million to burn a total of 2.5 trillion LUNC in the coming months as part of a burn mechanism implemented within its play-to-earn Finesse Shadow Warriors game.
This all puts LUNC on track to substantially reduce its circulating supply, which currently stands at 6.88 trillion. And given that it has already rallied by a massive 26,655% since collapsing in May of this year, another 500% by 2023 doesn't sound like it's out of the question.
To rally 500% from its current level, LUNC would have to reach $0.0016, which certainly doesn't sound ridiculous or overly ambitious. Bear in mind that the altcoin's recent rises have come without there being a big reduction in its supply. implying that such a reduction could have a significant impact on its price.
The Long Game
The question is, even if LUNC is in a position to enjoy some more price rises in the coming months, is it truly realistic to expect that it – and its related stablecoin USTC – will ever return to something like the level it had before the whole Terra ecosystem imploded in May?
This seems doubtful because even if various exchanges and platforms can burn enough LUNC to reduce its supply to something approaching its former level, it's still very hard to imagine there will be genuine demand for the token.
This is because, in the past, demand for LUNC (previously known as LUNA) was based on the demand for USTC (previously known as UST). Basically, LUNA was burned whenever more UST was issued, meaning that growing demand for the UST stablecoin implied that LUNA's supply would continue reducing, and in parallel, its price would rise.
Now, there's no way USTC will experience the kind of demand enjoyed previously by UST. Not only is it still priced at $0.0391020 (rather than $1), but even if it were to return to $1 at some point, it's still highly likely that most people would trust it. This is because its support mechanism has already failed once, so what's to stop it from failing again?
Therein lies the nub. So while it remains likely that LUNC will continue enjoying some rises in the short- and medium-term (especially during a bear market where there isn't much else happening), it doesn't seem probable that it's on a sustainable path to full recovery.
This green crypto has surprised even crypto experts
This may come as a disappointment to anyone hoping for big sustained gains from LUNC. However, there are other options for positive returns, even during the ongoing bear market.
In particular, presales have been particularly successful this year. For example, Tamadoge (TAMA) raised $19 million in its presale before witnessing a 1,800% gain (relative to its presale price) at one point after it was listed on OKX.
One ongoing presale that does seem promising is the Impact Project, which is an Ethereum-based carbon credit marketplace and green shopping platform. The sale for its IMPT token kicked off on October 3 and has so far raised $5 million, with the coin currently available at $0.018 (although the price will soon rise to $0.023).
The vision of https://t.co/f7szQiqt6K is to offer simple, affordable, and effective mechanisms that would help each member of society combat climate change and invest in our planet. 😎🙌🏼

Join Our Discord Channel To Find Out more!
👉 Discord – https://t.co/4SsUNQiREC pic.twitter.com/cjiltk9yEz

— IMPT.io (@IMPT_token) October 16, 2022
While IMPT's future price history can't be predicted, the Impact Project's fundamentals make it an interesting platform for ESG investors, so it has every chance of seeing a good positive return once it secures its first few listings.
---