Terra Luna Classic Price Prediction – Can LUNC Hit $1 Before 2023?
Disclosure: Crypto is a high-risk asset class. This article is provided for informational purposes and does not constitute investment advice. By using this website, you agree to our terms and conditions. We may utilise affiliate links within our content, and receive commission.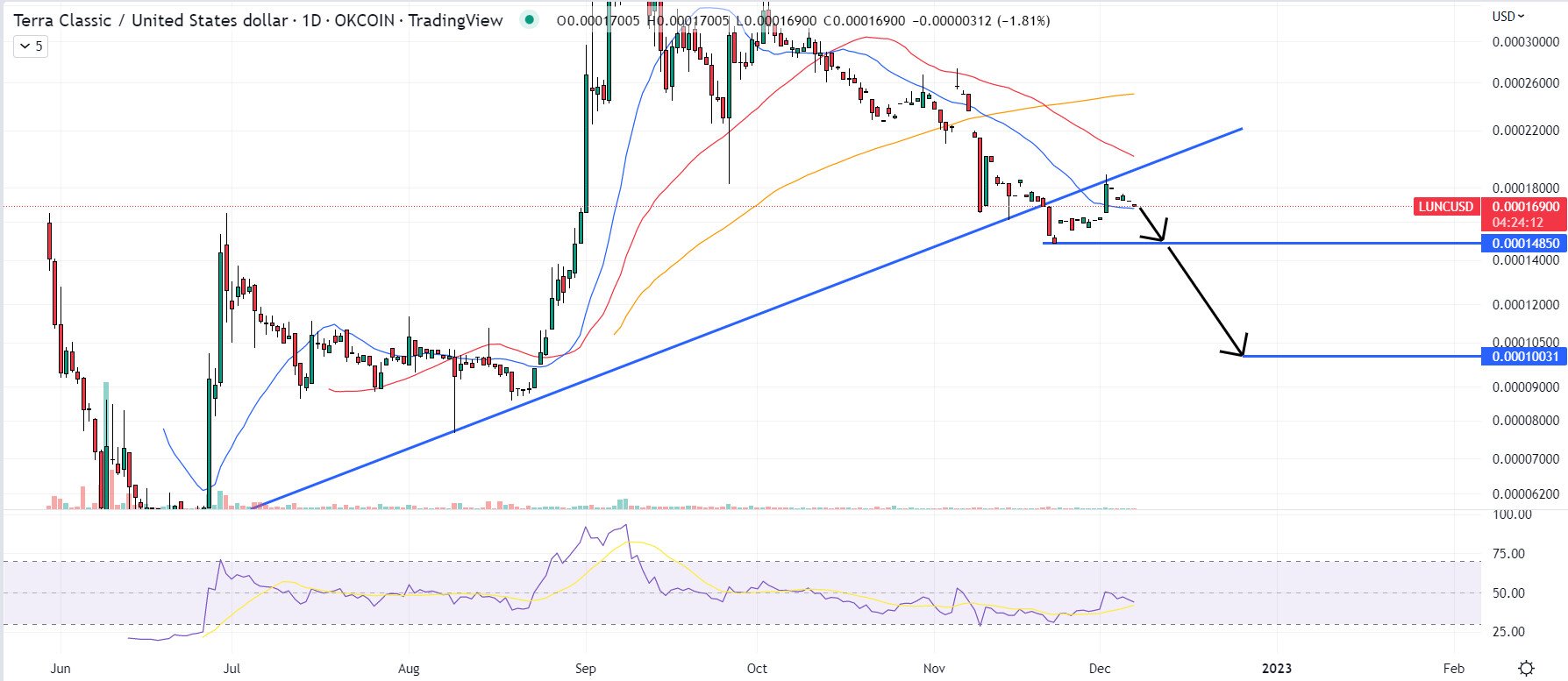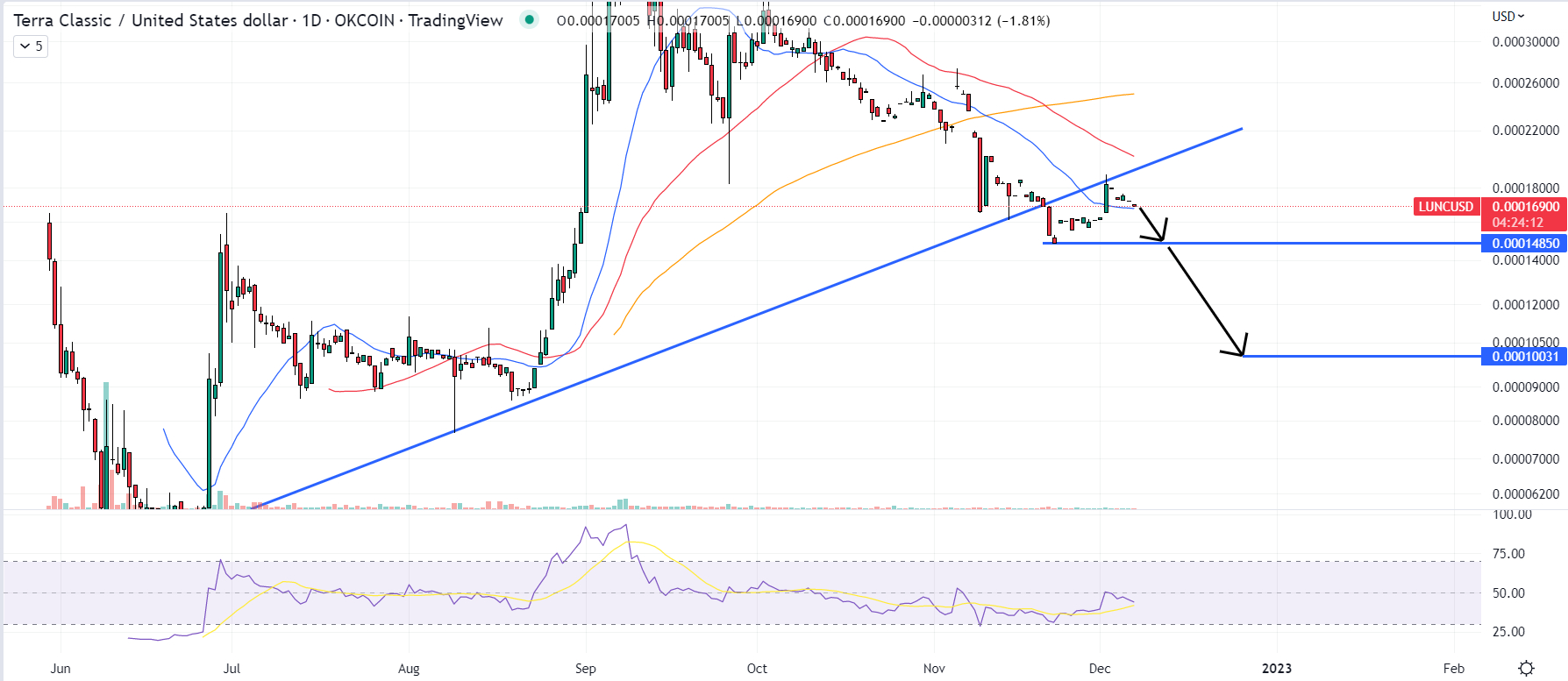 LUNC, the native cryptocurrency that powers the Terra Luna Classic blockchain, was last changing hands near $0.00017 and was just above its 21-Day Moving Average at $0.0001675. Whilst the cryptocurrency is still trading about 14% higher versus its November lows under $0.00015, it has seen a sharp pullback since nearing $0.00019 earlier this month.
Traders have attributed this downside to technical selling after LUNC hit a key area of resistance and price predictions remain bearish. LUNC had been trending higher since June but broke below this uptrend in mid-November.
In early December, LUNC tried to retest and break back above this uptrend but was rejected – the cryptocurrency has been moving lower ever since. Bears are now targeting a retest of recent lows under $0.00015, and many think a break below here could open the door for a drop back to sub $0.00010 level.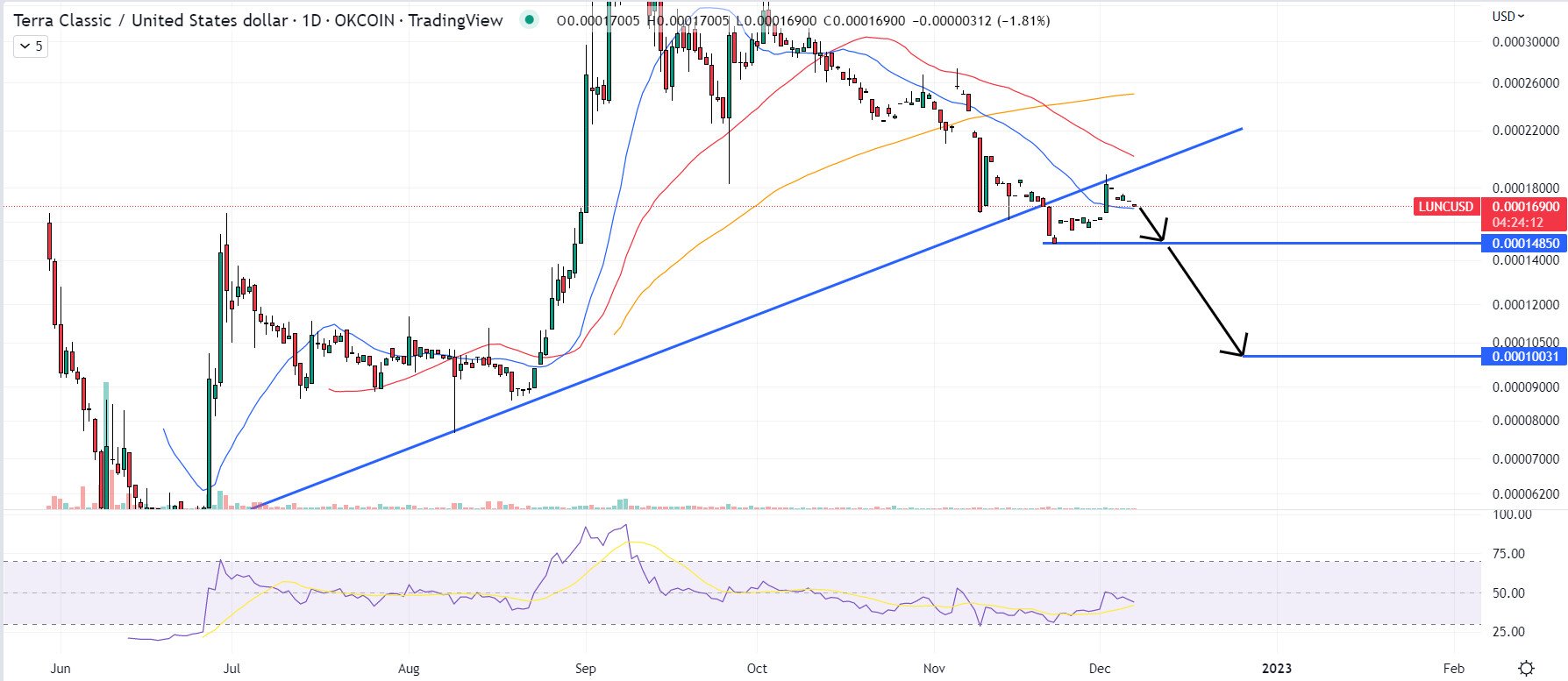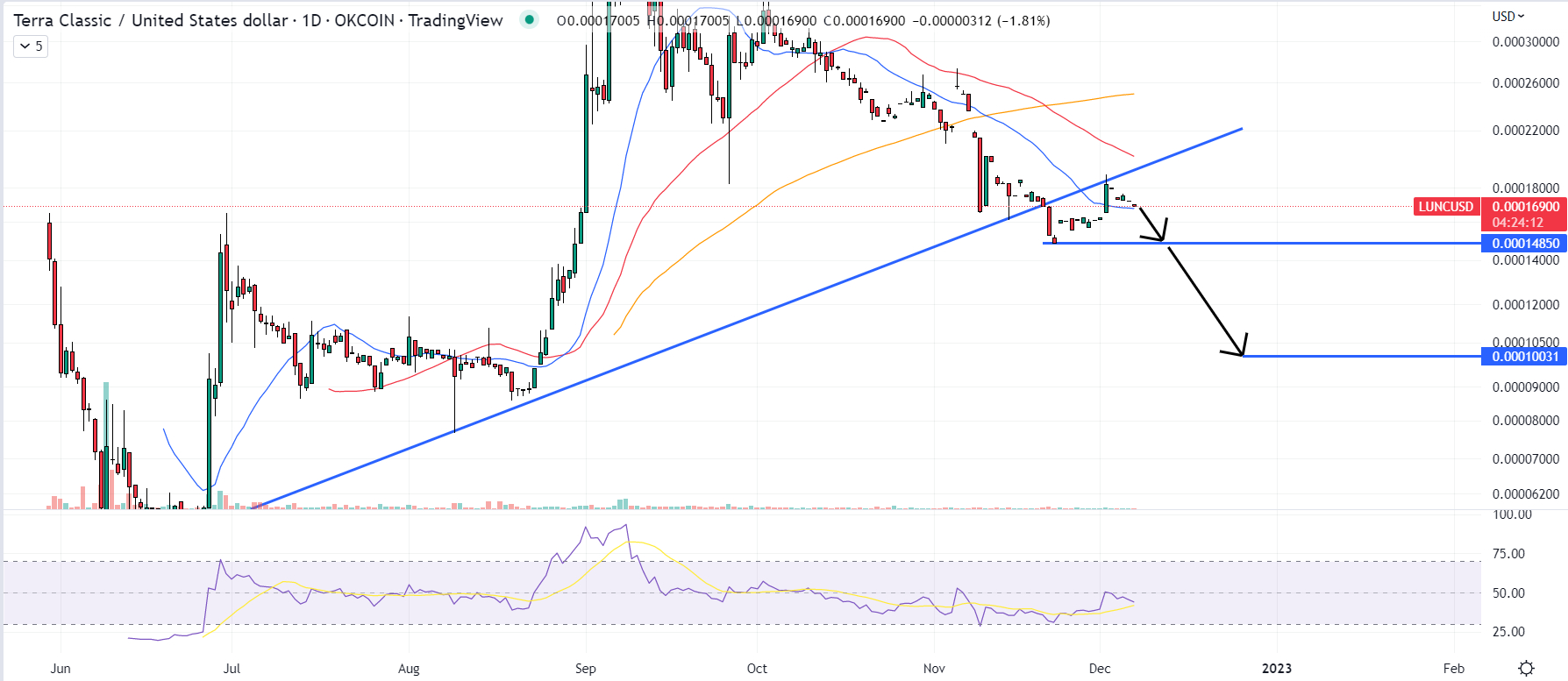 Can LUNC Hit $1 Before 2023?
Crypto traders who remember LUNC's pre-Terra ecosystem and pre-LUNC hyperinflation-induced crash often ask whether LUNC can make it back to its glory days. Can LUNC return to $1, some might ask?
Well, given the current LUNC price of around $0.0000165, LUNC would need to post a nearly 600,000% return to do so. Given the current token supply of 5.9912 trillion, if each token was worth $1, that would imply LUNC reaching a market capitalization of $5.9912 trillion.
Almost every sane person would agree that LUNC reaching a market cap this high is never going to happen, especially within the month. Bitcoin currently only has a market cap in the region of $320 billion. And Bitcoin is the most famous, popular and oldest cryptocurrency in the space, while LUNC is the remnant of a now largely defunct ecosystem that has now largely been abandoned by users and developers.
What if LUNC's token supply is reduced? Seeing as a massive increase in LUNC's market cap is unlikely, a massive reduction in the token's supply seems like the only plausible way to boost LUNC back toward $1. Assuming no change in LUNC's market cap, which was last just under $1 billion, for each LUNC token to be worth $1, the LUNC token supply would need to be reduced from nearly 6 trillion to around 1 billion. That's a more than 99.98% reduction in token supply.
Given the Luna Community recently voted for a burn tax on transactions of just 0.2%, such a reduction in supply seems implausible. Note that there is still a push within the Luna Classic community to increase the burn tax to 1.2%, but this also wouldn't likely ever be sufficient to push LUNC to $1.

But of course, in the world of cryptocurrency, you can never say never, so it remains to be seen how the community addresses the high supply of the coin. As ever, it's an area worth keeping an eye on.
Altcoins With A Future
LUNC price outlook doesn't look great, which is why many traders have begun looking elsewhere for better opportunities. Here is a list of pre-sale altcoins with strong fundamentals offering better, short term and long-term gains.
Dash 2 Trade (D2T)
Those interested in investing in a promising crypto trading platform start-up should look no further than Dash 2 Trade. The up-and-coming analytics and social trading platform hopes to take the crypto trading space by storm with its host of unique features.
These include trading signals, social sentiment and on-chain indicators, a pre-sale token scoring system, a token listing alert system and a strategy back-testing tool. Dash 2 Trade's ecosystem will be powered by the D2T token, which users will need to buy and hold in order to access the platform's features.
Dash 2 Trade is currently conducting a token pre-sale at highly discounted rates. D2T token sales recently surpassed $8.94 million. The sale has now entered its fourth and final phase and the pre-sale dashboard is going to be released soon, with the development team currently running ahead of schedule.
IMPT
Amid the growth in popularity in recent years of environmentally and socially friendly investments, investors looking for a green cryptocurrency should consider the IMPT token. IMPT.io has partnered with thousands of the world's largest retailers to help offset their carbon footprints and allows users to trade carbon credits on the blockchain.
IMPT tokens are currently in their second stage of the presale with IMPT having raised over $14.7 million. That amounts to $300K in token sales in just the last 24 hours. Investors only have another four days to purchase tokens at the current discounted price of $0.023. IMPT token exchange listings begin in seven days.
Calvaria (RIA)
Major blockchain-based games like Axie Infinity lost significant traction in 2022. As a result, many investors interested in the crypto gaming space are looking for alternative avenues. Calvaria, an up-and-coming play-to-earn battle card crypto game, could be a good alternative. Calvaria seeks to boost crypto adoption by creating a bridge between the real world and crypto, a fun and accessible crypto game.
Investors should consider Calvaria's RIA token pre-sale. Calvaria has now raised $2.23 million and is in the final stage of its fundraising process. Only 28% of pre-sale tokens remain up for grabs.
---