Terra Luna Classic Price Prediction as LUNC Spikes Up 3% – Here's Where LUNC is Heading Now?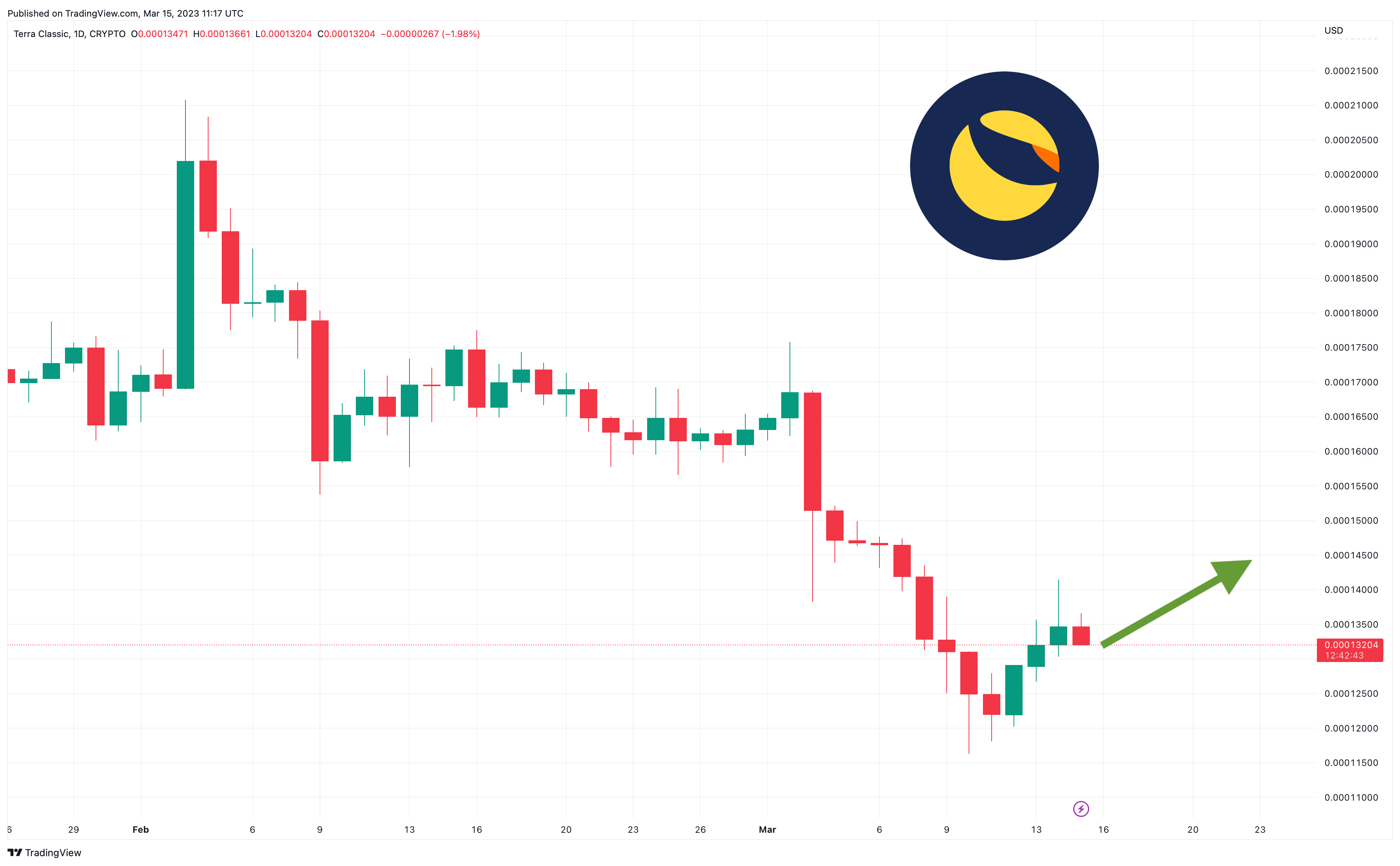 The price of Terra Luna Classic (LUNC) has risen to $0.00013313 today, with the coin rising by as much as 3% in the past 24 hours after a big market-wide rally yesterday.
Despite yesterday's gains, LUNC's current price makes for a 6% loss in the past week and a 19% fall in the last 30 days, at a time when major tokens (e.g. BTC and ETH) are up within the same timeframes.
However, yesterday's rally underlines the possibility of further gains for LUNC, which is already up by just over 13,000% relative to its all-time low set in May 2022 of $0.000000999967.
And with plans to re-peg sister stablecoin USTC to $1 under development, it could be only a matter of time before large quantities of LUNC are burned, causing the altcoin's price to surge.
Terra Luna Classic Price Prediction as LUNC Spikes Up 3% – Here's Where LUNC is Heading Now?
LUNC's chart reveals some promising indicators, with both its relative strength index (purple) and its 30-day moving average (red) doing some interesting things at the moment.
Namely, its 30-day average has begun rising steeply towards its 200-day (blue), and if the shorter average overtakes the longer, the coin could be in for a breakout.
Likewise, LUNC's RSI has jumped to 70 in recent days, having been under 30 in the past week, indicating overselling.
While it has dipped in the past few hours, it's still hovering around 60, indicating some decent upwards momentum.
The key resistance level for LUNC here is $0.000135: if it can make a clean break through this price, it could be in for further gains in the coming days.
Given how poorly LUNC has performed in the past week and month, there's an argument to the effect that it's currently oversold and undervalued and could therefore spike substantially in the next few weeks.
This suspicion is reinforced by ongoing efforts to burn LUNC and boost its price, with February witnessing the acceptance of a proposal to re-peg LUNC's sister stablecoin, USTC.
The reason this is bullish for Terra Luna Classic is that it would require the large-scale burn of LUNC tokens since LUNC is used to regulate USTC's price.
As the proposal's authors write, it would create "a more efficient system for LUNC and USTC that can burn more than the tax rate can."
Burning more is certainly necessary if LUNC is to come even remotely close to its former price, since only 48.6 billion LUNC has been burned to date, out of a circulating supply of around 5.9 trillion.
This is why the proposal is so important, yet a plan for actually putting it into practice still needs to be agreed upon, which is why LUNC's price has really responded much to its acceptance.
Still, the Terra Luna Classic community continues to work on various other proposals aimed at boosting LUNC.
This includes a proposal to increase the on-chain burn tax from its current rate of 0.5% to 0.8%, something which will obviously result in more LUNC being taken out of circulation.
At the same time, another proposal suggests changing the burn tax split so that 25% (instead of 10%) of what's burned goes towards funding developers.
This would help fund development on the Terra Luna Classic blockchain, helping to make its ecosystem and apps more attractive to users and projects.
However, as positive as such proposals may be in intent, they have drawn a fair degree of dissent, with some validators opposed to the idea of raising the burn tax rate to 0.8%.
At the same time, there's also a proposal to remove a developer from the task force responsible for supporting the growth of the Terra Luna Classic ecosystem.
This all highlights why LUNC hasn't been able to recover as strongly as some holders may have wanted and also why its community hasn't been able to reach a concrete plan to actually re-peg USTC.
Still, some good news is that the burn rate has definitely increased in recent weeks, with Binance resuming its own burn of trading fees and revealing that it had destroyed 8 billion LUNC in the three months leading to the end of February.
Because of this gradual increase in burning, there's a good chance that LUNC could reach $0.00015 in the next few weeks, with $0.0002 being a slightly more distant target.
From there, it has a real chance of returning to $0.0004 or $0.0005 by the end of 2023, assuming that the market continues its apparent recovery.
Bigger gains are dependent on the Terra Luna Classic community rallying behind a specific plan to re-peg USTC, something which could send LUNC surging if and when it happens.
Alternatives to Terra Luna Classic
LUNC's prospects for significant gains appear to be limited until a concrete plan for re-pegging USTC is developed and implemented.
In the meantime, traders seeking short-term opportunities may want to consider other coins, as several newer altcoins and presale tokens are currently showing promising potential.
If you're interested in exploring these options, the Cryptonews Industry Talk team has compiled a list of the top 15 cryptocurrencies for 2023, featuring some of the most exciting up-and-coming projects in the crypto space.

The list is updated weekly with new altcoins and ICO projects, so be sure to check back for new entries.
Disclaimer: The Industry Talk section features insights by crypto industry players and is not a part of the editorial content of Cryptonews.com.
---