Terra Luna Classic Price Prediction as LUNC Spikes Up 16% in 30 Days, $1 LUNC Incoming?
Disclosure: Crypto is a high-risk asset class. This article is provided for informational purposes and does not constitute investment advice. By using this website, you agree to our terms and conditions. We may utilise affiliate links within our content, and receive commission.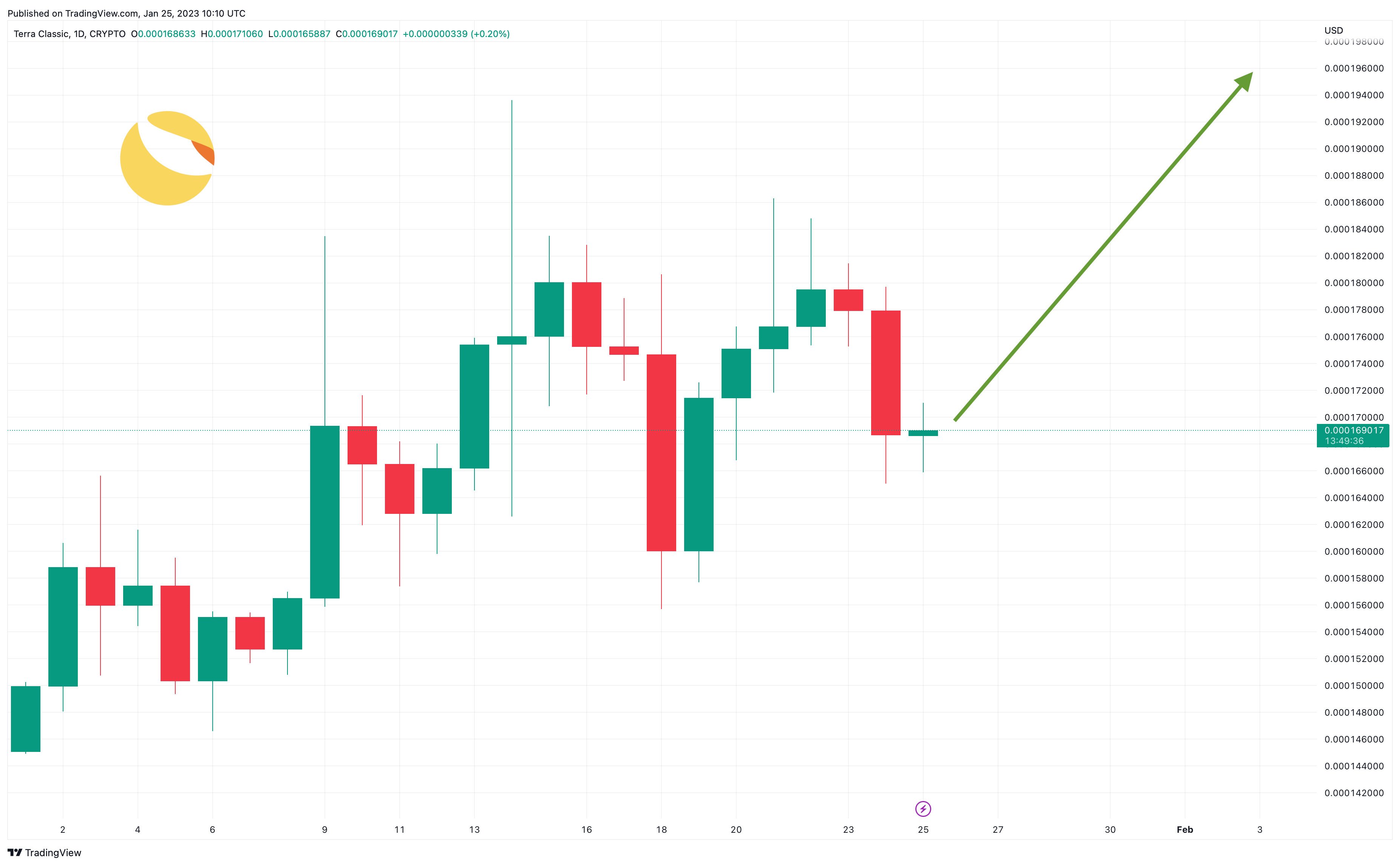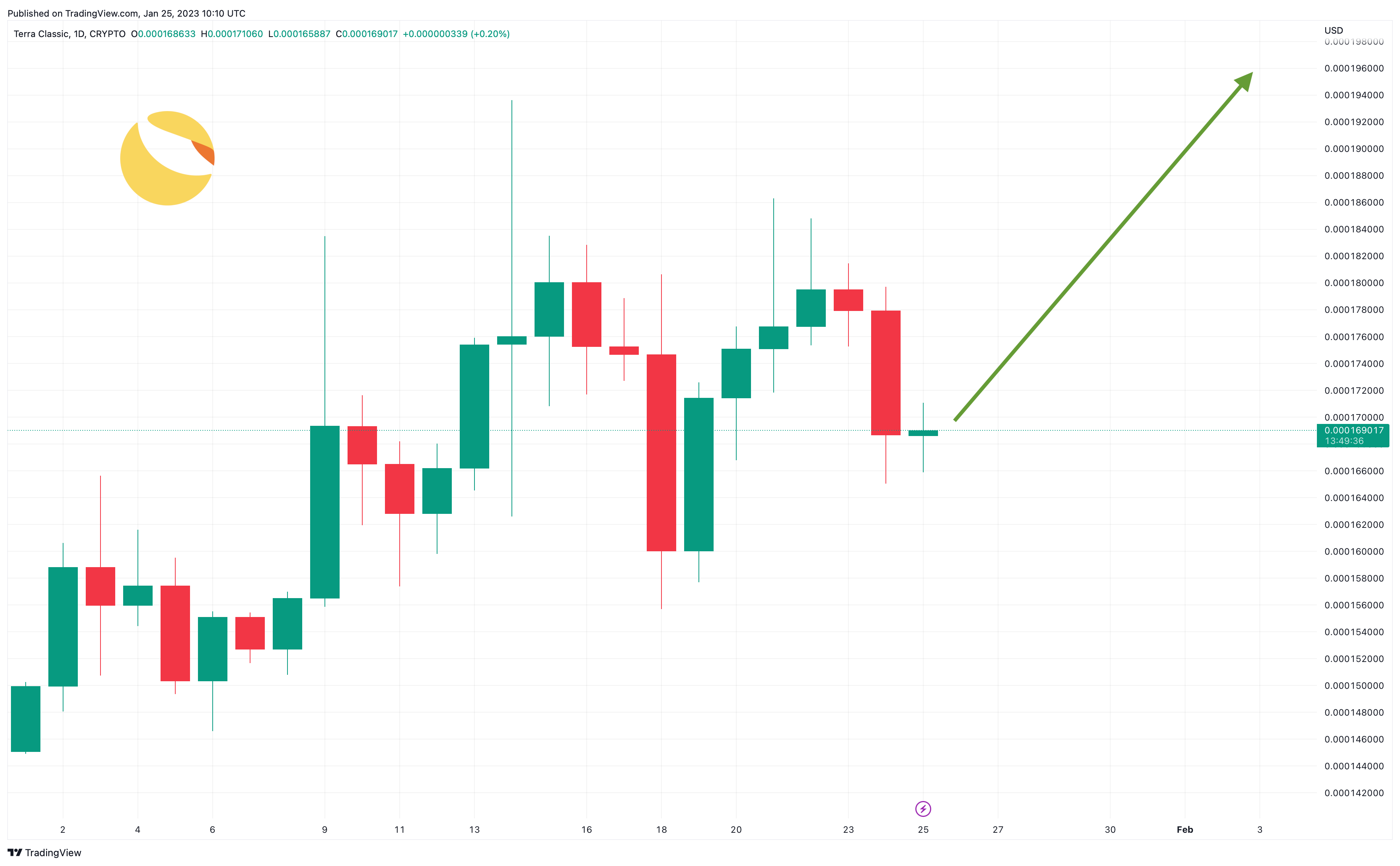 The Terra Luna Classic price has dropped by 4.5% in the past 24 hours, falling to $0.00017108 as the wider cryptocurrency market declines by 3% within the same timeframe. Despite this slip, it remains up by just over 16% in the last 30 days, helped along by ongoing token burns and an overall market recovery.
With the aforementioned burns continuing apace, there's a very real expectation that LUNC will continue to post significant gains over the course of 2023. However, if the community want it to return to $1 or higher, it will have to adopt more drastic token burns, since the current rate is much too gradual.
Terra Luna Classic Price Prediction as LUNC Spikes Up 16% in 30 Days, $1 LUNC Incoming?
LUNC's chart indicates that it's currently weathering a little correction after a couple of weeks of gains. Its relative strength index (purple) dropped below 30 yesterday, signaling overselling, yet it's rising back up towards 40, potentially hinting at a recovery.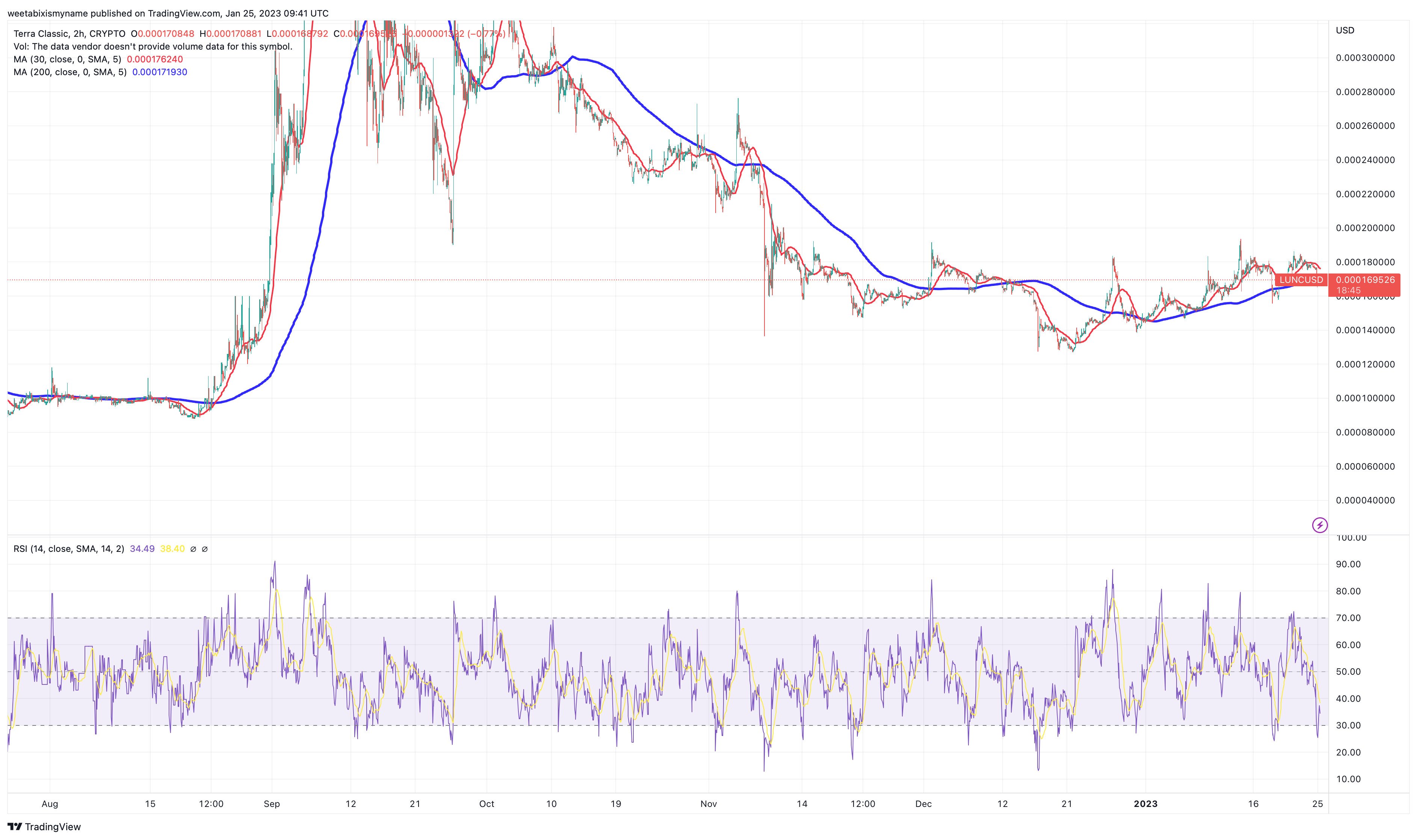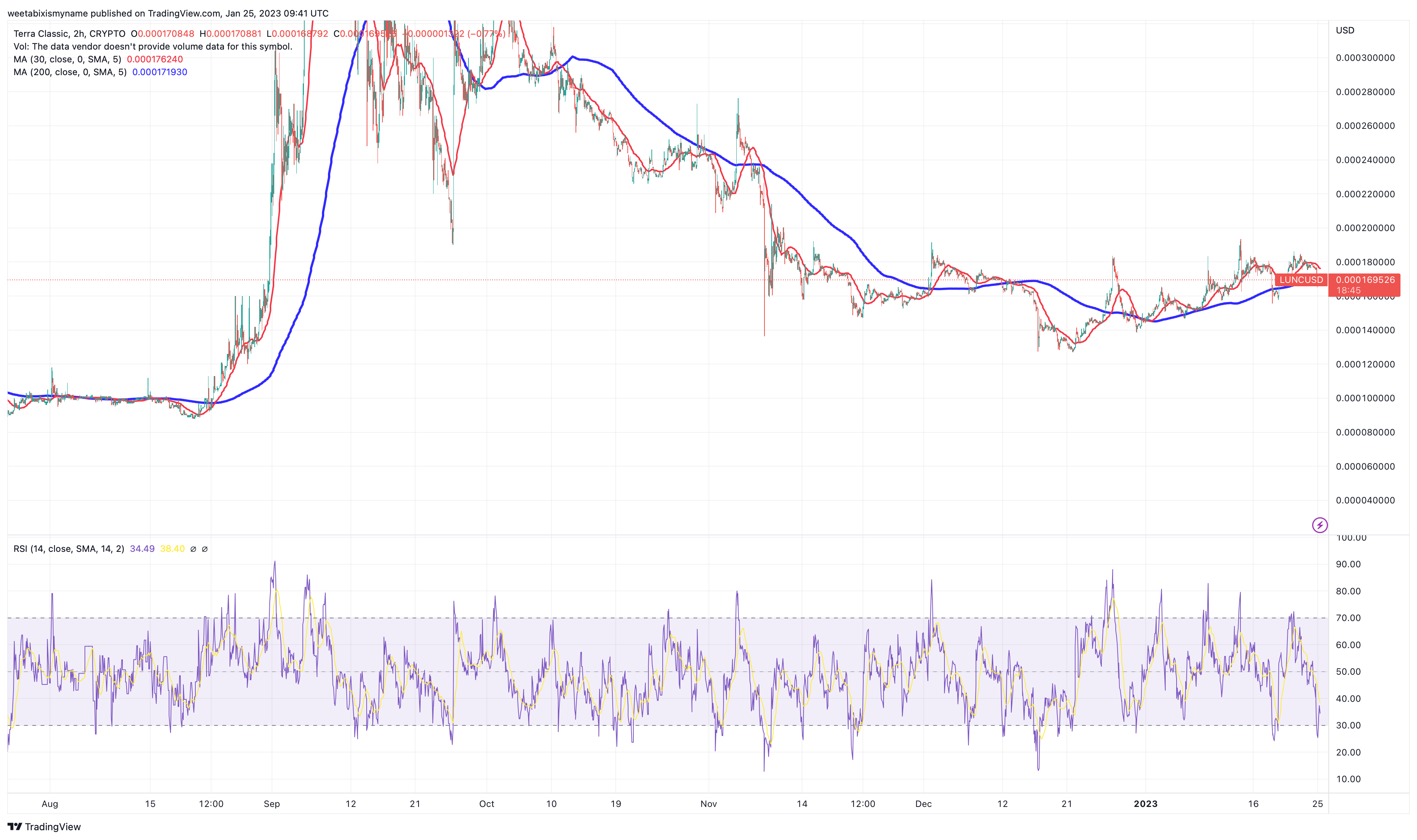 On the other hand, LUNC's 30-day moving average (red) is above its longer term 200-day average (blue) and looks set to fall, meaning that further losses are potentially in store for the altcoin.
Still, even with a correction on the cards for LUNC, it remains in a good position to enjoy significant rallies this year. This is mostly because of the ongoing burns that are taking place on-chain and on various crypto exchanges, such as Binance.
As of writing, some 38 billion LUNC has been burned, out of a total circulating supply of 6.87 trillion. This may not seem like too much relative to the total supply, but it will continue increasing as the year progresses, especially given the amount of community effort dedicated to increasing the burn rate.
Another 9M #LUNC Sent To Burn 🔥🙏🏼#LUNCburn #LUNCpenguins pic.twitter.com/ySl2HCJWbl

— Happy Catty Crypto (@HappyCatKripto) January 24, 2023
LUNC had received a blow a few weeks ago, when Binance temporarily stopped its burning of LUNC trading fees, delaying the next burn until March of this year and also permanently switching to burning only 50% of trading fees (rather than 100%).
However, the Terra Luna Classic validator community has now voted through a proposal that will make upgrading LUNC's transaction fee and burn mechanism easier. This was proposed in response to Binance requesting these changes, and their introduction should mean that it will reintroduce its LUNC burn (and at 100%) sooner rather than later.
Proposal 11310 has now passed the threshold for a PASS

The proposal officially ends in 4 days, then it will be implemented.#LUNC #LUNCCOMUNNITY pic.twitter.com/PGksi0Ww4F

— 🌠Lunanauts🌠 LUNC Validator (@Lunanauts_Lunc) January 21, 2023
This suggests that burning will return to its former rate. At the same time, the Terra Luna Classic community is constantly continually producing proposals that will result in a much bigger burn count, including a proposal from earlier this month to halt the re-minting of burned tokens (which had been intended to support development work).
🚨🚨🚨

Proposal 11,242 could STOP $LUNC Re-minting! 🚀

This would eliminate the problem @binance had with proposals 10,983 & 11,111, which enabled re-minting of the #LUNC being burned.

Stopping Re-minting would also increase burns 🔥🔥🔥 pic.twitter.com/vBrXBNsLBD

— Asobs (@Asobs_YT) January 4, 2023
Other recent proposals include one that proposes the ability to enable users to voluntarily burn extra LUNC when withdrawing rewards.
This #LUNC Proposal Is Interesting!!! What Are Your Thoughts? pic.twitter.com/w13DS5Oug3

— Matthew G Perry (@Perry8k) January 4, 2023
At the same time, there's a growing movement within the LUNC community to introduce interoperability between Terra Luna Classic and Cosmos, largely via an update to Terra's Tendermint framework. If this goes ahead, it will significantly increase the network's utility, attracting more developers and users, which in turn implies a greater LUNC price.
We are making MAJOR steps to enabling cross-chain utility within the Cosmos. $LUNC is stronger united than alone. pic.twitter.com/IxJLIjWFYT

— Asobs (@Asobs_YT) January 23, 2023
Together, such proposals indicate the extent to which the LUNC community is absolutely focused on restoring Terra Luna Classic to something like its former heights. Another indicator of this fact is that the start of the year also witnessed the acceptance of a proposal to create a task force aimed at boosting development on the Terra Luna Classic blockchain.
JUST IN: One of the MOST Important $LUNC Proposals In HISTORY Just Passed. 11168 funds a #LUNC L1 Team for Q1.

We are now UNITED with a development team for L1 SECURED!

Retweet to spread the word! 🔥🔥🔥 We speak with @ZaradarBH A CORE Dev in #LUNACLASSIC @ 12 PM EST! pic.twitter.com/3sOQRVBvtx

— Classy 🔮 (@ClassyCrypto_) January 2, 2023
This is the same task force that put forward the proposal that will now see updates to the Terra Luna Classic protocol that should result in Binance reintroducing full LUNC burns. And it's likely the same team that will introduce many other proposals as the year progresses, further boosting LUNC's price.
As for this price, much of the community is focused on a medium-term target of $0.10, which is not all that unrealistic but would require further increases in burns and more adoption.
$LUNC Will reach $0.1? #LUNC

Impossible Possible
👇 👇

— LUNC NEWS ⚡️ (@Chot4a) January 24, 2023
Assuming that LUNC does reach $0.10, this would almost certainly open the door to further rises, including to $1 and higher. However, this is likely some way off into the future and would require the wider cryptocurrency to return to a full-on bull market, which isn't likely to happen just yet.
Terra Luna Classic Alternatives
If you're looking for other high-potential crypto projects in addition to LUNC, we've listed the top 15 cryptocurrencies for 2023, as analyzed by the CryptoNews Industry Talk team.

The list is updated weekly with new altcoins and ICO projects, so be sure to check back for new entries.
Disclaimer: The Industry Talk section features insights by crypto industry players and is not a part of the editorial content of Cryptonews.com.
---