Terra Luna Classic Price Prediction as the LUNC Rally Gains Momentum – Here's the Next LUNC Target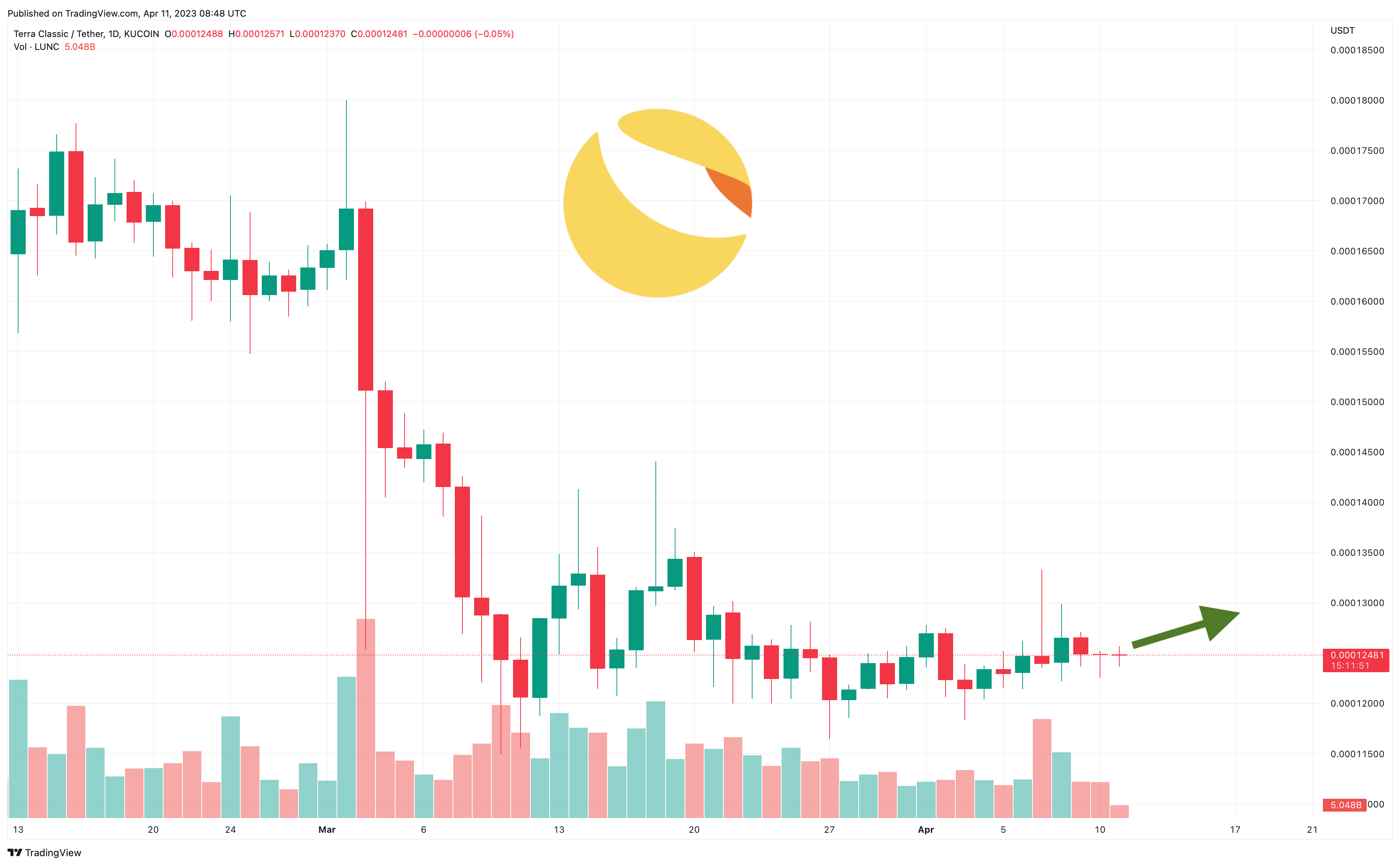 The Terra Luna Classic price has risen by 1% in the past 24 hours, reaching $0.00012574 as the cryptocurrency market as a whole gains by 4.5%.
LUNC's current level means that it has increased in price by 3% in the last seven days and by 4% in the last 30, at a time when Bitcoin (BTC) has surged by 8% and 46% within the same timeframes.
However, LUNC's relative underperformance in recent weeks sets it up nicely for above-average returns in the near and more distant future, with Binance continuing to burn billions of LUNC tokens.
And with the Terra Grants Foundation applying for investment from the crypto-exchange, it could only be a matter of time before LUNC's ecosystem begins growing again, to the point where it attracts more apps, users and holders.
Terra Luna Classic Price Prediction as the LUNC Rally Gains Momentum – Here's the Next LUNC Target
LUNC's price chart suggests that it may be on the brink of a much-needed rally, with its indicators looking set to rise.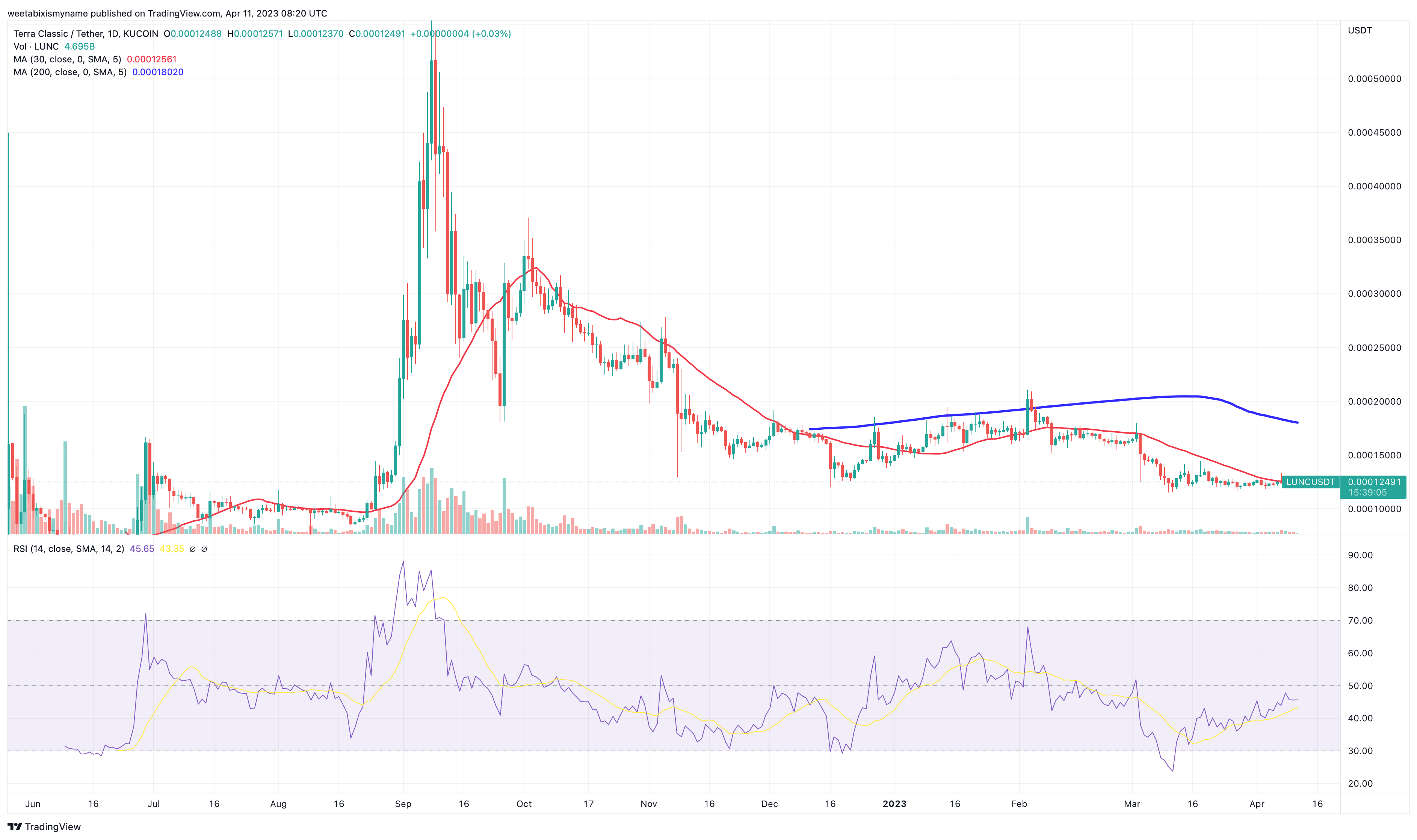 Its relative strength index, for example, has begun rising towards 50, after spending much of March in some very low, oversold positions.
Likewise, LUNC's 30-day moving average (red) has reached a bottom in relation to its 200-day (blue), signalling that it's due to begin rising upwards.
Indeed, with LUNC's price also below its 200-day (and 30-day), all available technical indicators would suggest that the altcoin has to jump again sooner or later.
And it's very possible that this jump has just begun, with BTC's 6% rise today helping to lift the market as a whole, including LUNC.
Looking at the bigger picture, LUNC probably has a long way to go before it can witness truly large rallies, yet it needs to be highlighted that the Terra Luna Classic community is constantly working to improve the altcoin's ecosystem.
Most recently, Terra Luna Classic's Layer 1 Task Force has submitted a governance proposal that would increase funding for their work in developing LUNC's network, while also introducing a few useful technical changes (e.g. improved parity and interoperability with Cosmos).
While this proposal is still under vote, it shows that most members of the community are serious about giving Terra Luna Classic more genuine utility, rather than being focused only on burning tokens.
In this respect, it's also encouraging to note that the Terra Grants Foundation, which was approved into existence back in November, has submitted a grant application worth $5 million to Binance, which is currently evaluating.
Again, this shows that LUNC's current status as a semi-meme token is likely going to be shortlived, with Terra Luna Classic's key developers working out ways to give the network a more meaningful raison d'être.
That said, February brought the acceptance of a proposal to re-peg sister stablecoin USTC, something which would necessitate large-scale burning of LUNC.
While there hasn't been much of an update on this proposal since its acceptance, Binance continues to burn its LUNC trading fees, with the latest round destroying a total of 1.6 billion LUNC over the past month.
However, Terra Luna Classic will have to increase its burning considerably if it's to bring about a substantial decrease in LUNC's circulating supply, which currently stands at 5.899 trillion LUNC.
This is perhaps why LUNC's price hasn't really done much in the past few weeks, with the total amount burned remaining at a modest 53.1 billion (or 0.9% of LUNC's supply).
Nonetheless, there's no doubt that work continues on improving the overall value of the Terra Luna Classic network, while also boosting LUNC's price.
Not only do we have the above proposals to point to in this regard, but last month saw developer Edward Kim publish a blog in which he announced he would be focusing on building machine learning-based applications that could be integrated with Terra Luna Classic via Cosmos.
An Assistant Professor of Computer Science at Drexel University, Kim's re-focusing on AI could pay off massively for LUNC somewhere down the line, given the growing interest AI has seen since the arrival of ChatGPT at the end of last year.
As such, LUNC continues to have very good long-term prospects, even if it isn't setting the market alight at the moment.
From its current price of $0.00012538, it could rise to $0.0002 by the middle of the year, before potentially reaching $0.0005 or higher by the end.
But if a proposal to burn substantial amounts of LUNC does pass, who knows where its price could go.
Terra Luna Classic Alternatives
While LUNC is almost certainly undervalued right now, the market may not correct upwards for several months.
For this reason, traders seeking short-term opportunities may prefer to look at other coins, with various new altcoins and presale tokens showing considerable potential at the moment.
If you're interested in exploring these options, the Cryptonews Industry Talk team has compiled a list of the top 15 cryptocurrencies for 2023, featuring some of the most exciting up-and-coming projects in the crypto space.

The list is updated weekly with new altcoins and ICO projects, so be sure to check back for new entries.
Disclaimer: The Industry Talk section features insights by crypto industry players and is not a part of the editorial content of Cryptonews.com.
---