Terra Luna Classic Price Prediction as LUNC Blasts Up 30% – Can LUNC Reach $1?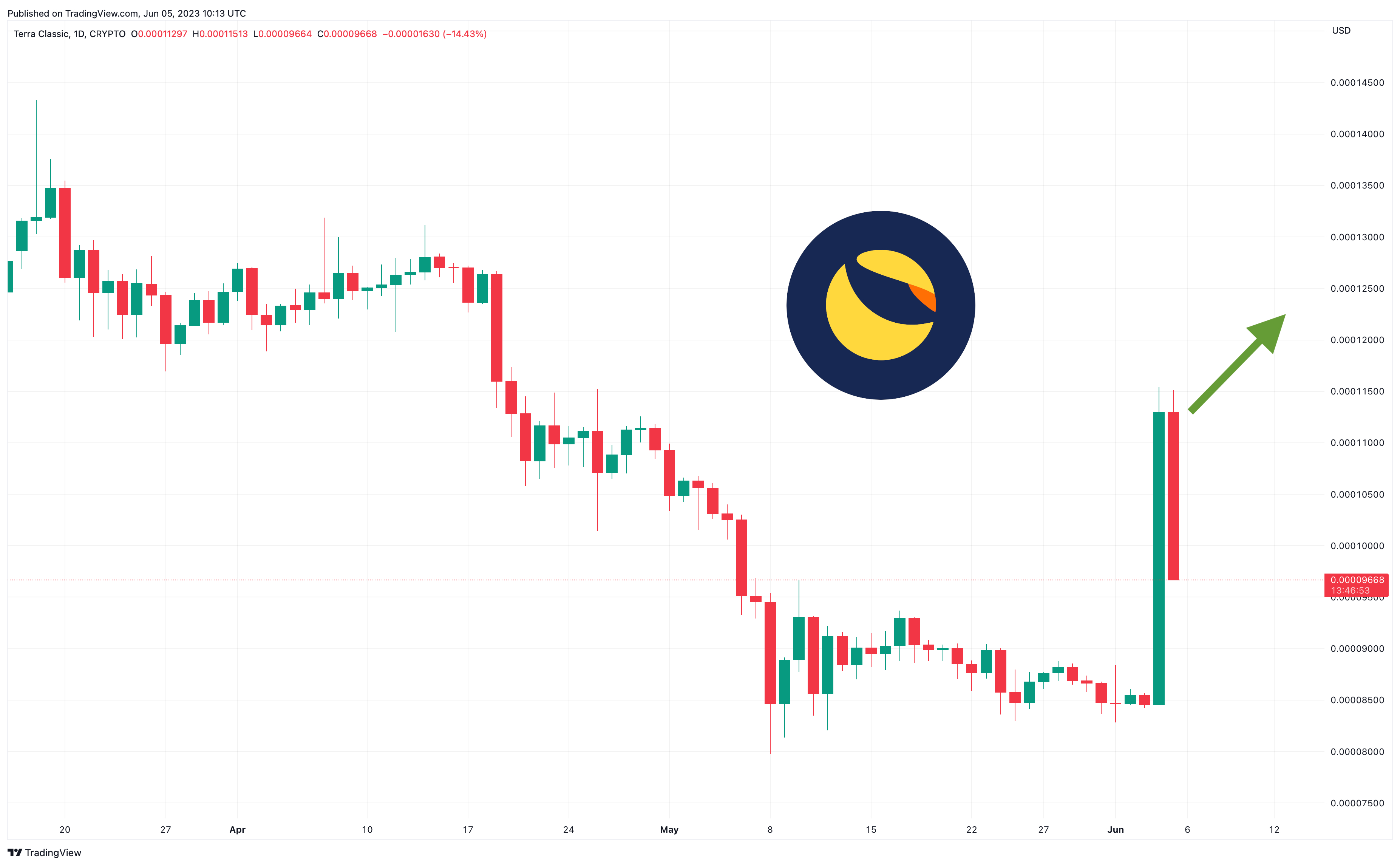 Terra Luna Classic has risen by as much as 30% today, with its current price of $0.00009923 representing a 10% gain in the past 24 hours.
LUNC is also up by 12% in a week as the Terra Luna Classic community begins to vote a new proposal that would push the network's burn rate back up to 1.5%.
If accepted, this would have a significant impact on LUNC's supply, and combined with other recent proposals related to re-pegging USTC to $1, it could help the altcoin regain much of the value it lost in May 2022.
Of course, agreement within the Terra Luna Classic community is not unanimous on how to restore LUNC's position, so the process of recovery may still take several months or even years.
Terra Luna Classic Price Prediction as LUNC Blasts Up 30% – Can LUNC Reach $1?
LUNC's chart suggests that, after its surge of the weekend, it may be on the brink of falling further.
The altcoin's relative strength index (purple) has dropped from more than 80 during the weekend to almost 40 today, signaling a steep loss in momentum and buying interest.
At the same time, its 30-day moving average (yellow) has now flattened out after rising over the past couple of days, with the indicator likely to begin falling towards -- and maybe below -- LUNC's 200-day moving average.
It will therefore be interesting to see how LUNC's support level behaves, with the coin set to test the $0.000095 in the next few hours.
If it can remain above or around this level, then it's possible it will regain some of its weekend momentum, although a fall below $0.000095 will have negative implications.
This caution aside, LUNC's rally over the past couple of days has been caused by increasing hope with regard to recent proposals and the development of the Terra Luna Classic network and ecosystem.
In particular, proposal #11549 would result in LUNC's on-chain burn rate being increased from 0.2% to 1.5%, which its sponsor argues would result in the burning of "trillions" of LUNC.
Such large-scale burning would undoubtedly increase LUNC's price, although it would also result in holders having to pay more in terms of burn taxes.
Still, this proposal seems to have sparked the recent LUNC gains, which have also been helped by another proposal that seeks to flesh out plans to re-peg sister stablecoin USTC to $1.
This latter proposal would involve creating a simulation whereby USTC would be re-pegged gradually to its former value, a process that would (if actually put into practice) result in significant increases for LUNC.
Such proposals have re-injected the LUNC community with some much-needed optimism.
That said, divisions continue to undermine its progress, with many validators and community members coming out strongly against the proposal to increase LUNC's burn tax rate.
For this reason, it can't be predicted with confidence that LUNC will rise to $1 anytime soon, although it could see some incremental gains in the short and medium-term, as the USTC re-peg proposal gains momentum.
Diversify with Wall Street Memes
Because of this uncertainty, some traders may prefer to look at high-potential altcoins that aren't relying on a diverse community to reach an agreement over contentious proposals.
Particularly promising at the moment are presale tokens, with the best and fundamentally strongest of these promising to rally strongly once they finish and list on exchanges.
This includes Wall Street Memes (WSM), a new cryptocurrency that has grown out of the meme stocks movement, which began with the 2021 GameStop and AMC rallies.
Wall Street Memes launched the presale for its WSM token last week, and it has already raised more than $3.5 million.
Such a figure bodes well for WSM's future, and along with the fact that the Wall Street Memes Twitter account boasts more than 220,000 followers, it suggests that it could witness some significant rallies once the sale ends.
This presale will have 30 stages in all, with its current stage selling WSM at a price of $0.0271, a level that will rise to $0.03370000 by the sale's end.
Investors can join the presale by visiting the official Wall Street Memes website and connecting their crypto wallets.
Most of the 2 billion total supply of WSM will be allocated to its community, with 50% reserved for the presale and 30% kept for community rewards.
This distribution could make it one of the most distributed meme tokens in the market, which perhaps explains why it has already done so well, and why it could rally big later in the year.
---