Terra Luna Classic Price Prediction as $70 Million Trading Volume Rushes In – Can LUNC Recover in 2023?
Disclosure: Crypto is a high-risk asset class. This article is provided for informational purposes and does not constitute investment advice. By using this website, you agree to our terms and conditions. We may utilise affiliate links within our content, and receive commission.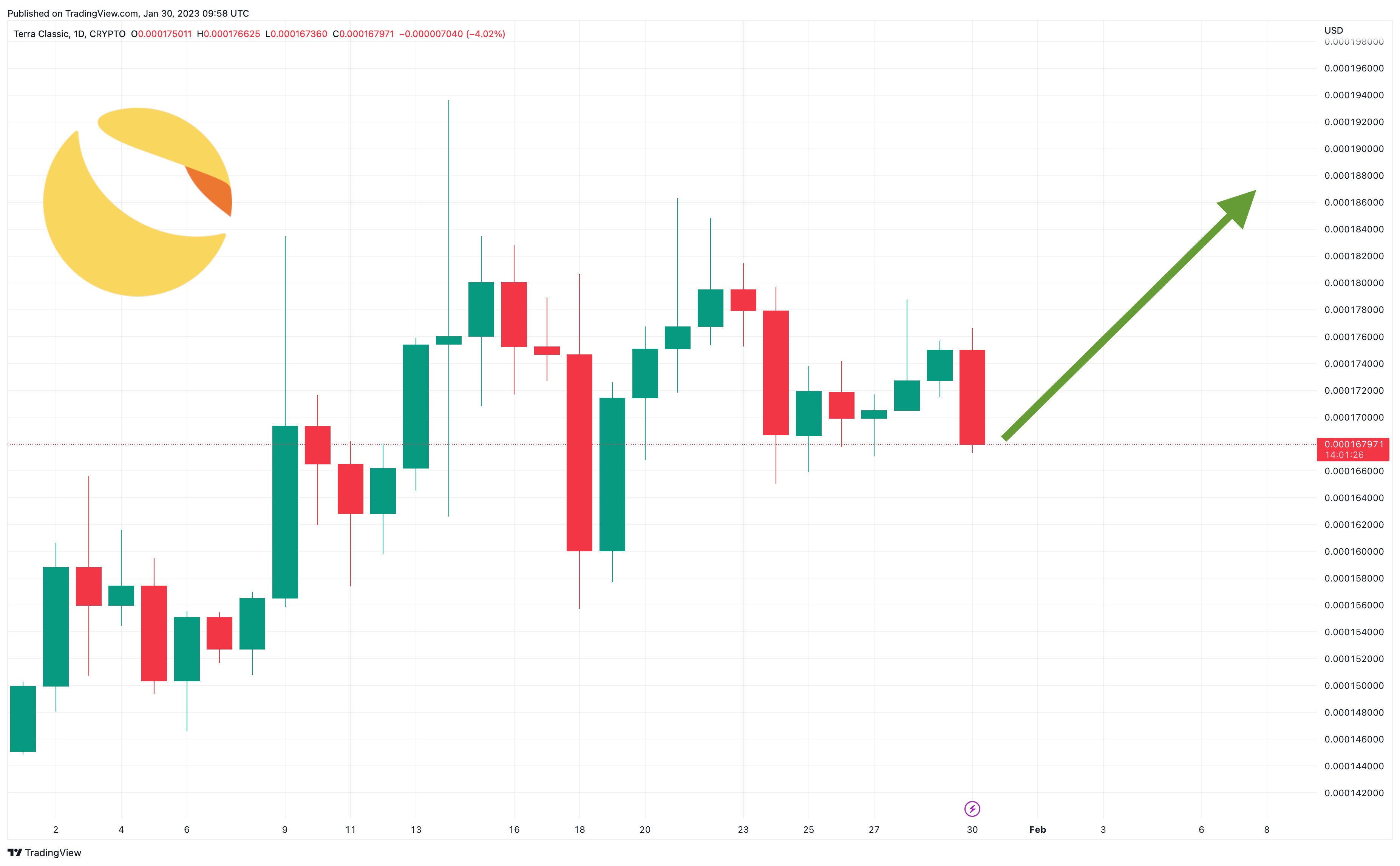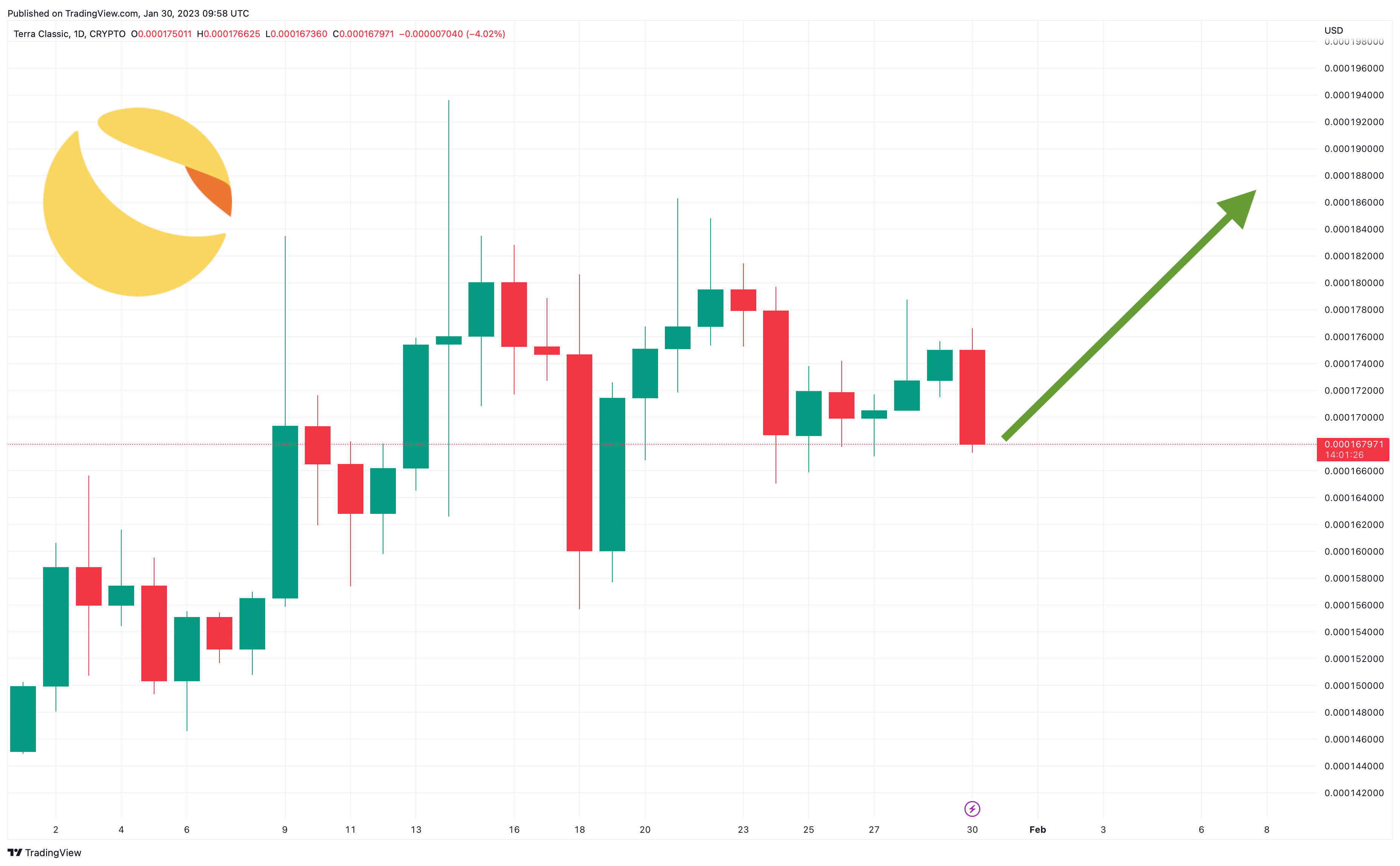 The Terra Luna Classic price has dropped by 3% in the past 24 hours, dipping to $0.00016896 as the wider cryptocurrency market suffers a 0.5% fall. Its current level marks a 7% decline in a week, yet LUNC remains up by 18% in the last 30 days, helped in part by the market's mini-recovery and by ongoing efforts to reduce the altcoin's supply.
LUNC's decline today comes amid an increase in its 24-hour trading volume to just over $70 million, up from $60 million last week. However, it's likely that much of this additional volume has entered as part of today's selloff, with buyers trying to offload LUNC as the Terra Luna Classic community continues to argue how best to take things forwards.
Terra Luna Classic Price Prediction as $70 Million Trading Volume Rushes In – Can LUNC Recover in 2023?
LUNC's chart shows that traders may prefer to hold off a little until the altcoin has finished falling. Its relative strength index (purple) has plummeted to 30 in the past few hours, and likely won't stop until it nears 20.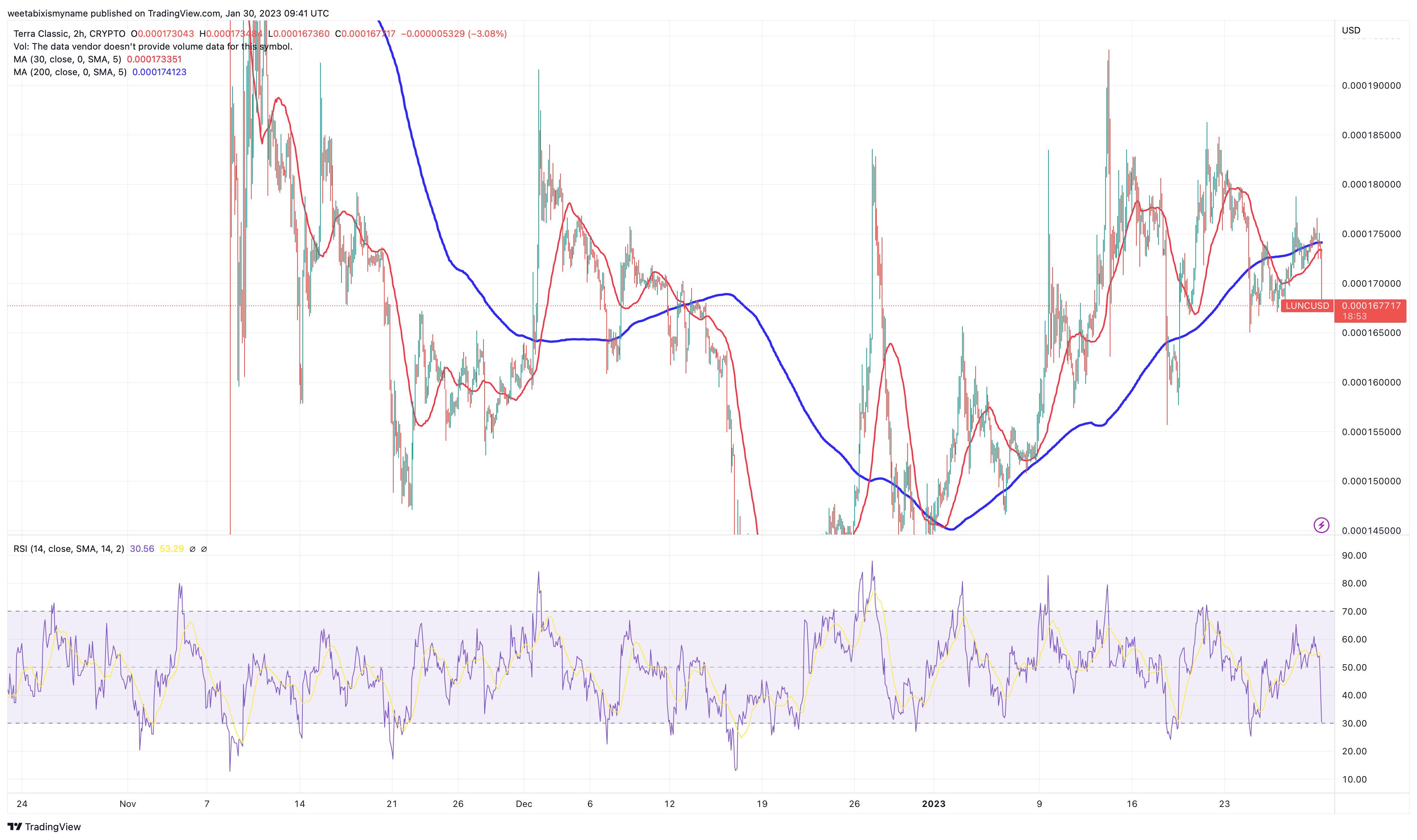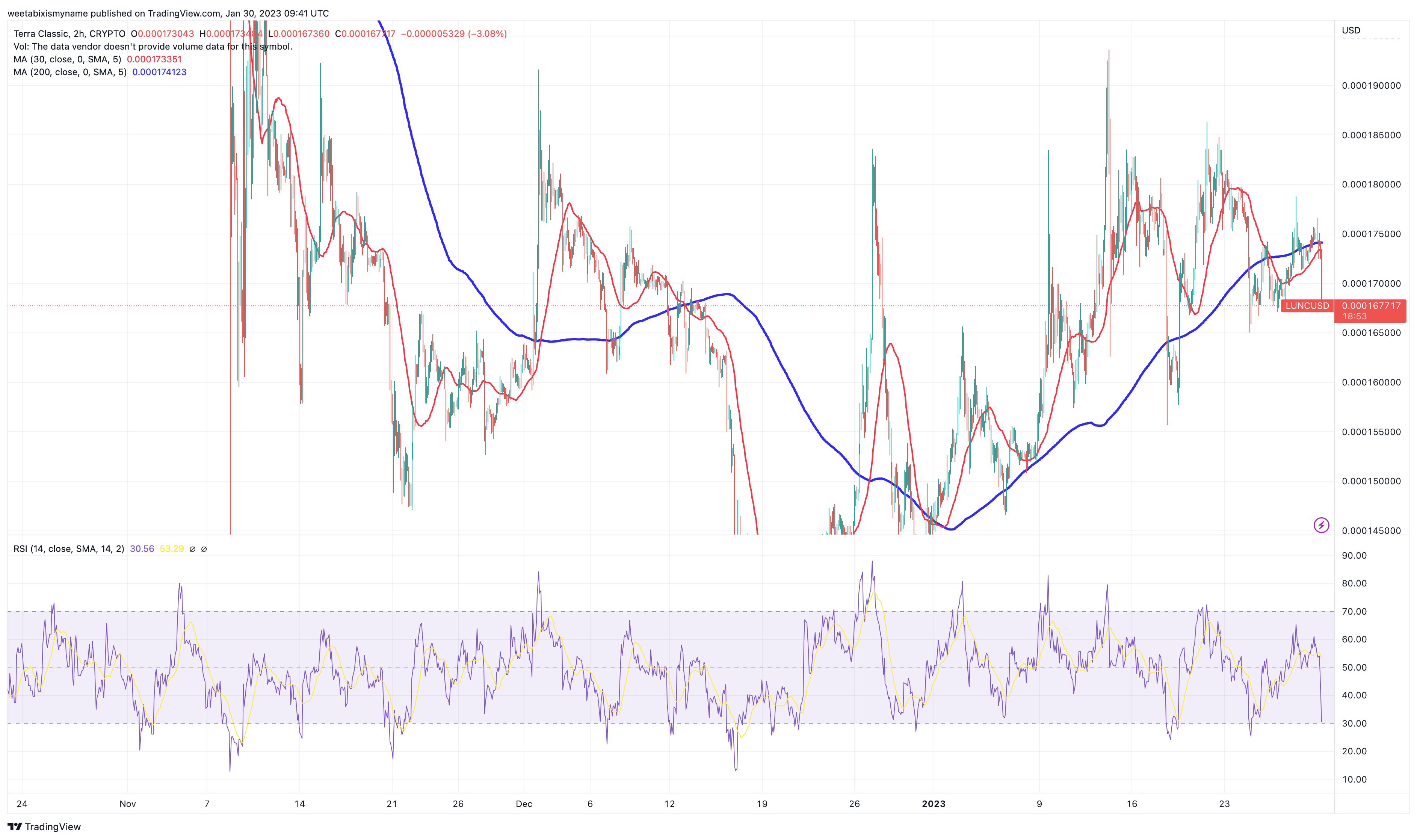 At the same time, LUNC's 30-day moving average (red) is probably on the cusp of sinking further below its 200-day average (blue). This means it may be a few more days (or weeks) until the current decline bottoms out.
One of LUNC's problems right now is that its community is continually arguing over how best to take forward Terra Luna Classic, with recriminations and ill-feeling between different factions. For example, last week even saw a new proposal that calls for the end of payments to developer Jacob Gadikian, apparently for "attacking and slandering validators on the Luna Classic Blockchain."
BREAKING: $LUNC proposal #11316 is now live for voting on Terra Station. This proposal if passed would pay 12.5K to Jacob Gadikian then terminate his involvement with the #LUNC community. 💎🤲🏻 #Crypto #Binance #LUNCcommunity pic.twitter.com/iyS7DaoEYE

— Mr. Diamondhandz1💎 (@MrDiamondhandz1) January 26, 2023
Basically, if accepted, this proposal would mean that Gadikian is effectively blacklisted from contributing to Terra Luna Classic. This is very bad for LUNC since it suggests that its community isn't sufficiently cooperative and united to arrive at a clear, effective plan for restoring LUNC's price, while it will also likely turn other developers away from contributing to the network's ongoing development.
Such divisions aside, there remains constant work to produce updates that will have a beneficial impact on Terra Luna Classic. This includes a recent proposal to re-peg the price of USTC to $1, something which would likely have big positive implications for LUNC's price.
The final #ustc repeg proposal is now live on the #terrastation! Lets repeg this coin and send #lunc on a rocket ride! 🚀 🌙 pic.twitter.com/mCQZyHu07J

— Nicolas Boulay (@NicolasBoulay) January 30, 2023
Other encouraging proposals have also been passed recently, including an update to the Terra Luna Classic blockchain enabling whitelists to be added to its native on-chain tax burn. Binance had requested this so that it could be exempt from the on-chain burn, and so that it could resume its own regular burn of trading fees (something which had temporarily ceased until at least March).
$LUNC VERSION V1.0.5 HAS NOW PASSED!

We can now add the #Binance wallet whitelist!

BINANCE BURNS ARE COMING BACK! pic.twitter.com/HOGBcb7JJw

— Classy 🔮 (@ClassyCrypto_) January 25, 2023
Thanks to this proposal, the burning of LUNC is likely to start accelerating again. As of writing, around 38.2 billion LUNC have been burned to date (out of a total circulating supply of 6.87 trillion), with this total likely to increase significantly as the year progresses.
On top of this, the Terra Luna Classic community is constantly coming up with proposals that would increase the burn count, including a proposal to enable users to voluntarily burn additional LUNC, if they so wish.
There are also efforts to improve the general usability of the Terra Luna Classic network. This includes proposals to increase interoperability between Terra Luna Classic and Cosmos, including via an update to Terra's implementation of Tendermint. Needless to say, interoperability would essentially increase the size of Terra Luna Classic's ecosystem, which can only be good for LUNC's price.
We are making MAJOR steps to enabling cross-chain utility within the Cosmos. $LUNC is stronger united than alone. pic.twitter.com/IxJLIjWFYT

— Asobs (@Asobs_YT) January 23, 2023
Assuming that the community can put conflict behind it and coalesce around positive proposals, there's every chance that LUNC will witness big gains this year.
For example, if a plan to re-peg USTC is accepted, this would likely imply the large-scale burning of LUNC. In turn, the market could witness prices as high as $0.1, or beyond.
Burning #LUNC's supply?#USTC repeg = automatic arb, buying back #LUNC to burn; also minting #LUNC to maintain peg$LUNA Station access = manual arb opportunities

Strategy = buy coins with low market caps on Station. Sell/swap when price pumps to burn #LUNC

1st coin; $HUAHUA

— Crypto Enthusiast (@Migalunatic) January 29, 2023
Of course, this is the best-case scenario, and it presumes that the market will also continue its general recovery of the past few weeks. However, with the community working so hard to produce viable plans to restore LUNC, it's a scenario that's becoming increasingly likely with each passing week.
Should I Buy Terra Luna Classic Now?
While LUNC's recovery may take several months (if not longer), traders do have the option of looking to coins with stronger prospects in the short (as well as long) term. Accordingly, we've listed the top 15 cryptocurrencies for 2023, as analyzed by the CryptoNews Industry Talk team.

The list is updated weekly with new altcoins and ICO projects, so be sure to check back for new entries.
Disclaimer: The Industry Talk section features insights by crypto industry players and is not a part of the editorial content of Cryptonews.com.
---