Terra Luna Classic Price Prediction as $60 Million Trading Volume Comes In – Can LUNC Reach $1 in 2023?
Disclosure: Crypto is a high-risk asset class. This article is provided for informational purposes and does not constitute investment advice. By using this website, you agree to our terms and conditions. We may utilise affiliate links within our content, and receive commission.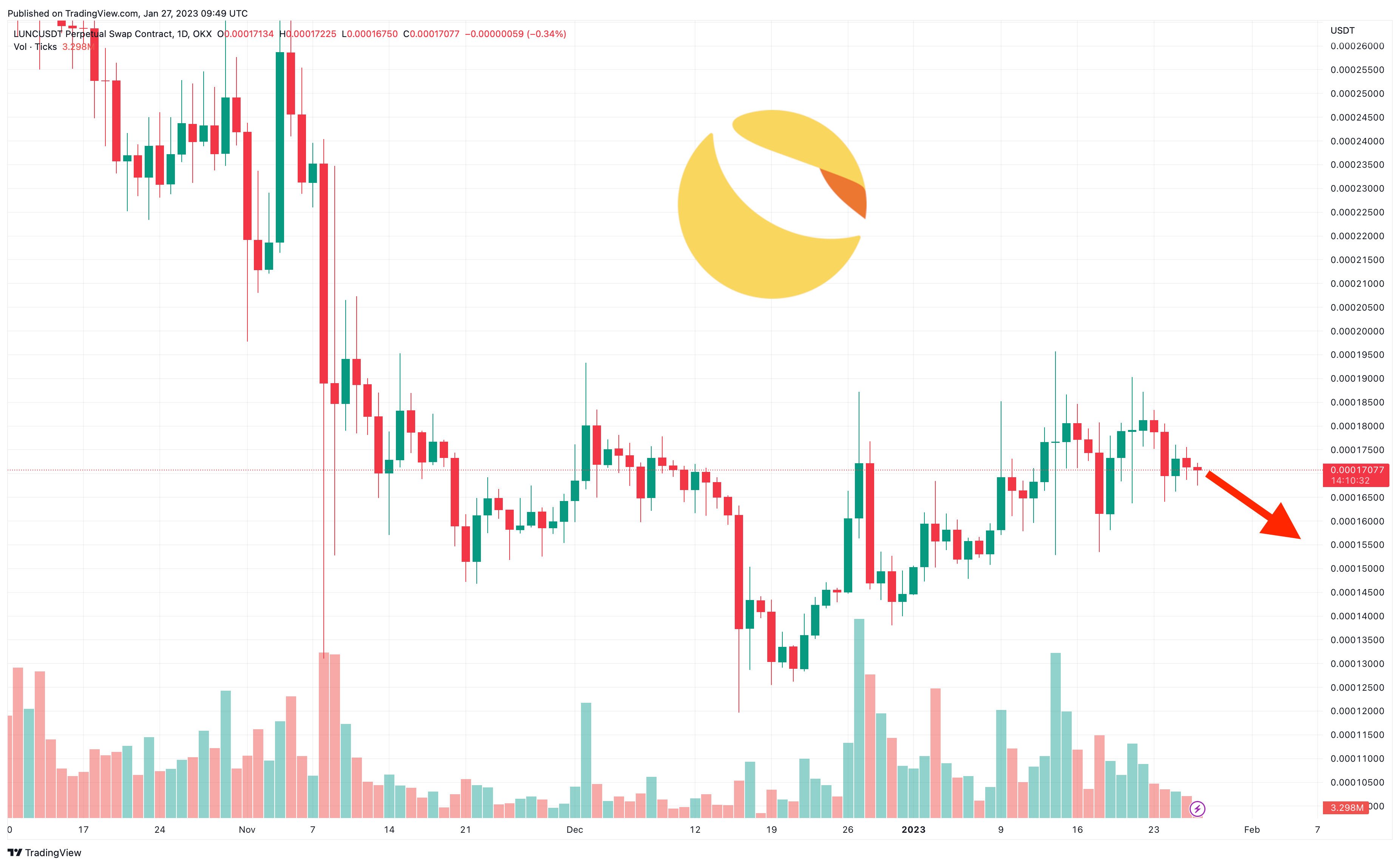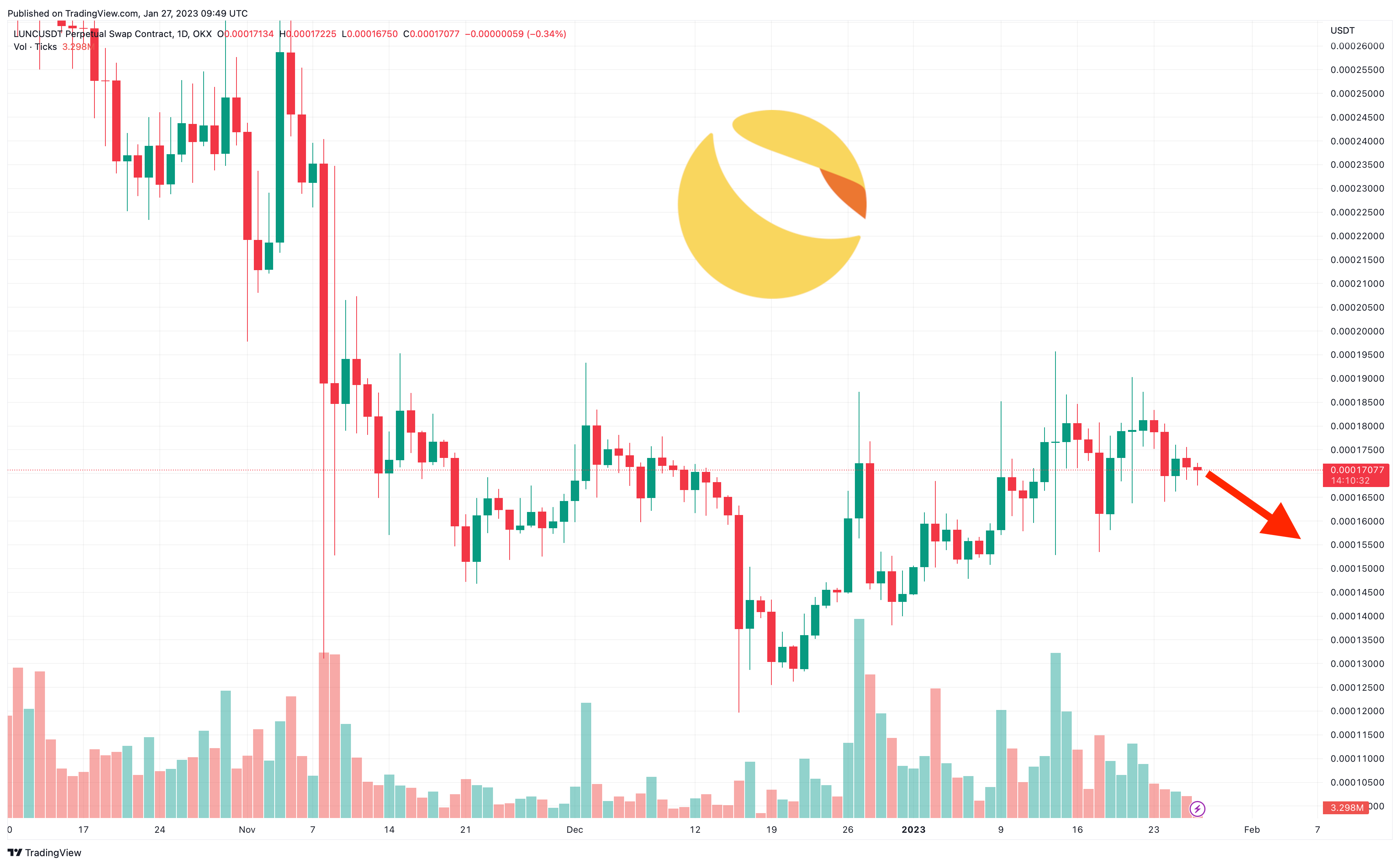 The Terra Luna Classic price has dropped by 1.5% in the past 24 hours, sinking to $0.00017113 as the market as a whole dips by around 0.5%. Its fall comes as its 24-hour trading volume reads at just over $60 million, with the altcoin also down by 1.5% in a week but up by 1.5% in the last 14 days.
However, a trading volume of $60 million does actually represent a decline of over 80% since January 14, when 24-hour volume passed $380 million and when LUNC's price climbed as high as $0.00019. As such, it seems that market interest in the altcoin may be waning, with the Terra Luna Classic community currently embroiled in infighting with regard to how to boost the coin's growth.
Terra Luna Classic Price Prediction as $60 Million Trading Volume Comes In – Can LUNC Reach $1 in 2023?
LUNC's chart confirms the suspicion that it's in the midst of a downswing that hasn't quite played out yet. In particular, its 30-day moving average (red) continues to sink below its 200-day average (blue), with the implication being that LUNC's price won't return to consistent growth until the 30-day has bottomed.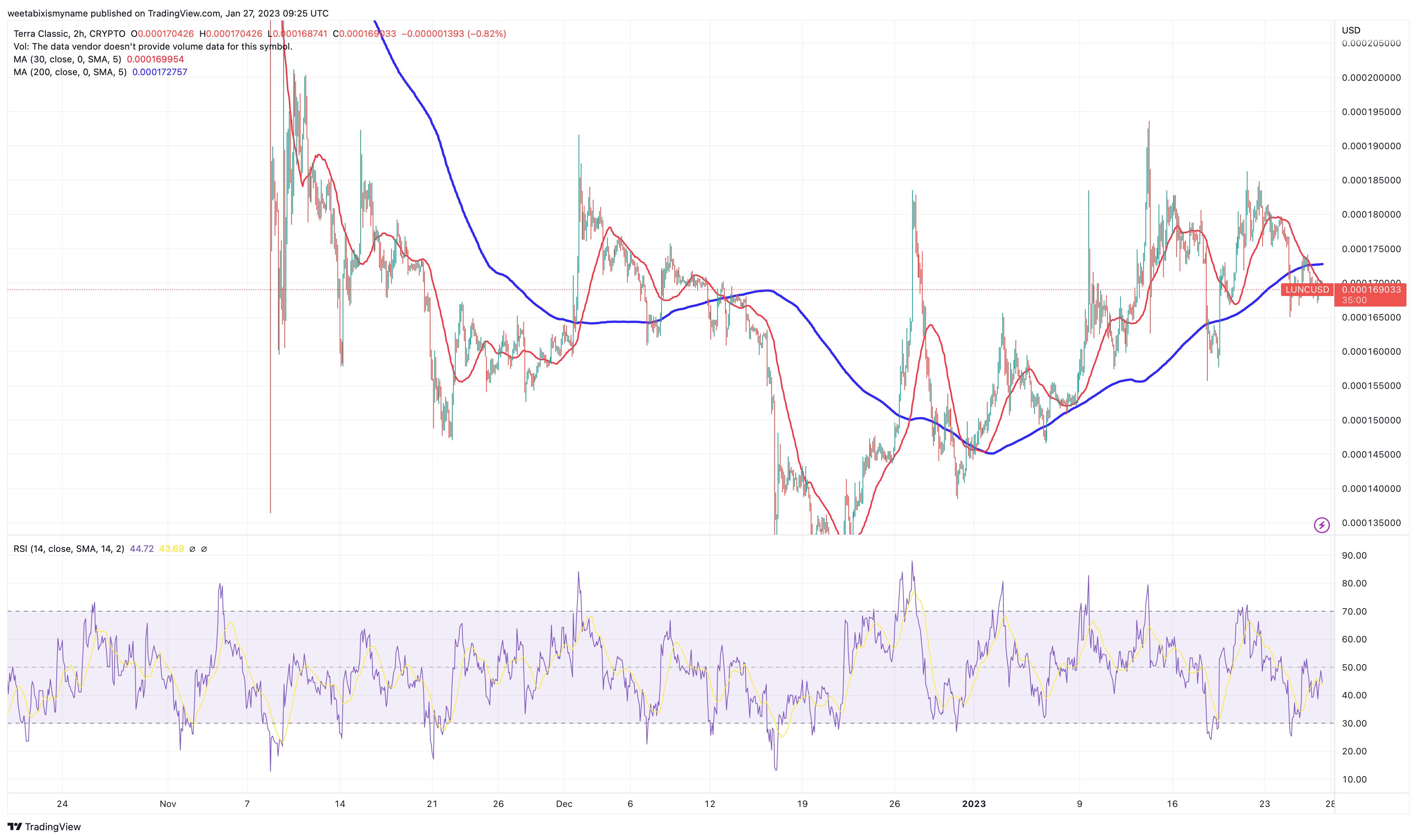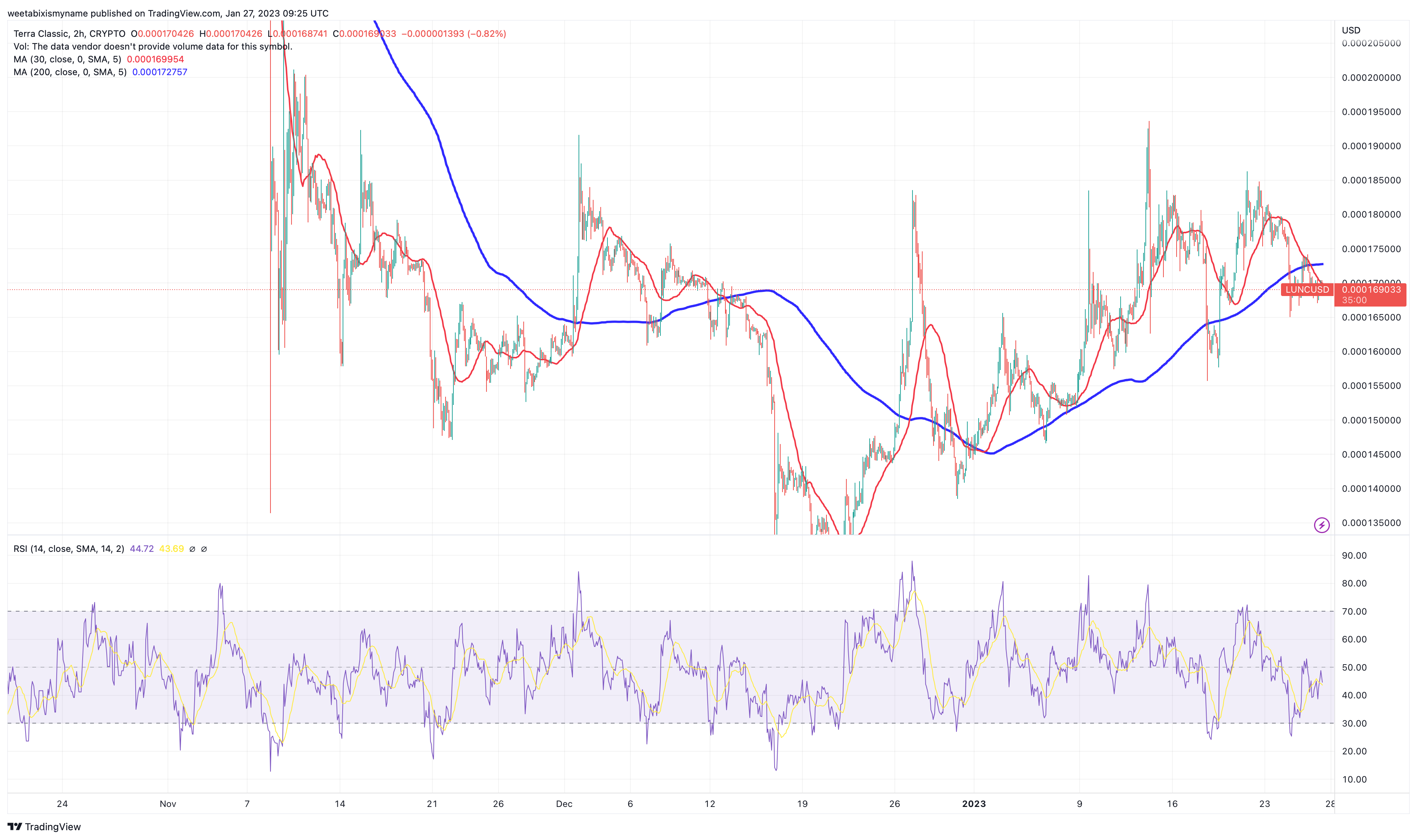 At the same time, LUNC's relative strength index (purple) remains below 50. This is a recovery from where it was a few days ago, yet it signals that the altcoin still lacks the buying momentum necessary to carry it forwards.
At the moment, LUNC is suffering from community squabbling over how best to take forward Terra Luna Classic. Not only have validators and developers argued over how much LUNC to burn and how much to re-mint, but the past couple of days have seen a new proposal that demands the cessation of payments to developer Jacob Gadikian, apparently for "attacking and slandering validators on the Luna Classic Blockchain."
BREAKING: $LUNC proposal #11316 is now live for voting on Terra Station. This proposal if passed would pay 12.5K to Jacob Gadikian then terminate his involvement with the #LUNC community. 💎🤲🏻 #Crypto #Binance #LUNCcommunity pic.twitter.com/iyS7DaoEYE

— Mr. Diamondhandz1💎 (@MrDiamondhandz1) January 26, 2023
Needless to say, this is not a good look. It creates the suspicion that the Terra Luna Classic community may not be united enough to coalesce around a decisive plan for restoring LUNC's price, and it would potentially deter other developers from getting involved in the network, for fear of hassle and difficulty.
That said, there have been some positive developments in Terra Luna Classic land in recent days and weeks. These raise hopes that something effective can be done to boost the LUNC price.
Most recently, a proposal passed that updates the Terra Luna Classic blockchain so that whitelists can be added to its native on-chain tax burn. Binance had requested this so that it could be exempt from the on-chain burn, and so that it could restart on its regular burn of trading fees (something which had temporarily ceased until at least March).
$LUNC VERSION V1.0.5 HAS NOW PASSED!

We can now add the #Binance wallet whitelist!

BINANCE BURNS ARE COMING BACK! pic.twitter.com/HOGBcb7JJw

— Classy 🔮 (@ClassyCrypto_) January 25, 2023
As such, the burning of LUNC can get back on track, with some 38 billion LUNC burned to date (out of a total circulating supply of 6.87 trillion). This total is likely to rise more rapidly in the not-too-distant future, particularly if other exchanges follow Binance's lead in introducing their own LUNC burns.
At the same time, the Terra Luna Classic community is constantly coming up with proposals that will result in a higher burn count, including a proposal to enable users to voluntarily burn extra LUNC when withdrawing rewards.
In addition, there's now a drive with the community to create interoperability between Terra Luna Classic and Cosmos, largely via an update to Terra's implementation of Tendermint. If this goes ahead, it will help Terra Luna Classic attract more developers, more dApps, and more users, not to mention a higher price for LUNC.
We are making MAJOR steps to enabling cross-chain utility within the Cosmos. $LUNC is stronger united than alone. pic.twitter.com/IxJLIjWFYT

— Asobs (@Asobs_YT) January 23, 2023
Given all of this constant activity, there's every chance that LUNC could witness significant gains this year. And for many within its community, $0.1 seems to be the big target that most people are setting their collective sights on.
Every #LUNC Holder waiting for 0.1$ , Come on $LUNC Come on we are waiting for this price.

— Terra Luna army ™🦈 (@terra_army) January 5, 2023
If LUNC does reach $0.1, aided by an expanded burn program and improving market conditions, this would potentially create enough momentum for it to rise even higher. Of course, given that it has a supply of around 6.87 trillion LUNC, it still has a very long way to go, but there's little doubt nearly everyone within Terra Luna Classic circles is focused specifically on restoring the altcoin to such heights.
Should I Buy Terra Luna Classic Now?
While LUNC may be due for a fall in the short term, there are other altcoins in the market with promising prospects right now. As such, if you're looking for other potentially high-return crypto projects in addition to LUNC, we've listed the top 15 cryptocurrencies for 2023, as analyzed by the CryptoNews Industry Talk team.

The list is updated weekly with new altcoins and ICO projects, so be sure to check back for new entries.
Disclaimer: The Industry Talk section features insights by crypto industry players and is not a part of the editorial content of Cryptonews.com.
---