Terra Luna Classic Price Prediction as $150 Million Trading Volume Comes In – Here are Key Levels to Watch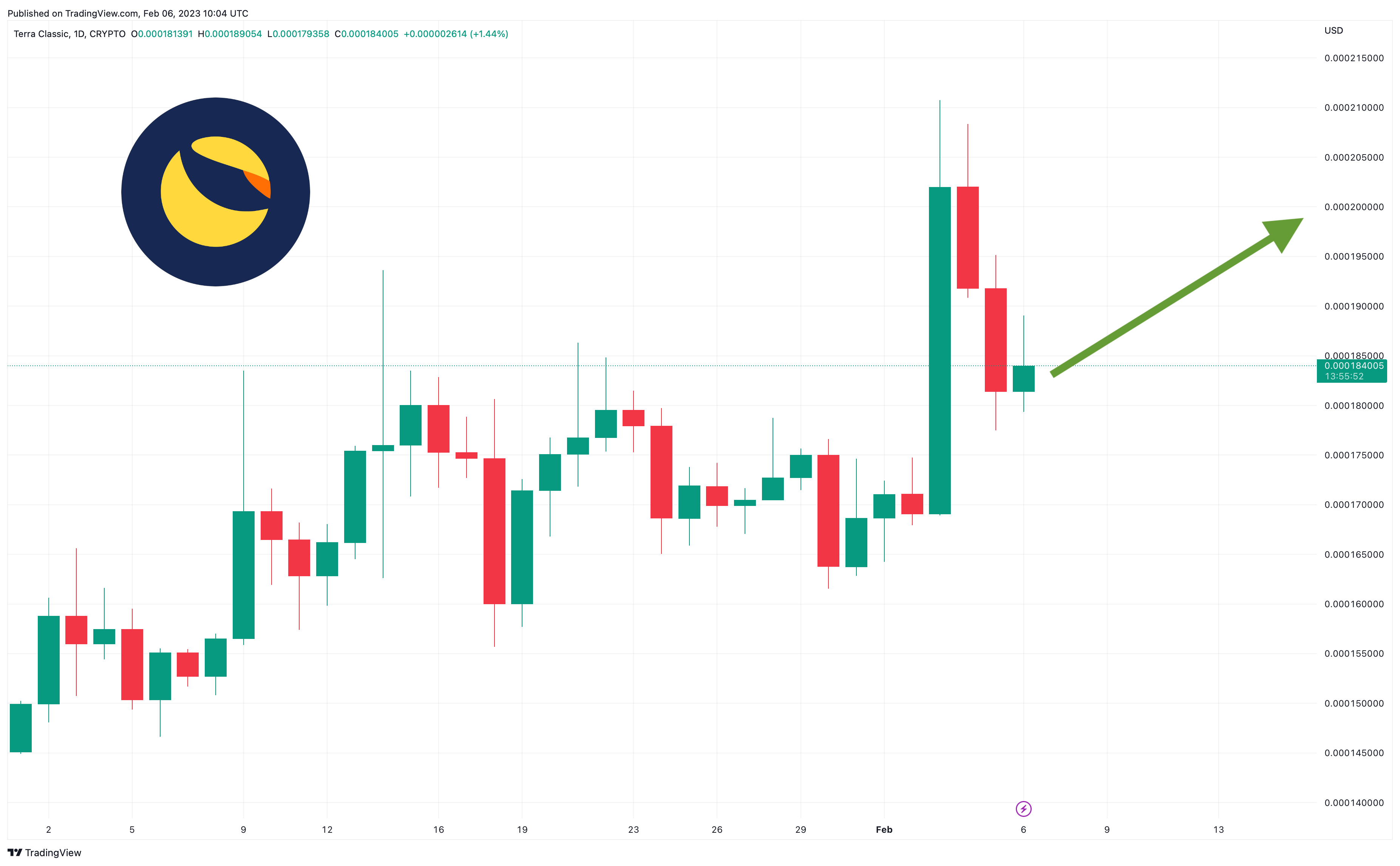 The Terra Luna Classic price has dropped by 3.5% in the past 24 hours, falling to $0.00018462 following losses for the overall cryptocurrency market this weekend. Its current price represents a 5% gain in a week and an 18% increase in the last 30 days, with the altcoin benefitting from a number of proposals from the Terra Luna Classic community to boost its price.
And with LUNC's 24-hour trading remaining elevated at just over $150 million, there remains enough liquidity for the coin to witness further gains in the near term. Of course, it may need to correct downwards a little further before it resumes rising.
Terra Luna Classic Price Prediction as $150 Million Trading Volume Comes In – Here are Key Levels to Watch
LUNC's indicators suggest that the token may have to fall a little before rising again. Its relative strength index (purple) teeters around the 50 mark, having dropped to nearly 30 over the weekend, suggesting that it has moved into a selling phase.
In parallel, LUNC's 30-day moving average (red) has begun falling towards its 200-day (blue). This descent may not end until it touches or falls below the longer-term average, at which point investors can begin to expect further rises.
In terms of resistance and support levels, it seems that $0.00018 may be the key support level at the moment. If LUNC falls below this price, the probability of additional losses increases, although a descent to this level may aslo be the precursor to a recovery.
Conversely, $0.00019 is LUNC's resistance level now, implying that a break through this level may herald further gains.
Looking at the bigger picture, LUNC holders have various reasons to be optimistic in the longer term.
Most fundamentally, the Terra Luna Classic community is continuously working to reduce LUNC's supply and increase its value. A recent proposal to re-peg the sister stablecoin USTC to $1 has now passed, something which will likely have a positive impact on LUNC's price in the coming days and weeks.
While details still need to be ironed out, the accepted proposal would likely require a significant burn of LUNC tokens. In particular, the proposal's authors write that one of its main pros is that it would involve "designing a more efficient system for LUNC and USTC that can burn more than the tax rate can."
As such, expect the burning of LUNC to accelerate in the not-too-distant future. So far, around 38.6 billion LUNC have been burned to date, out of a total circulating supply of 6.87 trillion, meaning that there's still a long way to go.
On the subject of burning LUNC, the past couple of weeks also saw an update to the Terra Luna Classic protocol that provides for whitelists in relation to its native on-chain tax burn. Such whitelists can exempt certain parties from the on-chain burn, a change that Binance had sought in order to resume its own regular burn of trading fees.
Again, this all suggests that the LUNC burn will expand substantially as the year progresses, with many holders holding out for returns to the $0.001 and $0.01 levels (or beyond).
However, ongoing discord within the Terra Luna Classic community may hinder efforts to reach these targets, such as the current proposal to end payments to developer Jacob Gadikian allegedly for "attacking and slandering validators on the Luna Classic Blockchain."
While the loss of one developer may not be fatal for the Terra Luna Classic network, it potentially puts off other developers from contributing. It also raises the possibility that the community may not agree on a plan for implementing the aforementioned re-peg proposal, which has passed without a definite and fixed roadmap.
Despite this, LUNC is definitely one to watch over the coming year, and could be one of 2023's big winners.
Is Now A Good Time to Buy LUNC?
While the situation is looking more hopeful for LUNC, the re-peg plan will require more time to take full shape. As such, anyone looking for high-potential coins may wish to consider alternatives, so we've gone ahead and listed the top 15 cryptocurrencies for 2023, as analyzed by the CryptoNews Industry Talk team.

The list is updated weekly with new altcoins and ICO projects, so be sure to check back for new entries.
Disclaimer: The Industry Talk section features insights by crypto industry players and is not a part of the editorial content of Cryptonews.com.
---