Terra Luna Classic Price Prediction as $0.00012 Accumulation Continues – Where is the Next LUNC Target?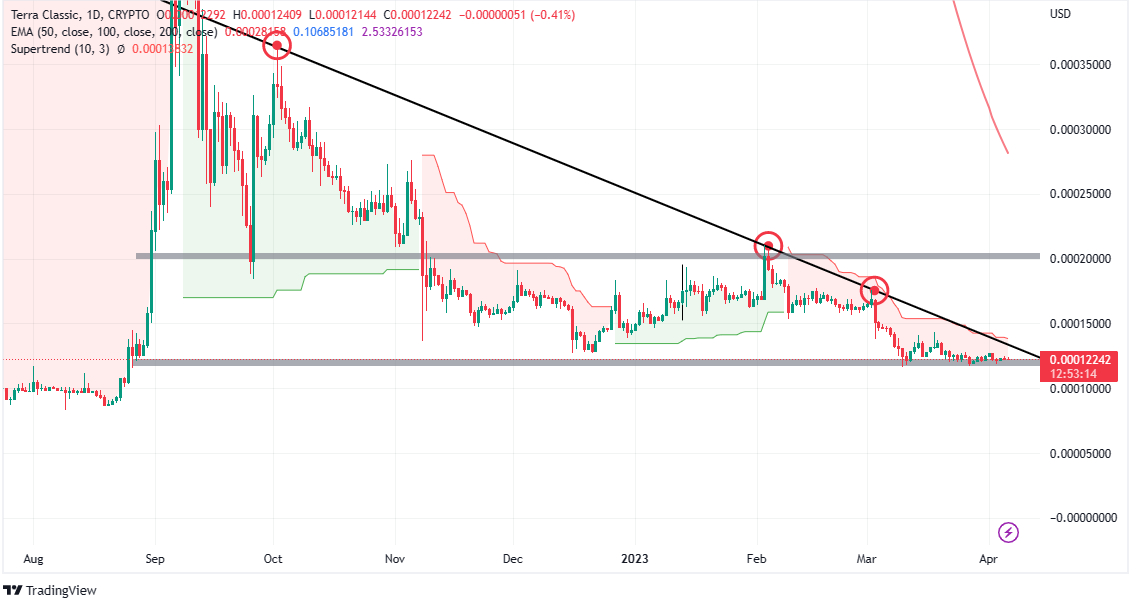 LUNC, the primary token in the Terra Luna Classic ecosystem, has maintained a steady performance over the past four weeks, with robust support at $0.00012.
Despite a 1.5% decline in the last 24 hours, LUNC is currently trading at $0.0001221 as of Thursday, April 6.
As investors continue to accumulate, bullish momentum could potentially drive a takeover—enabling the token to shoot toward $0.0002.
Terra Luna Classic Price Eyes A Sweep in Support
Since October 2022, the price of LUNC has been unable to break through a critical descending trendline, despite numerous attempts by bulls.
While ongoing accumulation may help push for a bullish reversal, there could be a lack of sufficient liquidity to support progress within the primary support level of $0.00012.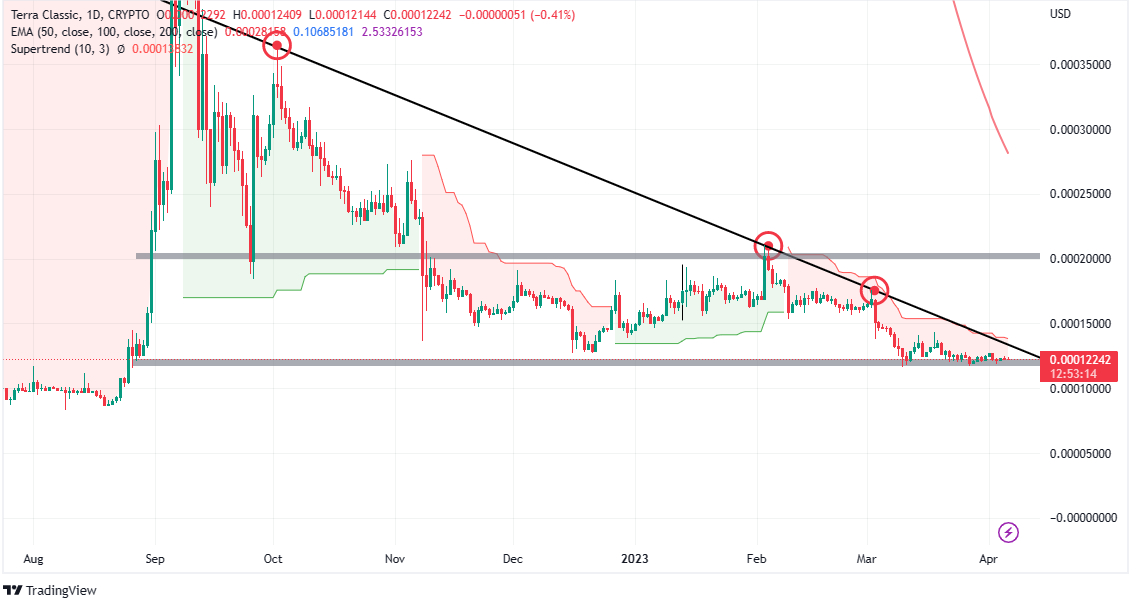 The SuperTrend, on the same daily chart, has been holding onto a bearish position since early February implying that the path with the least resistance is downward.
In the event that bulls relinquish support at $0.00012, but target a lower level like $0.0001, Terra Luna Classic Price may break through new liquidity and experience a significant rebound.
Terra Luna Classic Price Short-Term Outlook – 4-Hour Chart
The choppy market between the primary support at $0.00012 and immediate resistance at $0.000125 has made LUNC largely non-tradable except for experienced traders.
Despite the formation of a bullish candle on the four-hour chart, breaching the hurdle above may prove difficult unless bulls can surpass the 50-day Exponential Moving Average (EMA).
If LUNC manages to stabilize above both the 50-day and 100-day Exponential Moving Averages (EMA), it will face its biggest test at the falling trendline and the wider range limit at $0.00013.
Meanwhile, the Moving Average Convergence Divergence (MACD) indicator remains in the negative region.
Although a buy signal may be imminent, short-term investors should exercise caution and wait for confirmation before buying LUNC.
Can LUNC Rally on The Token Burn Program
The massive supply of Terra Luna Classic has been identified as a significant factor in the token's lackluster performance.
To tackle this challenge, the Terra Luna Classic community has collaborated with Binance, the world's largest crypto exchange by trading volume, to burn LUNC transaction fees.
Through this partnership, the community has succeeded in removing 52.5 billion tokens from the circulating supply, with Binance contributing the most significant share of around 30.5 billion LUNC or 58% of the total tokens burned.
In the latest LUNC token burn batch, Binance transferred 1.612 billion LUNC tokens to the burn address.
Despite efforts to reduce Terra Luna Classic's supply in the market, its circulating supply is still in trillions. Data from CoinGecko shows the circulating supply approximately at 5.9 trillion while the network's total supply holds roughly at 6.9 trillion.
Due to their high circulating supply, cryptocurrencies such as Terra Luna Classic struggle to maintain an uptrend as supply and demand dynamics are heavily impacted.
Consequently, it may take some time for LUNC to reach $1 again in the near future.
Related Articles:
---