Terra Luna Classic is Going to Zero as LUNC Price Keeps Falling But All Attention is on This Lesser Known Crypto – 12 Day Countdown Begins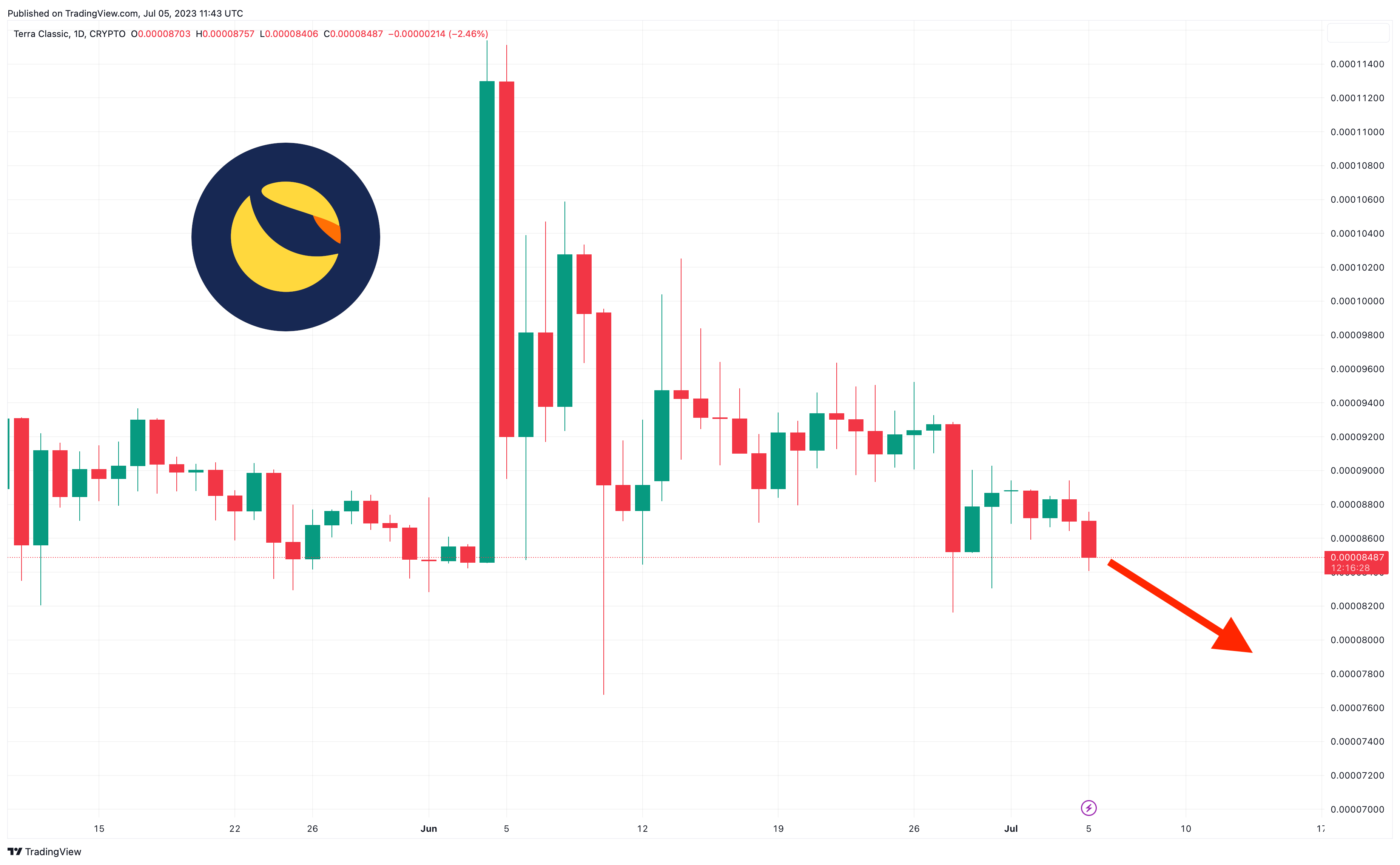 The Terra Luna Classic price has dropped by 3% in the past 24 hours, with the coin slipping to $0.00008443 and marking a 4.5% loss in the last seven days.
LUNC is also down by 13.5% in the past month and by 42% since the beginning of the year, with this latter decline standing in stark contrast to most other major tokens (e.g. BTC is up by 83% since January).
Such falls stem from a loss of momentum with regard to community efforts to re-peg the related USTC stablecoin to the US dollar, something which would boost LUNC's price massively if it ever became a reality.
But with little progress being made on this in recent weeks and months, traders may prefer to look towards more promising alternatives, with the success of the Thug Life Token (THUG) presale indicating that the latter may be one to watch.
Terra Luna Classic is Going to Zero as LUNC Price Keeps Falling But All Attention is on This Lesser Known Crypto – 12 Day Countdown Begins
LUNC's chart shows the altcoin in a very weak position at the moment, with its relative strength index (purple) diving down towards 30 and likely to fall to 20 in the next day.
LUNC's 30-day moving average (yellow) is also flagging, with the indicator dropping further below the coin's 200-day average (blue), with plenty of room to continue sliding before bottoming out.
At the same time, LUNC's support level (green) is still sagging, indicating that the altcoin will not be able to defend itself from further losses in the coming days.
In other words, it doesn't look too great at the moment for LUNC, which is suffering from the Terra Luna Classic community's inability to make real progress on efforts to boost its price.
Most recently, this community has accepted a proposal to model and simulate a mechanism that would incrementally re-peg USTC, largely via a process of buybacks.
However, this isn't the first such proposal to be accepted in recent weeks, with another plan for a test environment accepted in early June.
The thing is, such plans have brought neither USTC nor LUNC any closer to regaining anything like their former values.
And judging by LUNC's ever-declining price, it seems that the market is becoming increasingly frustrated and bored with having to wait for significant price action.
This is why traders may be advised to look elsewhere for gains at the moment, with the aforementioned Thug Life Token (THUG) being one of the most promising new altcoins in the market.
An ERC-20 meme token, THUG has aligned itself with the gangsta rap and hip-hop communities, with its use of imagery and memes attempting to draw in a wider pool of potential holders than those associated with other similar coins.
It launched its presale a week ago and has already raised in excess of $400,000, a strong sign that it's already doing a good job of building up a community of supporters.
Thug Life Token's presale will have only a single stage and is due to end in about 12 days, with 70% of the coin's supply (of 4.20 billion) being reserved for it.
This is a big allocation for a presale, yet it's one that will help to draw in more investors, who will find in it greater reassurance that THUG won't be at risk of a big dump.
That said, interested investors will need to act quickly if they're to buy some THUG before the end of the sale, which has a hard cap of $2,058,000.
They can join the presale by heading over to the official Thug Life Token website and connecting their software wallets.
1 THUG costs $0.0007, a price which may end up seeming very cheap when THUG lists on exchanges in the next few weeks.
Disclaimer: Crypto is a high-risk asset class. This article is provided for informational purposes and does not constitute investment advice. You could lose all of your capital.
---