Terra Classic Price Up 6% - Crypto Whales Buying LUNC For v2.1.0 Parity Upgrade?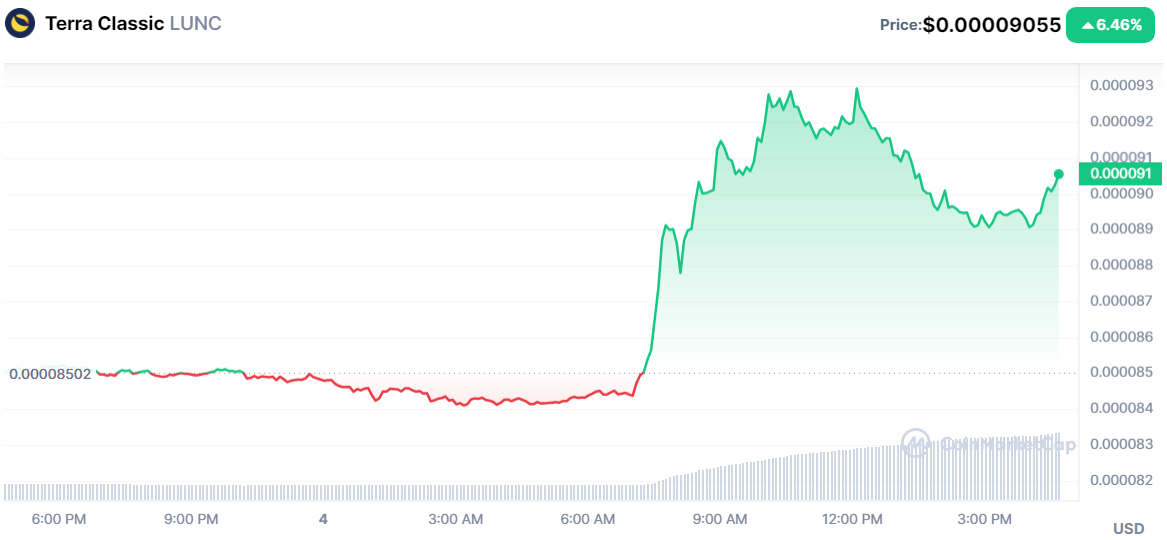 The LUNC price has spiked over 6% on news of the v2.1.0 upgrade proposal being up for discussion, tweeted out by the @LUNCBurnArmy account.
The Terra Classic 24 hour trading volume is up approximately 300%, however the LUNC price has a long way to go to recover its September 2022 high of $0.00059.
Terra Classic v2.1.0 Upgrade
The latest release from LUNC Burn Army is the third major upgrade to the Terra Classic blockchain, set to take place June 14th at approximately 17:20 UTC.
It includes a minimum 5% commission for validators, Cosmwasm v1.1.x, and two security updates.
Read the full text of the LUNC v2.1.0 upgrade proposal on commonwealth.im.
LUNC Price Prediction
Today priced at $0.00009, the Terra Classic price is down 86% from its top.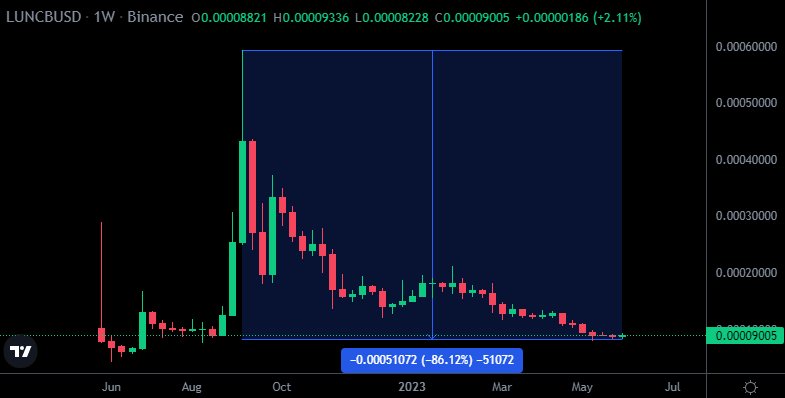 A move back to its 2022 highs would require a 655% increase.
With its fully diluted market cap still over $600 million, and the LUNC supply not having been burnt in any significant way - still around 5.85 trillion, not much less than following the Terra LUNA crash which inflated the former Terra coin's circulating supply - that might be hard to achieve.
Last year in a Terra Classic price prediction post we noted that two expert crypto analysts had predicted that the bull run could be over for the LUNC price - Light (@lightcrypto) and GCR (@GiganticRebirth and @GCRClassic).
Read that LUNC price prediction post here. Since then the Terra Classic price dropped a further 75%.
For more recent technical analysis, see our June Terra Classic price prediction article.
LUNC Alternatives
We've reviewed many lower market cap, newer cryptocurrency assets here on CryptoNews, some at the presale stage and others recently listed on exchanges.
In total we've picked out 21 new crypto coins with high growth potential for 2023 and heading into 2024, including a mix of meme coins and utility tokens.
---