Terra Classic Price Prediction With Parity Upgrade June 14 – Can LUNC Price Recover?
Disclosure: Crypto is a high-risk asset class. This article is provided for informational purposes and does not constitute investment advice. By using this website, you agree to our terms and conditions. We may utilise affiliate links within our content, and receive commission.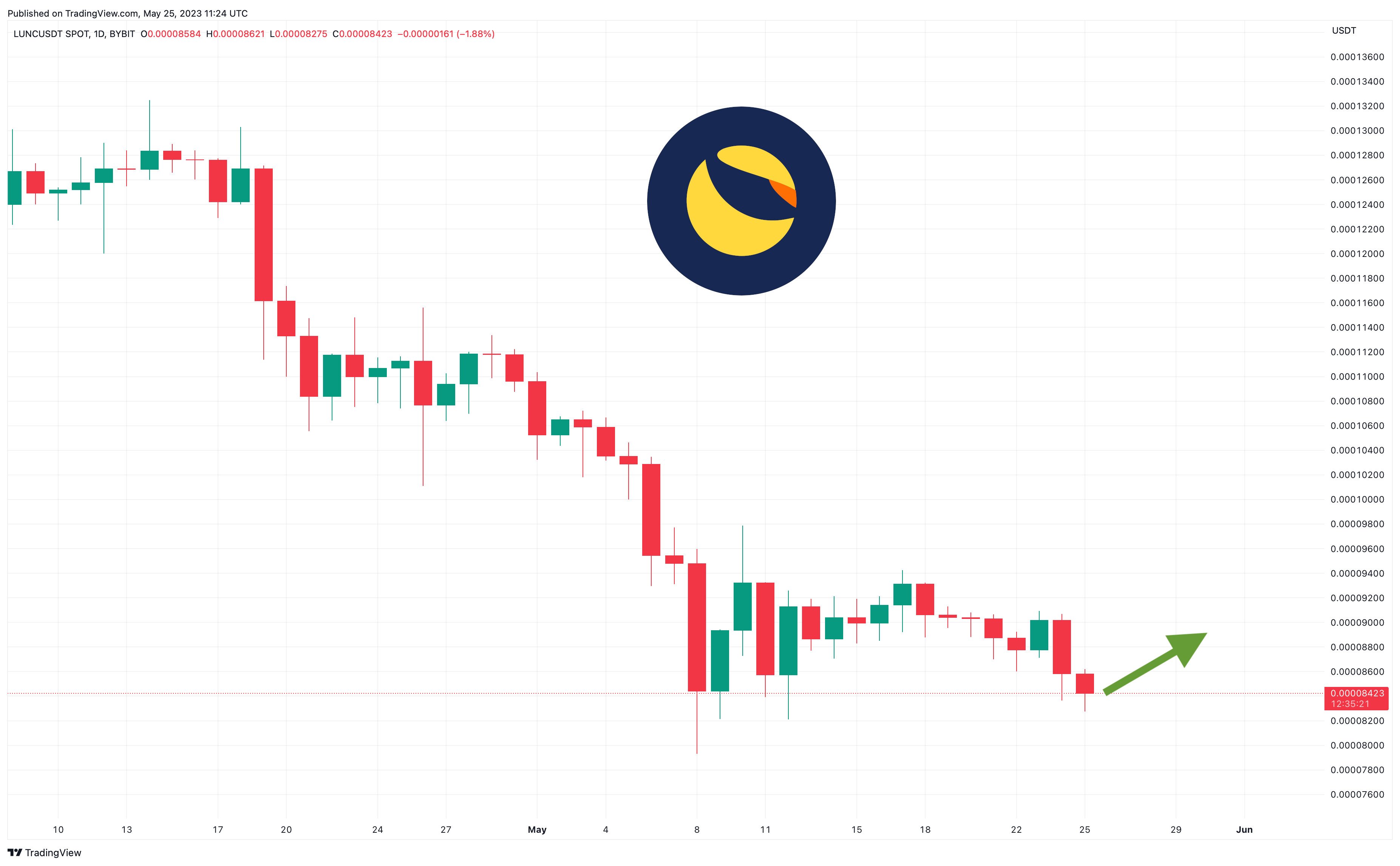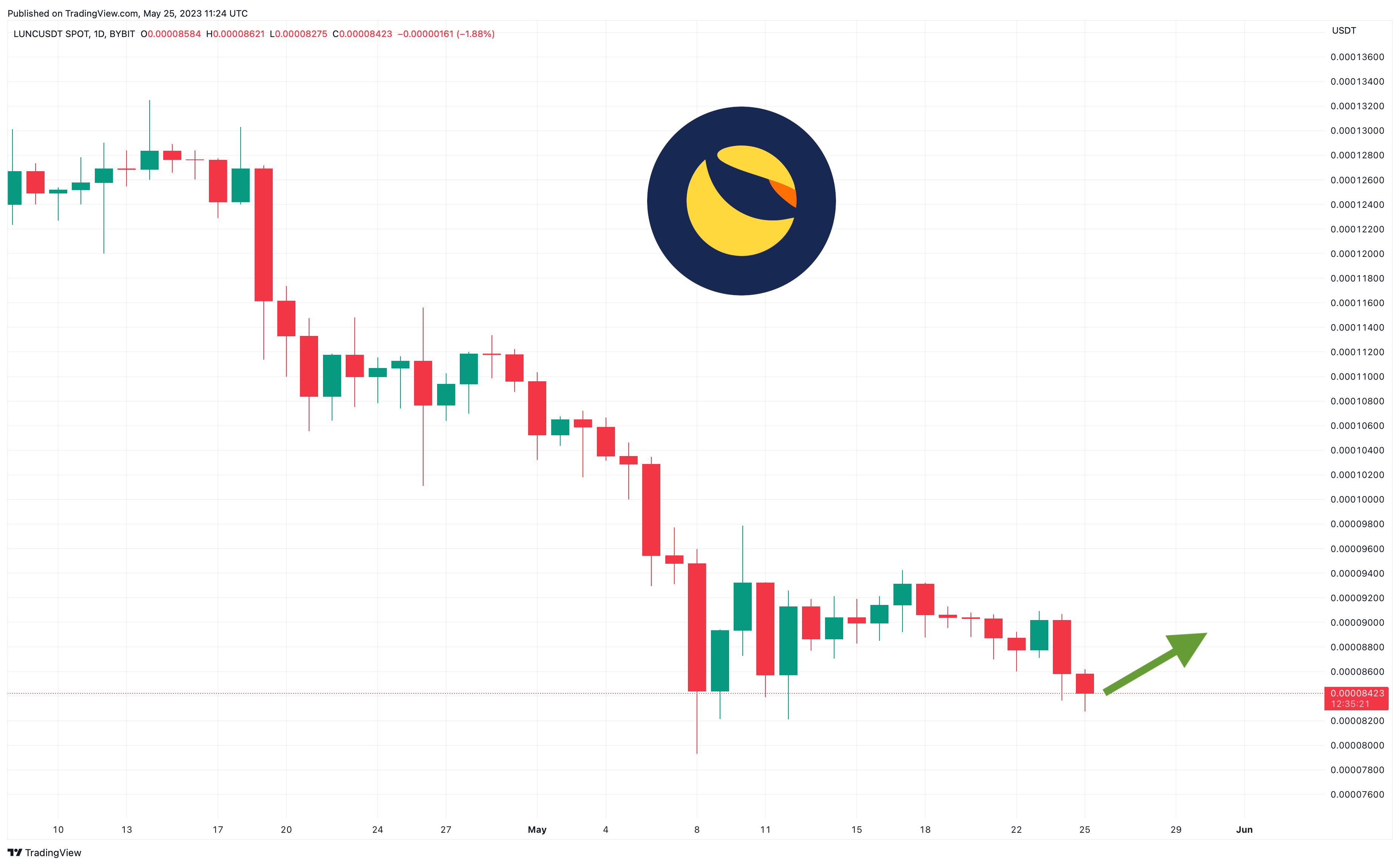 The Terra Luna Classic price has declined by 3.5% in the past 24 hours, dropping to $0.00008484 as the cryptocurrency market as a whole falls by 1.5%.
LUNC's price means it has dropped by 7% in a week and by 22% in the last 30 days, with the altcoin also down by 41% since the beginning of the year.
This latter fall stands in contrast to the gains major cryptocurrencies such as Bitcoin and Ethereum have since January, underlining how LUNC currently appears to be in a state of decline, with community efforts to bootstrap its development failing to support its price.
However, with the launch date of the long-awaited Parity upgrade now set for June 14, LUNC's price could see a boost around this time.
Terra Classic Price Prediction With Parity Upgrade June 14 – Can LUNC Price Recover?
LUNC's chart makes for some fairly grim reading, with its indicators all showing further losses of momentum, which in turn point towards more losses in the near term.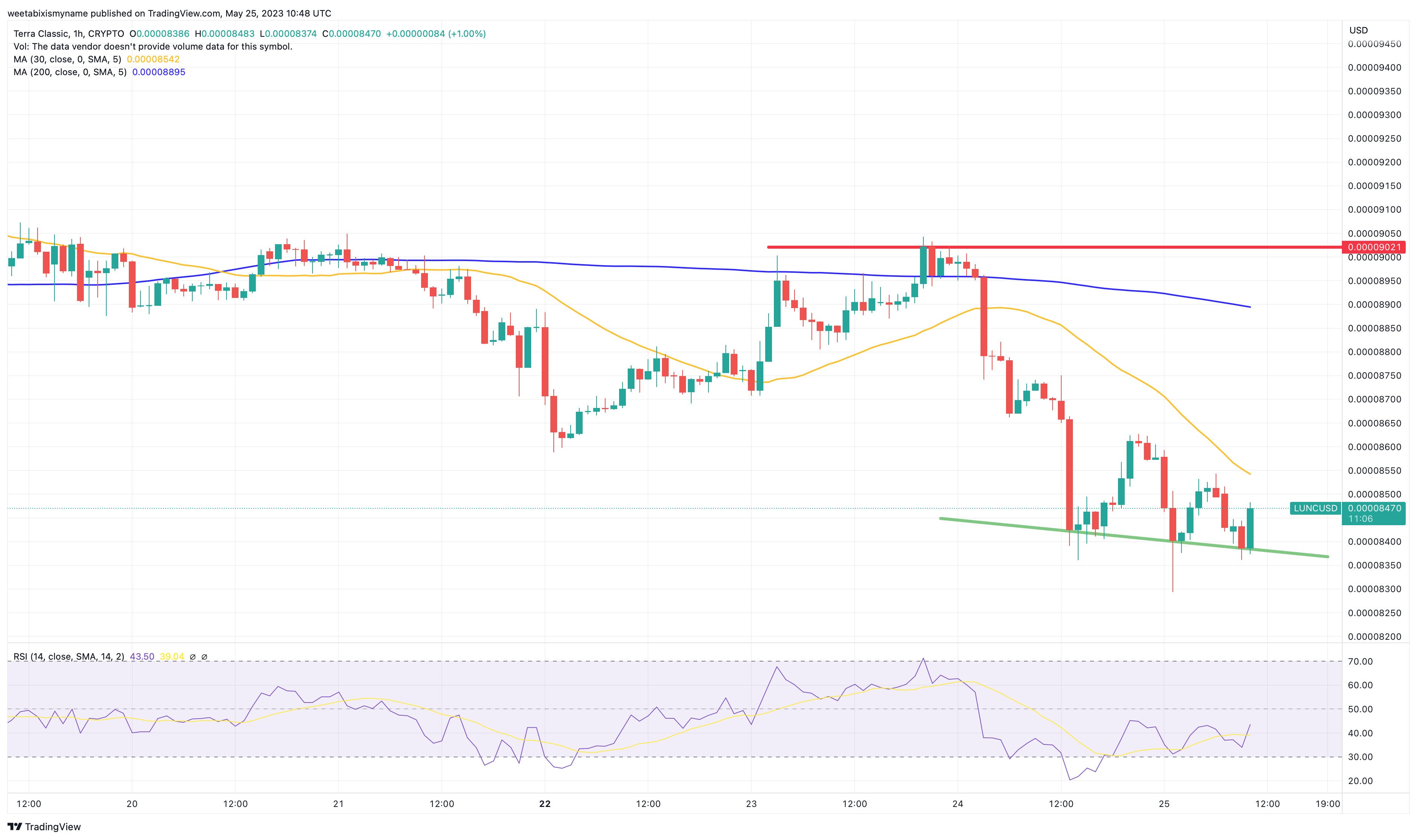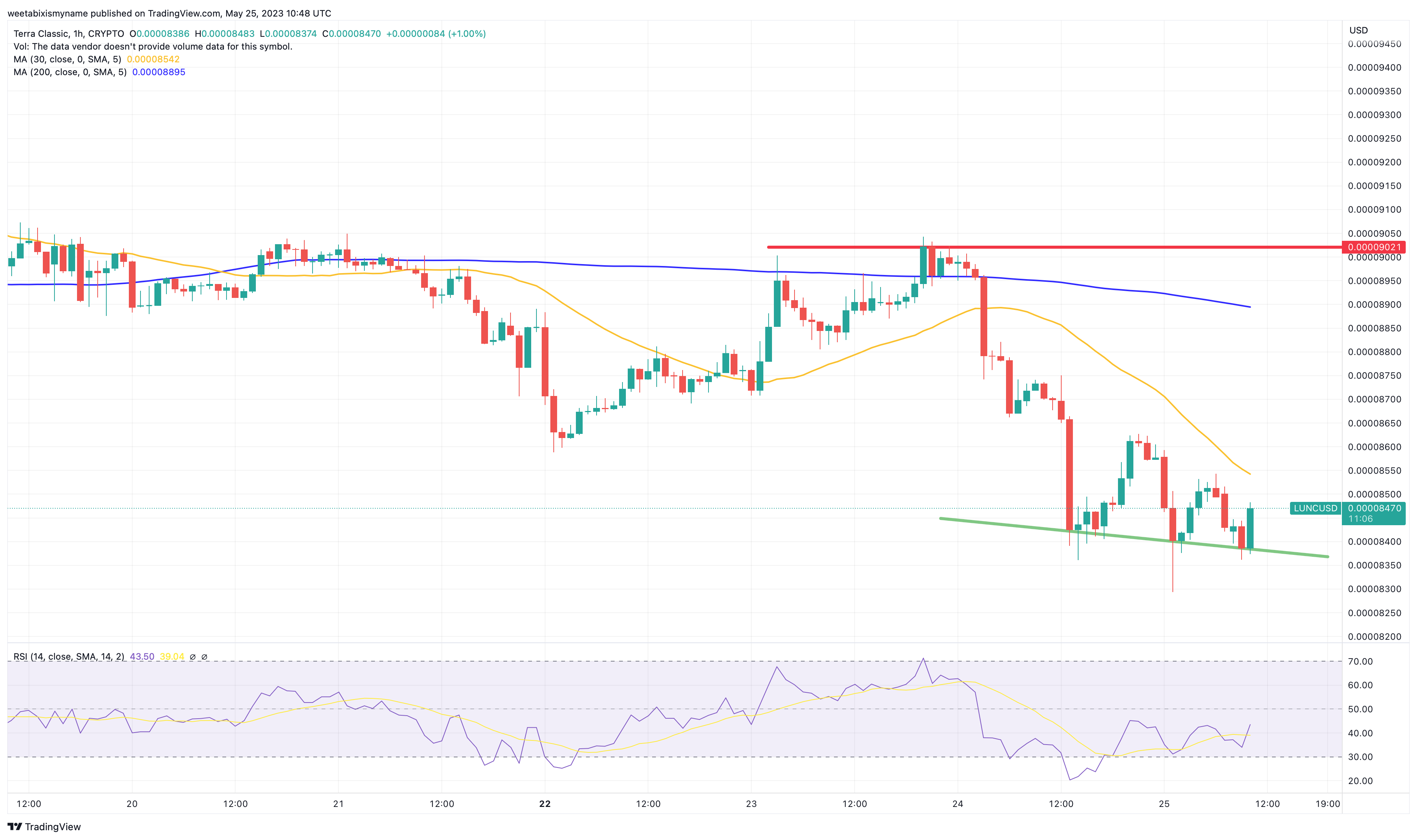 The altcoin's relative strength index (purple) fell below 30 yesterday, and while it has recovered a little today it still remains below 50, signalling a lack of momentum.
Likewise, LUNC's 30-day moving average (yellow) continues to plunge well below its 200-day average (blue), and at the moment it doesn't seem like it's going to stop anytime soon.
This pessimism is supported by the coin's support level (green), which continues to drop from one apparent bottom to another.
As such, technical indicators don't really suggest that LUNC is going to stop falling in the near future, particularly when the wider market continues to lose ground as a result of negativity surrounding the US debt ceiling crisis and other macroeconomic factors.
Indeed, since the altcoin reached a post-Terra collapse high of $0.00008485 in September 2022, it has actually declined by 98%, creating the impression that its community has lost hope of ever resuscitating it in a significant or meaningful way.
But despite its ongoing losses, the Terra Luna Classic community continues work on making the cryptocurrency and its blockchain more useful to developers.
🚨BREAKING: $LUNC Parity date is set for 14th June for Cosmwasm upgrade to v1.1.0!

The moment of truth for the Luna Classic Community! Are we going to see growth of Dapps and Utility flourish on LUNC chain?! ! 🚀💎🙏

— WSB Trader Rocko 🚀🚀🚀 (@traderrocko) May 22, 2023
As noted above, June 14 will see the deployment of the Parity upgrade, which will bring a number of important updates that will enable the Terra Luna Classic blockchain to achieve greater interoperability with other networks, such as Cosmos.
It's hoped that this will encourage a migration of developers and apps to the Terra Luna Classic network, although with the LUNC price suffering from such a big slide in recent months, you'd be forgiven for being skeptical.
AI and Token Burns
Still, it shows that Terra Luna Classic's development community is serious about improving its utility, with the Parity upgrade also laying the technical underpinnings for Edward Kim's Block Entropy, an "app chain" that will enable AI-based tools and applications to be deployed on the Terra Luna Classic network.
Updates for the AI app chain called Block Entropy. Still building. Here is a sneak peak at the white paper that is almost finished. pic.twitter.com/8PneXKqIbl

— Edward Kim (@edk208) April 29, 2023
Given that generative AI is currently the big thing in the tech sector right now, the arrival of Block Entropy could be the catalyst that enables Terra Luna Classic to mount a substantial recovery.
Of course, such a process is likely to take a very long time, while mainstream enterprises and businesses that want to harness AI will undoubtedly continue going to established providers such as OpenAI for the foreseeable future.
But it could provide some real innovation within the cryptocurrency ecosystem, and combined with ongoing token burns, it could help LUNC's price to continue rising again.
Speaking of burns, some 58.9 billion LUNC has been destroyed to date, out of a total circulation of 5.87 trillion.
Hope that burning might become more large-scale has been kindled in the past few weeks, with a propsal for re-pegging USTC (LUNC's related stablecoin) passing a community vote.
#LUNC #USTC RE PEG PROPOSAL PASSED 🔥 pic.twitter.com/HUWoszL52x

— Terra Luna army ™🦈 (@terra_army) April 30, 2023
Once enacted, this plan could result in the large-scale burning of LUNC, something that would help the altcoin's price to recover massively.
However, details still need to be hashed out by Terra's L1 Task Force, so again it may be a while before some concrete progress is made.
For now, it may be possible that LUNC continues to slide downwards, although a return to more bullish market conditions could help it recover, potentially returning to 0.0001 or higher in the coming weeks.
---