Ternoa Expands NFT Time Capsules' Compatibility Partnering with Elrond
The text below is an advertorial article that was not written by Cryptonews.com journalists.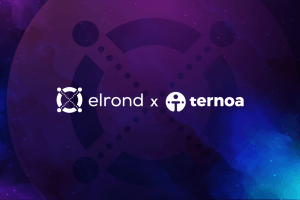 In this article, you will learn how Ternoa's NFT Time Capsules work and what this partnership with Elrond means for them.
Ternoa, the world's first blockchain to approach NFTs as transmission devices with extended owner privileges, is excited to announce a new collaboration. We are talking about Elrond, a massive blockchain scalability project. Better known for its token $EGLD, the company will make the necessary changes to support Ternoa Time Capsules in their accounts and addresses by means of a bridge.
All this sounds really exciting, but what does this NFT bridge collaboration mean exactly for Ternoa users, and more specifically for those interested in Time Capsules, the company's flagship? In order to understand the full implications, we will first take a look at what these capsules are.
What are Ternoa's NFT Time Capsules?
In today's world, data storage is very limited, there is no option for sole ownership due to intermediaries, nor the security in that your data will not be deleted accidentally or hacked... Ternoa's goal is to create a data storage space that people can be full owners of, with full privacy and no limitations nor intermediaries. Here is where NFT Time Capsules come in: they help Ternoa do just that by becoming vehicles that encapsulate data that users want transmitted.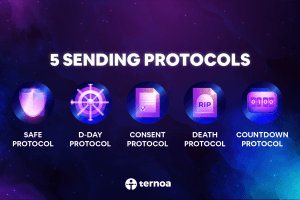 But how do Ternoa's Time Capsules achieve the task of carrying out important information from generation to generation? The answer lies in five different sending protocols. First we have the Death Protocol, which allows for postmortem transmission, meaning that even after your death, your treasured data will be sent to the chosen beneficiary. Then, the Consent Protocol opens the Time Capsule when there is no opposition from the sender. Along with these, Ternoa's Safe Protocol stores data in the form of a digital safe. Finally, the Countdown Protocol sets a countdown before sending the capsule, and the D-Day Protocol specifies a send date.
By means of this technology, the recipient of the Ternoa Time Capsule can do whatever they want with the data: they can even add data to it and send it to their own children or loved ones. It seems like being able to send these capsules to the most quantity of addresses possible is key, right? Here is where Elrond comes in.
Elrond's Scalability Project
Many of you may be familiar with Elrond's token, $EGLD, which has a Market Cap of 1,639M USD and 24-hour trading volume of 37M USD. But if we take a deeper look at this project, we can see that Elrond's capabilities are astonishing: it can process up to 15,000 transactions per second (TPS) with 6-second latency. But it does not end there: it also features several layers of security, by way of implementing Proof of Stake (PoS) algorithms.
But how can Elrond achieve this combination of speed and security? The answer lies in its Adaptive State Sharding mechanism. In short, thanks to Elrond's implementation, transactions can be managed in parallel, so that the blockchain retains its security features (like node verification) without the risk of getting clogged, as it usually happens with other networks. More information about Adaptive State Sharding can be found here: https://docs.elrond.com/technology/adaptive-state-sharding/
Ternoa's future developments for NFT Time Capsules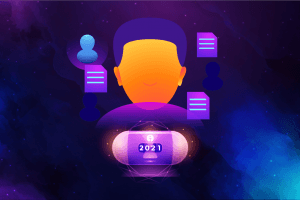 The next step, which at this point looks like the natural one, will be the launch of the Ternoa main net. When that step is complete, the official Ternoa app will be released, which will offer Time Capsule creation. This app will be so user-friendly that even the elderly will be able to go on the app and create one within minutes.
And thanks to this collaboration, Time Capsules minted on Ternoa can be configured with Elrond Network destinations, with the NFTs to be sent over a bridge when the time comes.
"The permanent and immutable nature of blockchain technology will allow humanity to remember history's lessons more accurately and draw on them better. We are happy to have Elrond accounts as recipients of the innovative Ternoa time capsules." said Beniamin Mincu, Elrond Network CEO.
"The Elrond community is one of the most vibrant and active in the entire crypto space. We're excited to engage with it and create the opportunity for its members to receive memories encapsulated on the Ternoa platform directly into their Maiar wallets." said Mickael Canu, Ternoa CEO.
If you are interested in Ternoa's amazing features, like its NFT Marketplace, you have to try its Wallet App! You can download it for iOS here or Android here.

---