Teletubbies Lead the Madness as April Fool's Bitcoin Bedlam Runs Amok
Disclosure: Crypto is a high-risk asset class. This article is provided for informational purposes and does not constitute investment advice. By using this website, you agree to our terms and conditions. We may utilise affiliate links within our content, and receive commission.
April Fool's Day is in full swing on social media and beyond – and the bitcoin (BTC) and crypto-related gags and pranks got off to an early flying start from the most unlikely of sources: the Teletubbies.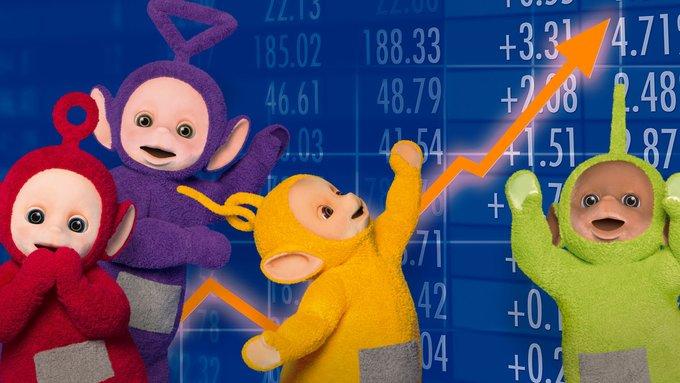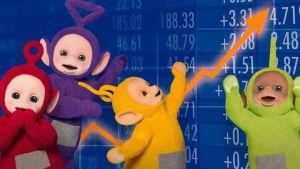 The official Twitter account of the popular children's TV show descended into a carnival of crypto chaos on the afternoon of March 31 when La-La and co – or their PR gurus – adopted laser-red glowing eyes and teased:
The tweet ended with the rocket emoji and a bitcoin hashtag, sparking unmitigated pandemonium in the ensuing thread.
The prominent BTC Twitter account Dr Bitcoin MD created polls asking which of Tinky-Winky, La-La, Po, or Dipsy was the biggest BTC hoarder – and who was the most "degenerate shitcoiner" of the bunch.
The answer to the first question, remarked one sharp-witted soul, was "Dipsy 'cos she always buys the Dipsy."
Crypto tweeters had a field day, with one quipping that "Tinky Winky was really (Gemini's) Tyler Winklevoss all along."
The exchange giant Binance was just one of the many to express its incredulity, but the Teletubbies had just one response to it – and all other commenters: the eyes emoji. Somebody, it appeared, was having a whale of a time at Tubbies Towers.
The shaggy-dog story came to an eventual halt as the 12pm joke deadline approached…with a final flurry of Tubbie activity.
The gang wrote that it had launched Token, "an official Teletubbies cryptocurrency made with special HugTech from WildBrain Labs." They added that for "every like, share, comment" the TubbyCoin would "become more valuable."
"Let's take it to the moon," they enthused.
But in a press release, Michael Riley, Chief Brands Officer of Teletubbies franchise owner WildBrain, was quoted as saying:
"I'd like to wish everyone a Happy April Fool's Day! Although TubbyCoin is not really a cryptocurrency, our hope is that you'll still enjoy sharing TubbyCoins with friends, family and anyone who needs a hug – all to bring some very real smiles to faces."
Binance, meanwhile, followed up with its own April Fool's effort – an (arguably unfunny) spoof video news report about a two-year-old child who had out-crypto traded her father, featuring a cameo from the king of crypto comedy himself, CEO Changpeng "CZ" Zhao.
Other exchanges also prepared their own gags – including a Photoshop disasterclass from Bitfinex, claiming it was launching a pizza chain named Bitfinizza.
Twitter personalities also prepared their own gags – including a blissfully tuneless R&B bitcoin forecast from crypto guru Willy Woo, sung and set to music in a collaboration with the token-keen musician Eros Papasideris. Cryptonews.com is unable to unlisten to this BTC analysis.
Tesla's and SpaceX's Elon Musk joined in as well:
Some decided that April 1 provided the occasion for more BTC rainbow vs stock-to-flow wars, albeit with some "humor" injected – via Über Holger, who tweeted that "new data" suggested that the BTC Rainbow Chart was "actually a DOUBLE RAINBOW!"
Prominent bitcoiner Satofishi had a laugh with some dogecoin (DOGE) community craziness. He shared a spoof "DIP-1337" manifesto full of all sorts of Elon Musk references, code-heavy japes and doggy-themed chaos that is now taking up precious space on the GitHub repository.
With all the mayhem raging, another Twitter user raised a pertinent (but probably tongue-in-cheek) point.
Some went for low-lying fruit – taking aim at the travails of Ripple and its XRP token, and turning up the ooof in the process. (Well, truth to be told, XRP was really gone for some time from the Coinmarketcap.com list today.)
Blockstream's Samson Mow went below the belt, writing simply,
"XRP is not a security."
Pierre Rochard, a Bitcoin Strategist at Kraken, a BTC podcaster and the Co-founder of the Satoshi Nakamoto Institute re-christened himself "Secretary Janet Yellen," changing his profile picture to a smiling image of the United States Treasury chief and tweeting: "USD is a racist scam. Buy bitcoin."
A jest-loving follower channeled Rick Astley with a razor-tongued response: "Janet, You're Never Gonna Give U(SD) Up."
Bitcoin bull Michael Saylor sent hearts fluttering before his followers' eyes reached the calendar, writing:
"Today MicroStrategy sold the amount of BTC 69,420 for a profit of 19,520,690 in fiat. The time was 1984 Moscow time. #SODL."
The American fast-food chain Chipotle announced its own paln to give out USD 200,000 worth of "free burritos and bitcoin" on April 1 to celebrate "National Burrito Day" – in a tie-in with Stefan Thomas, the man who famously cannot find the password to his USD 387 million bitcoin stash. This stunt, it appears was no April Fool's gag, but certainly falls into the "stranger than fiction" category.
A political observer on Reddit joked that a new USD 2.2 trillion spending plan from Joe Biden amounted to an expensive "ad campaign for bitcoin and all cryptos."
And while some went into full gibberish mode with phony reports of a Cardano platform "collapse," one Redditor drew a sage-like conclusion:
"Think I might have to stay off Reddit for the day. It's gonna be a shit show on here."
Quite.
But the winner of the day – as decided by the author's five- and three-year-old offspring – was undoubtedly the crypto data analysis compiler CoinGecko, which added "animal" and "food festival" tabs – so traders can see which animal-themed coins (think uniswap, badgerDAO and the rest) are currently ruling the crypto animal kingdom.
Alternatively, you can see which food-themed coins (pancakes, sushi and friends) have made the chef's specials board.
Redditors think the new tabs should stay. And children aged under six heartily agree.
---