Tamadoge Launches 3D NFT Presale on Thursday 14th September After Trending No.1 on CoinGecko as Price Pumps 25%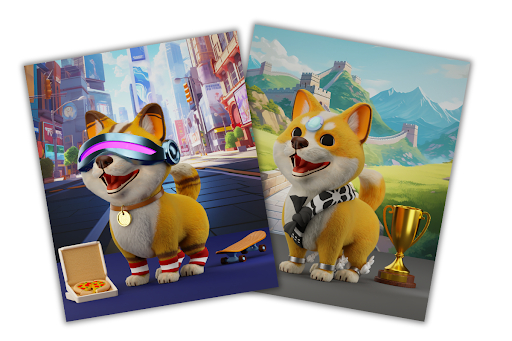 Tuesday, September 12th, 2023 – Web3 games platform Tamadoge launches its 3D NFT presale on Thursday September 14th, a fortnight after announcing the introduction of staking, and then a week ago a new burn program that has ignited bullish price action for its $TAMA token.
A series of successful game launches sees the top meme coin-infused games platform pivot to bolster brand awareness for the ecosystem and its native token $TAMA, as it seeks to grow its user base and chalk up more centralized exchange listings.
The launch of the Tamadoge 3D NFTs is yet another major milestone achievement for the project and a precursor to future updates that will make the NFTs fully playable characters in Tamadoge games.
Tamadoge 3D NFTs will eventually include an array of dynamic features, including leveling up and the ability to be accessorized to improve rarity.
When using the new NFT system and the Pet Shop, players will be able to level up their NFTs for free by leveraging engagement and experience points.
Staying true to its product roadmap, Tamadoge is pushing the boundaries of what is achievable in Web3 gaming by developing games that are accessible and appealing to mainstream casual gamers. As such, the 3D NFTs will play a key role in delivering a uniquely immersive and engaging gaming experience for the community.
Tamadoge's latest announcement is the third reveal of its three mystery projects, the other two being staking and a multi-faceted burn program.
Other parts of the revamped marketing program unveiled to the community include two giveaways, but the dates and the amounts involved are yet to be announced.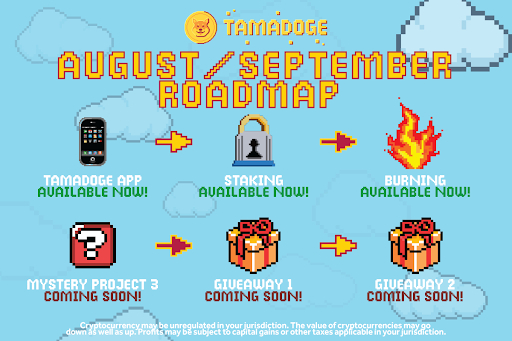 Tamadoge mystery project 1: Staking to earn yield
Staking has gained immediate traction with the Tamadoge community. From a standing start a week ago to today, the amount of tokens staked has swelled to 46.7 million, with each staker earning a potential annual percentage yield (APY) of 4.3%.
A staking pool of two million $TAMA tokens has been allocated for the distribution of rewards. The pool is divided up across four months, – 500,000 $TAMA a month (approximately 216,000 block confirmations), equalling 3 $TAMA per block confirmation.
Staked tokens can be withdrawn at any time, while the APY is variable, depending on the number of staked tokens.
The amount each staker earns depends on the percentage of the staking pool they own and the current APY.

Tamadoge mystery project 2: New Burn Program
Complementary to the staking functionality are the new burn features aimed at amplifying scarcity and value of $TAMA. Ease of use is at the heart of everything Tamadoge does, and it is no different when it comes to involving the community in the three-pronged burning program.
Therefore, to encourage community involvement, each of the three types of burn, their schedules and related metrics are publicly available to view on the newly launched Tamadoge Burn Portal:
Mega Burns:
Special promotional events are planned to burn a significant amount of $TAMA tokens in the fourth quarter.
Community Burns:
For each $TAMA token that the community opts to burn, Tamadoge will match it by burning an equivalent amount of $TAMA. Up to 5 million $TAMA will be burnt, ending on November 5th.
Platform Revenue Burns:
All revenue generated from platform sales will be converted into $TAMA tokens and subsequently burnt.
In addition to the burn schedules, the Burn Portal keeps a tally of the number of tokens burnt to date. Logged-in users will also be able to see a counter of how many TAMA they have burned.
Tamadoge's next Mega Burn is set to take place in October with the burning of 10 million tokens.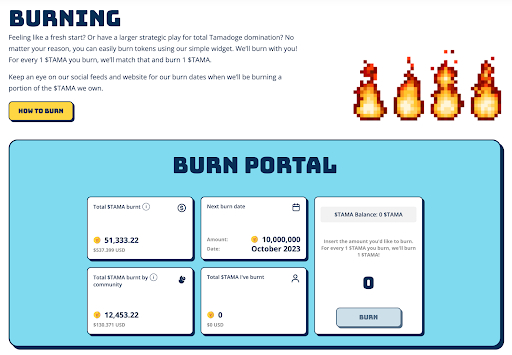 $TAMA token price is on fire right now – up 25% in 2 weeks
It was the announcement last week of the staking and burn feature that lit a fire under the $TAMA token price.
The $TAMA price has taken off and is now up 25% on two weeks ago. Such was the price momentum that TAMA became a regular fixture in the top trending cryptocurrencies table on leading listings and data site CoinGecko.
Daily volumes approached $1 million as the coin took the No.1 spot and maintained a top 3 presence for much of last week. This latest announcement from the team is likely to sustain the price momentum.
At the time of writing $TAMA is priced at $0.01058, according to CoinGecko data.
Tamadoge's $TAMA token is currently available to buy on multiple tier-one exchanges, including top-tier centralized exchanges OKX, and Bybit.
Prospective buyers can also purchase $TAMA directly on the Tamadoge website using a card, Apple Pay, Google Pay, or a variety of other methods, as well as by accessing the Uniswap decentralized exchange's widget available on the Tamadoge site.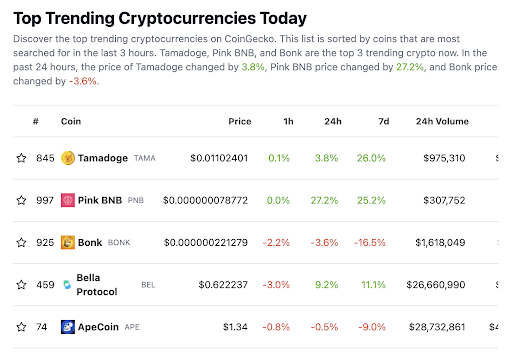 Tamadoge Web3 breakthrough on App Stores shows project is going from strength to strength –
The growing Tamaverse ecosystem has launched six games on two apps – five games on Tamadoge Arcade and a sixth game called Tamadoge Arena, which has its own app. In a significant achievement for a Web3 games platform, Tamadoge, both apps are available in the iOS and Android app stores.
Tamadoge Arena is a single game with three levels. All six games have been well received by the community. Tamadoge Arena is mobile-only, while the Tamadoge Arcade games can be played on both web and mobile.
The flagship Tamagotchi app is 'in progress', according to the public roadmap. Users of the app look after their mini Doge and nurture it to one day become a strong contender in battles against other pets, and see it grow into a valuable NFT.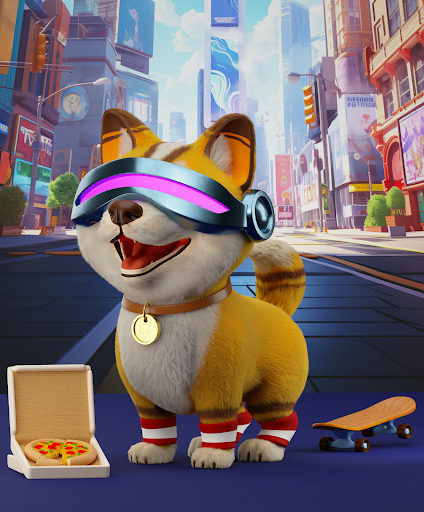 A central goal of the current marketing campaign is to gain listings on more top exchanges to spread the good news about Tamadoge and to further widen its base of token holders and players.
With $TAMA trending across major crypto outlets, the marketing campaign is already showing its worth. As trading volume grows and visibility around the project grows, more major exchanges are sure to take notice.
Play-to-earn Web3 gaming is smart gaming – and buying $TAMA could also be the smartest investment move to make to gain exposure to the future of gaming.
---