T-Shirt's Matter's Banksy NFT Collection: A Timeless Collectible in the Digital Age
Disclosure: Crypto is a high-risk asset class. This article is provided for informational purposes and does not constitute investment advice. By using this website, you agree to our terms and conditions. We may utilise affiliate links within our content, and receive commission.
Disclaimer: The text below is a press release that is not part of Cryptonews.com editorial content.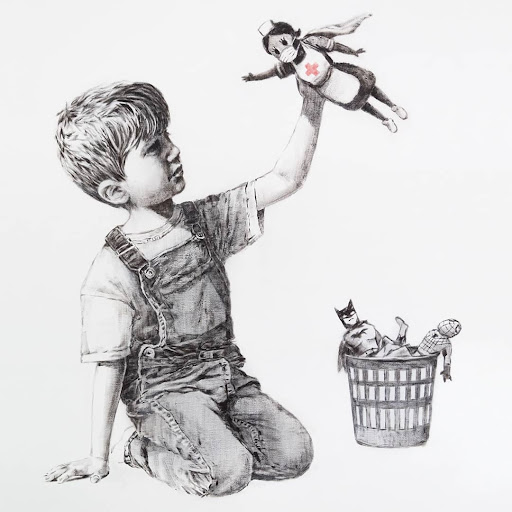 The T-Shirts Matter Banksy NFT collection will be a timeless collectible in the digital age. Timeless collectibles are those that retain their value and appeal over time, and this NFT collection is no exception. With over 1,500 Banksy NFTs available, this collection offers exclusivity and rarity that is sure to make it a highly sought-after item among art collectors.
NFTs, or non-fungible tokens, are a type of digital asset that are unique and cannot be replaced by another identical item. They are often bought for status or utility, but T-Shirts Matter's Banksy's NFT collection is about exclusivity and rarity. The NFTs in this collection will be one-of-a-kind, making them highly desirable among collectors. The NFTs prices are 72 cents, $2.22, $22.22 $60, $35,000, $125,000, $200,000, $300,000, $350,00, $450,000 & $1 million United States Dollars. 60 Banksy NFTs will be offered at $35,000 & only 9 Banksy NFTS will be available at $125,000, $200,000, $300,000, $350,00, $450,000 & $1 million United States Dollars.
Mike Lin is the Genius Behind the Idea
Who is Mike Lin, the creator of this collection? Mike Lin is an entrepreneur who is the Founder / CEO of T-Shirts Matter (http://t-shirtsmatter.com), a dis'ruptive merch company for social good inspired by Obey Giant & Banksy. He also plans to focus on his personal brand after the launch, and will be speaking at TEDx, TED, colleges, universities, and businesses. He also plans to use some of the proceeds from the Banksy NFT collection to open up an art gallery & a restaurant with his friend Lisa which will have an outdoor bar, private cabanas, indoor seating and lots of plants on 3rd street in Bayview, Hunters Point, San Francisco. Mike will also be launching the T-Shirts Matter Record Label, possibly a 1 day music festival in San Francisco, self publishing a book & starting a Top 10 podcast.
Banksy, on the other hand, is a pseudonymous England-based street artist, political activist, and film director. His satirical street art and subversive epigrams have made him one of the most famous and sought-after artists in the world. He is also known for his anonymity, as his true identity is still unknown to the public.
The Rarity of the Collection Makes it Timeless
The rarity of this NFT collection means that people who hold onto the projects could end up succeeding in the long run. Mike Lin has stated that he will be holding back 12 of the Banksy NFTs for himself and for auctions, making the collection even more exclusive. This means that those who are able to get their hands on one of these pieces early on will have a valuable asset that is sure to retain its value over time.
So why is this collection expected to "break the internet"? For one, the combination of the unique and rare nature of NFTs with the popularity and cultural significance of Banksy's art is a recipe for viral success. Additionally, Mike Lin's reputation as a successful art collector and marketer with the assistance of Influencer Press, Project 3 Inc & Syzygy is expected to drive high demand. $68,500 will be spent on marketing & PR for the Banksy NFT launch. Furthermore, the scarcity of inventory available and the possibility of high returns for early investors also adds to the hype and expectation of this launch.
Whether you're a collector with a budget of 72 cents or $1 million, there are options available for you to purchase a piece of this collection. This means that anyone can be a part of this once-in-a-lifetime opportunity, regardless of their budget.
The T-Shirts Matter Banksy NFT collection is a testament of the enduring appeal and the power of digital technology, but also a glimpse into the future of NFTs and crypto. As the art world continues to evolve and adapt to new technologies, it's clear that NFTs will play a significant role in how we collect and appreciate art in the future. The T-Shirts Matter Banksy NFT collection is a prime example of how NFTs can bring new opportunities for art collectors and artists alike, and it's sure to be a timeless collectible for years to come.
In summary
In summary, the upcoming release of the Banksy NFT collection, created by Mike Lin, is a highly anticipated event that is expected to "break the internet" with its viral popularity and high demand from serious investors. With a combination of the unique and rare nature of NFTs, the cultural significance of Banksy's art, and the potential for high returns on investment, this is a launch not to be missed. The collection will go live on OpenSea at 2:22 pm GMT (U.K.) time on Feb 2nd.
11% of the net proceeds from the sale of Banksy NFTs will be donated to Doctors Without Borders and an additional 11% will be split between Daffy.org (donated to non-profits & charitable causes) and the T-Shirts Matter Foundation (donated to the arts).
Interested Banksy NFT collectors can join the presale list at http://banksynftpresale.com. Those individuals on the presale list will be given the OpenSea link 2 hours before the launch. On February 23, 2022 at 2:22 pm GMT (U.K.time) http://banksynft.club will redirect to the Banksy NFT collection on OpenSea. For information about the Banksy NFT launch & to hear Kat Siggers read an article read by Tim Lince from World Trademark Review about why this Banksy NFT launch is legit & legal please watch this YouTube video:
---