Swords of Blood Will Oust Splinterlands and Gods Unchained from the Throne By the End of the Year
Disclaimer: The text below is a press release that is not part of Cryptonews.com editorial content.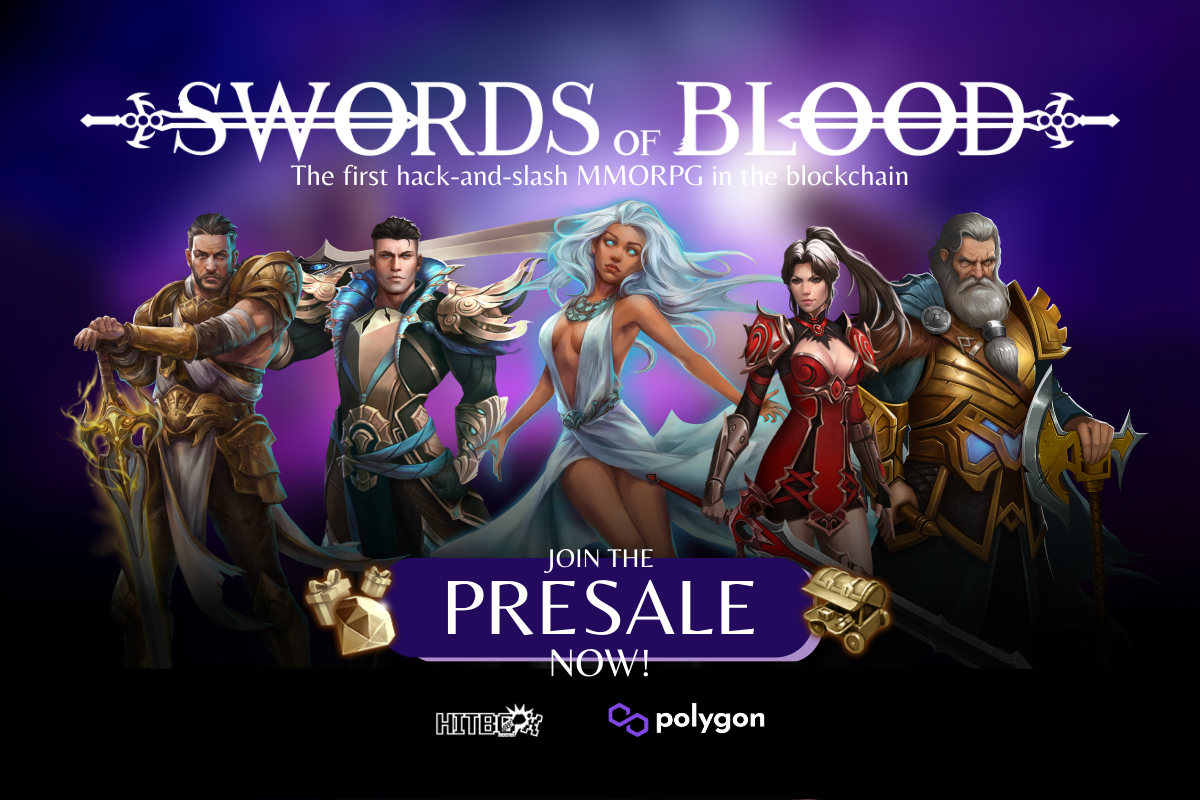 Blockchain gaming is on the rise. The decentralized ledger system not only nurtures transparency in a gaming ecosystem, but also nourishes engagement with crypto incentivization. That explains why you encounter dozens of crypto gaming ads every time you open Twitter. It's overwhelming, both in a good way and a bad way.
Blockchain gaming has to step up its game
On the bright side, it shows that the market is growing rich and competitive. Competition drives innovation. But sadly, most of the emerging games are sub-par. They don't have the gaming mechanics or experience required to penetrate the traditional gaming population, who are still wary of entering the alien gaming universe.
Even the most popular blockchain games like Splinterlands, The Sandbox, and Gods Unchained have miles to go in terms of gameplay. They are highly primitive and don't stand a chance in the broader gaming market. If they have managed to stay relevant this long, it has to do with the earning aspect in play-to-earn. The playing aspect looks grim, blockchain gaming has turned into work. What was once deemed a fun way to earn money has lost all its fun. It won't be long before users leave these games for actual work or better games – with or without rewards.
This is where Swords of Blood swings in with refreshing gaming mechanics. Having built a sizable community within a month of going live (41.2K on Twitter), it has clearly caught the eyes of gamers. And judging by the fast-moving presale of $SWDTKN, the approval of investors too.
The first hack-n-slash MMORPG on blockchain
Swords of Blood is the first AAA-quality, fast-paced F2P hack-and-slash RPG on a blockchain. It will launch on Polygon to take advantage of the blockchain's speed and energy efficiency. Swords of Blood is not a game built from scratch, as it uses the framework of an award-winning title (first released in 2019 by Artifex Mundi).
The playable MVP has been downloaded by over 4M users on Android and iOS devices. As a result, it still boasts an active gamer community with a good retention rate. Here is a quick look at the asynchronous game modes of the MVP:
Main campaign dungeons in three difficulty levels.
Monster Hunt dungeons, where you play against waves of progressively harder monsters.
Boss Fortress, where you team up with four other players to fight against powerful bosses.
PvP, where you compete against other players to rank up in the global leaderboard to earn prizes.
Daily dungeons, where you enter a special rift to play a daily selection of dungeons with special rewards.
Time-limited event dungeons with a special currency that can be spent on unique event items.
Challenge dungeons are special events where you take challenges to win prizes from the global leaderboard.
Shattered Mazed is a week-long special event with an event shop where you go through mazes and fight monsters and bosses.
But the reimagined game, rights to which are held by Hit Box Games LLC, is more riveting. At the heart of it, Swords of Blood will be a free-to-play game built in a blockchain economy. The Web3 features will make it accessible and appealing to a larger demographic.
4, 8, and 16-player PVP modes
Play-to-own and improved free-to-play mechanics
E-sports micro tournaments
Community-based gaming with guilds and clans
Multichain crypto payment integration via SphereOne
Fiat payment with Visa and Mastercard via Simplex
New soundtrack that features talents from many famous acts such as Disturbed and Trivium
G.U.T.'s – game utility tokens, NFTs that can be used in-game and sold in the open market
A 150-hour game expansion pack (narrative written by a team with members from Cyberpunk, The Witcher, Gord, Command and Conquer, and Ghost Recon).
Community-based communication areas with (likely) VR capabilities.
Immersive gameplay with PVE and PVP modes
Swords of Blood is set in the World of Ezura, which is under the grips of violence, betrayal and a cunning evil. Darkness has reigned Ezura for 1000 years, annihilating the stalwart protectors of the realm. Ezura is slowly dying, and it needs you to breathe life back into its desolated soil through strategic gameplay.
You can complete this mission by becoming a fearless dungeon crawler, a bounty hunting battle-mage, or a powerful warrior, grinding for loot and rare equipment. "Craft epic gear, bend nature's magic to your will and avenge your fallen brothers on an epic quest of might and revenge," the website lures you in. The project's ultimate goal is to build a community-centric MMORPG, as game modes become synchronous, and the gaming experience improves.
Led by a team of gaming veterans like James Seaman (CEO), Jeremy Brown (COO), and Mariusz Szynalik (Project Director for HitBox Games), Swords of Blood is in good hands. The list of high-profile partners and backers also adds to its credibility.
The best time to invest in the next big gaming crypto is NOW
If you're looking for your way into Swords of Blood, the timing couldn't be better. Swords of Blood is hosting the first stage of $SWDTKN (native token) presale for $0.054/piece. That is the lowest you can grab the token at, since the presale undergoes gradual price rises as it moves to the next stages.
You can join the presale using ETH, USDT, USDC, and DAI.
---