Sustainable Finance with Chimpzee: Investing in Goodness and Gains – $1.6 Million Raised
Disclosure: Crypto is a high-risk asset class. This article is provided for informational purposes and does not constitute investment advice. By using this website, you agree to our terms and conditions. We may utilise affiliate links within our content, and receive commission.
Disclaimer: The text below is a press release that is not part of Cryptonews.com editorial content.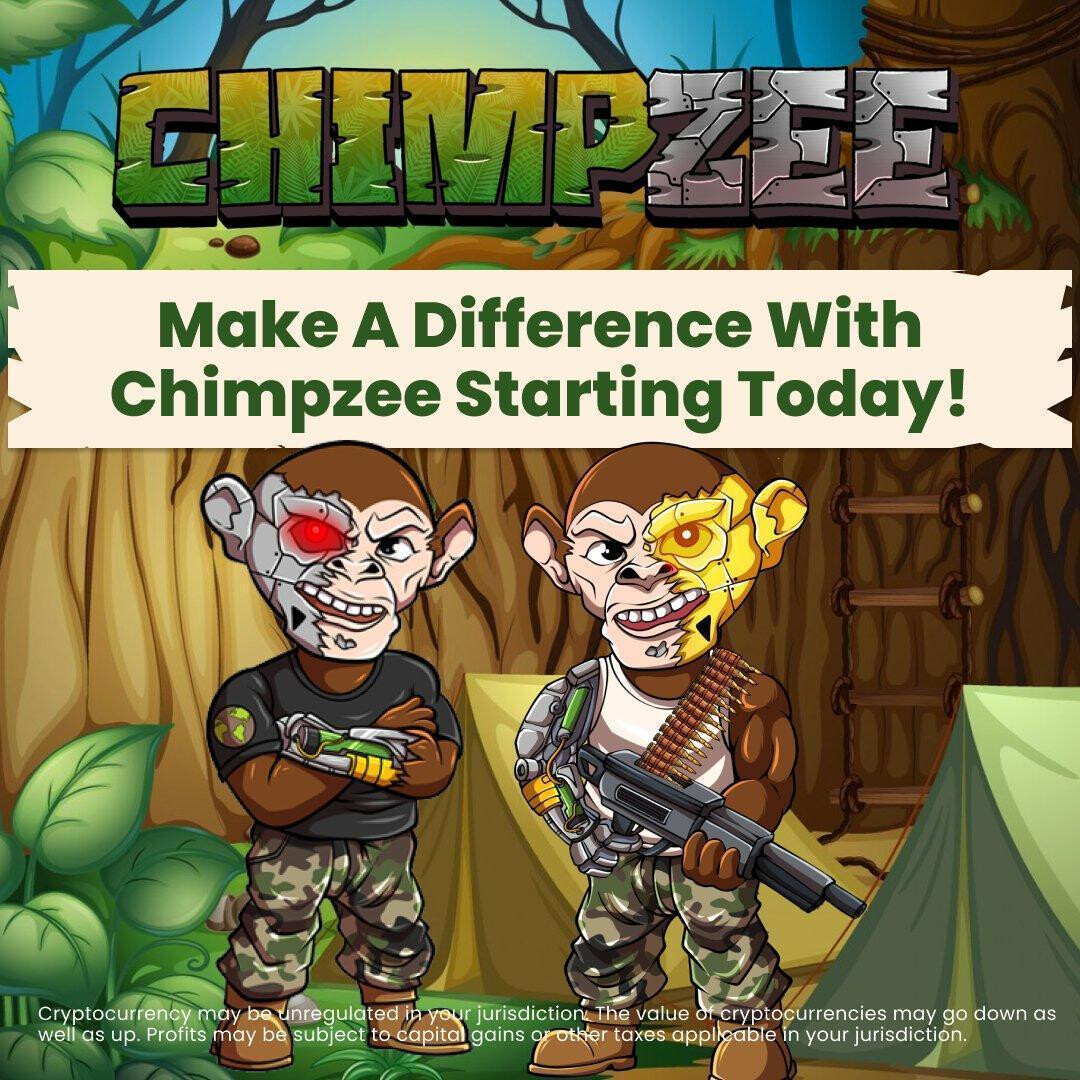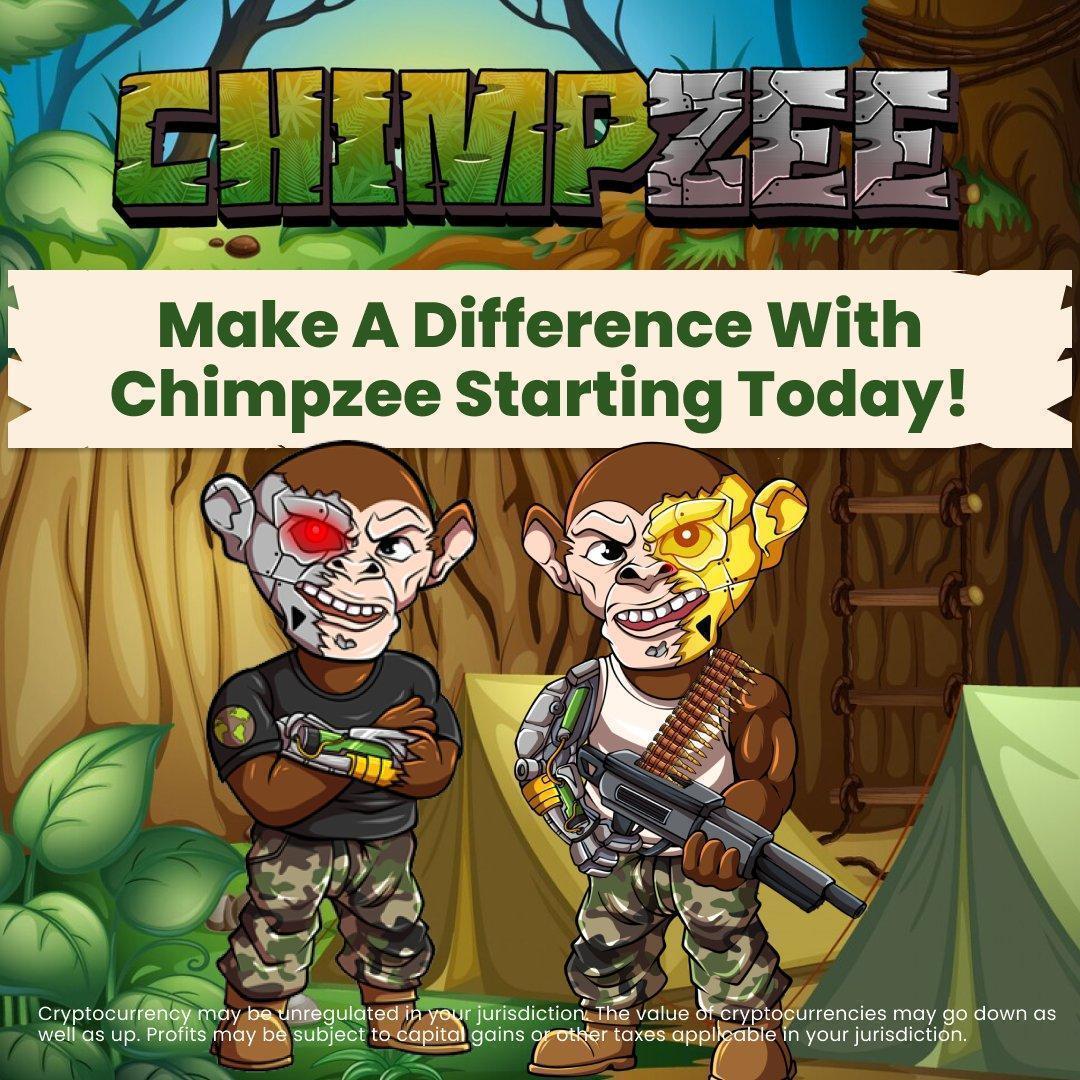 Chimpzee has created a sustainable finance ecosystem that simultaneously provides a passive income while raising funds for charity.
As a result, this is the first Web3 project that lets you invest in goodness and gains simultaneously.
The ecosystem contains three avenues to passive income while introducing a deflationary mechanic to help increase scarcity.
The project has raised well over $1.6 million in its presale, as investors rush to the project believing it can deliver 50x returns to early adopters.
Chimpzee Raises $1.6 Million in Fundraising as Investors Rush to Goodness and Gains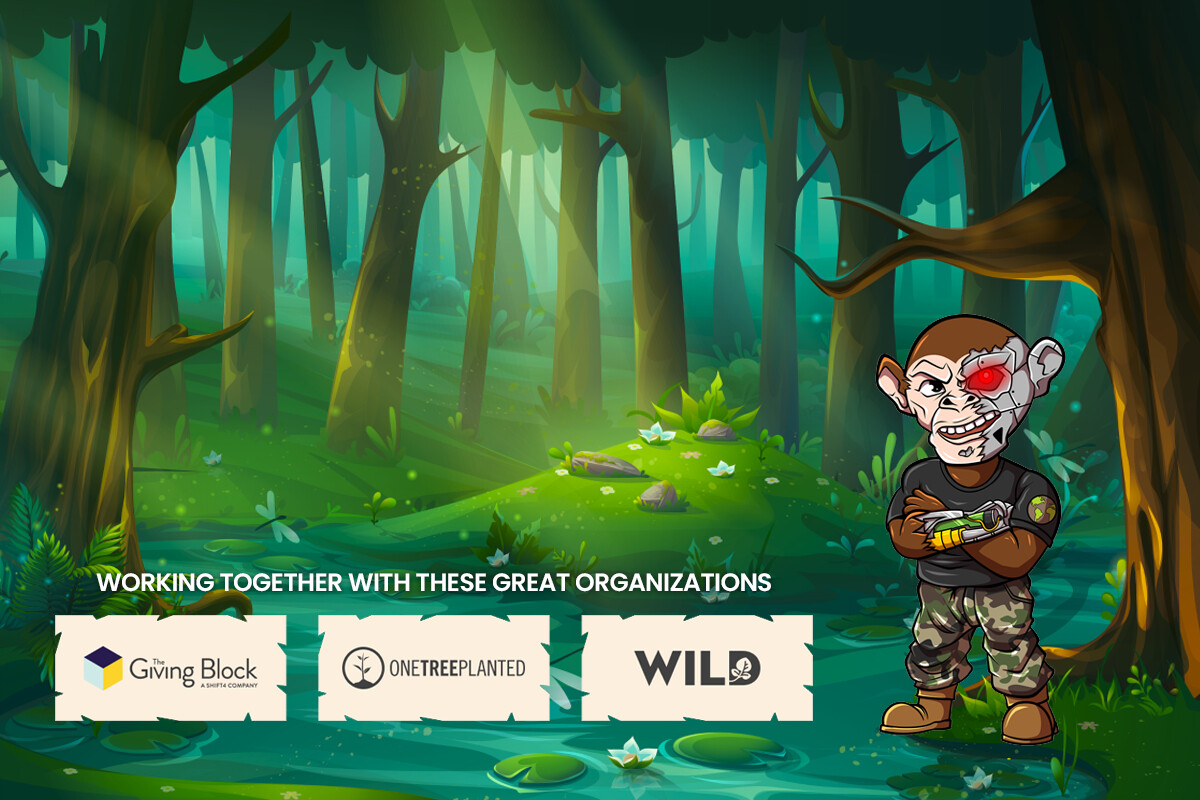 Chimpzee has raised over $1.6 million in its presale as investors rush to get positioned in goodness and gains.
Chimpzee is a Web3 project that aims to popularize climate and conservation efforts among the meme-coin sector.
The project helps raise considerable contributions to notable charities while retaining the epic gains and passive income that meme coin investors expect.
It's one of the only Web3 projects making a genuine impact on the world, even during its presale, and is on a mission to prove that Web3 technology can be used for the greater good.
Essentially, the project wants to increase public awareness and provide financial contributions to organizations helping endangered species and fighting deforestation.
Chimpzee is a gem in the sea of pointless meme coins as it looks to disrupt and revolutionize how we donate to charity through three passive income avenues.
Critical Components: $CHMPZ, Chimpzee NFT Passport and Deflation
There are three critical components in the ecosystem.


The first is the $CHMPZ token available for purchase in the presale.
The $CHMPZ token is the key to earning passive rewards in the ecosystem.
For example, users are rewarded $CHMPZ tokens for making purchases in the Shop-to-Earn Chimp store, which helps raise funds for charitable organizations.
It also provides a method to trade on the NFT Marketplace, which prioritizes environmentally conscious NFTs above all.
The Chimp NFT Marketplace is the first that will share a percentage of the trading fee profits among NFT holders and active users in the ecosystem.
Finally, $CHMPZ rewards are also provided to all players in the Play-to-Earn game upon reaching certain milestones.
The Chimpzee NFT passports are the key to earning the most passive income in the ecosystem and having a clear advantage over everyone else.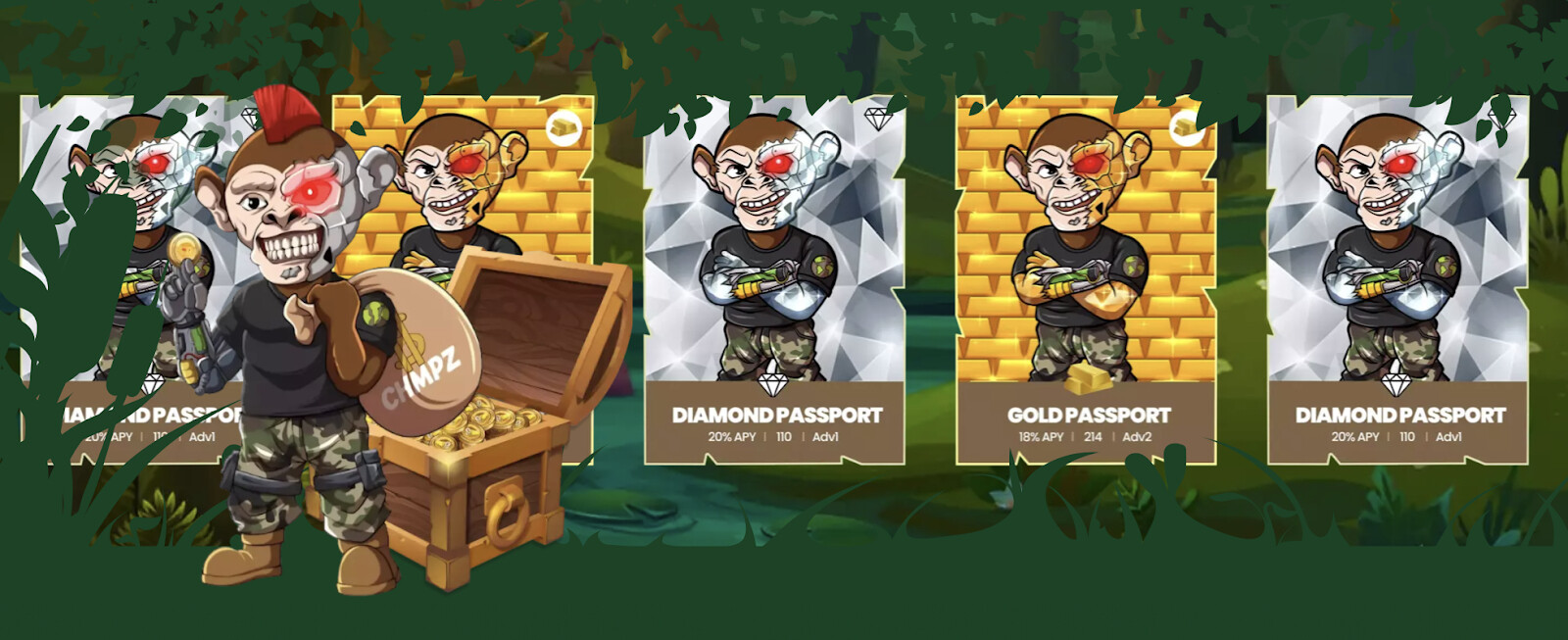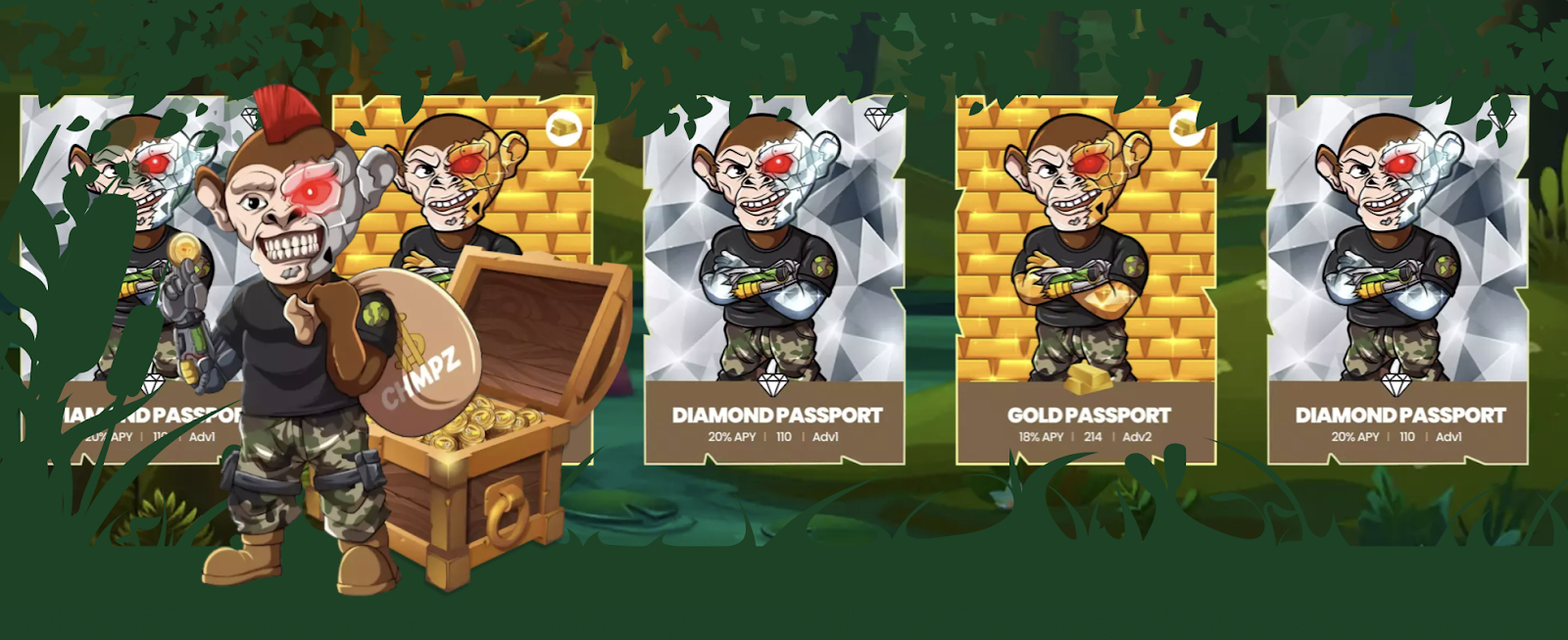 There are four tiers of NFT Passports that are made available to all presale participants following its conclusion.
The NFT passports provide certain rewards, including the following:
Higher APY for staking NFT Passports
Increased rewards on the Chimp Store.
An increased share of the trading fees on the marketplace.
Higher rewards in the play-to-earn game.
The final component of the ecosystem is the deflationary mechanism in place.
The project has implemented a dual deflationary mechanism centered on staking and burning to help the token become more scarce over time.
The idea is to help combat market volatility by taking advantage of the inverse relationship shared by the price of an asset and its supply.
The project aims to bring its supply down from 200 billion to under 40 billion through deflation.
Over 150 billion $CHMPZ have already been burned, and the team continues to burn more as the presale progresses.
We just burned another 1 Billion tokens for hitting our $1.6 million milestone!

The total supply is now at 37 Billion! pic.twitter.com/VX4x0d5RCp

— Official Chimpzee Project (@RealChimpzee) October 14, 2023
Verifiable Impactful Donations Already Started
The best part about getting involved in the $CHMPZ presale is that they're already making a huge impact on the world – even during its fundraising.
For example,e it donated $25,000 to WILD Foundation to help save the last herd of desert-adapted elephants, the final few hundred black jaguars, in the Brazilian Rainforest.
These donations are completely transparent as they were made through The Giving Block – an organization that helps facilitate crypto contributions to verified charities;
Hey #ChimpzeeArmy! 🐵🌟

🎉We have just made a $20,000 donation to the @wildfoundation to support their remarkable efforts in saving and protecting the majestic black jaguar!🐆❤️

Join our #Presale and help us achieve our next donation!✨🌍https://t.co/Geog3EVuMC#EcoCrypto

— Official Chimpzee Project (@RealChimpzee) July 14, 2023
In addition, it's planted over 20,000 trees in the Guatemalan and Brazilian Rainforests and made a recent donation to Rainforest Rescue to help protect 1,000 square meters of the Australian Rainforest and all the wildlife living there;
CHIMPZEE MAKES DONATION TO RAINFOREST RESCUE TO HELP PROTECT 1000 SQ METERS OF THE AUSTRALIAN RAINFOREST! 👏

Rainforest Rescue put together this video to thank the Chimpzee Army for the donation and for helping to protect a part of their rainforest.

This is just another example… pic.twitter.com/C4nocmzVRc

— Official Chimpzee Project (@RealChimpzee) September 28, 2023
As you can see, Chimpzee is committed to helping make the world a better place by raising funds for charitable organizations that are helping to save wildlife and prevent deforestation.
Get Positioned Today Before the Presale Ends
The presale for $CHMPZ continues to fly after raising over $1.6 million.
Chimpzee is currently in the fourteenth stage of its presale, selling the token for a price of $0.00125. You can benefit from their current bonus and bring your token cost down to $0.00093 or less.
However, the presale uses a rising pricing strategy, so those investing earlier benefit from the discounted prices once the token is listed on exchanges for $0.00185.
The presale's next stage will see the token's price rising to $0.0014 – so you'll need to be quick to get positioned.
Overall, Chimpzee is ready to revolutionize how we donate to charity using Web3, and investors believe it will help change the world and provide beyond 50x returns.
---