Stellar Coin is Going to Zero as XLM Price Falls 3% And Crypto Whales are Accumulating This New Meme Coin Instead – Just 4 Days Left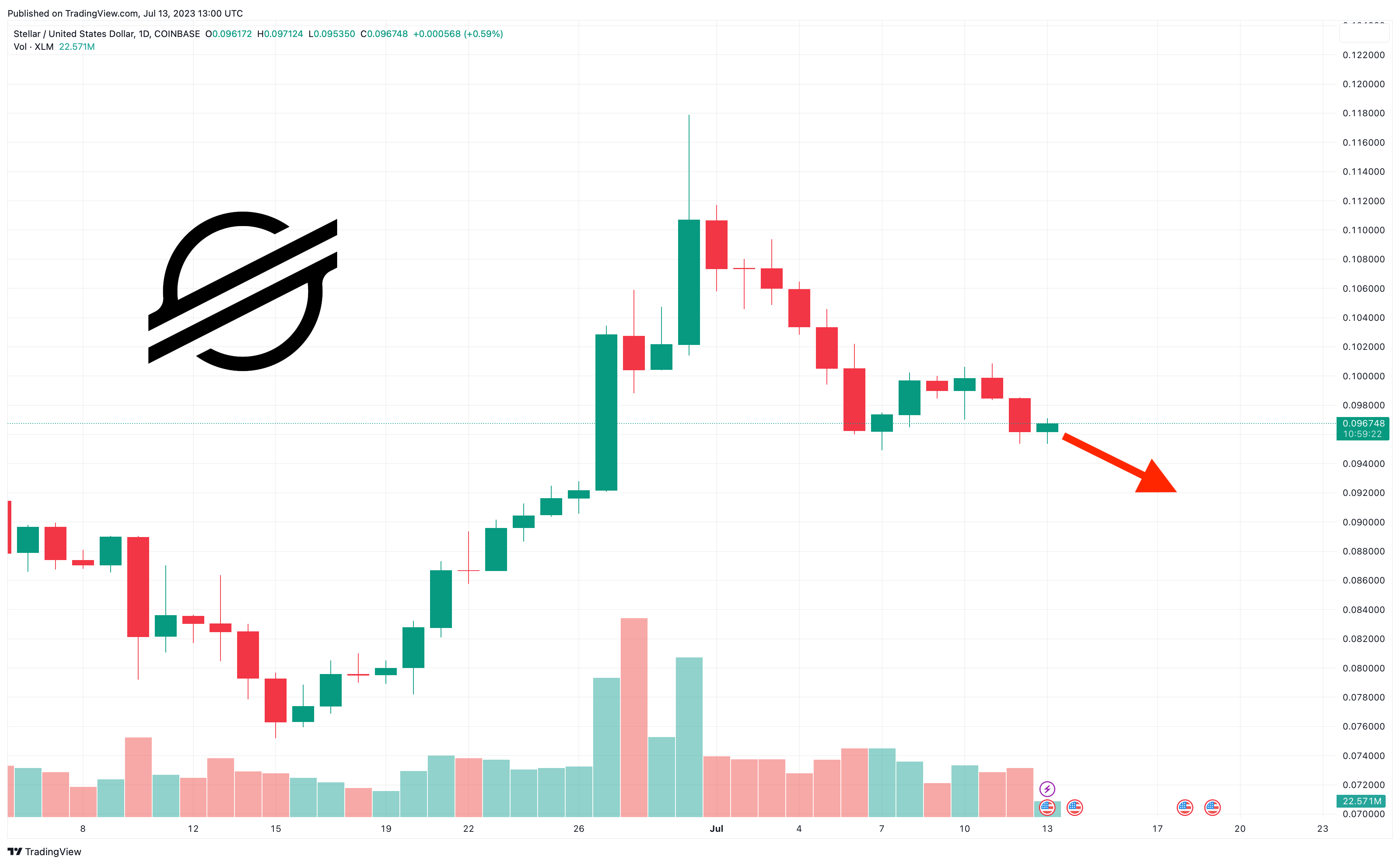 The Stellar price has fallen by 0.5% in the past 24 hours, with its dip to $0.097024 coming as the cryptocurrency market as a whole falls by a similar percentage within the same time span.
XLM is now down by 3.5% in the past week but up by 14% in the last 30 days, with the altcoin also having gained by 36% since the beginning of the year.
Such movements come at a mixed period for Stellar, with its ecosystem recently celebrating the launch of the WisdomTree personal finance app, but with its network also looking as though it will increasingly face competition from the Federal Reserve's new instant-payment network, FedNow.
For this reason, traders looking for a less ambiguous investment may prefer coins that are positioned to witness strong gains in the near future, with Thug Life Token's (THUG) successful presale suggesting that it will rally big once it lists.
Stellar Coin is Going to Zero as XLM Price Falls 3%
XLM's chart is in a relatively weak position at the moment, with its relative strength index (purple) struggling at just above 40, after spending yesterday very close to 30.
This suggests that the altcoin is being oversold at the moment and may not be strong enough to recover just yet, a perception also backed up by the token's 30-day moving average (yellow).
This indicator appears to be sloping down towards XLM's 200-day average (blue), meaning that further falls are likely to follow in the coming days.
As noted above, Stellar has seen positive and negative news in the past few weeks, with the BlackRock-backed WisdomTree launching its own personal finance app yesterday.
This is significant because the WisdomTree app – which lets users invest in crypto and more traditional assets – runs on the Stellar blockchain.
However, this launch hasn't had much of a positive impact on XLM's price, with the coin arguably being more negatively affected by the appearance of FedNow, the Federal Reserve's new instant payments system.
Because FedNow is designed to provide quick and cheap cross-border and domestic payments, there's a concern that it may take commercial business away from Stellar.
In turn, this could weaken XLM's price over the long-term, a possibility that might help explain why Stellar has underperformed today even with yesterday's launch from WisdomTree.
Crypto Whales are Accumulating This New Meme Coin Instead – Just 4 Days Left
Because XLM appears to be on shaky ground at the moment, it may be worth investing in other coins, particularly in tokens with likely rallies on the horizon.
One good example of this is Thug Life Token (THUG), an ERC-20 meme coin that has already raised more than $1.3 million in its presale, which is due to end in just under four days.
THUG's memes of choice have been taken from the gangsta rap and hip-hop communities, with its stylings helping it to attract a wider pool of buyers.
While THUG is a pure meme token in the sense that it has no significant utility, it's clear that it has already been successful in cultivating a healthy community, as indicated by its raise.
Such a community will help it to rally when it lists on exchanges and will also help support its price in the long run, with the presale being allocated 70% of THUG's total maximum supply of 4.20 billion.
This high allocation means that THUG's community will have a greater stake in it than is available with many other meme coins, most of which tend to list directly (with their issuers owning the lion's share of their supplies).
It's easy to join the THUG presale: simply go to the official Thug Life Token website and connect your software wallet, before choosing how much of the token you wish to purchase.
1 THUG costs $0.0007, yet this is a price that could easily rise much higher when the meme token is added to exchanges in the next few weeks.
Disclaimer: Crypto is a high-risk asset class. This article is provided for informational purposes and does not constitute investment advice. You could lose all of your capital.
---