Stand Against War is Using NFTs to Support Ukraine in the War
Disclosure: Crypto is a high-risk asset class. This article is provided for informational purposes and does not constitute investment advice. By using this website, you agree to our terms and conditions. We may utilise affiliate links within our content, and receive commission.
Disclaimer: The text below is a press release that was not written by Cryptonews.com.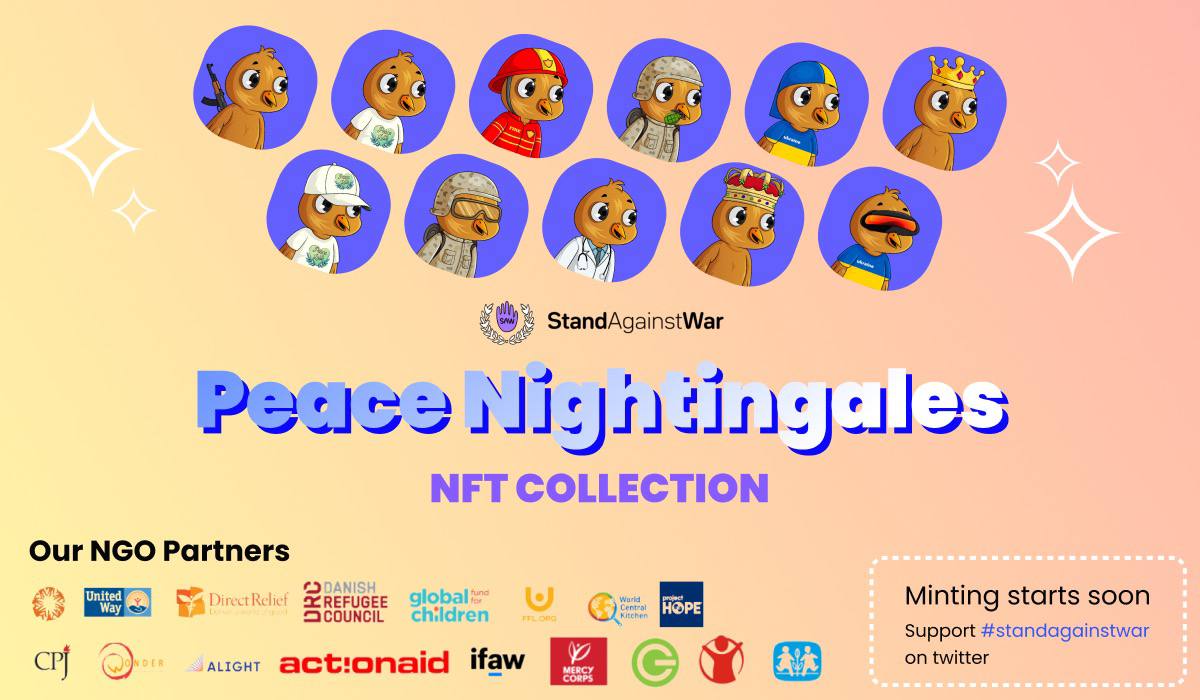 Charities aren't all equal, as most of you reading this would know. Some of them are much larger and get ridiculously massive donations that fund their efforts, but also the people that work for their organization. When you're a large organization you begin to take on a bunch of costs, which means the entirety of your donation likely won't make it to the cause.
Stand Against War is changing that narrative by using blockchain technology and NFTs to provide support to the people of Ukraine. Sounds like something you'd be interested in? Read on to find out more about the project.
A Unique Approach to Traditional Fundraising
Regular fundraising means you'll have to give them a lot of personal information and put yourself out there, which usually isn't a problem. Some people may want to remain anonymous but still offer their support to Ukraine, and others are just happier to do so by using cryptocurrency. NFTs have become a very popular thing to talk about these days, but very few of them are offering their owners a way to support a non-profit organization.
Blockchain technology also makes it so that all of the transactions associated with this project are entirely transparent. There won't be a moment when you're wondering if the money is genuinely being donated, because you can track all of the donations yourself using the blockchain ledger.
Peace Nightingales – The NFT Collection from Stand Against War
The NFT collection that Stand Against War is releasing will be called "Peace Nightingales", with 10,000 unique assets being released in total. This means that on launch day, 10,000 different chances to show support to Ukraine will be up for grabs. The artwork for the NFT is special and offers owners a chance to flex their artistic muscles a little bit, but the best part is that 90% of the money is automatically donated to 17 different NGOs.
ETH wallets have been set up that are represented by each non-profit partner, and every sale/mint of a Peace Nightingales NFT will generate a donation. The remainder of the money is then recycled back into the project to help them with artist costs, marketing, and future ideas that will help them grow.
An Unorthodox (and Welcome) Approach to Charity Work
It's unheard of to provide charitable donations through cryptocurrency for the most part. It reminds the crypto community of the recent "Freedom Convoy" events where millions of dollars in crypto were seized, but it can be argued that it wasn't for a "good cause". There's nothing bad about supporting Ukraine though, and now Stand Against War has made it easy to do so.
If you enjoy what they're trying to accomplish and want to support organizations like Project HOPE, CPJ (Committee to Protect Journalists), and many more, check out the official website for SAW. They have an active Telegram and Discord that you can join to get started immediately, and even an Instagram page for additional updates
---