Sonik Coin Price Prediction 2023 - 2030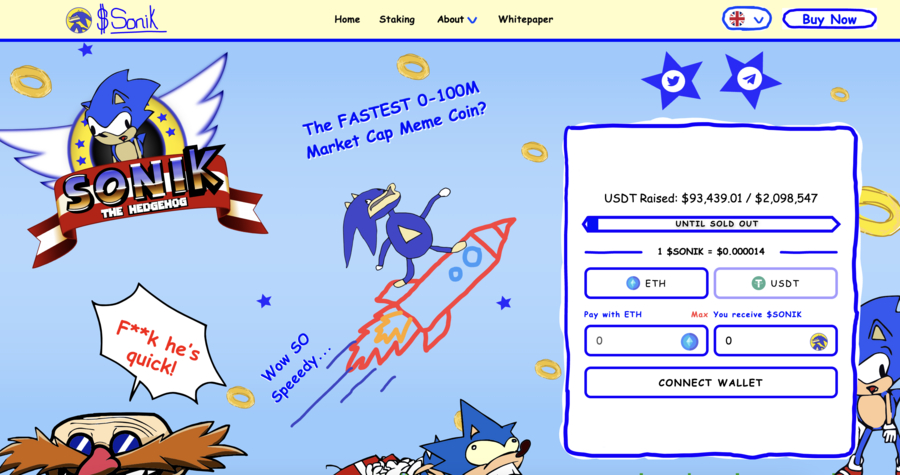 Sonik Coin (SONIK) is a hot new 'speed-themed' meme coin with a vision to reach a $100 million market cap via its community-driven token. The platform recently launched its single-stage presale, offering $SONIK tokens for a fixed price of only $0.000014.
Many investors are eager to know the Sonik Coin price prediction as the current wave shifts toward meme-based cryptos. This article outlines the $SONIK price forecast from 2023 until 2030.
Sonik Coin Price Prediction Summary
End of 2023: With plans to get listed on exchanges and the launch of its concept art, Sonik Coin could reach a price of $0.000042 by the end of 2023 - a 200% increase from the presale price. These strategies aim to increase the token's utility and build a committed community to drive growth.
End of 2025: By attracting more traders and being listed on more CEXs and DEXs, alongside staking options for long-term holders and potential technological upgrades, Sonik Coin's price could rise to $0.000126.
End of 2030: Considering the broader adoption of blockchain, community-focused activities, and the platform's ambitious roadmap, Sonik Coin could reach $0.001 by the end of 2030.
Sonik Coin Price History
Sonik Coin, an ERC-20 token inspired by SEGA's massively popular Sonic the Hedgehog franchise, is a new player in the meme coin market, aiming to grow with a quirky and humorous appeal.
Launched on the Ethereum chain, the $SONIK token's maximum supply is a meme-worthy 299,792,458,000 - the speed of light and the speed at which Sonic runs to collect his coins.
It recently launched its presale, where 50% of the tokens have been made available to the public. This move highlights the team's dedication toward early supporters of their vision.
During this single-stage presale, each $SONIK token is priced at $0.000014, promoting community participation and providing fair access to active members in the ecosystem.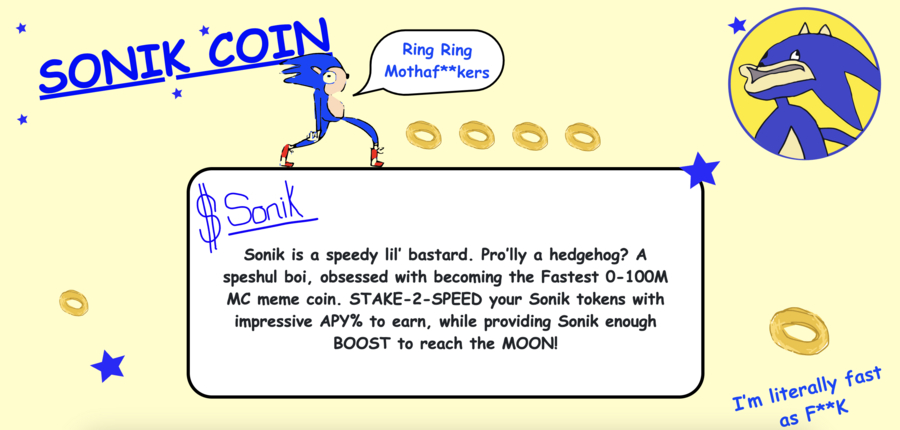 The goal is clear: Sonik aims to race to a $100 million market cap, much like the character's well-known speed. By leveraging its humorous design and capitalizing on the nostalgia for a well-known gaming character, Sonik Coin is one of the best crypto projects for meme coin enthusiasts who are generally more risk-tolerant.
Its unique proposition as a meme coin embracing humor and capitalist ambition adds to its charm - the Sonik Coin whitepaper reveals a strategy for the token's future that aligns with contemporary crypto trends while ensuring a community-focused approach.
The future price trajectory of $SONIK will depend on community engagement, market trends, and the team's ability to execute its vision. Its robust staking mechanism will also take billions of coins out of the active supply, incentivize holding and generate rewards for those who decide to stake tokens.
The launch and the initial price point mark the beginning of what may be an exciting journey for $SONIK. However, as with any investment in a rapidly growing market, potential buyers should conduct thorough research, considering their risk tolerance before making any decisions.
Here's a quick overview of the key points:
Sonik Coin is an ERC20 token with a maximum supply of 299,792,458,000, the speed of light.
The recently launched presale offers 50% of the tokens at a fixed price of $0.000014 to create community participation.
The coin's humorous appeal, name recognition and ambition position it uniquely in the meme coin market.
It offers a robust staking mechanism to allow passive reards to be earned.
Sonik Coin Price Prediction 2023
With an ambitious future ahead, the project plans to list $SONIK on multiple exchanges by the end of this year. These potential listings will increase market presence and price, generating more buzz and interest.
$SONIK's roadmap includes key activities that can likely impact the price positively:
Concept Art: Crafting unique and eye-catching artwork can build a strong visual identity for $SONIK, attracting a wider audience and creating a memorable brand image.
Token Launch: By entering the Ethereum network, $SONIK ensures accessibility and compatibility with several decentralized applications and platforms.
Fair Presale: Offering the token at an equal and transparent price gives every investor an equal chance to profit, increasing trust and anticipation around the $SONIK token.
Staking: Through staking, $SONIK holders can earn rewards. This incentivizes holding the token and can generate a stable community, further supporting the token's price.
These achievements and plans are tailored to increase the token's utility and appeal to many investors. By providing unique art, ensuring fair access, and enabling staking, $SONIK aims to create a committed community that can drive growth.
The integration of staking, in particular, empowers users to earn more tokens by locking up their holdings for at least seven days. This can increase the perceived value and the actual demand for $SONIK, creating upward pressure on its price.
Considering these factors, it is conceivable that $SONIK could reach a price of $0.000042 by the end of 2023 - this would represent a 200% increase from the presale price. Nonetheless, future events, regulatory changes, and market trends can significantly affect this projection.
Sonik Coin Price Prediction 2025
Sonik Coin aims to be more than just a token; its humor-driven community-focused approach aims to create a solid supporter base. The excitement surrounding its official launch can draw interest from potential investors always looking for the next best meme coin.
Moreover, a potential listing on Uniswap can significantly increase accessibility and visibility, creating a broader audience to buy and trade $SONIK. This move will ultimately escalate trading volumes and prices.
Over the next two years, as Sonik gains more traction and gets listed on more CEXs and DEXs, it could attract more traders, creating a buzz and boosting the price.
Also, staking allows long-term holders to earn more $SONIK, creating a loyal community. This can reduce market volatility and create a solid foundation for growth.
Additionally, upgrades in crypto tech can lead to exponential growth within a platform. In the context of Sonik Coin, more practical use cases on Ethereum can attract more users.
By the end of 2025, considering the roadmap and the project's unique features, it's possible that $SONIK can reach $0.000126, an 800% price increase from now. This prediction is based on current insights and the execution of the plan as outlined.
Sonik Coin Price Forecast 2030
In 2022, the global blockchain market was $11.14 billion. It's projected to increase to $469.49 billion by 2030, with an annual growth rate of nearly 60%.
Given the increasing adoption of blockchain across various sectors, community-focused meme crypto tokens such as Sonik Coin can see an upside from this growth.
Creating a robust $SONIK community is vital for the project. Engaging the community through an interactive platform and transparent communication can create loyalty. This collective strength could drive the price and attract new investors, increasing the market cap.
The project aims to reach a $100 million market cap post its exchange listings. Achieving this milestone can indicate high investor traction and stability, adding a layer of additional trust.
By setting clear targets and systematically reaching them, $SONIK can create a strong community, which is vital for any meme coin's long-term success.
Considering these factors and the broader adoption of blockchain, it is not unrealistic to expect that Sonik Coin could reach a price of $0.001 by the end of 2030 - a 7,000% price increase from the presale.
While the above analysis is based on current data and Sonik's stated plans, investment in cryptos should only be made after thorough research and knowing your risk appetite.
Potential Highs and Lows of Sonik Coin
Sonik Coin is working towards building a community-driven crypto, positioning it as a promising option among the best low-cap cryptos. Here's a quick review of the potential highs and lows in the $SONIK price until 2030;
| | | |
| --- | --- | --- |
| Year | Possible Low | Possible High |
| 2023 | $0.00001 | $0.000042 |
| 2025 | $0.00009 | $0.000126 |
| 2030 | $0.0008 | $0.001 |
What is Sonik Coin?
Sonik Coin is a unique and humor-driven meme coin inspired by SEGA's iconic Sonic the Hedgehog character, distinct from the original franchise.
It aims to be the fastest-growing meme coin in the market, building upon the character's reputation for speed. It uses the $SONIK token to represent the character's 'capitalistic' approach.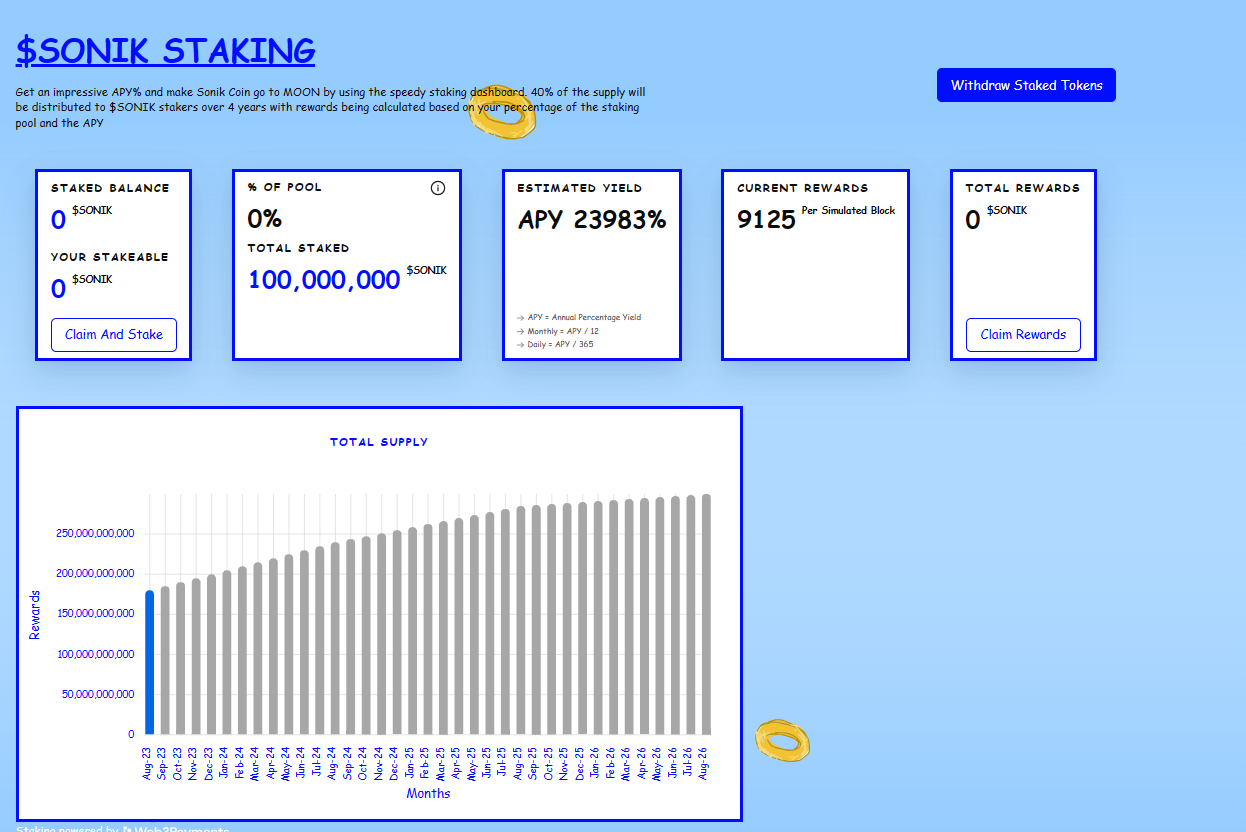 The token aims to blend the spirit of fun with a community-driven approach to reach the $100M market cap level. At press time, the platform's presale is ongoing, where buyers can grab the tokens at an early-stage price of $0.000014 per token to reach a hard cap goal of $2,098,547.
The total supply of Sonik tokens is 299,792,458,000. The tokens are allocated as follows:
Presale: 50% (149,286,229,000)
Staking: 40% (119,916,983,200)
Liquidity: 10% (29,979,245,800)
With 50% of tokens available for presale and 40% reserved for staking, Sonik emphasizes community participation. Also, with the same presale and DEX launch price, $SONIK ensures a fair starting point for early investors.
The Sonic character already enjoys a large established fanbase, potentially aiding in sending the coin viral.
Moreover, the Stake-2-SPEED utility allows Sonik community members to earn tokens by locking their holdings for at least seven days. This feature will help investors earn passive income while staking and also incentivize holding, all supporting Sonik's goal of becoming a meme coin with utility.
Consider entering the Sonik Coin Telegram channel to keep up with the latest updates.
What Influences the Sonik Coin Price?
$SONIK's price can be affected by several internal and external factors. Here are some of the key points;
Meme Coin Trend: The overall trend and sentiment in the meme coin market can significantly influence the price of $SONIK. As the project aims to replicate something like the price pump & trading volume of other meme coins, the market's perception toward meme coins can significantly affect its price.
Association with Pop Culture: Being themed around a well-known gaming character, despite no formal association, might capture attention and influence buyer sentiment.
Staking Utility: By providing staking utility, Sonik allows holders to earn tokens by locking their holdings. Any changes in this can create a demand that may affect the $SONIK price.
Regulatory Environment: Any changes in crypto regulations could have an affect.
Competitive Landscape: How $SONIK compares to other similar meme coins, like Pepe coin and Turbo, could sway investor interest and subsequently affect its price.
General Market Sentiment: Like other cryptos, Sonik Coin's price can be influenced by the overall sentiment in the crypto market. Positive or negative news or trends within the broader crypto space can affect investor behavior and the coin's price.
How to Buy Sonik Coin
Here's a simple five-step process to buy the $SONIK tokens;
Step 1: Wallet Set Up
First, create a digital wallet compatible with Sonik Coin's presale website. MetaMask and Trust Wallet are reliable options.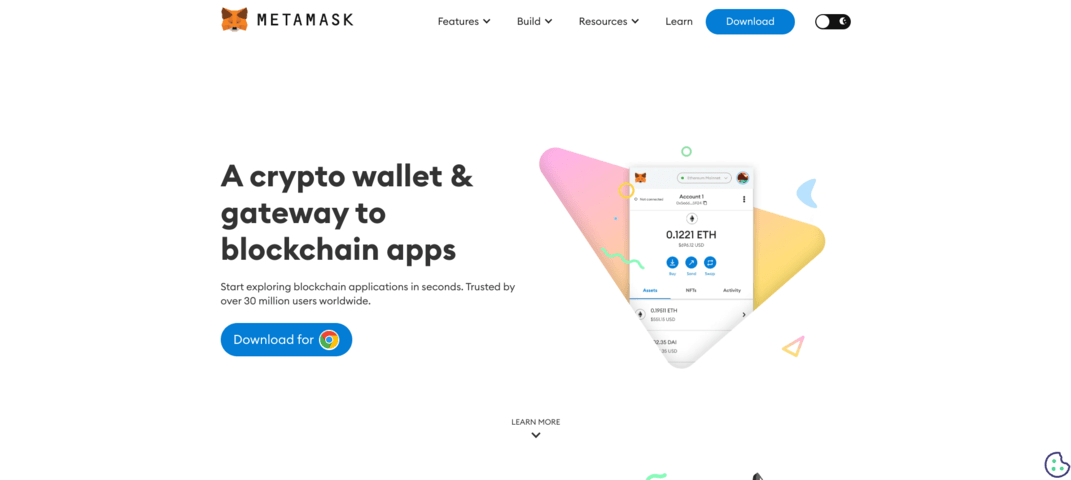 You can download MetaMask from metamask.io or Trust Wallet from your mobile app store. Various other wallets can be connected through the Wallet Connect feature.
Step 2: Purchase ETH/USDT
You'll need either ETH or USDT to buy $SONIK. These tokens can be bought on different exchanges and transferred to your wallet. On the other hand, many wallets allow direct purchases via third-party providers.
Step 3: Connect Wallet and Select Currency
Go to the presale page and click 'Connect wallet.' Pick MetaMask or your preferred wallet and follow the connection instructions. Once linked, you must select the crypto you intend to use for trading.
Step 4: Buy Sonik Coin
Input the amount of crypto you desire to exchange for $SONIK tokens, then click 'Buy $SONIK Tokens'. Carefully follow the on-screen prompts to complete the transaction.
Step 5: Claim Your $SONIK Tokens
Your newly purchased $SONIK tokens will be stored on the platform until the presale ends. To claim them, visit the platform's website, click 'Claim,' and confirm the transaction.
Buyers also have the choice to stake their tokens to generate rewards over time.
Be aware that gas fees might apply. Keep an eye on Sonik Coin's Twitter handle for updates on claim dates.
Conclusion
Sonik Coin's launch into the meme coin market uniquely blends nostalgic gaming character appeal with a community-driven ambition.
With a maximum supply of just under 300 billion, Sonik Coin offers 50% of its tokens in the ongoing presale. It harnesses the power of humor and nostalgia to create a supportive community base. It also has a robust staking mechanism that will not only allow buyers to generate rewards, but will incentivize holding and help push the price up.
The Sonik Coin presale is already off to a great start, approaching the $100k milestone within a few days of its official launch. At press time, buyers can grab the $SONIK token for only $0.000014 and capitalize on its upside potential.
References
FAQs
What will Sonik Coin be worth in 2025?
By the end of 2025, Sonik Coin can reach $0.000126. This prediction is based on the growth plans, unique features, potential listing on more exchanges, and its community-driven approach.
Is Sonik Coin a good buy?
Sonik Coin is a promising option in the meme coin market with a humor-driven, community-focused approach. The potential for growth, staking opportunities, and one-stage presale offers are attractive factors. However, any buying decisions should be made after thorough research and an understanding of individual risk tolerance.
---