Some Experts Say the Shiba Inu Price Will Fall to Zero by 2024 and This New Coin Is a Better Alternative – Here's Why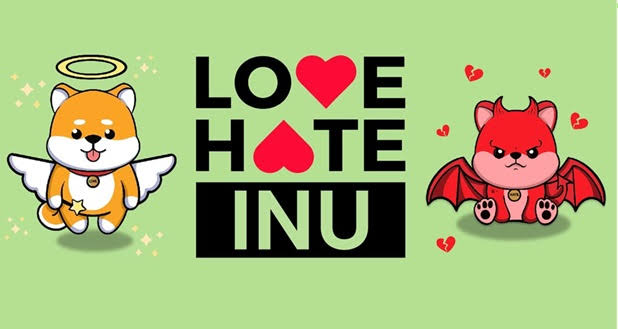 Following an industry-wide decline, popular Dogecoin killer Shiba Inu is enduring a rough week with a 3.3% price slump in the last 24 hours.
The meme coin's decline is further exacerbated with a seven-day loss of 8.3% which shows a cooling in altcoin interest market-wide.
The meme coin which stands at $0.00001026 at press time is known for its highly inflationary coin supply and crypto experts believe it is bound to fizzle down to $0 in 2024.
However, while SHIB could be on the path of no return, value-driven investors are already eyeing the next big thing in the parody coin sub-sector.
Called Love Hate Inu, this new Ethereum project comes with a bucketload of utilities including the ability to earn while casting votes on public affairs. In addition, it is deflationary with less coin supply than Shiba Inu.
Could it be the next meme star? Its successful presale seems to signal so.
Doom Clouds Loom Over Shiba Inu With Crypto Market Bearish Stance

At press time, the popular ERC-20 meme token is trading at 0.00001024, pointing to a 3.3% downtrend over the past 24 hours.
This downtrend of the meme coin puts its 24-hour trading volume at $184.6 million which is a whole 16.31% loss.

The dog-themed meme-coin has a seven-day price slash of 8.3% and even trading volume fell from over $340 million during the week to $180 million as of today.
The coin, which ranked ahead of the Binance USD (BUSD) last week to 13th on coin market cap, has since dropped down to 15th.
SHIB's technical indicators show the digital asset might be on a horrendous downward spiral. The virtual asset's current price is way below its 50-day moving average (MA) value of $0.00001086 with its 200-day moving average (MA) validating this bearish streak.
The dog-themed meme coin has seen a heavy dump over the past week, with its last heavy dump being the one following the FTX fiasco.
The rest of the technical indicators such as its Relative Stress Index (RSI) has an indicator of 50.50 which shows the Dogecoin killer still stands in the underbought region.
In similitude, the Moving Average Convergence Divergence (MACD) is seeing the orange trendline slightly on top after a slight plunge of the blue trendline which could make an upshoot any moment to give the buy signal. Seeing that the orange might move downwards at any given time.
While these low-utility meme coins continue to act irregularly, a new meme coin with top utility is set to shake up things in the online polls and research industry.
Love Hate Inu: Best Meme Coin Presale For A Reason
The Love Hate Inu is a vote-to-earn (V2E) utilitarian meme coin announced early in March which allows users to partake in polls and earn $LHINU tokens whilst doing so.
The crypto platform is the world's first Web3 Vote-To-Earn platform that lets its users vote on a vast array of current topics and projects ranging from politics, and favorite and worst celebrities to climate change and fiscal issues.
The platform prides itself in being a project with a mission to provide a platform for people to come together and vote on issues that matter most in a safe, secure, and healthy platform.
The project's strong appeal is attributed to its existence as a decentralized platform.
The $LHINU utilizes the Ethereum blockchain, offering a reliable and established dApp infrastructure that seamlessly integrates with the metaverse.
As for how it works? Here's how. The Love Hate Inu project allows participants to stake tokens to be eligible for voting in polls.
This unique staking mechanism serves a dual purpose of preventing spam and manipulation whilst also providing anonymity to voters.
By staking tokens, participants can express their opinions without fear of being judged or facing retaliation.
This ensures that the voting process remains fair and transparent, thereby promoting a healthy and trustworthy community.
One thing that sets $LHINU apart from other meme-inspired cryptocurrencies like DOGE and the SHIBA Inu is its deflationary nature.
While the two meme proteges are known to have an unlimited coin supply cap, the Love Hate Inu offers a 10 billion maximum token supply.
The best thing about this is that 90% would be offered for its ongoing presale with only 10% retained for marketing campaigns and user rewards. This makes it a viable investment for meme coin lovers.
Since the start of its presale stage, the $LHINU token has gained massive investor attention. So far, the ERc-20 token has raised over $5.4 million less than two months from its launch.
Even more so, the meme token is also eyeing a tier-1 exchange listing in the coming months.
Disclaimer: The Industry Talk section features insights by crypto industry players and is not a part of the editorial content of Cryptonews.com.

---