Solana (SOL) Moves Back and Forth with No Movement Despite Bullrun Speculations, Investors Are Now Moving to RenQ Finance (RENQ) For Profits
Disclaimer: The text below is an advertorial article that is not part of Cryptonews.com editorial content.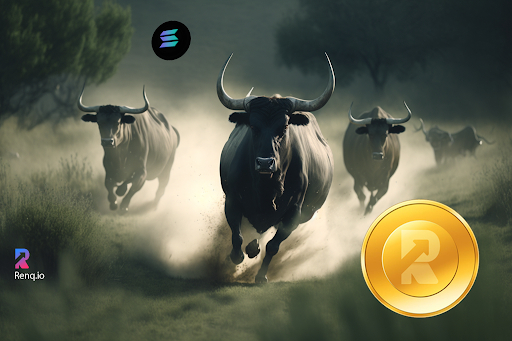 Solana (SOL) has continued trading sideways for another week, despite bullish calls from market analysts. Investors are now shifting their focus to more promising ventures such as RenQ Finance (RENQ) that promise better returns in the event of a market rally. Despite being relatively new, Ren Finance (RENQ) has continued to astound investors with its rapid market growth. In this article, we will examine Solana's market position, future potential, and why RenQ Finance (RENQ) is a better bet for the anticipated 2024-25 bull market.
Solana: Price Analysis and Prediction
Solana's weekly technical chart indicates a price trend consolidation, with the price bouncing between $24 and $26. As of April 19, Solana (SOL) is trading around the $25 mark, with bulls and bears fighting for control. Solana (SOL) will most likely continue trading in consolidation. However, if the bulls win and the price of Solana (SOL) rises, possible resistance levels are around $26.55 and $27.12. If the bears win and the price breaks towards the bottom, Solana (SOL) will most likely face resistance at the $23.55 and $ 22.62 levels. Solana (SOL) is trading over 90% below its all-time high. Solana's (SOL) RSI value is at around 60, indicating a neutral market position. Solana (SOL) is one of the most popular layer-1 network blockchains, with a large user base. The Solana network is theoretically capable of transaction speeds of up to 50,000 transactions per second. The platform's ability to handle a large number of transactions, combined with smart contract technology, makes it a developer favorite. Solana (SOL) employs a Proof of History consensus mechanism, which accounts for the fast transaction speeds. Solana (SOL) is the tenth most valuable cryptocurrency, with a live market cap of $9.8 billion. Solana (SOL) has a 0.77% market dominance.
Why Are Investors Jumping to RenQ Finance (RENQ)
With Solana (SOL) pricing uncertainty, investors are flocking to RenQ Finance (RENQ), partly because of its recent price gains, but also because of its utility and potential to become a market leader. RenQ Finance (RENQ) has captured the attention of investors despite its recent launch. The platform recently completed the sixth stage of its presale, raising more than $12 million.
RenQ's novel approach to decentralized trading is one of the reasons it has grown to be a favorite among investors. RenQ Finance elevates trading by offering its users a comprehensive solution that includes the benefits of a centralized exchange as well as those found in a fully decentralized environment. The platform provides users with institutional-grade liquidity and slippage-free trading by combining on-chain and off-chain technology. This allows them to enjoy the benefits of a centralized exchange while still maintaining control over their assets.
RenQ Finance (RENQ) also features a multi-chain structure that enables interoperability across multiple blockchain networks. Interoperability with other chains provides users with access to a diverse range of financial products, allowing them to diversify their portfolios and expand their profit-making opportunities. All of this is possible in a non-custodial setting, thanks to RenQ's wallet app.
RenQ's multi-chain DEX connects all isolated blockchains and creates a cross-chain asset exchange network, providing the Defi ecosystem with all necessary underlying support. The platform obtains liquidity from a variety of exchanges and distributes a single trade transaction across multiple DEXs to obtain the most competitive prices. It also provides financial products and services such as trading, lending, and borrowing. RenQ Finance is built on the Ethereum blockchain and aims to leverage the network's security to provide users with secure, fast, and cheap DeFi services.
During its ongoing presale, RenQ Finance (RENQ) has laid a solid foundation for a bright future in the crypto market. When it launches, the DeFi sensation is expected to continue gaining market acceptance and rank among the top DeFi players. Join the ranks of other astute investors who have recognized RenQ's potential and invested in it. The RENQ token is currently trading at 0.045, having more than doubled since the presale began.
Click Here to Buy RenQ Finance (RENQ) Tokens.
Visit the links below for more information about RenQ Finance (RENQ):
Website: https://renq.io
Whitepaper: https://renq.io/whitepaper.pdf
---