Solana (SOL) fails to gather momentum, Polygon (MATIC) and RenQ Finance (RENQ) to lead the market ahead in 2023
Disclaimer: The text below is an advertorial article that is not part of Cryptonews.com editorial content.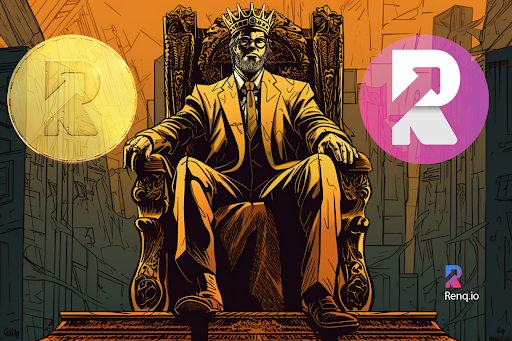 Solana (SOL), despite the current market dip, is still having trouble gaining momentum. Investors are losing faith in Solana as a result of the market's bearish mood having an impact on the cryptocurrency.
Many investors are looking at Polygon (MATIC) and RenQ Finance (RENQ), a new DeFi phenomenon that provides a more stable environment and better chances, as potential options. Recent increases in demand for RENQ tokens, driven by investors wanting to profit from RenQ Finance's ground-breaking approach to DeFi, are a clear indication of this shift in market attitude.
As a result, many industry professionals and members of the crypto community have great hopes for RenQ Finance (RENQ) and Polygon (MATIC), with the RENQ token becoming a hot subject of conversation. Several investors have sold their SOL shares and invested in Polygon (MATIC) and RenQ Finance (RENQ), demonstrating their faith in these cryptocurrencies.
Investors no longer have faith in Solana
Solana is a blockchain network that supports smart contracts; it is distinguished by fair fees, quick transactions, and a robust ecosystem for creating decentralized applications and new financial technologies (NFTs).
It was created to rival Ethereum. The Solana platform's native coin is called Sol. Nevertheless, SOL has seen a downturn since hitting a peak price of $259 in 2021, falling by 94%, in contrast to RenQ's RENQ token.
However, following a recent cryptocurrency downtown, Solana's value has fallen further and is presently trading at $22, down 13.09% in just one day. Due to the potential for more losses, investors have lost faith in cryptocurrencies as a result.
They are thus quickly looking to RenQ Finance for safer investment alternatives.
Polygon getting ready to lead the market
Polygon's MATIC token has emerged as a reliable and efficient platform for decentralized applications, providing a solution to the scalability limitations of Ethereum. Currently priced at $1.15 with a live market cap of $10 billion, MATIC has surpassed 350,000 unique addresses and peaked at around 750,000, highlighting its growing popularity in the crypto community. Despite the recent market crash, MATIC's price has remained stable.
Although the broader crypto market, including significant blockchain tokens such as Polygon, experienced a 6% decline in the past 24 hours due to Bitcoin's selling pressure, MATIC investors remain optimistic. The daily trading volume has increased by 44.04%, indicating continued interest and potential for growth.
According to technical analysis, MATIC's minimum cost in 2023 is expected to be $1.36, while its maximum price could reach $1.66. With its low entry barrier and potential to become a leading cryptocurrency project, many investors see MATIC as an attractive investment option.
However, it's crucial to keep in mind that the crypto market is highly volatile, and returns are not guaranteed. Despite this, MATIC's strong fundamentals, increasing adoption, and potential to solve Ethereum's scalability issues make it a promising investment opportunity in the coming years.
>>>>> BUY RENQ TOKENS HERE <<<<<
RenQ Finance is the New Giant 
RenQ Finance is a decentralized finance (DeFi) platform that prioritizes autonomy, transparency, and anonymity. The platform offers various services such as farming, staking, lending, exchanging, and more in a secure and scalable manner. RenQ Finance aims to establish a cross-chain network that links up all disconnected blockchains in the DeFi space, acting as a platform for the exchange of digital assets.
RENQ is the native token of the platform and is used for governance, paying transactions, and rewarding users. RenQ Finance provides an advanced ecosystem with features that surpass those of BTC and ETH. The platform integrates various functions from centralized exchanges, providing users with better resources and liquidity for their DeFi transactions. RenQ Finance also connects to multiple decentralized exchanges (DEXs) and outsources liquidity from various marketplaces to ensure fair transaction prices, guaranteeing maximum user satisfaction.
Experts predict that RenQ has the potential to become a crypto giant, and the market is supporting this belief. Unlike tokens such as Solana, which is struggling to recover from last year's bear market, RENQ tokens are increasing in value and attracting significant liquidity during the presale. RenQ Finance is creating huge attention in the crypto community, and its presale stage 3 is selling out faster than the first two, indicating growing demand.
RenQ's unique approach to decentralization and linking up disconnected blockchains has the potential to offer solutions to some of the current limitations in the DeFi space. Additionally, RenQ's commitment to providing users with maximum satisfaction and resources makes it an attractive investment opportunity for crypto enthusiasts. However, it's crucial to keep in mind that returns are not guaranteed in the highly volatile crypto market, and it's essential to approach investments with caution and a long-term view.
Click Here to Buy RenQ Finance (RENQ) Tokens.
Visit the links below for more information about RenQ Finance (RENQ):
Website: https://renq.io
Whitepaper: https://renq.io/whitepaper.pdf
---