Solana Price Prediction as Top Trader Says He Will Buy SOL 'Heavily This Year' At These Levels – Can SOL Reach $1,000?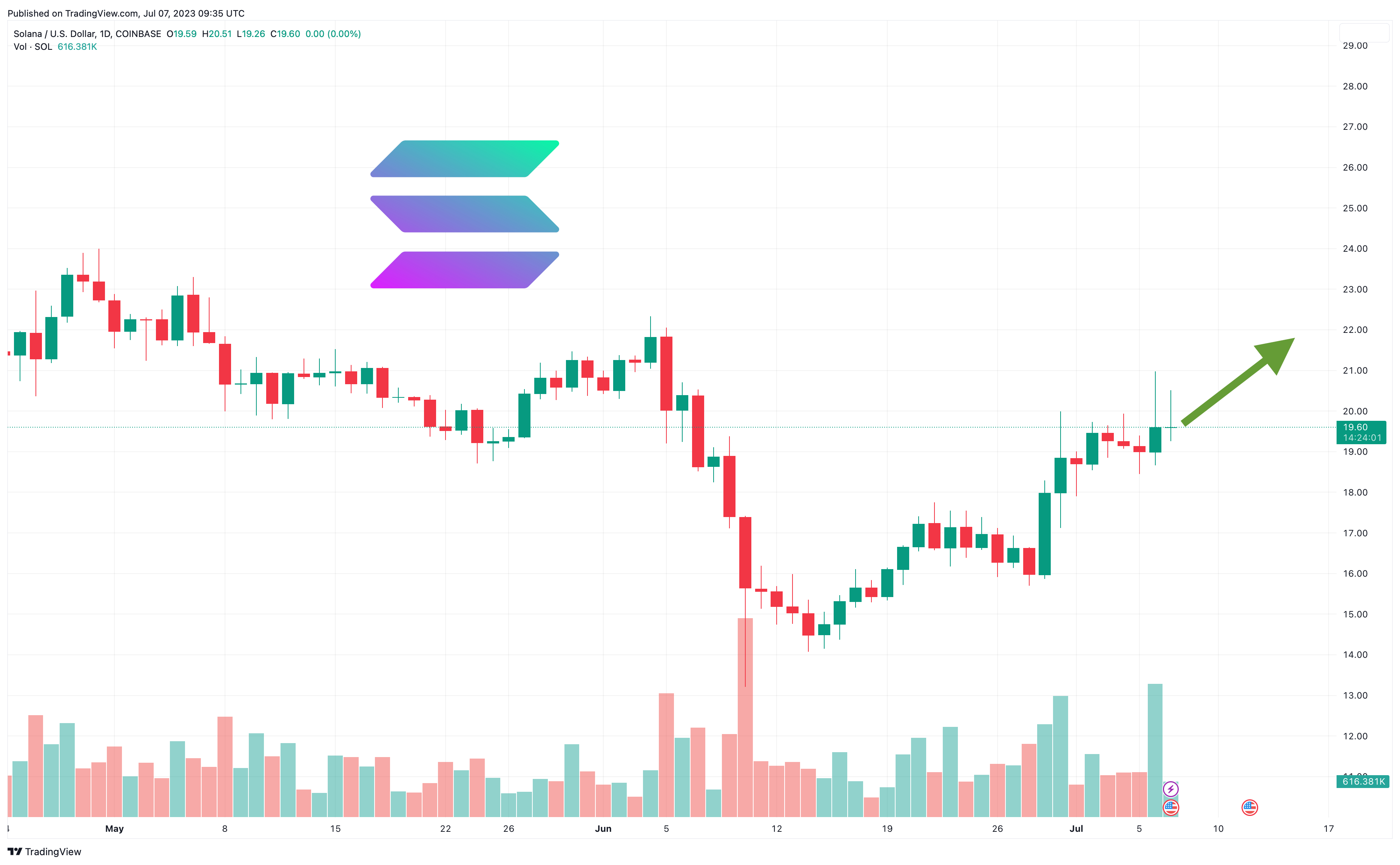 The Solana price has dipped by 0.5% in the past 24 hours, falling to $19.44 amid a 2.5% decline for the cryptocurrency market as a whole today.
SOL remains up by 4% in a week and by 16% in the last 14 days, with the altcoin having risen by an impressive 95% since the start of the year.
Such growth has been posted on the back of steady development and progress for Solana as a blockchain and ecosystem, with its network recently marking nine months of uptime, helping it to restore its reputation after its 2022 and 2021 was marred by a number of high-profile outages.
And given the steady expansion of its ecosystem, it remains probable that SOL will see further gains before 2024, particularly when high-profile traders such as Pentoshi have publicly declared they'll buy the altcoin "heavily" this year.
Solana Price Prediction as Top Trader Says He Will Buy SOL 'Heavily This Year' At These Levels – Can SOL Reach $1,000?
SOL's chart remains positive, even with today's little stumble, with the token's indicators still in positions where they could resume climbing.
Its 30-day moving average (yellow) continues to ascend further above its 200-day (blue), in a sign of continued buying momentum and potential rallies.
And even though SOL's relative strength index (purple) has declined from 70 in the past day, it remains above 50 and has levelled out, in a sign that today's drop may soon turn into growth.
The coin's support level (green) also reinforces the suspicion that today's dropoff isn't going to be especially prolonged, given that it has increased consistently since the middle of June.
As such, technicals point towards further rises for SOL in the near future, with the altcoin potentially in line to meet $20 again before the end of the weekend, before potentially hitting $25 in the next one or two weeks.
This optimism is supported by remarks by various high-profile traders and analysts, with @Pentosh1 tweeting yesterday that SOL is now showing "pretty promising signs of life" and that they plan "to buy [it] heavily this year," with the coin being one of their "strongest conviction bets for the bull run."
At the same time, Solana's fundamentals are definitely improving, following a disappointing 2022 in which its network suffered multiple outages in fairly quick succession.
For one, recent updates have meant that it has gone more than nine months without any further disruptions, something which has been very important in rejuvenating development on its platform.
Such development is evident in the emergence of new apps on Solana, such as Underdog Protocol, Monstrè Pay, Solarplex.xyz and Boom Army.
Thanks to the emergence of such platforms, Solana can expect its usage to rise steadily in the medium and longer term, something which will only boost its price.
Because of this, SOl's prospects for the future are very good, with the coin potentially on course to return to $30 or $40 by the time the year ends.
And if 2024 brings a new bull market, it could easily return to triple figures, with a view towards regaining its all-time high of $259.96.
Presale Token Rallies
While Solana's fundamentals indicate that it will enjoy steady gains through the rest of the year, it's unlikely to witness any single monster rally.
Traders may therefore prefer looking towards newer altcoins for short-term surges, with presale tokens in particular offering the potential for big rallies when they list on exchanges.
One of the most promising presale coins at the moment is Thug Life Token (THUG), an ERC-20 meme token that has adopted the iconography and stylings of gangsta rap in a bid to attract a following from online hip-hop communities.
This strategy seems to be working, with its presale already raising $600,000 after going live more than a week ago.
In contrast to many other meme tokens, THUG will be appreciably decentralized, with 70% of its total supply of 4.20 billion being allocted to the presale.
Such a large allocation will help it assemble a strong community, with its holders likely to feel more invested in the token than they would with other new meme tokens that directly list (and that are likely majority-owned by their issuers).
However, Thug Life Token's presale will have only one stage and will end in just under 10 days, so anyone interested in joining the sale will now have to move quickly before it sells out.
New buyers can grab some THUG by going to the official Thug Life Token website and connecting their software wallets, with 1 THUG costing $0.0007.
This price is likely to seem very cheap once the sale ends in ten days, and THUG lists on exchanges.
Disclaimer: Crypto is a high-risk asset class. This article is provided for informational purposes and does not constitute investment advice. You could lose all of your capital.
---