Solana Price Prediction as SOL Blockchain Sees Huge Surge in New Users Following Spike in ETH Gas Fees – Time to Buy?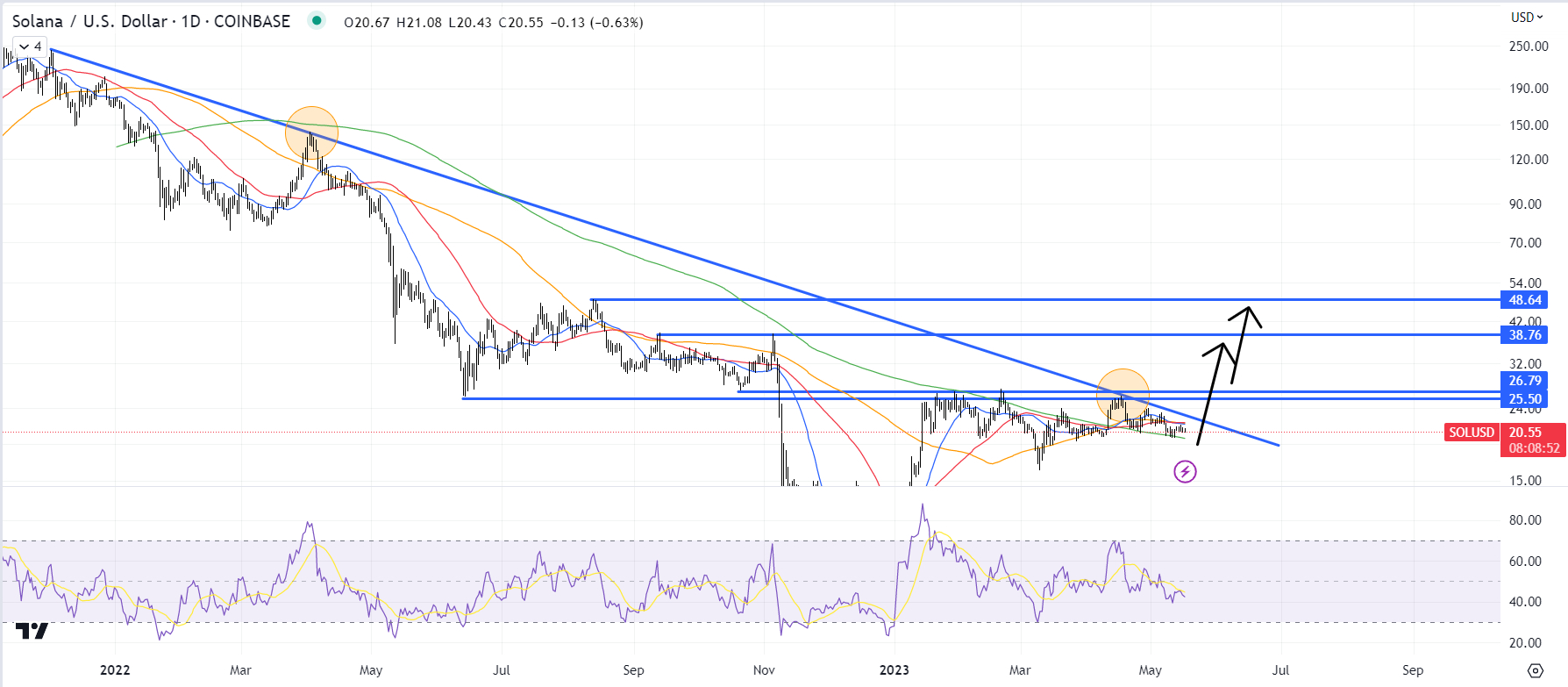 The Solana network, a layer-1 smart-contract-enabled blockchain protocol famed for its high transaction throughput and low gas fees, has seen a spike in daily users in recent weeks.
As per data presented by Token Terminal, the number of daily active users on the blockchain recently spiked to its highest in nearly 12 months at nearly 400,000.
The spike in daily active users comes at a time when Solana's major, more established blockchain competitors like Bitcoin and Ethereum have been struggling with heightened congestion.
Bitcoin transactions recently surged to record daily numbers amid the sudden surge in popularity of the new BRC-20 token standard (crypto tokens issued directly on the Bitcoin blockchain, a little like how ERC-20 tokens are issued on Ethereum), all powered by the Ordinals Protocol that introduces inscriptions to the Bitcoin network late last year.
Meanwhile, the Ethereum blockchain is struggling with a sudden surge in meme coin-related transactions as new-wave meme coins like Pepe (PEPE) gain significant buzz.
The surge in network congestion on the world's two most widely used blockchains has gone hand in hand with a spike in transaction fees (referred to as gas fees on the Ethereum network), pushing crypto users to lower-cost blockchain alternatives like Solana.
Price Prediction – Is It a Good Time to Buy?
Despite the positive trend in daily active users on the Solana blockchain, the SOL price continues to languish and was last around $20.50 per token, about 1.5% lower for the week.
SOL is the token that powers the Solana blockchain.
That could be partially explained by the fact that other on-chain metrics, like the blockchain's daily fees, and trading SOL volumes, have failed to pick up.
SOL's technical outlook, meanwhile, is mixed.
The cryptocurrency continues to trend to the downside within the confines of a bearish trend channel but has continually found support above its 200DMA in recent weeks.
That could be taken as a long-term bullish sign, but it's too early to declare a bull market for Solana just yet.
That's because the cryptocurrency recently found strong resistance at a downtrend that has been in play since late-2021.
A break above this long-term downtrend could vault the SOL price above the significant $27-28 resistance area and open the door for gains toward the $39 and $48 resistance zones.
For investors confident that the broader crypto bull market will continue, now might be a good time to buy Solana, as when it breaks these key resistance levels, it could surge a lot higher very quickly.
Solana Alternatives to Consider
While Solana has the possibility of performing very well in the medium term if it can break key resistance levels, investors should always be on the lookout to diversify their crypto holdings.
One high-risk-high-reward investment strategy that some investors might want to consider is getting involved in crypto presales.
This is where investors buy the tokens of up-start crypto projects to help fund their development.
These tokens are nearly always sold very cheap and there is a long history of presales delivering huge exponential gains to early investors.
Many of these projects have fantastic teams behind them and a great vision to deliver a revolutionary crypto application/platform.
If an investor can identify such projects, the risk/reward of their presale investment is very good.
The team at Cryptonews spends a lot of time combing through presale projects to help investors out.
Here is a list of 15 of what the project deems as the best crypto presales of 2023.
Disclaimer: The Industry Talk section features insights by crypto industry players and is not a part of the editorial content of Cryptonews.com.
---