SmartCash: How is it different from other cryptos?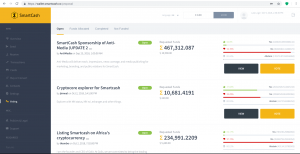 This article has been brought to you by SmartCash.
_______
SmartCash is a blockchain-based cryptocurrency based on a decentralized governance system. It has the ambition to be adopted at a worldwide level, and to allow its users to make daily and simple transactions in a quick and safe way using its cryptocurrency: SMART.
But what makes it different than the others, knowing that there are over 1500 cryptocurrencies out there? According to Mark Hakkarinen, blockchain and cryptoasset analyst, entrepreneur, and researcher, there are three things that really stand out: "First, there is a dedicated team that is self-funded by a portion of the block rewards. This helps to ensure there is continual innovation to help keep things moving along. Second, there is a Coinocracy component, which is the SmartHive Project Treasury. This allows anyone from the community to submit a project to be funded by block rewards as well. And everyone can vote on this who has SmartCash, not just "masternodes". Finally, the focus on innovating "outside of the blockchain" helps to bridge the gap to adoption. With this, I mean projects such as SmartCard, SmartPay point of sale app, SmartBand, TipBots, and other projects that interact with the blockchain itself. Overall, these three things combine with low fees and a strong decentralized SmartNode network to provide a great starting point for global community involvement. A lot of projects just have a whitepaper, but SmartCash has so much already and it's only just over a year old".
Concerning future plans and novelties that we can expect to see in SmartCash's future, there are a few things in the air that are not on the roadmap. The first is a new type of node to run the SmartPay API and ElectrumSmart servers. These would have higher requirements and may also get a small portion of the block rewards to incentivize their operation. Another big idea being discussed is to add a participation requirement to SmartRewards each cycle, such as voting (yes/no/abstain) on projects. The team behind this next generation blockchain payment network for merchants really wants people to be involved in the voting process and this may help do that, as well as provide greater incentives to be involved in the community. SmartCash will also be continuing to decentralize, so we can expect to see more hive teams in the future as well, all operating independently.
When asked if he thinks that we will see in our lifetime a world where fiat money has disappeared and everyone is paying in cryptos, the specialist holding an MA in Communication, Culture, and Technology from Georgetown University where he studied payment systems and digital currencies has an interesting view: "I think the definitions between fiat and crypto will become more blurred, but I think "fiat" as in government backed money will always exist. There are already crypto forms of fiat created and "stablescoins" are also becoming more popular. Those often just peg to fiat, which is a bit ironic", says Mark Hakkarinen. He adds, "Ultimately I do think all transactions involving finance will use a form of blockchain inspired technology. Eventually, the way you see an ATM with 10 different network stickers I think all of these cryptos will be accepted, including SmartCash (which has a 120 year emission curve). It will be very interesting to see where this all leads, and I think we are in the early stages of some very crucial technology that will unlock a lot of further usage, such as Atomic Swaps".
SmartCash will continue to be part of innovations like this!