Sink Your Teeth Into Orange Comet's AMC's 'Interview with the Vampire' NFTs
Disclosure: Crypto is a high-risk asset class. This article is provided for informational purposes and does not constitute investment advice. By using this website, you agree to our terms and conditions. We may utilise affiliate links within our content, and receive commission.
Disclaimer: The following article is part of Cryptonews Deals Series and was written as a promotional article in collaboration with the sponsor of this offer. If your company has an exclusive promotion that you would like to share with our readers, we invite you to reach out to us. Let's build together.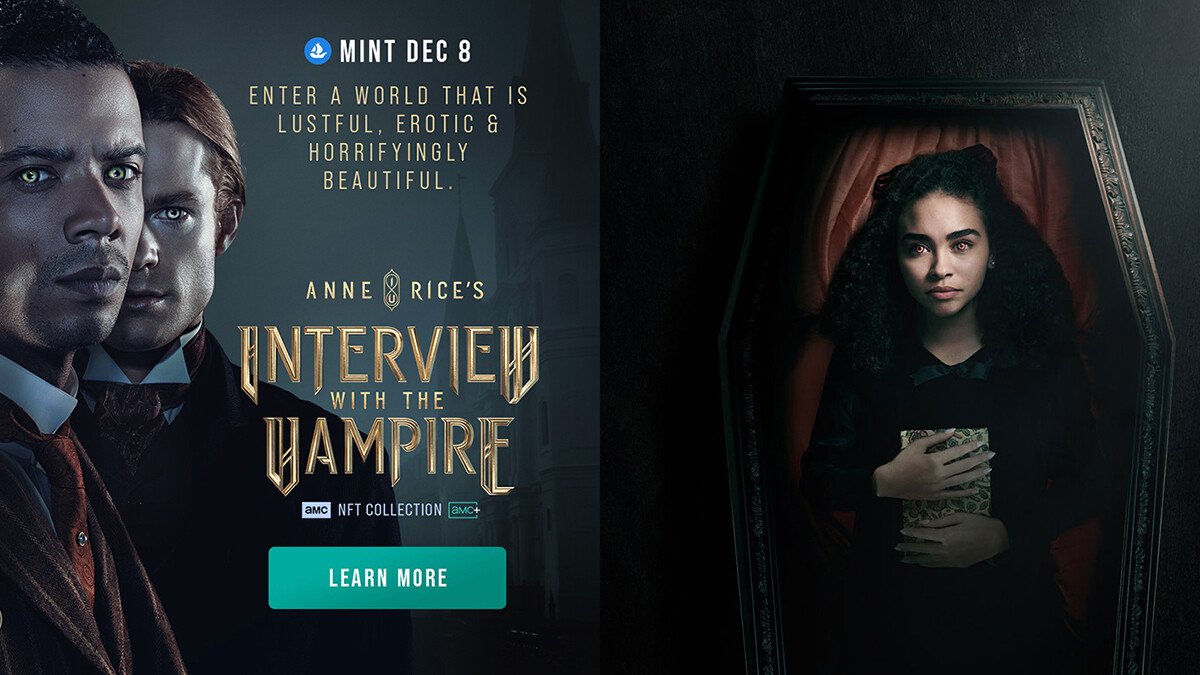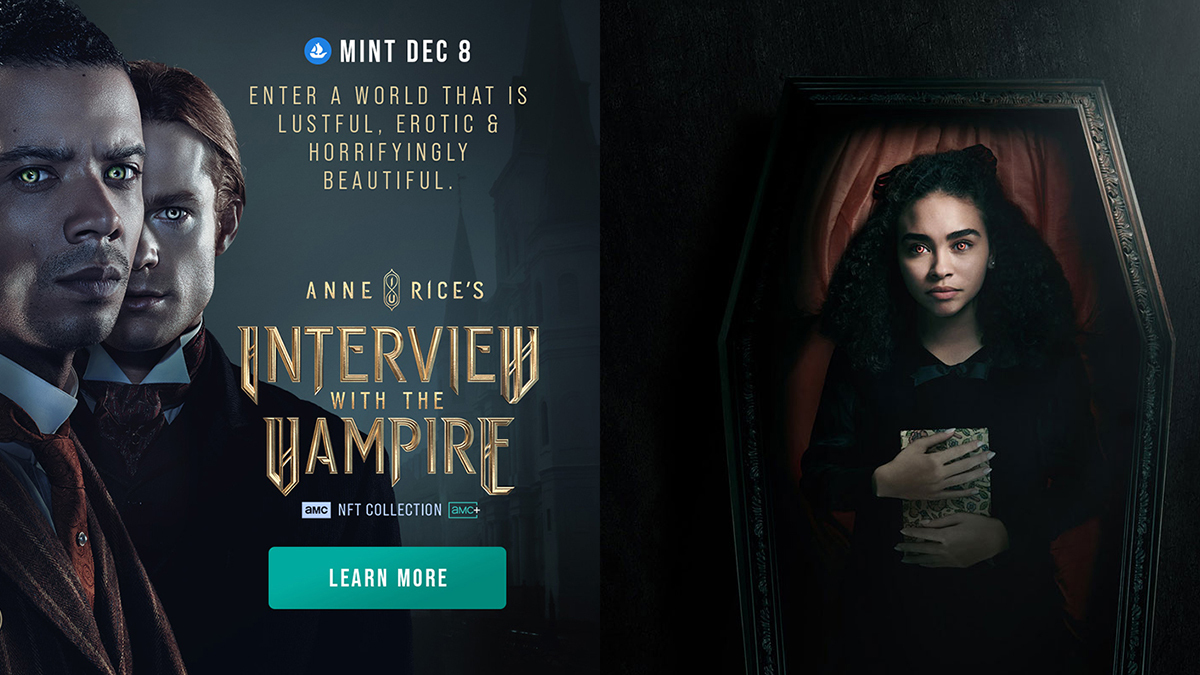 There will definitely be blood on the blockchain this week. A stunningly beautiful and formidable force will crawl up from the catacombs to stake its claim in Web3 and sink its teeth into the masses. Premium Web3 entertainment company Orange Comet invites you to join the dangerously wicked, lustful, and gorgeous world of the undead, into a world filled with blood, love, lust, and a hefty dose of terror. Welcome to the Immortal Universe of Anne Rice.
The invitation to immortality and to live forever on the blockchain, you will first need to obtain an Immortal Pass. NFT super studio Orange Comet is once again partnering with the AMC network to create Anne Rice's Interview with the Vampire NFT Collection. Minting December 8th. The Immortal Pass is your key to the exclusive NFT collection, and is based on the cult classic gothic horror novel of the same name. This project is the second collaboration between Orange Comet and AMC (their other NFT collection is based on cult phenomenon TV series "The Walking Dead.")
The Immortal Pass
The Immortal Pass is your ticket to a dark, rich fantastical virtual collect-to-earn Universe where you will embark on a frightening and thrilling journey. The three different pass rarities—Legendary, Rare, and Common—will be revealed a couple of weeks after December 8th (the mint date).
With each Rarity, you will receive a future Avatar(s) airdropped into your wallet:
LEGENDARY (10%)-Legendary Immortal Pass holder will receive three (3) Vampire Avatars.
RARE (20%)-Rare Immortal Pass holder will receive two (2) Vampire Avatars.
COMMON (70%)-Common Immortal Pass holder will receive one (1) Vampire Avatar.
This pass will give collectors a feel of the action from six feet under and up, digging up new and exciting content throughout the epic journey.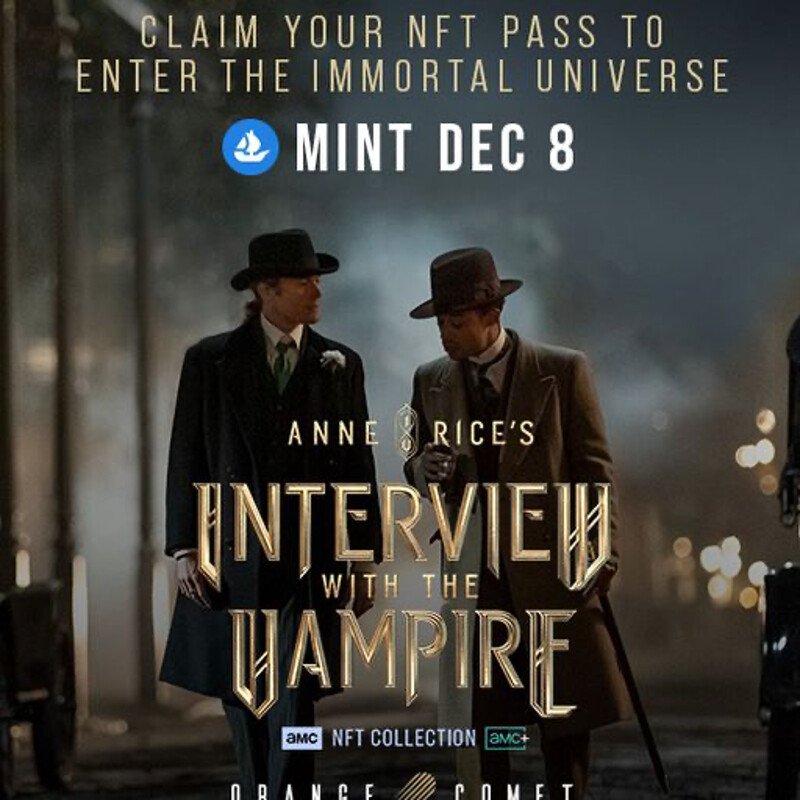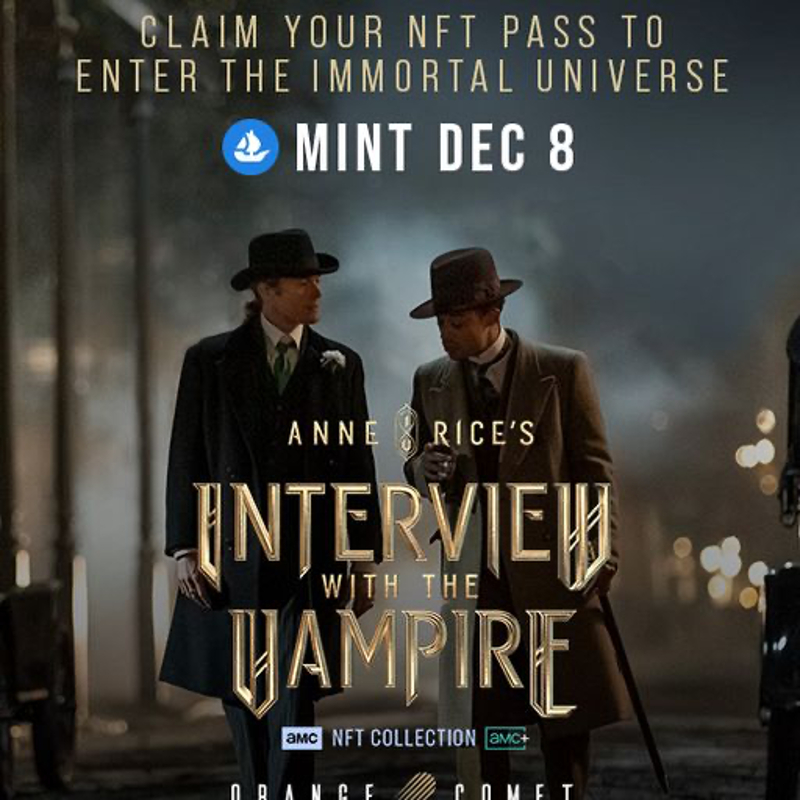 Besides granting immortality on the blockchain, the Immortal Pass also provides members-only benefits, which include access to:
The Immortal Universe where you can Collect-2-Earn
Real World Experiences, including trips to VIP vampire tours in New Orleans, Dubai and other Interview with the Vampire key filming locations, vampire events, etc.
Autographed Collectibles and Merch
Lower Mint Price on Interview with the Vampire NFTs
Exclusive Limited Editions of Interview with the Vampire Mints
Each Immortal Pass will reveal a living work of art, including a creepy coffin that creeks open after dusk and closes before dawn, based on your current location. If you're lucky, you may even witness the opening of your coffin.
The collection is limited to 3,333 Immortal Passes so don't sleep on this one! The mint will take place on OpenSea on Thursday, December 8 and will be available to purchase with ETH (who knows…maybe even BLOOD).
About Orange Comet
Orange Comet is a premiere Web3 entertainment company whose single focus is to tell stories through making stuff that truly matters. Led by an impressively talented team of well known and experienced media creators, producers, and artists, they have deep media expertise and industry-leading creative technologists.
Orange Comet was co-founded by veteran producer Dave Broome, Grammy award-winning recording team Gloria and Emilio Estefan, and NFL Hall of Famer Kurt Warner. Together with the staff at Orange Comet, they are a dedicated and passionate group who firmly believes the Blockchain is the next frontier in the future of entertainment and media.
Orange Comet has collaborated with some of the most recognizable brands and artists on the planet, including world renowned actor Sir Anthony Hopkins. The Web3 company aims to create groundbreaking NFT experiences to build communities with passionate fanbases, top notch creative content & storytelling, interactive technology and outstanding utility.
On the Interview with the Vampire project, Orange Comet CEO Dave Broome said, "AMC has created universes full of vivid imagery, memorable characters, and a vast scope that feeds into the intensive and thoughtful creative process at Orange Comet, allowing us to continue crafting the best-in-class digital experiences that will surely keep audiences engaged with the franchises for years to come."
Born out of dynamic design, a commitment to innovation, and proprietary technology; Orange Comet is creating unprecedented ecosystems in the world of Web3.
About AMC Networks
AMC Networks is a global entertainment company widely renowned for its popular content, with its Walking Dead series being the most popular show. The company brand also offers streaming services such as Acron TV, AMC+, Shudder, ALLBLK, SundanceTV, and the anime-dominant HIDIVE streaming service. The company also runs its in-house studio, AMC studios. AMC studios are behind the production and distribution of their most popular TV franchise, The Walking Dead, and the Anne Rice catalog.
According to Clayton Neuman, the Vice President of games at AMC, "As The Walking Dead Universe enters its exciting second chapter, and we embark on the launch of our next epic franchise with Anne Rice's Interview with the Vampire, we're excited to continue working with Orange Comet to deliver our viewers a world-class digital collectible experience that complements and enhances their favorite shows."
About OpenSea
The OpenSea platform is the world's premier digital marketplace serving crypto collectibles and NFTs. A critical part of their vision is the development of vibrant economies through open protocols such as Ethereum. They are designing tools that will allow consumers to trade their items freely.
Anne Rice's Interview with the Vampire
AMCs' Interview with the Vampire' is just the beginning of what AMC dubs 'The Immortal Universe.' This move kicked off with AMC purchasing the rights to most of Anne Rice's most famous works. AMC announced this back in May of 2020, with the network buying up 18 of Anne Rice's novels
The new series is a gothic horror and vampire series created by Rolin Jones. The series is based on Anne Rice's novel of the same name. The Vampire Chronicles, in particular, sets the premise for this series. The series follows the story of love, blood, and the dangers of immorality. The Interview with the Vampire NFTs will end up in the development of an exciting digital destination filled with lore and monsters. Anne Rice's sexually charged novels will set the premise for the virtual world, featuring witches, spooky events, and many supernatural activities! For more on this, keep an eye out for any releases from Orange Comet touching on this and other new projects!
---