Shibarium Relaunch Meets $SHIB Burn: Will Borroe ($ROE) and Stellar ($XLM) Compete?
Disclaimer: The text below is a press release that is not part of Cryptonews.com editorial content.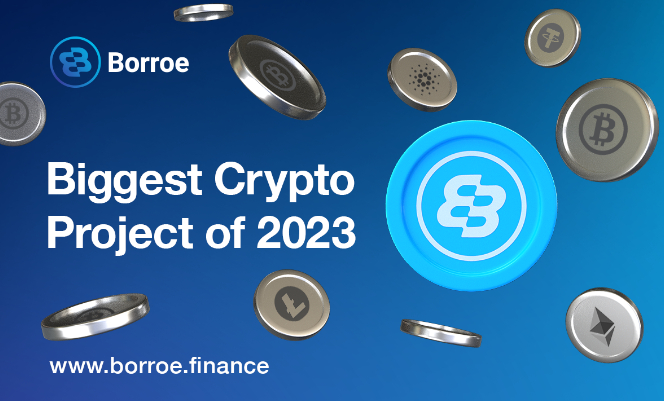 Shiba Inu's ($SHIB) Shibarium relaunch and $SHIB burn seem to have instilled investor confidence, and analysts expect it to rise in the long term.
However, Stellar ($XLM) is still struggling despite the multiple strategic partnerships executed in its ecosystem.
These uncertainties in the cryptocurrency market appear to have pushed investors into Borroe's ($ROE) highly profitable presale that is selling out rapidly, making it the best cryptocurrency to buy now.
Shiba Inu's Shibarium Relaunch Encounters a Massive $SHIB Burn
Shiba Inu's ($SHIB) Shibarium launch was unconvincing and encountered multiple technical issues. The unimpressive launch caused many frustrations among Shiba Inu ($SHIB) users.
Nonetheless, a top developer at Shiba Inu ($SHIB) said on August 21, 2023, that they had managed to resolve all those hiccups after setting Shibarium to private mode.
But on August 24, Shiba Inu's ($SHIB) ecosystem implemented two crucial moves: the relaunch of Shibarium and an increase in $SHIB token burn rates.
Shiba Inu's decision to accelerate its $SHIB token burn rates has been significant. Shibburn.com data shows a burn rate of 234% in the past week, amounting to over 119,529,979 Shiba Inu ($SHIB) tokens.
On that note, Shiba Inu ($SHIB) holders withdrew 1.8 trillion $SHIB tokens worth $14.5 million between August 17 and August 26, citing market uncertainty.
Analysts are confident that Shiba Inu's ($SHIB) will surge to $0.00001500 by the end of 2023, supported by the utilities brought by Shibarium. Hence, Shiba Inu is a good crypto to buy today.
Stellar Makes Strategic Partnerships, but $XLM Price Still Struggles
On August 15, Stellar Development Foundation (SDF) announced that it would be acquiring a stake in MoneyGram International (MGI).
The team believes that it is an opportunity to support MGI in its foray into the FinTech industry. Stellar ($XLM) and MGI have already launched products such as MoneyGram Access.
SDF supports the development of Stellar ($XLM) and has already invested in firms strategically aiming to enhance its financial services.
But, Stellar's ($XLM) investor confidence has dropped due to its inability to hold up strong against inflation.
Stellar ($XLM) dropped after an increase of more than 41% in July. Moments after that surge, Stellar's ($XLM) price lost 20% in August.
Stellar ($XLM), nonetheless, failed to build on the MGI news as Stellar's ($XLM) price lost the $0.127 support in the days after the announcement.
This lack of excitement was not strange since Stellar ($XLM) has reacted similarly in the past after the announcement of the NetXD and Wave investments.
Analysts expect Stellar ($XLM) to stabilize to trade at $0.1255 by the end of 2023.
Borroe Strongly Bullish As Demand for $ROE Increases
Borroe ($ROE) functions as a decentralized platform designed to boost the operational efficiency of the Web3 sector.
Notably, Borroe ($ROE) achieves this by offering secure and timely loans, which are used to ensure the seamless continuation of Web3 business activities.
Borroe ($ROE) introduces an innovative and fundamentally unique strategy for revenue financing. Its objective is to eliminate various obstacles, such as extended delays and restricted access.
By establishing a secure marketplace, Borroe ($ROE) enhances loan accessibility, attracting interested companies and individuals keen on investing in revenue financing.
Interestingly, Borroe ($ROE) will receive top-priority notifications regarding new offers, discounts, and special recognition for their contributions to the platform.
For now, Borroe ($ROE) is valued at $0.0125 in Stage 1 of its presale, with over 41 million tokens already sold.
Once all presale stages are completed, Borroe ($ROE) is expected to enter the mainstream crypto market valued at $0.0400.
This market movement makes Borroe ($ROE) the best crypto investment since it is poised to generate a substantial 300% increase for early investors.
Also, Borroe ($ROE) presents a promising 220% return on investment for those who choose to buy now.
Learn more about Borroe ($ROE) here:
Visit Borroe Presale | Join The Telegram Group | Follow Borroe on Twitter
---