Shiba Inu Price: SHIB Falls 5% and Trading Volume Drops to $100 Million – What's Going On?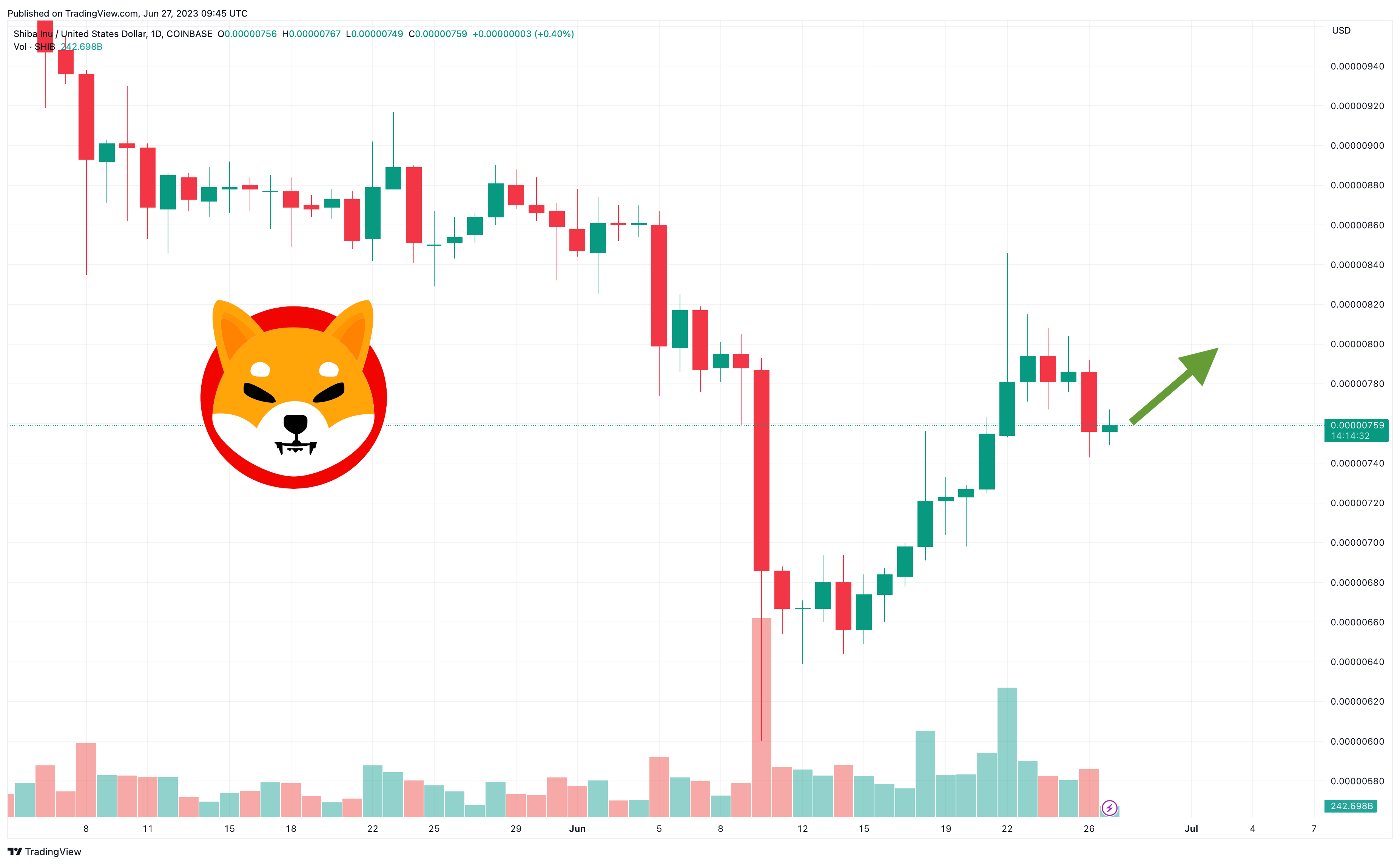 The Shiba Inu price has dropped by as much as 5% today, with its dip to $0.00000756 now representing a loss of 3% in the past 24 hours.
SHIB actually remains up by 5% in a week and by 11% in a fortnight, although the meme token has actually fallen by 14% in the past 30 days and by 6.5% since the beginning of the year (in contrast to most major tokens, which have gained since the New year).
Despite this, SHIB's gains in the past couple of weeks point to a cryptocurrency that may be in the middle of a medium-term recovery, with its fall today potentially being only a mini-correction en route to more sustained gains.
And with Shibarium on its way soon and Shiba Inu developers unveiling the Shibacals NFT series recently, there is reason to think that SHIB will be considerably higher by the time 2023 ends.
Shiba Inu Price: SHIB Falls 5% and Trading Volume Drops to $100 Million – What's Going On?
SHIB's dip today comes as its indicators lose further momentum, yet they're also in a position where further losses are possible before the coin becomes oversold.
For one, its 30-day moving average (yellow) has begun sliding down towards its 200-day (blue), with a death cross tending to predict more losses to come.
Similarly, SHIB's relative strength index (purple) continues to slip after climbing as high as 80 on 22 June, with its current position at 40 leaving room for a dive towards 20.
On top of this, SHIB's trading volume also remains pretty low, at around $100 million.
Such low volume is consistent with additional price falls, and even if SHIB's support level (green) is higher now than it was a week ago, there's a good chance that the meme token may fall a little further before it begins rising again.
As such, don't be surprised if SHIB goes as low as $0.0000070 in the next few days, although it shouldn't fall much lower.
Shiba Inu's prospects look better in the medium and longer term, given recent developments and news.
As mentioned above, last week brought the unveiling of Shibacals, a new Shiba Inu-based standard for non-fungible tokens (NFTs) that would be used to authenticate real-world physical collectibles, via the associated use of NFC tags.
Shibacals will be based on the upcoming Shibarium layer-two network, with their launch providing one good reason to believe that Shibarium will provide Shiba Inu with considerably more utility and attractiveness.
As such, the market can expect SHIB to witness a steady increase in price over the next few months, with a surge expected around the time that Shibarium has its full public launch (it's currently testing in beta).
From its current price of just below $0.0000080, it should comfortably return to $0.000010 in the next few weeks, before mounting a climb towards $0.000020 by the end of the year.
Another High-Potential Meme Token
Given Shiba Inu's status as a well-established meme token, it really is dependent on new launches and developments for future rallies.
And given that the launches of Shibarium, Shibacals and SHIB: The Metaverse may still be some way off, traders may prefer to look at other, newer meme tokens in the meantime.
One of the most hyped new meme tokens at the moment Wall Street Memes (WSM), an Ethereum-based cryptocurrency that has already raised more than $10.7 million in its presale, which kicked off at the beginning of June.
WSM has emerged out of the meme stocks movement, which was famously responsible for spearheading the GameStop and AMC rallies in 2021.
It's because of its roots within this online community that it has been able to raise more than $10 million so quickly, helped along by its 238,000 Twitter followers, all of whom are potential buyers and holders of the meme token.
Indeed, WSM will need a large following if it's to become a leading meme token, given how important crypto communities are in terms of promoting and supporting coins.
Investors can become one of its growing ranks of supporters by visiting the official Wall Street Memes website and connecting their crypto wallets, with WSM buyable using USDT, ETH or fiat currency.
The sale is currently in its 18th stage, with 1 WSM selling for $0.0304, while it will end with WSM priced at $0.0337.
And because of WSM's already vibrant community, it's in line to rise much higher when it lists on exchanges in the next few weeks.
Disclaimer: The Industry Talk section features insights by crypto industry players and is not a part of the editorial content of Cryptonews.com.
---