Shiba Inu Price Prediction – Can SHIB Overtake Dogecoin?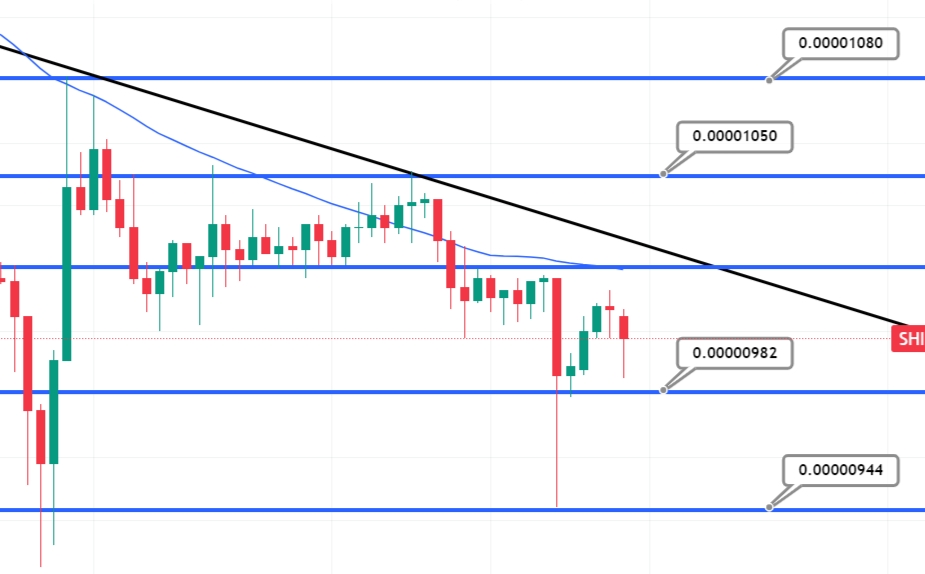 Shiba Inu price prediction remains slightly bearish, despite bouncing off above the support area of $0.0000098. For weeks now, Shiba Inu (SHIB) has underperformed versus Dogecoin (DOGE), with prices fluctuating in a tight range on low volume.
As the price of Bitcoin (BTC) and other crypto assets like Ethereum (ETH) has had a little setback in their price movement, the price of SHIB will need to collect more momentum to break through its range channel; however, the uncertainty that surrounds the crypto market may be a big influence.
Shiba Eternity Game Reached Significant Milestone
Shiba Eternity has received a large number of downloads in the Google Play Store just one week after the release of the highly anticipated SHIB game. Since its international release on both iOS and Android, the Shiba Eternity collectible card game has surpassed the 100,000 download mark on Android.
The game has 11,500 user reviews and a 4.7 rating. The Shiba Inu team that created the game claimed it was the most complex card game ever created for smartphones.
Shiba Eternity - Source: Goole Play Store
Among other things, players can select from 10,000 Shiboshi heroes and 500 collector cards. On September 6, the day of its international release, the game entered the top 20 most downloaded games in the Apple App Store.
The SHIB token will be used in the game.
Shiba Eternity's popularity benefits SHIB/USD by reducing the token's supply, which raises the market price because there are fewer coins available.
Whales are Showing Interest in Shiba Inu
On October 19, Shiba Inu attempted to break the significant support level of $0.0000094 on the 4-hour chart. Fortunately, it was unsuccessful, as two anonymous, wealthy Shiba Inu buyers invested a staggering $2.72 million in three significant transactions to purchase 256.98 billion SHIB.
According to Etherscan.io data, the 50th richest Shiba Inu Whale contributed an incredible 125.34 billion SHIB, worth approximately $1.32 million, in two separate transactions in the last 24 hours.
Shiba Inu Whales - Source: Etherscan.io
A short time later, the Whale added 63.60 billion SHIB, or $673,537, to her wallet, increasing the number of Shiba Inu she owned. Furthermore, the seventh-largest Shiba Inu whale surfaced and made a sizable purchase of 131.63 billion SHIB, or nearly $1.39 million.
The famous Shiba Inu Whale now has 15.44 trillion SHIB (approximately $163.51 million) in her wallet. The world's second-largest canine-themed cryptocurrency by market cap fell below a critical support level, sparking renewed interest in SHIB.
However, following the massive accumulation of Whales, the price of SHIB/USD quickly recovers.
The Growing Ecosystem
Shiba Inu has recently emerged as one of the market's most prominent ones. Despite its humble beginnings as a meme coin, Shiba Inu is now working to establish an entire ecosystem.
A play-to-earn game, a metaverse (Shibaverse), and a decentralized exchange now comprise the Shiba Inu ecosystem. Shiba Inu has grown in popularity since the start of these new projects. As a result, many investors are eager to include the SHIB cryptocurrency in their digital asset portfolio.
BitPay's recent announcement has increased the liquidity of the meme cryptocurrency. Shiba Inu has also been working on a number of important projects, including a gaming product.
Shiberse and Shibarium, two essential products, may also contribute to SHIB's widespread acceptance. Furthermore, Google and Coinbase have collaborated to accept cryptocurrencies such as Shiba Inu for cloud services.
Google's support for cryptocurrencies could boost their utility and popularity. The expansion of the ecosystem benefits the price of SHIB/USD.
Shiba Inu Price Prediction
The SHIB/USD is trading in a narrow range of $0.0000098 to $0.000010. A break of this range is likely to trigger either a bullish or bearish moment. On the plus side, a break above $0.0000102 can extend an uptrend until $0.0000105 or $0.0000108.
A bearish breakout of $0.0000098, on the other hand, could push Shiba Inu down to $0.0000094. Keep an eye on $0.0000098 because an uptrend is expected above this level. While the support level is still $0.0000094.
Alternative Coins - D2 Presale
Dash 2 Trade (D2T) is an innovative crypto market research and analytics platform. Learn 2 Trade, the largest cryptocurrency learning community in the world with over 70,000 users, developed it.
Trading signals, on-chain analytics, listing notifications on exchanges, user trading competitions, and more are just some of the features available to those that sign up for the platform.
The Dash 2 Trade (D2T) presale has already raised over $500,000 in less than two days. At the moment, Dash 2 Trade is doing a crypto presale, whereby interested parties can buy D2T tokens for a price of 0.0476 USDT. There are 35,000,000 tokens up for grabs in all.
---