Shiba Inu Price Prediction as Shiba Launches 'Shibacals' to Connect NFTs to Real-World Objects – Can SHIB Reach $1?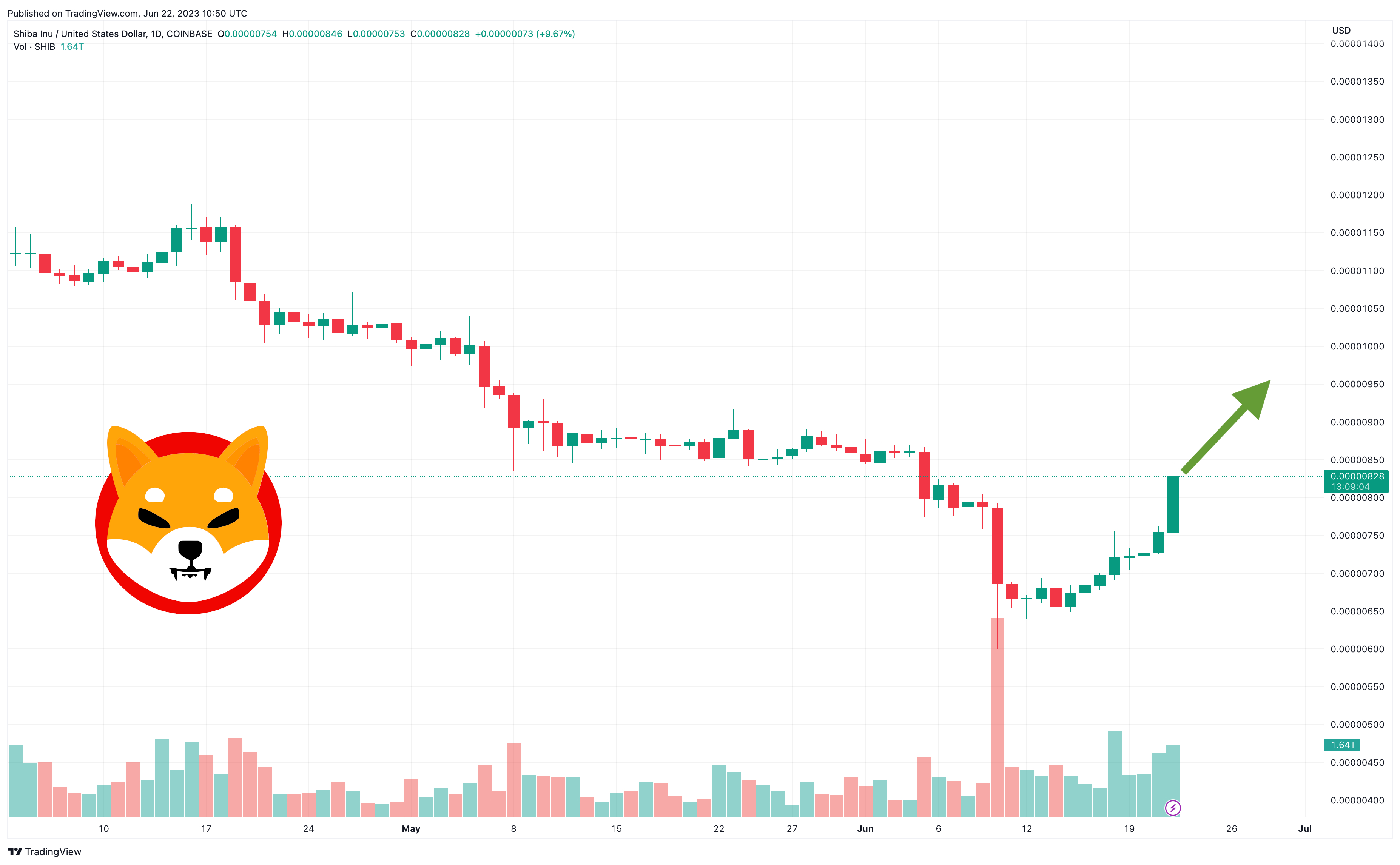 The Shiba Inu (SHIB) price has gained by 14% in the past 24 hours, surging to $0.00000839 following the announcement of Shibacals, NFTs that will be linked to real-world collectibles via near-field communication (NFC) chips.
SHIB is now up by 28% in the past 24 hours, although it remains down by 5% in the last 30 days and by 13% in the past year, with the Shiba Inu community still waiting on the full public launch of the Shibarium layer-two network.
But with the latter's development team announcing Shibacals yesterday, the arrival of Shibarium seems closer than ever, with the launch of Shibacals likely to give the layer-two network a killer app from the very beginning.
As such, SHIB could potentially see sustained gains over the coming weeks and months, as the eventual launch of both Shibarium and Shibacals pushes demand for the altcoin.
Shiba Inu Price Prediction as Shiba Launches 'Shibacals' to Connect NFTs to Real-World Objects – Can SHIB Reach $1?
SHIB is currently in full-on bullish mode, with its indicators revealing some very strong momentum that may continue for at least several days yet.
Its relative strength index (purple) has reached 80 today, signaling robust buying pressure that could push the coin up to $0.000009 in the next couple of days.
Likewise, SHIB's 30-day moving average (yellow) has begun pointing upwards and is on course to reach its 200-day average (blue), with a crossover likely to signal a breakout rally.
And given that the 30-day average is still significantly below the 200-day, SHIB probably has quite some time left before its current rally runs out of steam.
It owes its strength today to the unveiling of Shibacals, which developer Shytoshi Kusama has described as "authenticated collectibles."
Shibacals are non-fungible tokens based on the Shibarium network that can be used to authenticate physical objects and collectibles, with the use of a related NFC tag serving to provide a guarantee that any given item has the origins it's claimed to have.
In conjunction with the unveiling of Shibacals, Kusama also revealed in a blog that the development team has signed a deal with Champion Apparel to produce collector's items for the brand that will be authenticated via the new NFT standard.
Such announcements have helped to boost sentiment for SHIB, while also helping to make the market more bullish for Shibarium as a whole, in that it provides a first example of the layer-two network being put to work for something useful.
Because of this, the full launch of the network in the next few weeks/months could end up being even more positive for SHIB's price, which could lose a decimal place or two as 2023 progresses.
From its current position of $0.00000839, it could reach $0.000010 in the next couple of months, with Shibarium's burning mechanism helping it to rise even higher later on.
New Altcoins with Strong Fundamentals
SHIB is certainly on an upwards cycle at the moment, but holders may still have to wait for the respective launches of Shibarium and Shibacals, meaning that further big gains may still be a little while off.
They could, however, diversify into other, newer altcoins while they're waiting, particularly presale tokens that show real promise of rising hard once they list on exchanges.
One presale coin with strong fundamentals is ecoterra, a recycle-to-earn platform that has sold more than $5.2 million of its native ECOTERRA token since its presale began last month.
Running on the Ethereum blockchain, ecoterra is developing a decentralized and crypto-based ecosystem for encouraging more sustainable living.
Due to launch in the second half of the year, its platform will reward users in ECOTERRA for recycling their household waste at participating recycling points, while it will also offer NFT-based carbon offsets to users who generate their green energy.
These credits will be tradeable on the platform's own NFT marketplace, allowing users to profit while also acting in ways that are beneficial for the environment.
This ecological and ethical focus has enabled ecoterra to stand out in a market typified mostly by naked profiteering, which accounts for why its presale has already performed so well.
Investors can participate in its presale by visiting the official ecoterra website and connecting their software wallets, with 1 ECOTERRA currently costing $0.00925.
This price will rise to $0.01 in just over six days, yet given how promising ecoterra looks as a platform, it may rise even higher once it lists on exchanges.
Disclaimer: The Industry Talk section features insights by crypto industry players and is not a part of the editorial content of Cryptonews.com.
---