Shiba Inu Price Prediction as SHIB Spikes Up 5% From Recent Bottom – Is the Sell Off Over?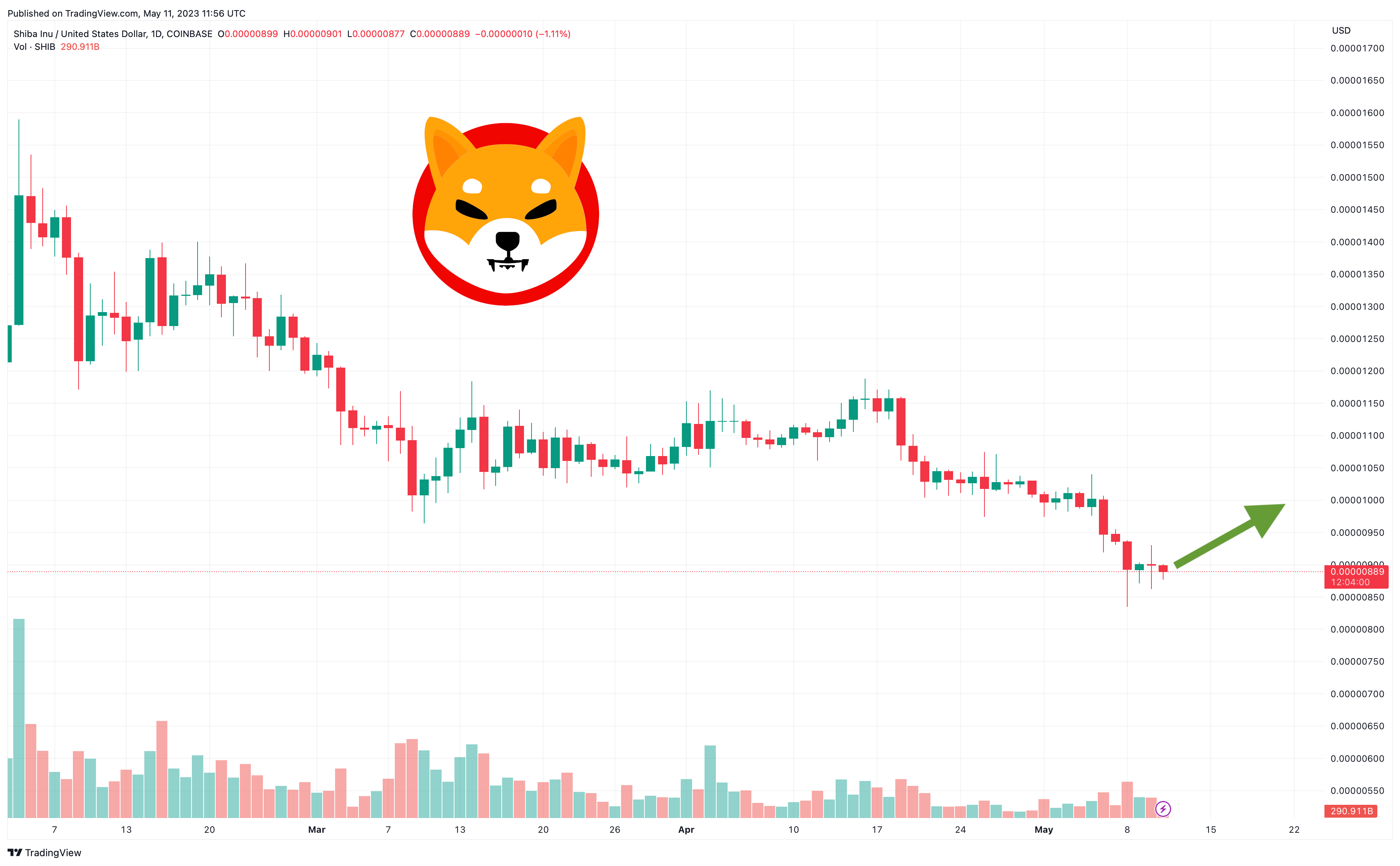 The price of Shiba Inu (SHIB) has gained by as much as 5% today, with the meme token dropping to $0.00000877 earlier this morning before rising as high as $0.00000916.
SHIB's current price of $0.00000894 means that it has dropped by 11% in a week and by 20% in the last 30 days, although the altcoin is up by 9% since the beginning of the year.
However, given just how much SHIB has fallen in the past weeks, its indicators suggest that it may have bottomed and that a recovery is due.
And when added to the incoming public launch of Layer 2 network Shibarium, such indicators suggest that SHIB's price could surge in the near future.
Shiba Inu Price Prediction as SHIB Spikes Up 5% From Recent Bottom – Is the Sell Off Over?
Based on technical indicators alone, SHIB should really rally in the coming days or weeks.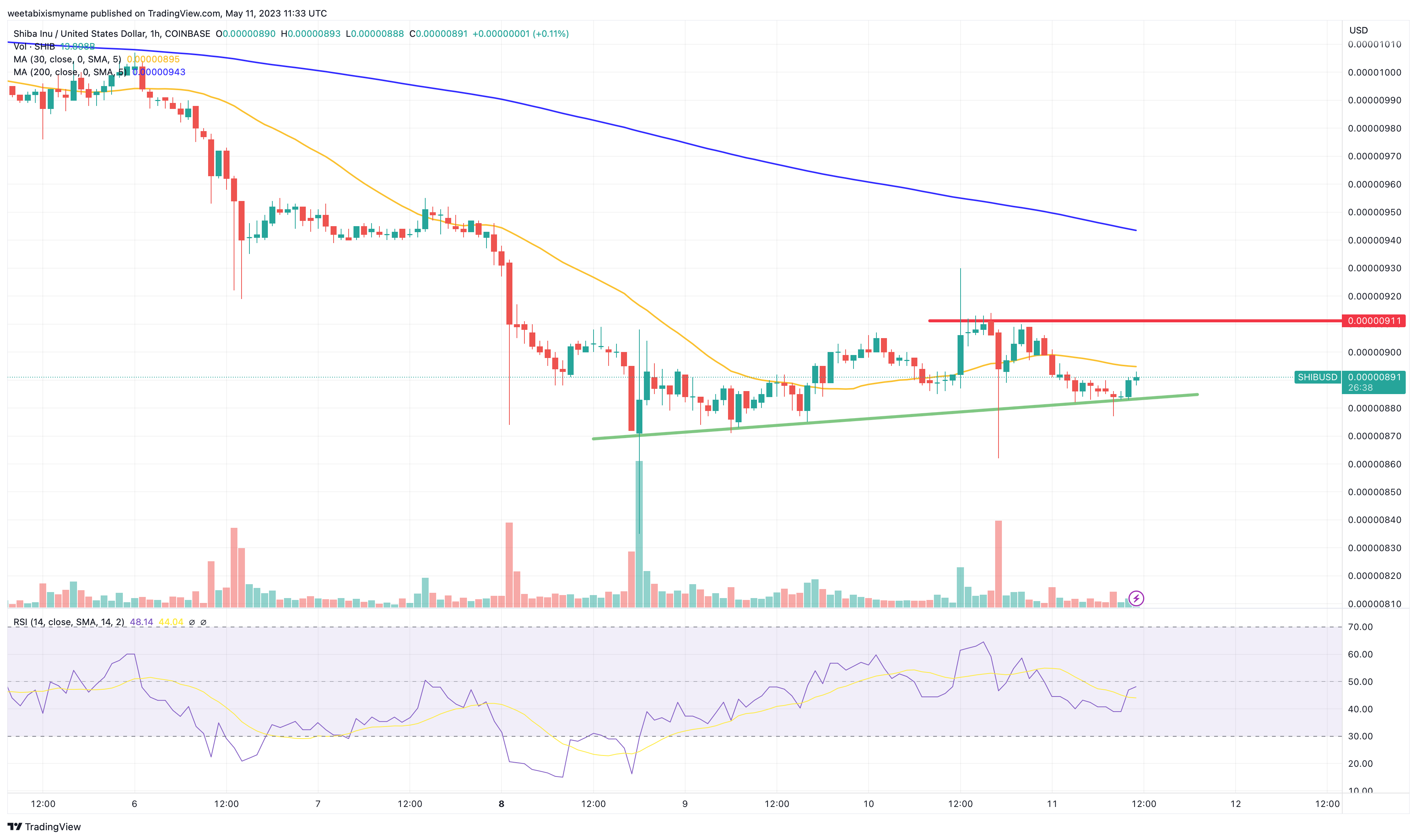 For one, the coin's relative strength index (purple) has begun rising toward 50 after spending several days in lower, oversold bounds.
Likewise, SHIB's 30-day moving average (yellow) has been well below its 200-day average (blue) for close to a week now, meaning that a correction upwards is due.
Added to this, the meme token's support level (green) has actually been creeping upward since the beginning of the week, implying that it's consolidating around higher levels.
Despite these positive indicators, it should be noted that SHIB's 24-hour trading volume remains quite subdued, which is not really a good sign.
Back in February, when SHIB rallied as high as $0.00001473, its volume passed $1 billion, yet now it stands at around $175 million.
On the other hand, Whale Stats indicates that SHIB continues to be the most widely held token among ERC-20 whales, suggesting that underlying interest in the token hasn't waned.
It could be argued that its market is more or less dormant, with holders waiting for the full public launch of Layer 2 network Shibarium, which launched in beta form back in March.
Shibarium will provide Shiba Inu users with faster and cheaper transactions, something which will ultimately have the effect of helping the cryptocurrency's ecosystem to grow, as well as of boosting demand for SHIB.
While no firm release date has been set for Shibarium, the latter continues to receive steady development in its beta form, with a number of important features tested in the past few weeks.
As such, Shibarium's full rollout isn't too far away, with Shiba Inu's community hoping it will help transform Shiba Inu into a rival of layer-two platforms such as Polygon, Arbitrum and Optimism.
On top of this, Shibarium will also result in an increase in SHIB burning, meaning greater relative demand and -- in theory -- a greater price.
For this basic reason, SHIB could return to $0.00001 in the coming weeks, before potentially losing a decimal place by the end of the year, assuming the beginning of a new bull market.
AiDoge Could Be a Better Alternative
Given that a big SHIB rally depends on numerous still-to-be-launched platforms (also SHIB: The Metaverse), some traders may prefer to look elsewhere right now.
There's no shortage of promising new altcoins and meme tokens in the market, with certain presale tokens offering the chance to make above-average gains.
One of the most attractive of these is AiDoge, an AI-powered meme-generating platform that has already raised over $5.6 million since its presale began at the end of last month.
With its native $AI token running on the Ethereum blockchain, AiDoge's platform uses a combination of big data and advanced algorithms to generate relevant memes, with users simply having to enter a short text-based description of the memes they'd like to see.
Users can also upvote and downvote their respective memes, with the most upvoted creations earning their authors rewards in $AI.
On top of this, $AI can be used for staking, while it also grants access to AiDoge's meme-generating features.
This gives the token plenty of utility, with investors able to join its presale by visiting AiDoge's official website and connecting their wallets.
1 AI token now costs $0.0000292, but this will rise to $0.0000296 in the sale's tenth stage, which is due to begin in just over four days.
This gives traders only a limited amount of time in which to buy AI at the lowest possible price, with the coin expected to rally strongly once it lists on exchanges in the next few months.
---