Shiba Inu Price Prediction as SHIB Pumps Up 5% in 24 Hours – Can SHIB Keep Rising?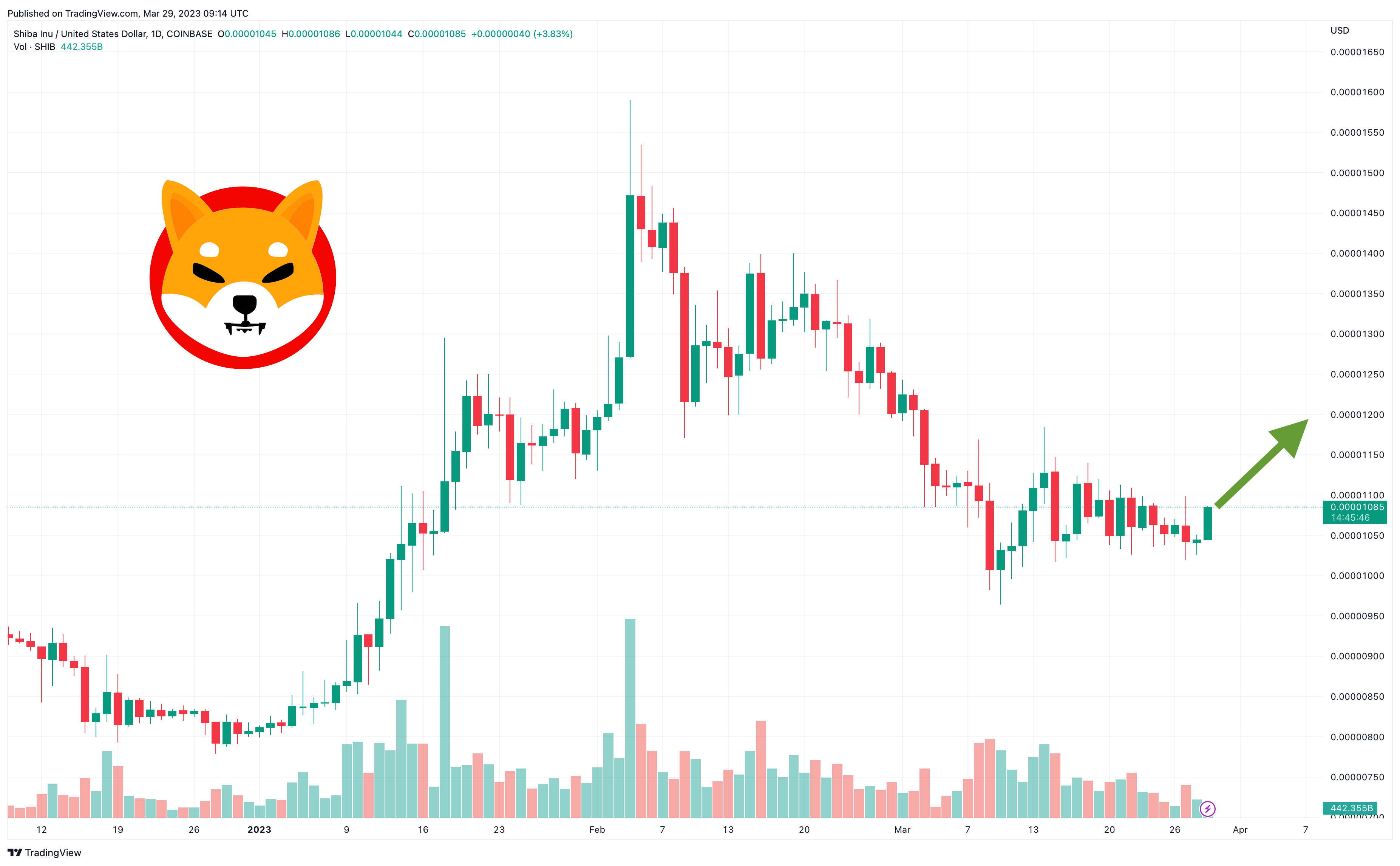 The Shiba Inu price has risen by 5% in the past 24 hours, reaching $0.00001088 as the cryptocurrency market recovers from its selloff earlier in the week.
SHIB's current price means it has fallen by 1% in a week and by 15% in the last 30 days, although the meme token has risen by 34% since the start of the year.
Its losses over the past month or so arguably put it in a position for an above-average upwards correction, a possibility boosted by the approach of the Shibarium layer-two network, which is due for a full public launch next month.
On top of this, the long-awaited SHIB: The Metaverse is also potentially arriving by the end of 2023, something which would boost demand for SHIB massively, boosting its price in parallel.
Shiba Inu Price Prediction as SHIB Pumps Up 5% in 24 Hours – Can SHIB Keep Rising?
One silver lining of SHIB's recent losses is that its indicators are now in a promising position in that they point to a recovery rally.
For one, the coin's relative strength index (purple) is nearing 50, after having been in an oversold position as recently as early March.
In addition, its 30-day moving average (red) is close to a bottom relative to its 200-day average (blue), and when it bottoms out, it would be reasonable to assume that a bounce would be due.
Of course, with the CFTC initiating legal action against Binance (and the SEC threatening Coinbase), the wider market remains in an unsettled, uncertain state, so it would be hard to predict whether SHIB can break through its current resistance level of $0.000011.
The coin has repeatedly failed to make a clean break from this price on numerous occasions this month, implying that if it can rise convincingly towards $0.0000115 or higher, more rises should be incoming.
It could be helped in this respect by the ongoing rollout of Shibarium, which is now live in beta form and which is likely to launch in full at some point next month.
An encouraging sign as far as Shibarium is concerned is that more testers have joined its beta network after an update to its coding documents, suggesting considerable interest in the layer-two network.
Once launched, Shibarium will greatly boost Shiba Inu's efficiency as a network, reducing its transaction fees and also increasing its throughput.
On top of this, its launch will also result in an increase in Shiba Inu's burn rate, with 70% of the base transaction fee being destroyed.
This is very bullish for SHIB, which will see its circulating supply squeezed, something which will potentially magnify price increases.
So while SHIB is underperforming right now, it's not unreasonable to expect it to reach $0.000015, $0.00002 or even higher in the weeks following Shibarium's full launch.
And later in the year, the arrival of SHIB: The Metaverse could push the meme token's price even higher.
As its name suggests, SHIB: The Metaverse is Shiba Inu-themed virtual world where users will be able to purchase, explore, and trade 100,595 NFT-based lands, as well as a big number of in-game items.
Its team is describing it as "the future of entertainment, business, and gaming all rolled into one," and while this may be hyperbole, it highlights the ambitions guiding it.
Once it gets up and running, the increased demand for the native token SHIB could see the latter's price move to $0.00005, and possibly even lose a decimal place by the end of the year.
Needless to say, this will depend on the market stabilizing though, with recent regulator actions suggesting that the next few months may be rocky for crypto.
Is Now A Good Time to Invest in SHIB?
While SHIB is due a rally, it may not see substantial gains until after the full launches of Shibarium and then SHIB: The Metaverse.
Traders may therefore prefer to look elsewhere for big gains at the moment, with quite a few new altcoins and presale tokens showing some real potential.
The Cryptonews Industry Talk team has studied such coins and created a list of the top 15 cryptocurrencies for 2023, each with good short-term as well as long-term prospects.
This list is regularly updated with new altcoins and ICO projects.
Disclaimer: The Industry Talk section features insights by crypto industry players and is not a part of the editorial content of Cryptonews.com.
---