Shiba Inu Price Prediction as SHIB Holds Firm Despite Market Correction – Time to Buy?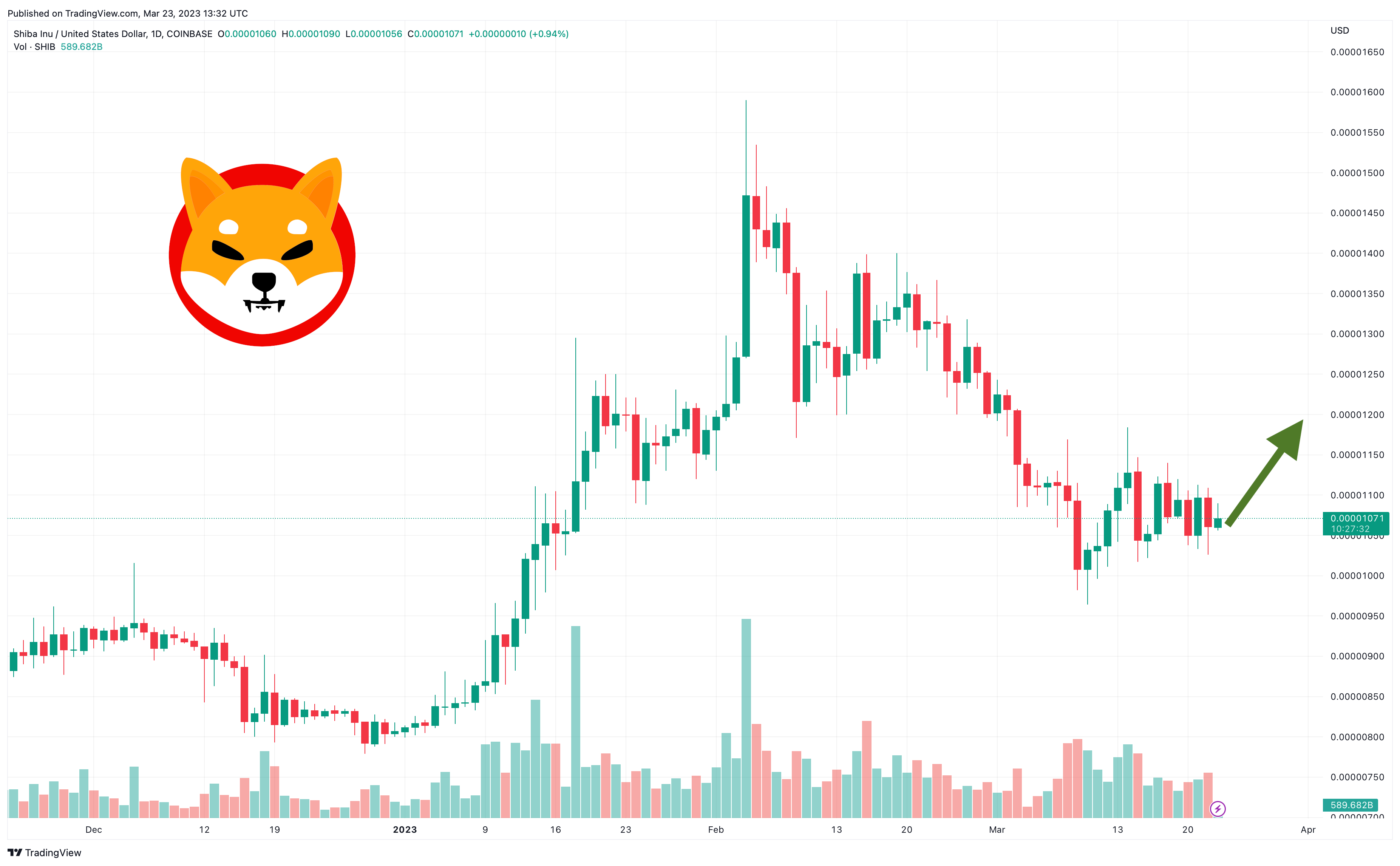 The Shiba Inu price has dropped by 0.8% in the past 24 hours, with the meme token doing well to recover from a market correction that shaved as much as 5% off its price.
At $0.00001082, SHIB is now 4% up in the past week, despite being down by 20% in the last 30 days, with the market continuing to face a series of shocks in recent weeks.
The most recent of these is the news that the SEC is likely to take legal action against Coinbase, although the exchange has already stated that it will stand its ground if necessary.
And with LUNC resisting further falls today, it's in a good position to rally again, especially with the recent beta launch of Shibarium and the long-awaited rollout of SHIB: The Metaverse later in the year.
Shiba Inu Price Prediction as SHIB Holds Firm Despite Market Correction – Time to Buy?
SHIB's indicators are in a mixed position, with its relative strength index (purple) on the up and with its 30-day moving average (red) still with some falling left to do.
Despite this mix, it's arguable that SHIB is likelier to rise at the moment than fall again, with its RSI being in a distinctly oversold position for much of this month.
Likewise, its price remains below its 30-day and 200-day moving averages, indicating that it should surge upwards again in the near future.
Despite celebrating the beta launch of the Shibarium layer-two network in the past week, SHIB's action has been muted.
This is largely because of accusations that Shibarium developers had stolen code from another blockchain (Rinia), although such claims were quickly dismissed by developer Kaal Dhairya.
The important point to make here is that, because of these claims, SHIB remains in a very undervalued position, implying that it could end up seeing bigger gains when it finally does begin rising.
Another part of the reason why the response to Shibarium's release was muted is that important technical documents weren't released to go with it, with these docs being necessary to enable contributors to open test nodes.
However, these docs are now ready according to Shiba Inu's technical Discord server, meaning that activity on the testnet version of Shibarium is likely to pick up very soon.
More importantly, this release of the docs will help to ensure that the full public launch of Shibarium won't be pushed too far back.
And once launched, Shibarium will bring greater speed and efficiency to the Shiba Inu ecosystem, making the use of its apps (e.g. ShibaSwap) cheaper.
This could therefore result in the increased adoption and usage of the Shiba Inu ecosystem while also boosting demand for SHIB.
What's encouraging is that SHIB is already one of the most in-demand coins in the market, with WhaleStats data showing that whales hold more of the meme token (in dollar terms) than any other ERC-20 token.
This suggests that such whales are sitting on SHIB for the long term, waiting for the time when it will rise significantly in price.
Such a time may not be far away, given the gradually progressing approach of SHIB: The Metaverse.
As its name suggests, this is a Shiba Inu-themed virtual world where users will be able to purchase, explore and trade 100,595 NFT-based lands, as well as a variety of in-game items.
Its team has recently shared a few updates, including the sharing of early footage of one of the metaverse's distinct areas.
Not only do these images look impressive, but it's clear that the platform's team have big ambitions, describing it as "the future of entertainment, business, and gaming all rolled into one."
Once it launches, SHIB (as its native token) can be expected to rise consistently.
It could comfortable see returns to $0.000015 and $0.00002 in the next few months, while big news -- such as the launch of SHIB: The Metaverse -- could even see it lose decimal places.
When is the Best Time to Buy Shiba Inu?
Now looks to be a good time to buy SHIB in that it remains very much undervalued, with its fundamentals becoming increasingly strong by the day.
However, it's not likely to see any big gains until the full launch of Shibarium and SHIB: The Metaverse, so traders may prefer to look elsewhere for big gains at the moment, with quite a few new altcoins and presale tokens showing some real potential.
The Cryptonews Industry Talk team has studied such coins and created a list of the top 15 cryptocurrencies for 2023, each with good short-term as well as long-term prospects.
This list is regularly updated with new altcoins and ICO projects.
Disclaimer: The Industry Talk section features insights by crypto industry players and is not a part of the editorial content of Cryptonews.com.
---