Shiba Inu Price Prediction as $300 Million Trading Volume Comes, But Crypto Whales Have Their Eyes on This Other Project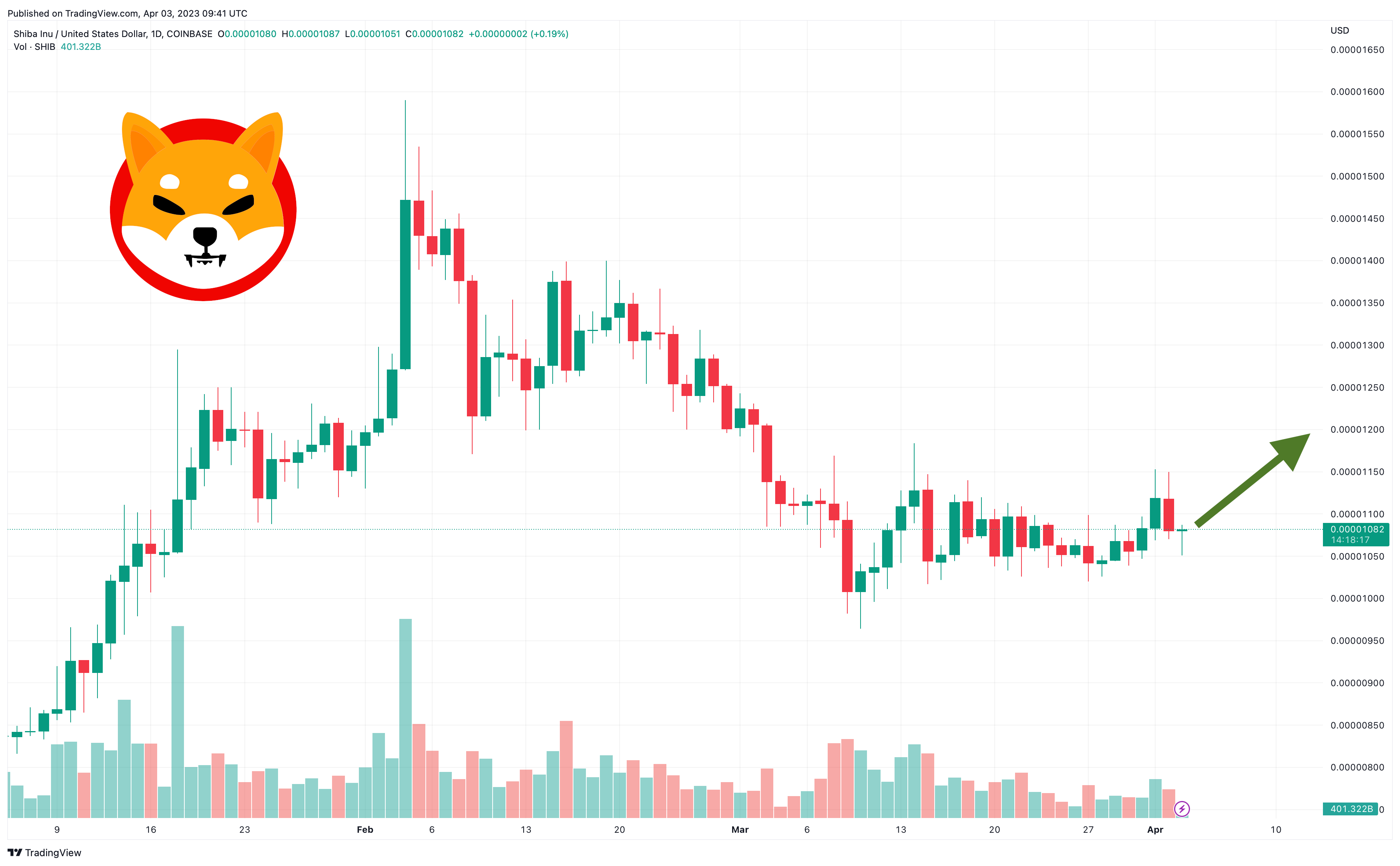 The price of Shiba Inu has dropped by 3% in the past 24 hours, with the meme token falling to $0.00001085 as the wider cryptocurrency market consolidates.
SHIB has dipped by 5% in the past 30 days, although the coin remains up by about 34% in the year to date, with its 24-hour trading volume also slightly elevated at just over $300 million.
Such volume could indicate an imminent movement, with the incoming public launch of Shibarium potentially serving as a catalyst for a significant rally this month.
However, while SHIB has been oversold and is due a recovery rally, it seems that many investors have been flocking to Love Hate Inu (LHINU) in recent weeks, with the new polling platform raising a total of $2.5 million in its presale.
Shiba Inu Price Prediction as $300 Million Trading Volume Comes
Based on its indicators, it doesn't seem that SHIB's recent downturn has finished bottoming out just yet.
Most notably, the coin's 30-day moving average (red) still hasn't fallen underneath its 200-day average (blue), and neither has its price.
On a purely technical basis, it's only when the shorter-term average has fallen substantially below the longer-term average that traders can expect a bounce.
That said, the development of the layer two network Shibarium, which is due a full public launch in the coming weeks, could instigate a SHIB rally in the not-too-distant future.
The L2 is already live in beta form, with its transaction count showing that testers and contributors have been joining its testnet in recent days.
At the same time, Shibarium's launchpad has revealed that it's receiving thousands of applications from porjects to launch apps on the layer-two network, indicating the rising interest in the project.
This suggests that the launch of Shibarium could be big for Shiba Inu, in that it encourages more developers to build apps for the cryptocurrency's ecosystem.
In turn, this will result in steadily rising usage of SHIB, which may also witness an increased burn rate as a result of Shibarium's launch.
In light of all this, it's not unrealistic to expect SHIB to reach new levels in the weeks and months following Shibarium's full rollout.
From its current level of about $0.00001085, it could easily rise to $0.00002 in the following months, before potentially reaching $0.00005 (or higher) by the end of the year.
Crypto Whales Have Their Eyes on This Other Project
It's possible that one of the reasons why SHIB has underperformed in recent weeks is that big investors have been looking to newer tokens for above-average gains.
This may include Love Hate Inu, which has seen the presale for its LHINU token raise over $2.5 million within just three weeks.
What's interesting about Love Hate Inu is that it's a decentralized polling platform, seeking to combine a growing interest in online/social media-based polls in the ongoing mania for meme tokens (such as Shiba Inu).
Its team hopes to tap into both currents, with its platform set to enable users to earn crypto-based rewards for participating in a range of highly topical surveys.
As an indication of just how popular it could become, it's interesting to note that it has already attracted just over 32,000 followers on Twitter.
This shows significant interest in the platform, with which users can participate in polls by staking their LHINU, which enables them to receive regular rewards.
Once launched in the second half of the year, Love Hate Inu aims to sign a number of partnership deals with recognized brands, so as to offer a wide variety of polls and surveys that the public will be interested in.
Investors can participate in the LHINU presale by visiting the official Love Hate Inu website.
They can purchase LHINU using either crypto (USDT or ETH), or with fiat currency.
At the moment, the sale is in its third stage, with one LHINU token costing $0.000095.
Its fourth stage is due to start in less than 24 hours, pushing this price up to $0.0000105, so traders will need to move quickly if they want to buy some of the exciting new coin at the lowest possible prices.
Disclaimer: The Industry Talk section features insights by crypto industry players and is not a part of the editorial content of Cryptonews.com.
---