Shiba Inu Price Prediction as $100 Million Trading Volume Comes In – Are Whales Buying?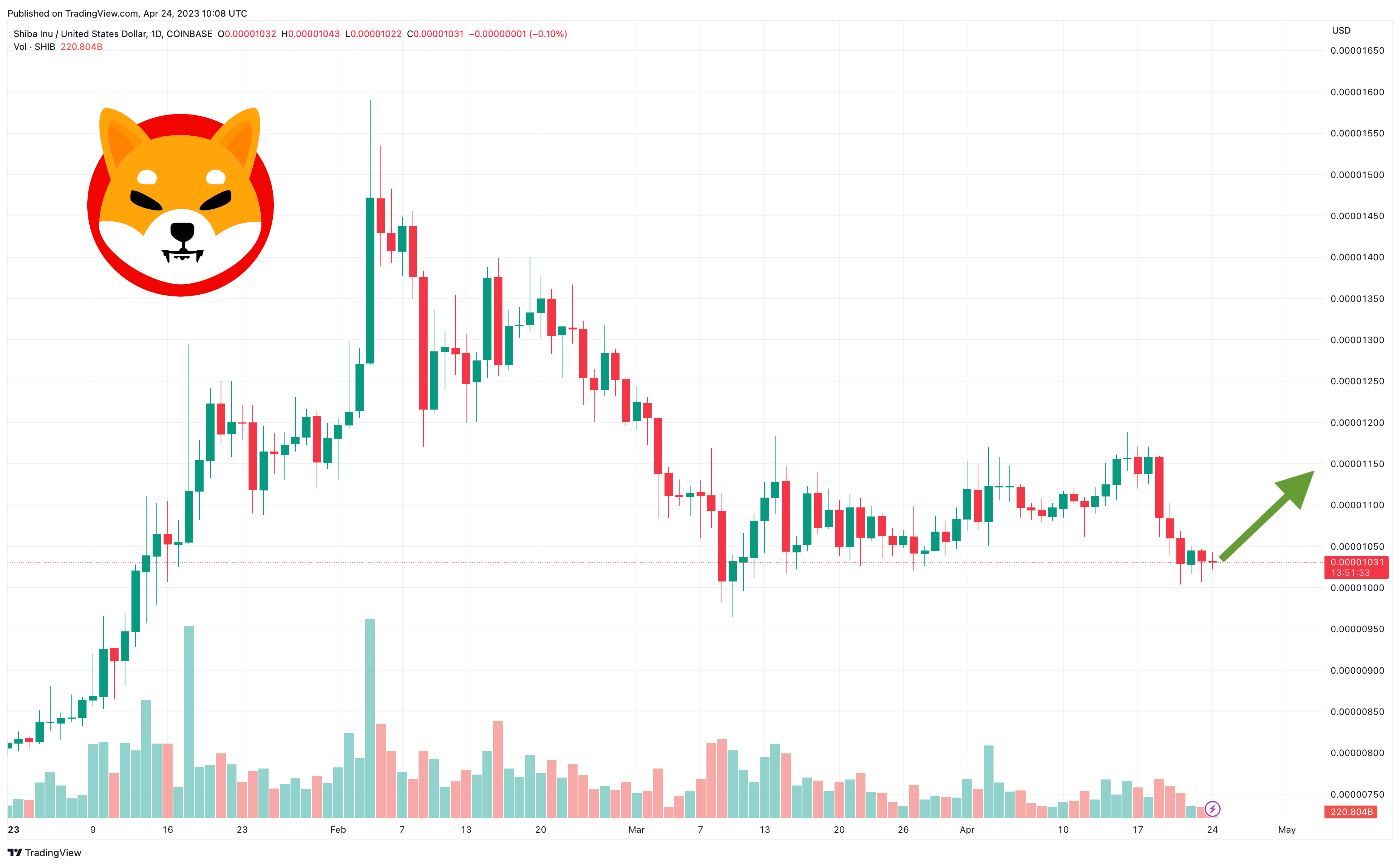 The price of Shiba Inu (SHIB) has dropped to $0.00001030 today, making for a 1.5% decline in the past 24 hours as the cryptocurrency market as a whole falls by 1%.
SHIB's current price means it has declined by 11% in a week and by 3% in the last 30 days, although the meme token has gained by 27% since the beginning of the year.
It's also encouraging to note that the coin's 24-hour trading volume has begun to rise upwards again, moving beyond $100 million in the past day in a sign that positive volatility could be reentering the picture.
And in the longer term, with Shiba Inu also awaiting the full public launch of layer-two network Shibarium, SHIB could even see some major rallies along the way.
Shiba Inu Price Prediction as $100 Million Trading Volume Comes In – Are Whales Buying?
What's encouraging about SHIB's chart is that it shows a coin that's close to bottoming out, at least judging by the current state of its indicators.
SHIB's 30-day moving average (yellow) is close to moving below its 200-day average (blue), while its actual price has fallen below both indicators, signaling that it's being oversold.
Similarly, its relative strength index (purple) is just below 40 and is on its way to 30, at which point the coin will be due for a correction upwards.
Of course, this may not happen just yet, with the ongoing decline of SHIB's support level (green) suggesting that it could fall in price for at least a few more days yet.
Still, the wider outlook for SHIB remains positive, especially with the steady increase in its trading volume pointing towards an eventual rally.
It also seems that whales may have begun to accumulate SHIB, given that the meme token is so undervalued right now.
If so, the coin may not be very far away from a recovery, something also suggested by the impending full public launch of Shibarium, which is Shiba Inu's layer-two network.
The latest data reveals that Shibarium's beta continues to attract plenty of testers and developers, with the testnet seeing over 400,000 transactions per day, as well as 14 million wallet addresses.
This highlights the keen interest in Shibarium, which could result in a big increase in Shiba Inu use and adoption, as well as in the general growth of its ecosystem.
On top of this, Shibarium will also result in more SHIB being burned, as confirmed by the layer-two network's development team.
Because the supply of SHIB is likely to be restricted following Shibarium's launch, SHIB could easily rise to $0.000015 in the weeks after, before moving on to $0.00002, $0.00003 and higher levels.
And in the longer term, the launch of SHIB: The Metaverse will amplify demand for SHIB, helping to push its price even further.
New Meme Token Alert: Love Hate Inu
The thing with SHIB is that holders may be waiting a while for the full launches of Shibarium and SHIB: The Metaverse to arrive, meaning that really big rallies could still be some time away.
Traders may therefore prefer to look at other new meme tokens, with Love Hate Inu arguably having the strongest fundamentals of any such coin in the market right now.
The presale for its LHINU token has raised close to $6 million, which is a very bullish figure as far as new presales go.
Running on Ethereum, Love Hate Inu is a decentralized polling platform that will reward users rewards (in LHINU) for participating in polls and surveys.
These polls and surveys will tap into a wide range of topical and timely issues, helping Love Hate Inu to attract a strong following and community of users.
This will also be helped by the meme-based nature of the platform, which will attempt to harness the virality of social media to grow its user base beyond that of any other comparable polling ecosystem.
Users will be able to participate in polls by staking their LHINU, with more voting weight accorded to those with larger stakes of the token.
So far, Love Hate Inu has already attracted more than 33,000 followers on Twitter, providing some indication as to how big its user base could grow once it launches its platform in the next few months.
Investors can participate in its presale by visiting the official Love Hate Inu website, where they can use USDT, ETH, BNB or fiat currency to buy the altcoin.
The sale is now in its sixth stage, with one LHINU token costing $0.0000125, although this will rise again to $0.0000125 in ten days.
This gives traders a limited window of opportunity in which to acquire some LHINU at the cheapest possible discount before the coin lists on exchanges and potentially rallies.
---