Shiba Inu Killer Love Hate Inu Raises $7.7 Million – 7 Day Countdown Begins for Huge Price Increase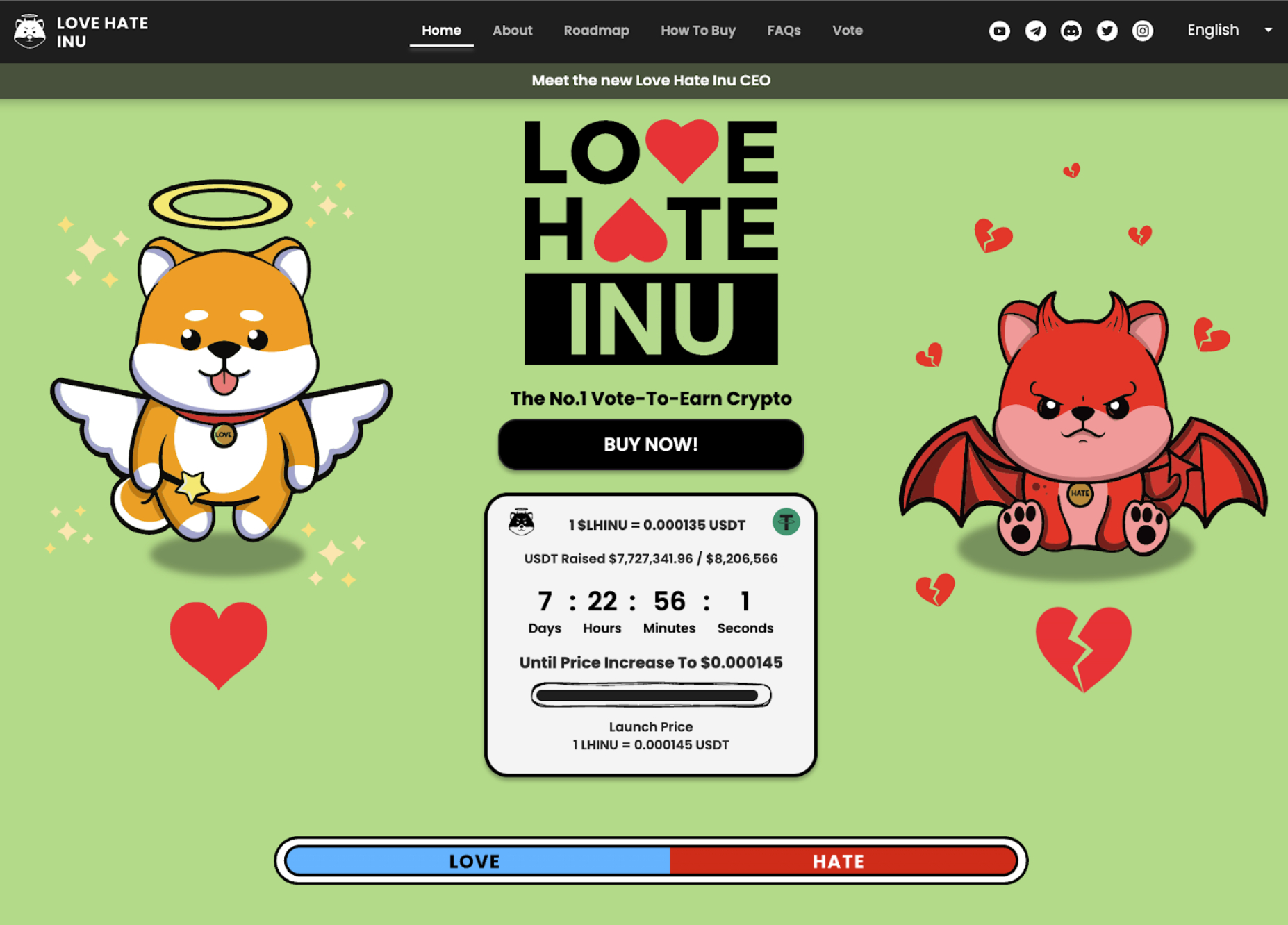 Thursday April 27th 2023 – Love Hate Inu, the hot new meme coin, has raised over $7.7 million from enthusiastic investors who are excited about its unique vote-to-earn feature and its potential for significant growth.
There is less than 25% of the presale to go until the finish line is reached. Currently priced at $0.000135, the $LHINU tokens available to the public to buy are highly likely to sell out in a matter of days.
There has been no private sale and there is no vesting period for token holders, so the presale is a totally level playing field.
Love Hate Inu really is one of the best money-making opportunities in crypto right now.
As is typically the case, the fundraise run rate accelerates the closer a presale gets to completion, so prospective investors will need to hurry.
But in the case of Love Hate Inu, which has seen sums of $1 million being raised in 48 hours periods, there really is no time to lose to invest.
$LHINU is selling out fast
In the current Stage 7 there is only $500,000 left to be raised before the price increases by 7.4% to $0.000145, adding to the urgency and FOMO.
It has taken blockchain-powered vote-to-earn platform Love Hate Inu barely eight weeks to get to where it is today, in what is one of the largest presales of the year.
As the FOMO keeps pumping, the final Stage 8 will begin either later today or tomorrow, helped in no small part by the continuing flow of news from the project team.
Love Hate Inu has already demonstrated the viral potential of the platform with its meme illustrations of love-hate personalities, such as Andrew Tate, Donald Trump and Elon Musk.
CEO Carl Dawkins in AMAs has introduced the community to the varied and valuable use cases that the ecosystem offers.
A meme coin with unrivaled utility
From surveys for companies looking to build brand awareness and engagement, to polls on serious matters, as well as areas such as governance on the Love Hate Inu platform, Love Hate Inu has unrivaled utility.
With all that in mind, it is not surprising that Love Hate Inu's presale is the hottest meme coin of the year – analysts are rating it highly.
If you missed out on Dogecoin and Shiba Inu, then this is your chance to lock in a stratospheric return on investment.
The timing of the presale could not be better as market sentiment begins to turn in favor of bulls, despite crypto's continuing famed price volatility.
Today investors don't just want to chase cute Inu coins with no utility.
The best crypto projects, like Love Hate Inu, are taking the utility approach – build a great product and the people will come.
Love Hate Inu has already shown that in a small yet impressive way with the demo poll it has been holding on Andrew Tate – do you love him or hate him?
Demo poll shows the viral potential of Love Hate Inu
Latest data from the team shows that 15,000 of people voted.
That has been achieved with almost zero marketing, so imagine what will happen when the project is live and spreading across the web.
There's now a new demo poll on Donald Trump and another chance to win $10,000.
Dawkins believes the verifiable and transparent nature of its voting mechanism, secured as it is by voter staking, will be highly attractive to corporate entities, nonprofits and ordinary consumers and casual internet users.
Voting systems are one of the best-suited use cases for blockchain technology but have yet to be successfully adopted at scale.
Love Hate Inu combines the brand power of meme coins with the power of decentralized networks to deliver a product with mass appeal.
Indeed could be exactly the sort of tech solution that Elon Musk needs to counter the bots on Twitter more effectively than he has so far.
The Love Hate Inu dashboard the development team is building is showing stellar progress….
For those with funds on the sidelines waiting for the right project to invest in – that's to say one with a sound business model that can generate a solid revenue stream, then Love Hate Inu is an excellent choice.
Buy now to get the lowest token price in the hottest meme coin of the year
Consequently, those considering buying $LHINU need to move quickly before the price rises.
The token will launch at a price point of $0.000145.
The Love Hate Inu project has hit upon a viral formula that everyone can understand: vote on the people and things you love or hate.
FOMO is taking off.
The overwhelming response to Love Hate Inu is a testament to the strength of its business model.
Giving its users the opportunity to vote on personalities – and anything else they love or hate – has captured the imagination of the crypto community.
Voting systems have long been touted as perfectly suited for the adoption of blockchain technology.
It looks like it is the virality of meme coins and the equally viral illustrations the Love Hate Inu team is creating that will propel blockchain voting into the mainstream.
CEO Carl Dawkin: "We are seeing massive interest in Asia"
CEO Carl Dawkins, an adviser to the UK All Party Parliamentary Group on Crypto and Digital Assets, who recently achieved success with another meme coin, Tamadoge.
Commenting on the latest Love Hate Inu milestone achievement, Dawkins said: "We are not waiting until we reach the $10 million hard cap before we start building.
"I can let the community know that the dashboard to manage the polls is pretty much half done."
"As I've previously mentioned, we are looking to build out a VIP system aimed at companies."
"I can now confirm that we are in talks with a number of partners, some of whom are publicly listed companies, as we push to secure an onramp businesses will be comfortable using," Dawkins said.
"And in a sign of the global traction to come for Love Hate Inu, we are seeing massive interest coming in from Asia."
How to buy the Love Hate Inu – the next Shiba Inu
Love Hate Inu is a fair presale because 90% of the total supply of 100 billion tokens are on offer to the public.
The generous allocation means there are no worries about the possibility of a rug pull by scammy developers or team members.
Investors can buy Love Hate Inu using ETH, BNB or USDT (Tether stablecoin).
There is also no vesting period for the $LHINU token, which means buyers receive 100% of their purchase before the public listing.
---